Netflix needs no introduction. From a DVD-by-mail service, the company has grown to the world's one of the largest subscription-based OTT services with a market cap of $213.39B in Sep 2020, and a net income of $1.86 bn in 2019.
The success of Netflix can be gauged from the facts that its revenue increased from $1.36bn in 2007 to $20.15bn in 2019, and a number of subscribers from 74.76 million in Q4 2015 to 192.9 million paying subscribers worldwide as of Q2, 2020 out of which 72.9 million are from the US.
Netflix has a total of 962 patents in its worldwide patent portfolio which belong to 252 unique patent families. Among these, 521 are patent applications, and 441 are granted patents. 149 out of 962 patents are dead. These include 146 applications and 3 granted patents. The rest of 813 alive patent documents consists of 375 applications and 438 granted patents.
Priority Trend of Netflix Patents
From the exhibit below, we can see that Netflix has patents with a priority as early as 1996.
Publication Trend of Netflix Patents
The exhibit below represents the years when a filed application was published in an official gazette of a PTO. In the US, a patent application gets published within 18 months of filing. While in other patent offices the time can be longer than 18 months.
To find the technological features of Netflix patent portfolio, we categorized patents based on CPC analysis. It represents the number of patent families classified in a CPC. A patent family is a group of patent documents – globally or in a jurisdiction – that covers the same (or similar) information.
In patent portfolio of Netflix, there were 962 patent documents which belong to 254 patent families. These 254 patent families were classified into 1634 CPCs. We analysed these CPCs to understand technological profile of Netflix's patent portfolio. To let you know, more often a single patent gets classified into more than 10 CPCs.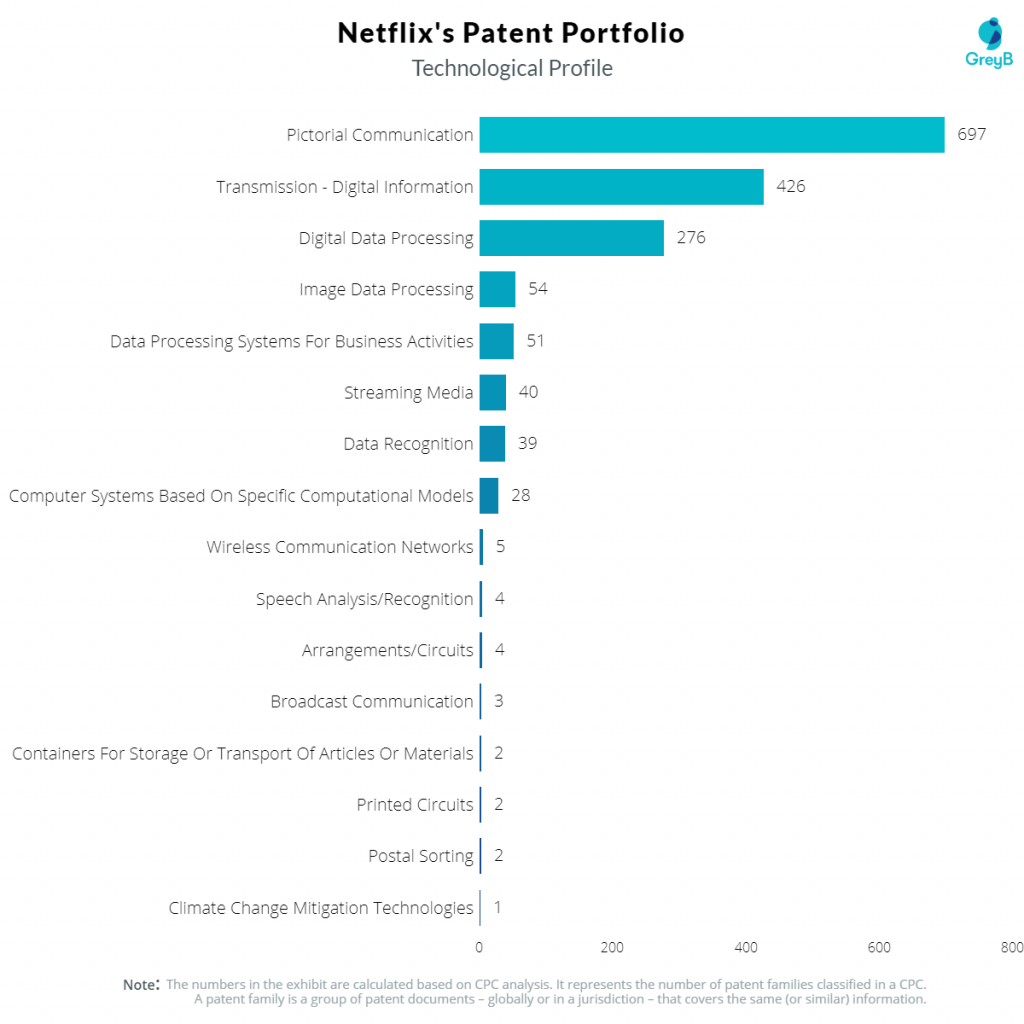 Netflix has protected its inventions in 22 countries while its subscribers of streaming service can watch content over in 190 countries. Further, there are 130 patent applications of Netflix at WIPO which may find a way to one or other patent offices. The exhibit below represents the countries where Netflix has protected its inventions with patents.