Equitable has a total of 10 patents globally, out of which 3 have been granted. Of these 10 patents, more than 20% patents are active. The United States of America is where Equitable has filed the maximum number of patents. Parallelly, the United States of America seems to be the main focused R&D centre and also is the origin country of Equitable.
Equitable was founded in the year 1859 by Henry Baldwin Hyde. The company is an independent U.S.-based financial services company. The Company, through its subsidiaries, provides advice, protection, retirement strategies and investment management and research. As of February 2023, the market cap of Equitable is $ 11.97 Billion.
Do read about some of the most popular patents of Equitable which have been covered by us in this article and also you can find Equitable patents information, the worldwide patent filing activity and its patent filing trend over the years, and many other stats over Equitable patent portfolio.
How many patents does the founder and the CEO of Equitable have?
The founder Henry Baldwin Hyde has 0 patent and CEO Mark Pearson has 27 patents.
How many patents does Equitable have?
Equitable has a total of 10 patents globally. These patents belong to 7 unique patent families. Out of 10 patents, 2 patents are active.
How Many Patents did Equitable File Every Year?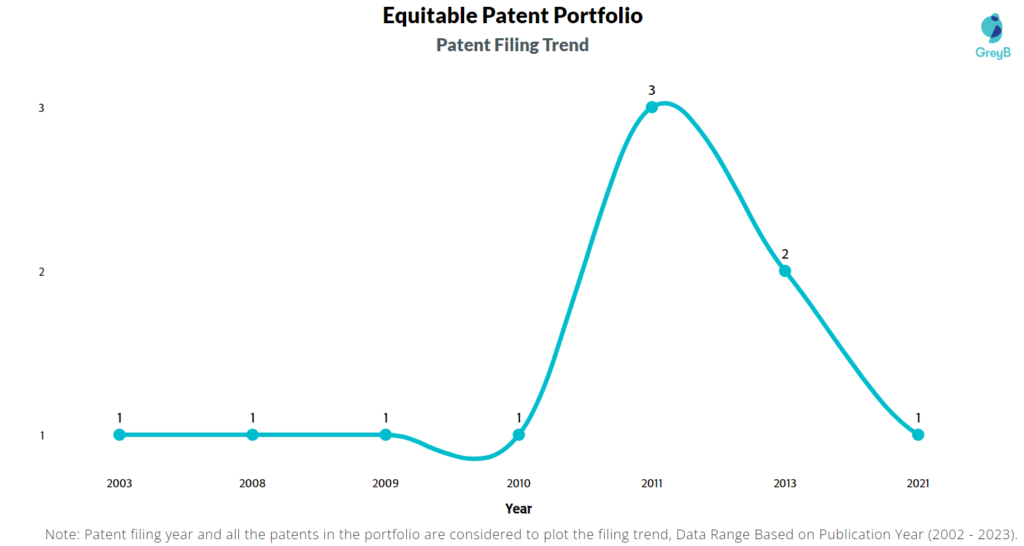 Are you wondering why there is a drop in patent filing for the last two years? It is because a patent application can take up to 18 months to get published. Certainly, it doesn't suggest a decrease in the patent filing.
| | | |
| --- | --- | --- |
| Year of Patents Filing or Grant | Equitable Applications Filed | Equitable Patents Granted |
| 2023 | – | 1 |
| 2021 | 1 | – |
| 2014 | – | 1 |
| 2013 | 2 | 1 |
| 2011 | 3 | – |
How many Equitable patents are Alive/Dead?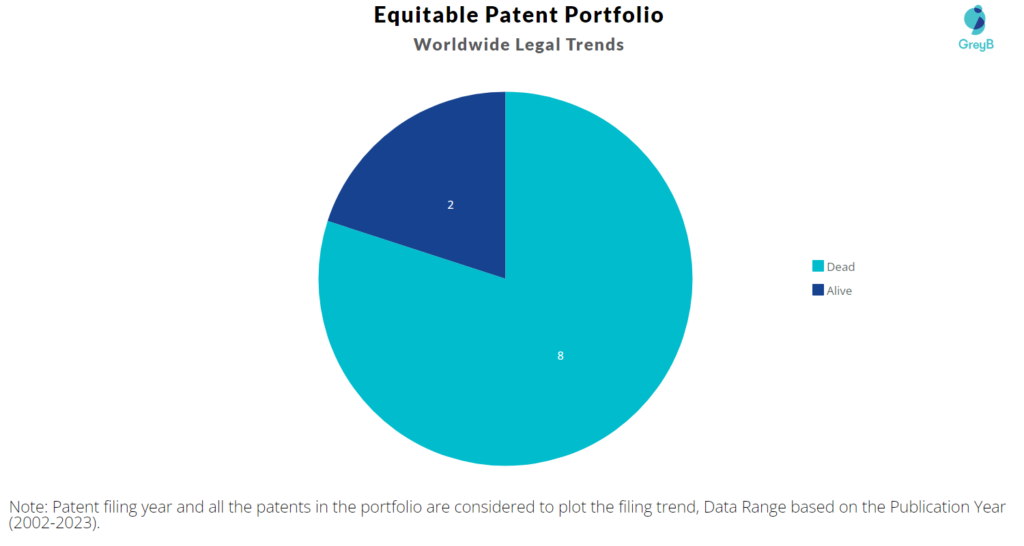 How Many Patents did Equitable File in Different Countries?
All the Patents were filed by Equitable in the United States of America.
Where are Research Centres of Equitable Patents Located?
The Research Centre for all the Equitable patents is the United States of America.
What Percentage of Equitable US Patent Applications were Granted?
Equitable (Excluding its subsidiaries) has filed 8 patent applications at USPTO so far (Excluding Design and PCT applications). Out of these 7 have been granted leading to a grant rate of 87.5%.
Below are the key stats of Equitable patent prosecution at the USPTO.

Which Law Firms Filed Most US Patents for Equitable?
| | | |
| --- | --- | --- |
| Law Firm | Total Applications | Success Rate |
| Dr Mark M Friedman | 6 | 83.33% |
| Mandelbaum Silfin Economou | 1 | 100% |
| Marcin Zalewski | 1 | 100% |
List of Equitable Patents
| | |
| --- | --- |
| Equitable Patents | Title |
| US11550824B2 | Multi-Level, Cluster-Based Optimization Techniques |
| US8645261B2 | System And Method For Providing A Market-Backed Annuity With Variable Segment Terms And Automatic Rollover |
| US8473390B2 | Computerized Method And System For Managing A Financial Portfolio Relative To Market Volatility |
| US20150019457A1 | System And Method For Providing A Market-Backed Annuity With Variable Segment Terms And Automatic Rollover |
| US20130282621A1 | Computerized Method And System For Managing A Financial Portfolio Relative To Market Volatility |
| US20110320346A1 | Computerized System And Method For Providing A Market Stabilized Investment Product |
| US20100185468A1 | System And Method For Providing Guaranteed Income |
| US20100057633A1 | System And Method For Probability-Based Multi-Generational Estate Planning |
| US20040148246A1 | Asset Allocation Optimization Process |
| WO2012169999A3 | System And Method For Providing Guaranteed Income |