High patent filing activity is expected in the product line of cannabinoids. Cannabinoids have been in use for medical purposes for very long. However, after deregulation, researchers have been finding more and more uses of these compounds in product lines of different sectors viz Health & Wellness, Vapes, and Beverages & Edibles.
Recently we have seen an upward trend of patent filing in food and beverages. This is also somewhat in-line with the therapeutic effects that Cannabis brings.
Cannabis is also starting to prevail in the cosmetics industry. 60% of the patent filing has started in the cosmetics industry after 2015. Cannabis-infused cosmetics products are for skin care, particularly for providing anti-inflammation qualities and soothing experience.
In the cosmetic industry, majorly research is happening from Chinese origin it's visible in the patent filing where ⅓ of the patent filing is done by Chinese biotechnology companies. Such as Hanyi Biotechnology Beijing Co Ltd.
Below infographics depict patent filing trends evolved over the years in technology related to product lines for cannabis.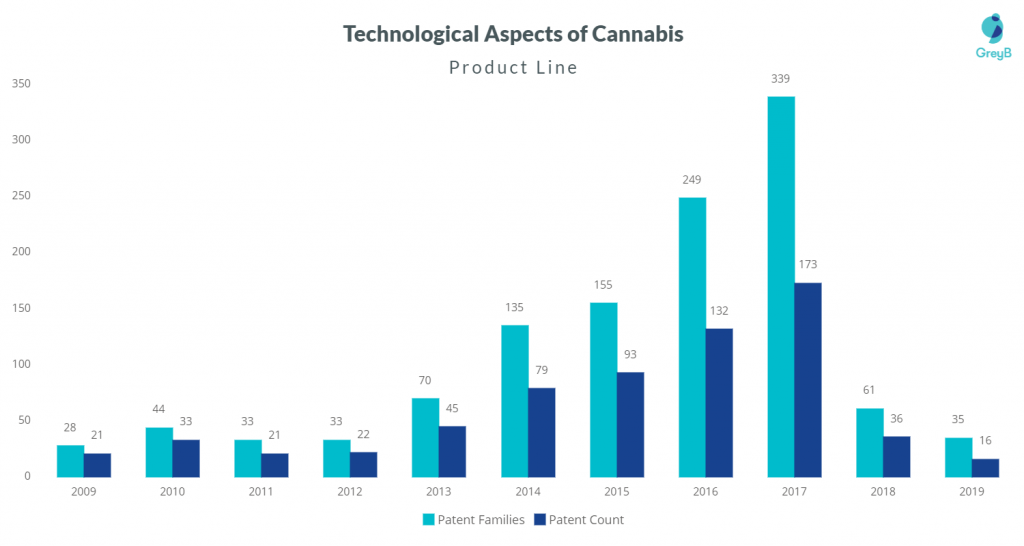 Explore Other Patent Statistics on Cannabis Industry