Introduction addendum

In this study, we aimed to identify top players in the 5G technology (NOT 5G SEP, NOT Core SEP) and countries which are flag-bearers for innovating this technology. The intent was to share this knowledge through our blog making people aware of the progress made in the industry so far.

It was an automated analysis and no manual filtering of the patents was done. For the purpose of data collection, we collated a list of top 5G enabling technologies (such as New Radio, SDN, NFV, Beamforming, etc.), relevant key terms, and broad classes related to telecom concepts. We formulated custom search logics based on a combination of identified key terms, concepts, and classes. We ran these search logics on Derwent Innovation (patent database) which yielded a patent set of around 60K unique patent families which would broadly consist of all 5G related patents.

Thus, the numbers mentioned in this article represent only 5G patents (NOT 5G SEP, NOT Core SEP). There is no direct correlation with standard-essential patents which are declared by the companies to ETSI or other standard bodies.

Further, we have recently published a report on 5G essential patents where we performed a manual analysis on the 5G SEPs declared to ETSI by March 2019. In this study, we did a thorough analysis of each of the declared 5G patents (having granted and alive status as of December 31, 2019) to confirm its essentiality with 5G specifications (more than 500 specs were considered). The declared patents which we found to be overlapping with 5G specs were considered as core SEPs. We have shared our initial findings in the report. Read it from here –
The 5G patent landscape is maturing, companies are eager to file patents related to the technology to get an upper hand. Our patent analysis of major 5G companies shows that besides telecom companies, universities, and research institutes have also been doing intense preparation to welcome 5G.
Here is the list of top 10 companies holding most 5G patents:
Huawei holds the most 5G patents i.e. 13473 followed by Qualcomm and then Samsung with 12719 and 9299 respectively. China wants to have an upper hand in 5G therefore, it won't come as a surprise to see Chinese companies such as Huawei and ZTE surpass some of the top companies worldwide.
Companies with most Patents in 5G Enabling Technologies
We will be discussing the patent data of two enabling technologies just to give you an idea about the companies leading the research on 5G enabling technologies. In most cases, the top companies will remain the same however their order/ranking can be changed.
Companies Leading in MM-Wave Enabling Technologies with maximum Patents
Here are the top 10 companies which have a maximum number of patents in the mm-wave technology.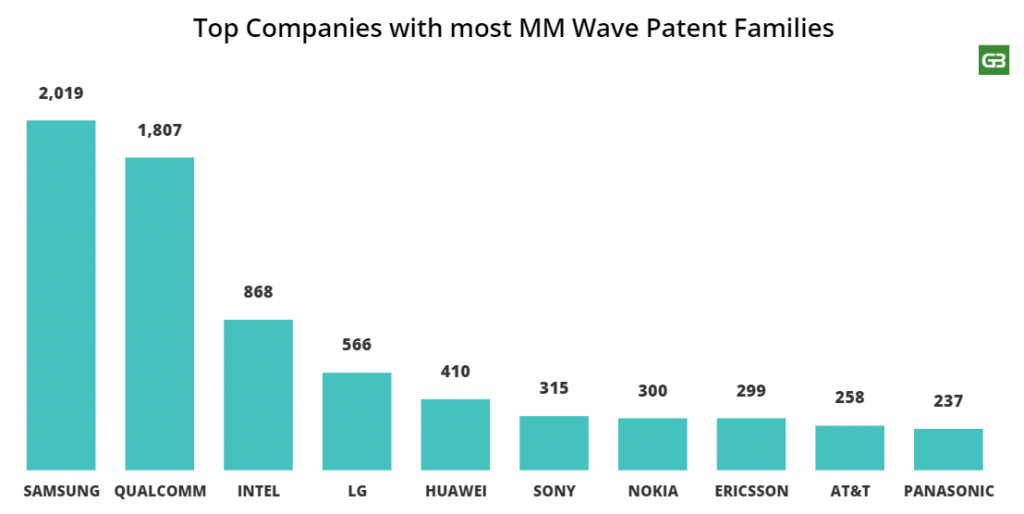 Samsung started the research on 5G mm-wave from 2009 and had done a great job maturing this enabling technology. It initiated an in-depth study into next-generation telecommunications technology and delivered a proposal on ultra-high frequency to Samsung Research.
In 2011, Samsung Electronics initiated an in-house project to expand upon research, and in the following year established a "Next Generation Communications Lab," accelerating the development of ultra-high frequency and 5G technologies.
Qualcomm is also considered a pioneer in 5G technology even Apple considered its technology "the best".
Companies Leading in Beamforming Enabling Technologies with maximum Patents
Here are the top 10 companies which have a maximum number of patents in the beamforming technology.
For Beamforming, Qualcomm holds the top position. Intel is the second top and the second semiconductor company with a good count in beamforming patents.
There are a total of 10 5G enabling technologies if you are interested in finding the top companies with patents in the rest of 8 enabling technologies, send us a quick reply.