The US smartphone market is the world's largest. In 2019, smartphone sales in the US reached $77.5 billion in 2019 with Apple and Samsung as leading vendor with a combined market share of 70 percent. Apple, Samsung, and LG are the top three smartphone vendors with a market share of 46%, 32%, and 10% respectively.
The exhibit below represents the top US patent holders of mobile phone technology.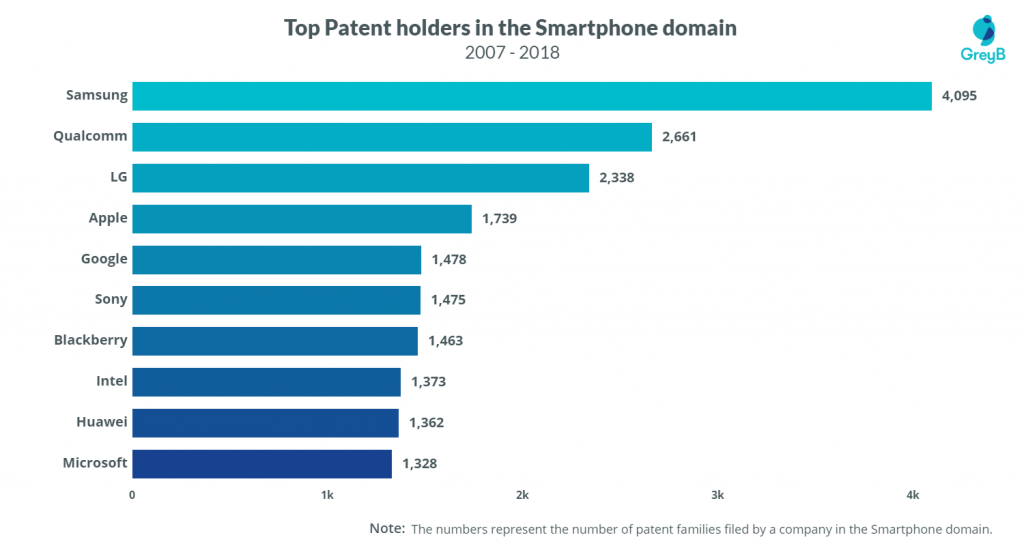 Samsung (4095 patents)
Samsung is the world's largest smartphone manufacturer company and also one of the top manufacturers of lithium-ion batteries, semiconductor chips, flash memory, displays, and hard drives which supply to other smartphone players like Apple, Sony, and Nokia.
It is the world's 4th largest R&D spender and invests $15 billion (6.8% of its revenue) in research and development. The Korean conglomerate files the most number of US patents every year after IBM and owns the biggest patent portfolio of active US patents.
Qualcomm (2261 patents)
Qualcomm proposed the CDMA standard for 2G communication, and has been in the wireless phone industry for a long time. Today, it is best known for its Snapdragon chipsets which are globally considered the best processors for smartphones. Their portfolio contains some of the valuable patents, shares a report by GreyB.
LG Electronics (2338 patents)
Smartphone patent portfolio of LG has patents on the display component, lithium-ion battery, and wireless communication technologies for a mobile phone.
Unlike Samsung, LG's smartphone segment hasn't seen much success in the US market. The segment logged $2.5 billion in losses during 2016 to 2018 for LG.
At present, 3rd biggest smartphone vendor in the US is under immense pressure to rebound the segment. LG may spin off its smartphone business for LG knows the importance of smartphone technology to realize its ambition in the AI-based automotive electronics and smart home systems
Apple (1739 patents)
Apple's patents are mostly on design, software, UI, and mobile applications for their smartphones. One of the main areas of their research is security.
Apple's smartphone are known for robust security and privacy protection. Apple keeps filing patents various security features such as in-display biometric. In 2019, it acquired patents from AI security camera maker, Lighthouse, which Apple might use in improving Face ID feature.
Google (1478 Patents)
Android is the leading mobile OS mobile with a 74.13 percent market share. Most of the patent applications of Google are on their smartphone applications and new features of Android. Also, in 2019, Google shipped 7.2 million smartphones, registering 52% growth compared to 2018.