Elon Reeve Musk is a business mogul and entrepreneur. He is the founder, CEO, and Chief Engineer of SpaceX, as well as an early phase investor, CEO, and Product Architect for Tesla, the founder of The Boring Company and X.com, and a co-founder of Neuralink and OpenAI. He was also named as the CEO of PayPal. As of October 2021, Musk is the richest person in the world with a net worth of $226.2 billion.
You can also read our analysis on Space.
"Starting and growing a business is as much about the innovation, drive, and determination of the people behind it as the product they sell."
Here's a fun fact about Elon Musk, he was a child who liked video games before he pioneered electric automobiles and began discussing the colonisation of Mars. As a result, when he was 12 years old, he created a game on his own. Isn't it impressive enough? Owing to which he also decided to sell the game for $500 to a magazine.
Today, Elon Musk is on a mission to revolutionise the world by turning his amazing out-of-the-box ideas into marketable products and services. His AI inventions are effectively providing world-class services to the worldwide market. He is always on the lookout for fresh ideas and uses AI (Neuralink/OpenAI) and its subfields to achieve excellence. "Thinking about the future", world-changing ambitions by Musk to colonise space (SpaceX), revolutionise high-speed transit (Hyperloop tunnels), and recreate automobiles (Tesla) are transforming/impacting the world in a better way.
"Failure is an option here. If things are not failing, you are not innovating enough."
The prodigious inventor's creations have earned him numerous entrepreneur and innovator-of-the-year titles, and they're a hot issue among business executives and consumers. In 2020, New African magazine named Musk one of the "Top 100 most influential Africans". He is ranked No. 1 on Fortune Magazine's "Businessperson of the Year 2020″ list. He was also named #1 on Forbes' "Billionaires List" on January 10, 2021.
You can also read our analysis on Tesla Motors: Patent Portfolio Overview.
Elon Musk Patents
Elon Musk's patent portfolio has 18 patents that belong to 9 unique patent families. We have used the below exhibits to highlight the key statistics of Elon Musk's patent portfolio.
Worldwide Patents
Patent Families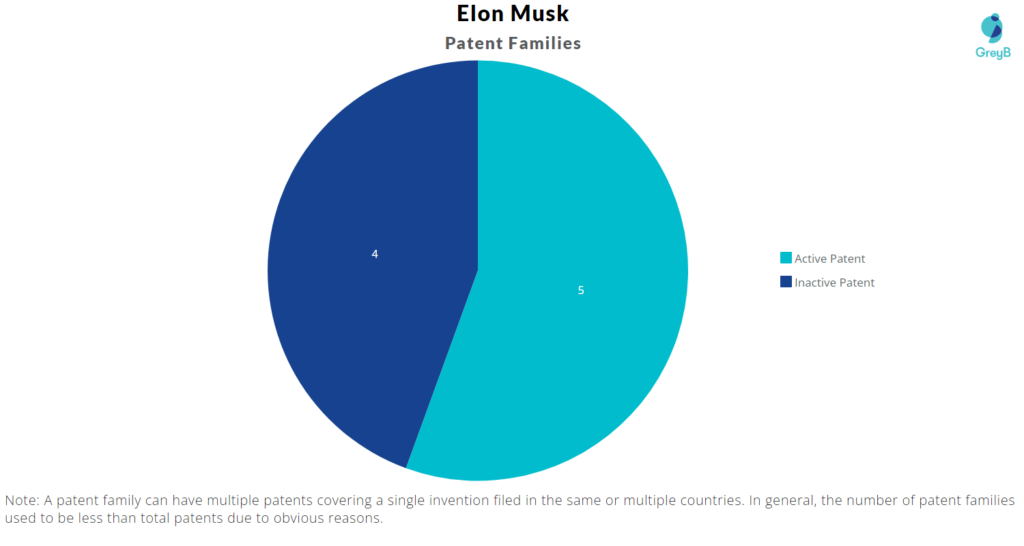 How Many Patents did Elon Musk File Every Year?
How Many Patents did Elon Musk File in Different Countries?
Countries in which Elon Musk Filed Patents
| | |
| --- | --- |
| Country | Patents |
| United States Of America | 10 |
| Australia | 2 |
| Canada | 2 |
| Europe | 1 |
| Korea (South) | 1 |
What Technologies are covered by Elon Musk's Patents?
We know that you have waited for a long time to have a look into the analysis of your favourite innovator/inventor – Elon Musk. Let's dig in!
Design patents filed by Musk are particularly related to the artistic design of a car and its charging port which we can realise in the cars manufactured by Tesla, Inc.
Patents related to Autonomous Vehicle are related to the driverless controls of a vehicle – summoning a vehicle to a particular location.
Location-specific Search patents describes the design of a system that looked for results in the geographic area nearest to you first, then automatically expanded that area until there were enough results, as a solution, the user did not need to refine their search. Finding a business, café, restaurant and other entities and is close to you can be realised as the application of this technology.
Patents related to Data Exchange relates generally to the receiving and sending of a copy of a document over a client-server network.
Telephone Network patent basically tells us about "web-based phone calls", the concept was a little simpler not as complex as we use nowadays as in Skype or Zoom. According to the idea, users might click on a company's contact information online, and calls would be directed to the company via a call center.
It is interesting to note that, among these patents, there are 4 patents which were filed by Elon Musk in the year 2020. On a closer look we can see that among these 4 patents, all these 4 patents belong to 1 unique family of patent WO2020167613A1 and the coverage of this patent has been in Australia, Canada and South Korea.
Have you ever wondered a car coming to pick you up at your location with just one click and at your command from the parking location itself?
We all know that, human drivers are frequently required to operate automobiles, and the duties they undertake are frequently difficult and taxing. Although certain vehicles can be controlled remotely, the vehicle's route is usually limited to a single straight line course in either forward or reverse direction, with restricted steering range and no sophistication in manoeuvring the vehicle along its own path. WO2020167613A1 is here to solve all these problems and is related to driverless controls of an autonomous vehicle which allows summoning a vehicle to a particular location with flexible routing. You can also realise the clear application of this in Tesla's car which are capable of parking themselves, summoning and navigating to their owner, and participate in limited self-driving.
10 Best Elon Musk Patents
US5944769A is the most popular patent in the Elon Musk's portfolio. It has received 202 citations so far from companies like Google, Intel Corporation and Sony Corporation.
Among the Top 5 most cited patents, 4 patents are expired and only 1 patent is active.
| | |
| --- | --- |
| Publication Number | Citation Count |
| US5944769A | 202 |
| US6148260A | 191 |
| US6185194B1 | 158 |
| US6108650A | 109 |
| USD683268S1 | 13 |
| US20020018236A1 | 13 |
| USD678154S1 | 9 |
| USD724031S1 | 3 |
| US8579635B2 | 3 |
| US20200257317A1 | 3 |
List of Elon Musk's Patents
| | |
| --- | --- |
| Publication Number | Title |
| USD724031S1 | Vehicle charge inlet |
| US8579635B2 | Funnel shaped charge inlet |
| USD683268S1 | Vehicle |
| USD678154S1 | Vehicle door |
| US6185194B1 | System and method for initiating a telephone call utilizing internet initiation |
| US6148260A | Interactive network directory service with integrated maps and directions |
| US6108650A | Method and apparatus for an accelerated radius search |
| US5944769A | Interactive network directory service with integrated maps and directions |
| US20200257317A1 | Autonomous and user controlled vehicle summon to a target |
| US20020018236A1 | Bi-directional facsimile mechanism using the internet |
| EP1105695A1 | Method and apparatus for an accelerated radius search |
| WO2020167613A1 | Autonomous and user controlled vehicle summon to a target |
| WO2000011435A1 | Method and apparatus for an accelerated radius search |
| KR2021121161A | Autonomous and user-controlled vehicle calls to cross-reference targets for related applications |
| AU2020221897A1 | Autonomous and user controlled vehicle summon to a target |
| CA3129725A1 | Autonomous and user controlled vehicle summon to a target |
| AU199952370A | Method and apparatus for an accelerated radius search |
| CA2341415A1 | Method and apparatus for an accelerated radius search |