Homer Hartman Stryker founded Stryker Corporation, as an American orthopedic surgeon, inventor, and businessman. His inventions improved orthopedic care, patient comfort, and the efficiency of medical personnel.
He created Orthopedic Frame Company Inc. in 1946 to produce and sell his ideas, despite the fact that his hospital bed had yet to receive a patent. Homer Stryker resigned from medicine in 1964, and his company changed its name from the 'Orthopedic Frame Company' to the 'Stryker Corporation.' Since then, the oscillating saw from Stryker has been the tool of choice for removing casts.
The Western Michigan University Alumni Association presented him with the Distinguished Alumni Award in 1970.
Homer Stryker's portfolio has 15 patents and these all are belong to unique patent families.
How Many Patents did Homer Stryker File Every Year?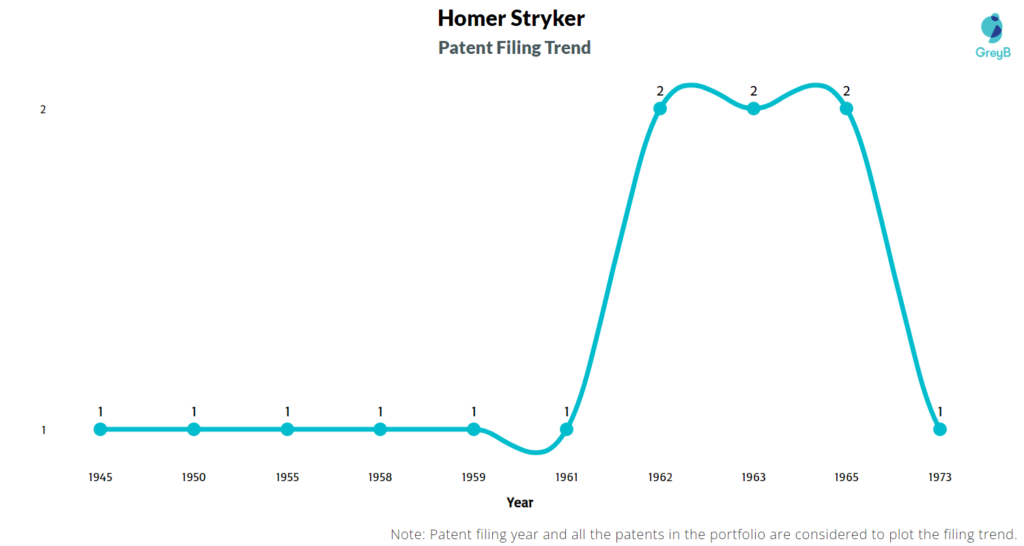 How many Homer Stryker patents are Alive/Dead?
Worldwide Patents
How Many Patents did Homer Stryker File in Different Countries?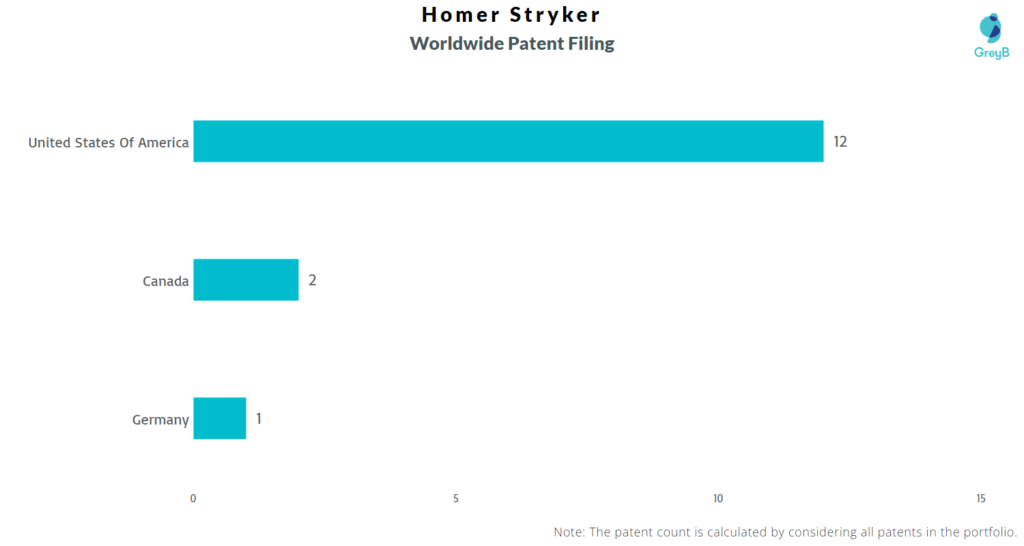 Countries in which Homer Stryker Filed Patents
| | |
| --- | --- |
| Country | Patents |
| United States Of America | 12 |
| Canada | 2 |
| Germany | 1 |
10 Best Homer Stryker Patents
US3304116A is the most popular patent in the Homer Stryker portfolio. It has received 267 citations so far from companies like General Electric Company, Huntleigh Technology Limited and Hill-Rom Services, Inc.
Below is the list of 10 most cited patents of Homer Stryker:
List of Homer Stryker Patents
| | |
| --- | --- |
| Publication Number | Title |
| US3214869A | Combined Abrading And Vacuum Device |
| CA460297A | Cutting Implement |
| US3178574A | Locating Apparatus For Determining The Position Of The Neck Of A Femur Under X-Ray Examination |
| US3832742A | End Support For Anterior Bed Frame |
| US3302218A | Turning Frame |
| US3143110A | Foot Holder For A Cast Table |
| DE1162508B | Hospital Rotating Bed |
| US2427580A | Plaster Cast Cutter |
| US3304116A | Mechanical Device |
| US2834341A | Splint |
| US3139884A | Orthopedic Device |
| US3034152A | Hospital Bed |
| US2582511A | Surgical Tool For Cutting Graft Skin |
| US3221744A | Surgical Knife |
| CA836202A | Turning Frame |