Michael Xie is the co-founder and chief technology officer of Fortinet, which provides cybersecurity services to businesses.
Michael Xie has over 20 years of technical and operational experience in the network security sector, including roles as Fortinet's President and Chief Technology Officer, ServGate's Vice President of Engineering, and NetScreen's Software Director and Architect.
Michael Xie's portfolio has 120 patents that belong to 29 unique patent families.
How Many Patents did Michael Xie File Every Year?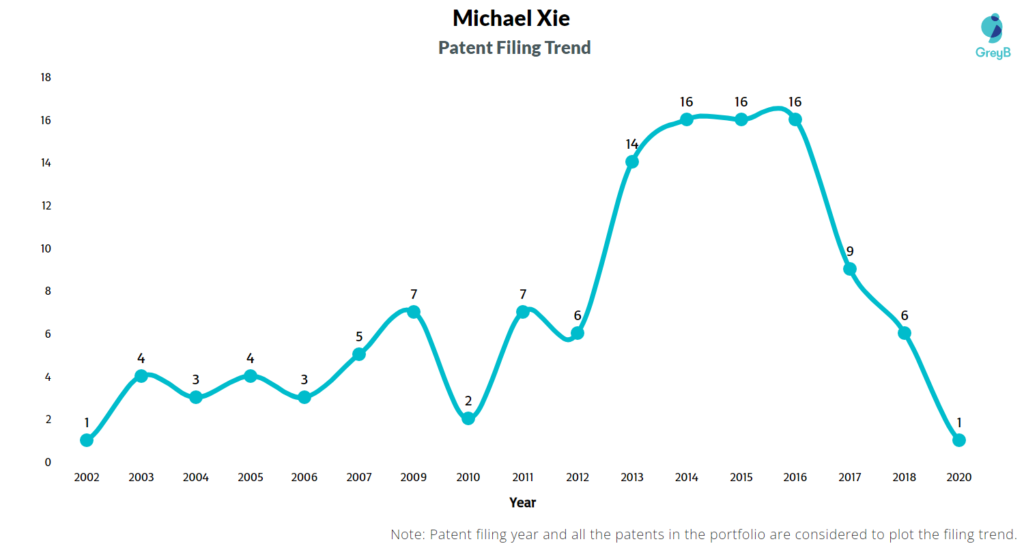 How many Michael Xie patents are Alive/Dead?
Worldwide Patents
How Many Patents did Michael Xie File in Different Countries?
All the patents are filed in the United States of America.
Countries in which Michael Xie Filed Patents
| | |
| --- | --- |
| Country | Patents |
| United States Of America | 120 |
10 Best Michael Xie Patents
US7519990B1 is the most popular patent in the Michael Xie portfolio. It has received 313 citations so far from companies like Fireeye, Inc, Tableau Software, Inc. and Amazon.
Below is the list of 10 most cited patents of Michael Xie:
List of Michael Xie Patents
| | |
| --- | --- |
| Publication Number | Title |
| US9774621B2 | Updating Content Detection Devices And Systems |
| US20140096254A1 | Efficient Data Transfer In A Virus Co-Processing System |
| US8443450B1 | Operation Of A Dual Instruction Pipe Virus Co-Processor |
| US8239950B1 | Virus Co-Processor Instructions And Methods For Using Such |
| US9219748B2 | Virus Co-Processor Instructions And Methods For Using Such |
| US9137251B2 | Inheritance Based Network Management |
| US20170255532A1 | High-Availability Cluster Architecture And Protocol |
| US20160036780A1 | Automated Configuration Of Endpoint Security Management |
| US20090044273A1 | Circuits And Methods For Efficient Data Transfer In A Virus Co-Processing System |
| US20150101054A1 | Operation Of A Dual Instruction Pipe Virus Co-Processor |
| US20150341311A1 | Automated Configuration Of Endpoint Security Management |
| US20120023228A1 | Method, Apparatus, Signals, And Medium For Managing Transfer Of Data In A Data Network |
| US20120278896A1 | Systems And Methods For Updating Content Detection Devices And Systems |
| US20130333019A1 | Integrated Security Switch |
| US8635336B2 | Systems And Methods For Categorizing Network Traffic Content |
| US20140059689A1 | Systems And Methods For Updating Content Detection Devices And Systems |
| US20140366088A1 | Systems And Methods For Passing Network Traffic Content |
| US20150249686A1 | Initial Diagnostics Of A Network Security Device Via A Hand-Held Computing Device |
| US7979543B2 | Systems And Methods For Categorizing Network Traffic Content |
| US20160080321A1 | Interface Groups For Rule-Based Network Security |
| US8839439B2 | Operation Of A Dual Instruction Pipe Virus Co-Processor |
| US20170257463A1 | Configuring Initial Settings Of A Network Security Device Via A Hand-Held Computing Device |
| US20100146627A1 | Electronic Message And Data Tracking System |
| US8244863B2 | Content Pattern Recognition Language Processor And Methods Of Using The Same |
| US9172677B2 | Firewall Interface Configuration To Enable Bi-Directional Voip Traversal Communications |
| US9679138B2 | Virus Co-Processor Instructions And Methods For Using Such |
| US8375449B1 | Circuits And Methods For Operating A Virus Co-Processor |
| US9497192B2 | Data Leak Protection |
| US20130262667A1 | Systems And Methods For Categorizing Network Traffic Content |
| US20160014080A1 | Systems And Methods For Passing Network Traffic Content |
| US20150351156A1 | Telecommunication Terminal |
| US8020202B2 | Firewall Interface Configuration To Enable Bi-Directional Voip Traversal Communications |
| US20040059942A1 | Firewall Interface Configuration And Processes To Enable Bi-Directional Voip Traversal Communications |
| US8560862B1 | Efficient Data Transfer In A Virus Co-Processing System |
| US8789183B1 | Detecting Network Traffic Content |
| US8819830B2 | Virus Co-Processor Instructions And Methods For Using Such |
| US20120246712A1 | Firewall Interface Configuration To Enable Bi-Directional Voip Traversal Communications |
| US9491143B2 | Context-Aware Pattern Matching Accelerator |
| US20170063790A1 | Data Leak Protection |
| US20130263271A1 | Detecting Network Traffic Content |
| US9100319B2 | Context-Aware Pattern Matching Accelerator |
| US9237160B2 | Systems And Methods For Categorizing Network Traffic Content |
| US20160098559A1 | Virus Co-Processor Instructions And Methods For Using Such |
| US8856884B2 | Method, Apparatus, Signals, And Medium For Managing Transfer Of Data In A Data Network |
| US20160381045A1 | Hardware Based Detection Devices For Detecting Network Traffic Content And Methods Of Using The Same |
| US20140237601A1 | Operation Of A Dual Instruction Pipe Virus Co-Processor |
| US9716690B2 | Integrated Security Switch |
| US9589284B2 | Network Advertising System |
| US20090168651A1 | Managing Network Traffic Flow |
| US20150207693A1 | Inheritance Based Network Management |
| US9756081B2 | Context-Aware Pattern Matching Accelerator |
| US9742872B2 | Configuring Initial Settings Of A Network Security Device Via A Hand-Held Computing Device |
| US20110125869A1 | Network Advertising System |
| US7854008B1 | Software-Hardware Partitioning In A Virus Processing System |
| US20170193231A1 | Efficient Data Transfer In A Virus Co-Processing System |
| US20160173488A1 | Management Of Certificate Authority (Ca) Certificates |
| US8788650B1 | Hardware Based Detection Devices For Detecting Network Traffic Content And Methods Of Using The Same |
| US20150101046A1 | Systems And Methods For Categorizing Network Traffic Content |
| US20100154064A1 | Systems And Methods For Updating Content Detection Devices And Systems |
| US9497166B2 | Firewall Interface Configuration To Enable Bi-Directional Voip Traversal Communications |
| US8140660B1 | Content Pattern Recognition Language Processor And Methods Of Using The Same |
| US9460287B2 | Efficient Data Transfer In A Virus Co-Processing System |
| US20120005741A1 | Firewall Interface Configuration To Enable Bi-Directional Voip Traversal Communications |
| US20140366089A1 | Method, Apparatus, Signals, And Medium For Managing Transfer Of Data In A Data Network |
| US20150326593A1 | Detecting Network Traffic Content |
| US9819746B2 | Automated Configuration Of Endpoint Security Management |
| US20140282816A1 | Notifying Users Within A Protected Network Regarding Events And Information |
| US9773113B2 | Operation Of A Dual Instruction Pipe Virus Co-Processor |
| US20110219086A1 | Electronic Message And Data Tracking System |
| US8276205B2 | Systems And Methods For Updating Content Detection Devices And Systems |
| US20170063796A1 | Interface Groups For Rule-Based Network Security |
| US20140007246A1 | Data Leak Protection |
| US9374384B2 | Hardware Based Detection Devices For Detecting Network Traffic Content And Methods Of Using The Same |
| US20140304827A1 | Data Leak Protection |
| US20070266091A1 | Network Advertising System |
| US8079084B1 | Virus Co-Processor Instructions And Methods For Using Such |
| US20070008971A1 | Systems And Methods For Passing Network Traffic Data |
| US20070183433A1 | Integrated Security Switch |
| US20150012964A1 | Application Layer-Based Single Sign On |
| US20160335484A1 | Access Point Stream And Video Surveillance Stream Based Object Location Detection And Activity Analysis |
| US8863277B2 | Systems And Methods For Passing Network Traffic Content |
| US8051483B2 | Systems And Methods For Updating Content Detection Devices And Systems |
| US20160344588A1 | Inheritance Based Network Management |
| US20170013077A1 | Managing Transfer Of Data In A Data Network |
| US9141798B2 | Operation Of A Dual Instruction Pipe Virus Co-Processor |
| US7519990B1 | Managing Network Traffic Flow |
| US20140223540A1 | Firewall Interface Configuration To Enable Bi-Directional Voip Traversal Communications |
| US20070050846A1 | Logging Method, System, And Device With Analytical Capabilities For The Network Traffic |
| US20170039117A1 | High-Availability Cluster Architecture And Protocol |
| US20070053382A1 | Method, Apparatus, Signals, And Medium For Managing A Transfer Of Data In A Data Network |
| US20170187680A1 | Systems And Methods For Passing Network Traffic Content |
| US8588226B2 | Integrated Security Switch |
| US20160197963A1 | Application Layer-Based Single Sign On |
| US20140068749A1 | Systems And Methods For Updating Content Detection Devices And Systems |
| US20120317646A1 | Virus Co-Processor Instructions And Methods For Using Such |
| US20160366238A1 | Network Advertising System |
| US20060036728A1 | Systems And Methods For Categorizing Network Traffic Content |
| US20140258771A1 | High-Availability Cluster Architecture And Protocol |
| US7668920B2 | Electronic Message And Data Tracking System |
| US20170187738A1 | Systems And Methods For Categorizing Network Traffic Content |
| US20130263246A1 | Systems And Methods For Updating Content Detection Devices And Systems |
| US20170063803A1 | Firewall Interface Configuration To Enable Bi-Directional Voip Traversal Communications |
| US9088544B1 | Interface Groups For Rule-Based Network Security |
| US8918504B2 | Hardware Based Detection Devices For Detecting Network Traffic Content And Methods Of Using The Same |
| US20170054743A1 | Detecting Network Traffic Content |
| US20080155084A1 | Remote Logging, Analysis, Reporting And Management Of Network Security Appliances |
| US20180004945A1 | Operation Of A Dual Instruction Pipe Virus Co-Processor |
| US20180013795A1 | Context-Aware Pattern Matching Accelerator |
| US20180077264A1 | Configuring Initial Settings Of A Network Security Device Via A Hand-Held Computing Device |
| US20180084060A1 | Automated Configuration Of Endpoint Security Management |
| US20180131674A1 | Data Leak Protection |
| US20180145734A1 | Telecommunication Terminal |
| US20180159848A1 | Management Of Certificate Authority (Ca) Certificates |
| US20180176236A1 | Detecting Network Traffic Content |
| US20180246791A1 | High-Availability Cluster Architecture And Protocol |
| US20180324219A1 | Network Security Framework Based Scoring Metric Generation And Sharing |
| US20180324218A1 | Learning Network Topology And Monitoring Compliance With Security Goals |
| US20180324217A1 | Building A Cooperative Security Fabric Of Hierarchically Interconnected Network Security Devices |
| US20190306192A1 | Detecting Email Sender Impersonation |
| US20200236144A1 | Building A Cooperative Security Fabric Of Hierarchically Interconnected Network Security Devices |