Steve Jobs has a total of 679 patents globally, out of which 630 have been granted. Of these 679 patents that he has filed, more than 60% patents are active. The USA is where Steve Jobs has filed the maximum number of patents, followed by Australia and Taiwan.
He was Apple's co-founder, chairman, and CEO; Pixar's chairman and majority shareholder; a member of The Walt Disney Company's board of directors after Pixar was acquired; and the founder, chairman, and CEO of NeXT. Steve Jobs cofounded Apple in his parents' basement in 1976 and grew it into the world's most valuable corporation by the time he died in October 2011.
Over the years, Steve and Apple had more successes than any other innovative firm: the iMac, iPod, iPod nano, iTunes Store, Apple Stores, MacBook, iPhone, iPad, App Store, OS X Lion, and every Pixar film.
Apple didn't simply disrupt tablets, phones, MP3 players, or computers; Steve Jobs has 2 "staircase" patents filed under his name! Yes, you read that right. USD478999S1, this patent describes a glass staircase. A visit to one of Apple's major facilities will allow you to walk on one of Steve's most famous concepts.
How Many Patents did Steve Jobs File Every Year?
Are you wondering why there is a drop in patent filing for the last two years? It is because a patent application can take up to 18 months to get published. Certainly, it doesn't suggest a decrease in the patent filing.
| | | |
| --- | --- | --- |
| Year of Patents Filing or Grant | Steve Jobs Applications Filed | Steve Jobs Patents Granted |
| 2011 | 54 | 62 |
| 2012 | 38 | 50 |
| 2013 | 12 | 46 |
| 2014 | 4 | 23 |
| 2015 | 3 | 12 |
| 2016 | 1 | 6 |
| 2017 | 1 | 1 |
| 2018 | 2 | 1 |
| 2019 | 2 | 1 |
| 2020 | 1 | 3 |
| 2021 | – | – |
| 2022 | – | – |
How many Steve Jobs patents are Alive/Dead?
How Many Patents did Steve Jobs File in Different Countries?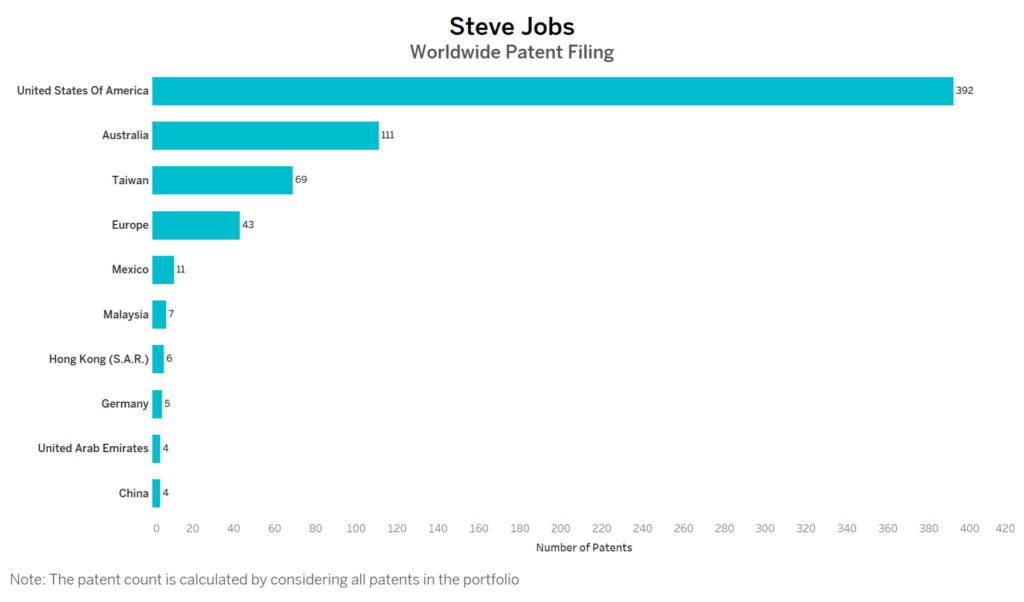 10 best Steve Jobs Patents
USD504889S1 is the most popular patent in the Steve Jobs portfolio. It has received 789 citations so far from companies like Sony, Samsung Electronics, and HP.
Below is the list of 10 most cited patents of Steve Jobs:
Steve influenced seven industries along the way: personal computing, animated films, music, phones, tablet computing, retail outlets, and digital publishing. Along with Thomas Edison, Henry Ford, and Walt Disney, he belongs in the list of America's great innovators.
Let's talk about some geeky tech stuff!
Not every Steve Jobs patent talks about an Apple computer. A cursor control device is described in the USD686210S1 patent. But it is not just any mouse.
When Jobs viewed the ideas for a computer with a graphical user interface and a mouse at Xerox's Palo Alto Research Center, he set about making the design more logical (his team allowed the user to drag and drop documents and folders on a virtual desktop) and simpler. The Xerox mouse had three buttons and so Jobs went to a local industrial design firm and told one of its founders, Dean Hovey, that he needed a simple, single-buttoned model of the mouse. And here it was!
The iPod
The iPod was widely regarded as the first user-friendly and innovative means of accessing music on the go when it was released in 2001. Prior to the widespread availability of mp3 files, consumers relied on portable radios, CD players, and tape players for remote audio. The iPod, which synced with Apple's iTunes service, allowed users to store and purchase hundreds of music on a single device.
USD472245S1, this patent talks about the design of the device, named as "Media Player".
The iPhone
The iPhone was Jobs' next major product introduction. The iPhone combined the functions of an iPod with those of a phone and a computer, allowing users to make calls, listen to music, and surf the Internet all on one touchscreen device. Aside from synchronisation with iTunes, the iPhone had its own App Store, which allowed consumers to avoid purchasing content from wireless providers.
USD602014S1, this patent describes the design of an iPhone.
The iPad
Apple and Jobs then produced the first touchscreen tablet without a keyboard, drawing inspiration from the iPhone. The iPad, a hybrid of a laptop and an iPhone, sparked the growth of a new market into which other technological companies have subsequently entered.
"Packaging"
Mike Markkula, Jobs' early mentor, issued him a memo in 1979 urging him to follow three principles. "Empathy" and "concentration" were the first two, while "impute," a strange word, became one of Jobs' key philosophies. People build opinions about a product or a company based on how it is presented and packaged, he knew.
And so, USD635455S1 patent describes packaging. Yes, Steve Jobs also has this patented under his name!