"Last May, renowned Apple analyst Ming-Chi Kuo, reportedly said in a note to investors that Apple is planning to launch a foldable iPhone with an 8-inch display in 2023." Kuo later changed his prediction to 2024, implying that Apple still has time to work on this innovation. Source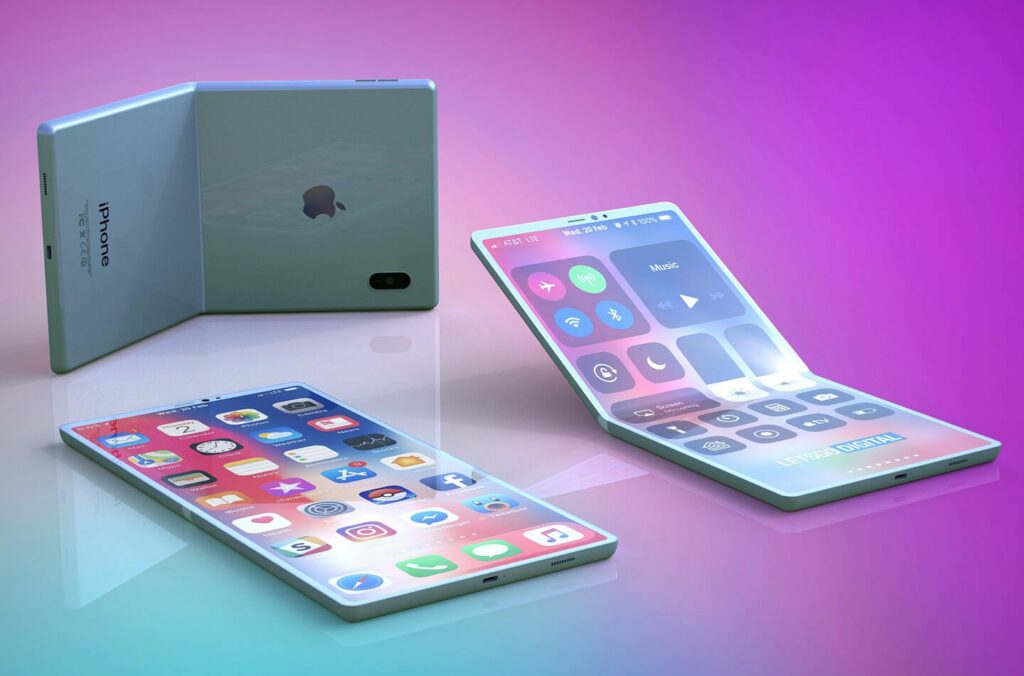 In 2011, Apple marked its journey towards its first foldable phone patent. According to its patents, Apple plans to solve problems related to current poor software optimization and wrinkled screens in devices that have been distributed to the public with complicated hinges and display technology. Let's have a look how this is working out for Apple.
Apple has filed a total of 32 foldable phone patents globally, out of which 20 have been granted. Of these 32 patents, 90.625% of patents are active. United States of America is where Apple has filed the maximum number of foldable phone patents, followed by China and Europe. Parallelly, United States of America seems to be the main focused R&D center and is also the origin country of these inventions.
How Many Foldable Phone Patents did Apple File Every Year?
The increase in the number of patent filings is indicative of the fact that Apple is pacing up its technological innovation in the area of foldable phones and also is engaged in the process to build a better and more functional product that would be available to all.
| | | |
| --- | --- | --- |
| Year of Patents Filing or Grant | Apple Foldable Phone Patents Applications Filed | Apple Foldable Phone Patents Granted |
| 2011 | 1 | – |
| 2012 | – | – |
| 2013 | 2 | – |
| 2014 | 5 | 1 |
| 2015 | 1 | 1 |
| 2016 | 7 | 4 |
| 2017 | 2 | 1 |
| 2018 | 3 | 5 |
| 2019 | – | 2 |
| 2020 | 11 | 5 |
| 2021 | – | 1 |
Top 10 Inventors associated with the invention of Apple Foldable Phone Patents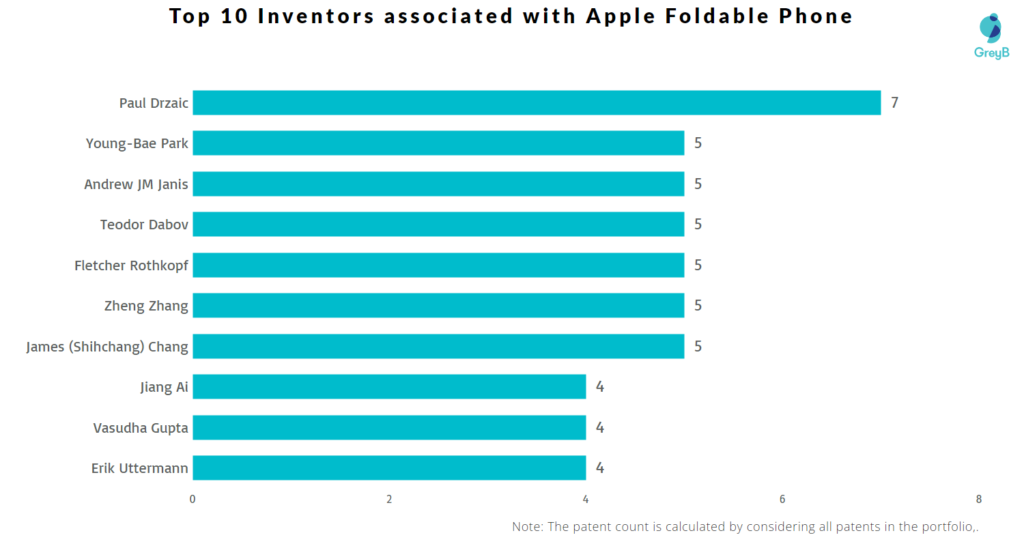 Apple Foldable Phone Key Patents
US8787016B2 is the most popular patent among all the Apple foldable phone patents. It has received 372 citations so far from companies like Samsung, LG, and Semiconductor Energy Laboratory.
Below is the list of 10 most cited patents of Apple Foldable Phone Patents:
What's inside these Apple Foldable Phone Patents? Let's dig in!
In 2011, Apple filed the first patent for a foldable Phone US8787016B2, which is also the most cited patent of Apple under the foldable phone technology and also have successfully rejected 61 patent applications. The patent details a smartphone with a flexible OLED display and a hinged metal support system that folds in half horizontally. When the phone is closed, both halves of the display are visible, and there are also illustrations of smartphones with numerous folds. Have a look below!

In 2021, US10955880B2 got granted and this patent describes a hinge mechanism which can be used in during folding and unfolding of the smartphone. Additionally, a foldable housing or other support structure can be employed to support the foldable display.
According to the patent, a systems of gears can be incorporated in the hinge mechanism. As the smartphone is folded and unfolded, the gears may contain rotating gears that walk along the curved parts of the rack member. The revolving gears, fixed gears, and rack member would all be held together by a link. This facilitates the whole mechanism of folding and unfolding of the smartphone. Below are the images which describe this system.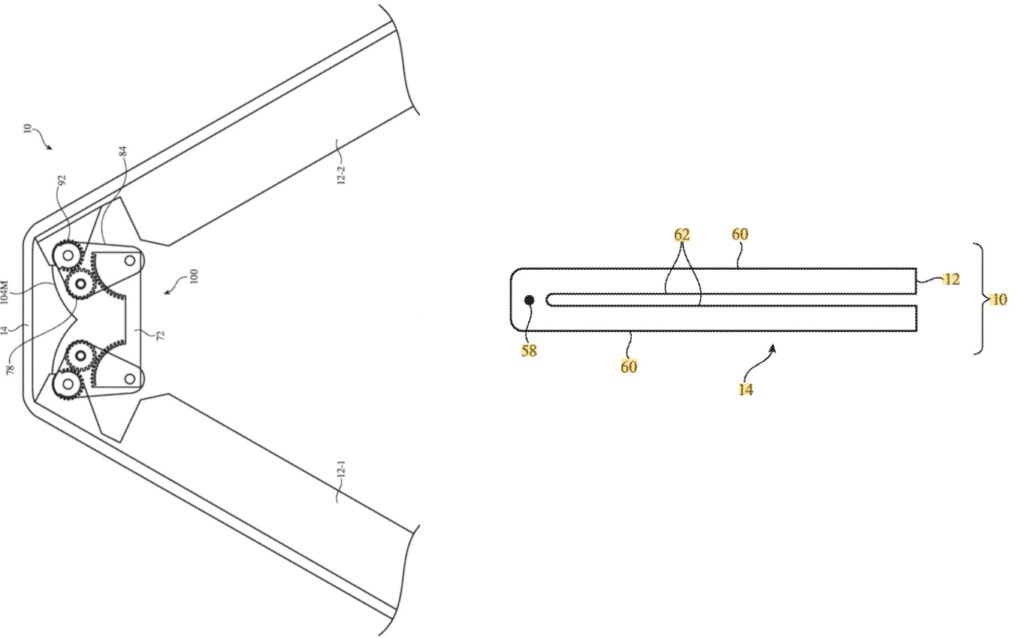 The patent US10694624B2 describes a foldable smartphone with an exposed display region. When the phone is fully unfolded, the display lies flat for the user. When the phone is put in a folded configuration, a protruding second portion of the display is exposed by the housing and revealed for viewing. Along with this, when the phone is in the unfolded form, the device's screen could display images for the user on the display. Display notifications, icons, and other content could be presented on the exposed second section of the display when the phone is folded and the first portion of the display is hidden from view. Below is the illustration for the same.
How might the Apple Foldable Phone Look Like?
We tried to go through all the patents and deduced these can be the look, design or feel of the foldable smartphones by Apple in near future. Have a look!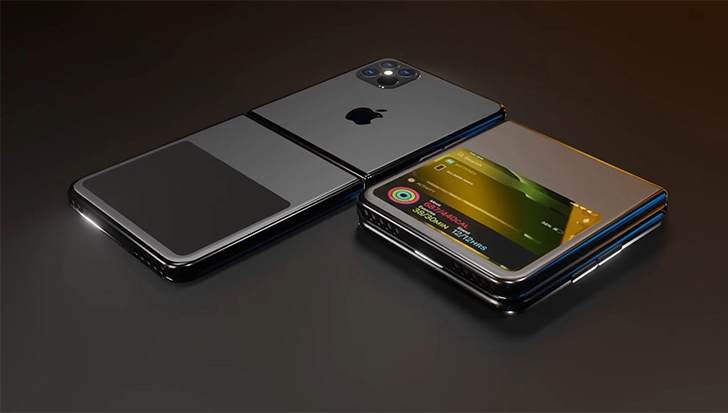 It's worth noting, though, that Apple will not necessarily employ its patents in actual products. Nonetheless, it's intriguing to observe that the corporation is developing technology to enhance its ecosystem's worth.
Competitors of Apple who are also working on Foldable Phone Technology
If patents or patents from a particular technology area of a company receive a lot of citations, it implies that the technology is being followed and incrementally innovated by the citing companies. It also indicates that citing companies are working on similar and closely related technologies.
The top citing companies in the Apple foldable phone patents are Samsung, Semiconductor Energy Laboratory and LG.
List of the top forward citing Companies –
| | |
| --- | --- |
| Company | Number of Patents |
| Samsung | 38 |
| Semiconductor Energy Laboratory | 16 |
| LG | 15 |
| BOE Technology Group | 8 |
| Toshiba | 4 |
| Microsoft | 4 |
| OPPO | 3 |
| Futurewei Technologies | 3 |
| Japan Display | 3 |
| Sharp | 2 |
Need to know anything else? We got you covered!
Authored By: Navjyot Singh & Satyam Tripathi, Insights;Gate Team