Tesla Motors is ranked as the world's best-selling plug-in and battery electric passenger car manufacturer. It owns a market share of 16% of the plug-in segment (which includes hybrids) and 23% of the total electric segment 2020 sales.
Apart from electric cars and batteries, through its subsidiary SolarCity, Tesla develops and installs solar systems in the United States. Below are 12 key highlights of Tesla's patent portfolio:
How many patents does Tesla Motors have?
Tesla has a total of 3304 patents globally. These patents belong to 986 unique patent families. Out of 3304 patents, 2147 patents are active.
How many Tesla patents are Alive/Dead?
Worldwide Patents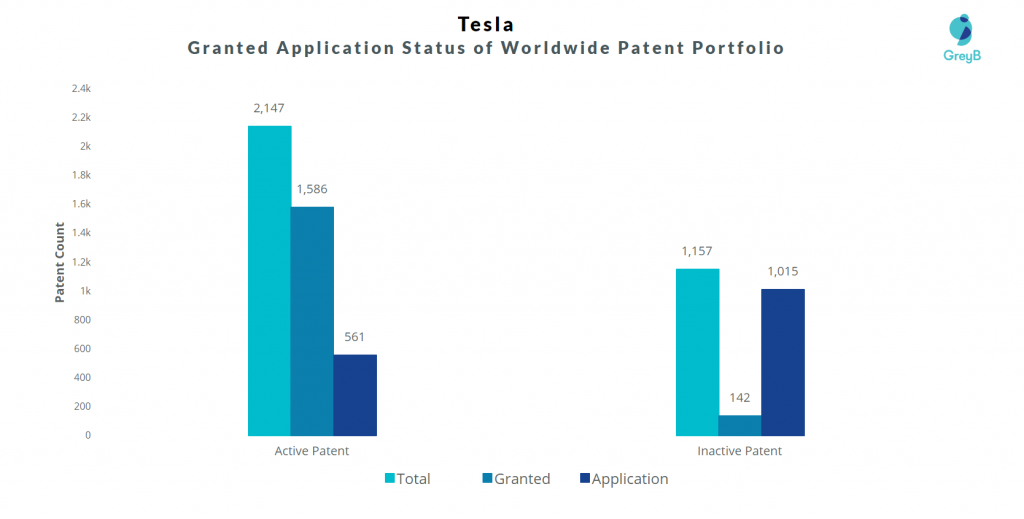 Patent Families
What technologies are protected by Tesla Patents?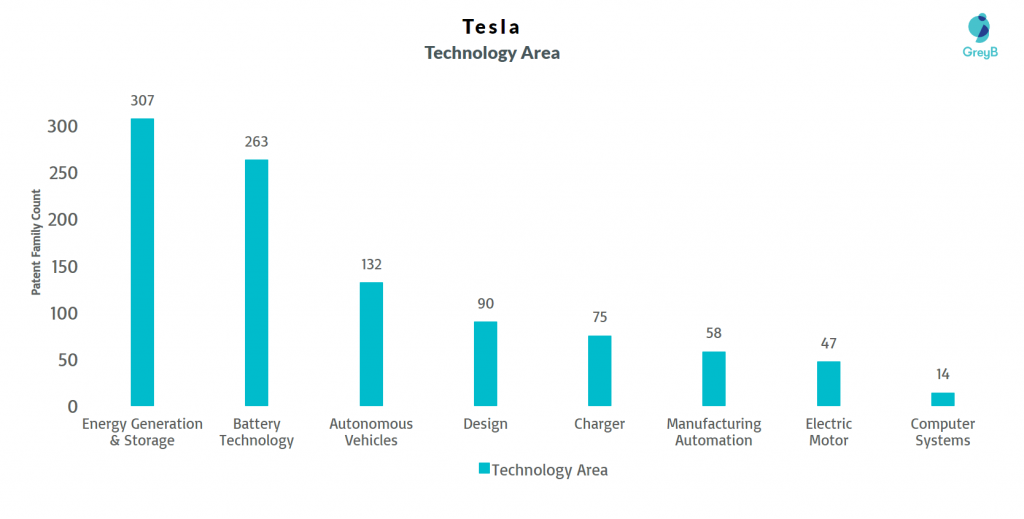 How Many Patents did Tesla File Every Year?
The drop in patent filing in recent years is because patent applications filed during the last two years are still in the process of being published. So, it doesn't suggest a decrease in the patent filing.
We included all the family members to plot the filing trend. A patent family can have multiple patent documents – filed globally or in a single country – covering a single invention.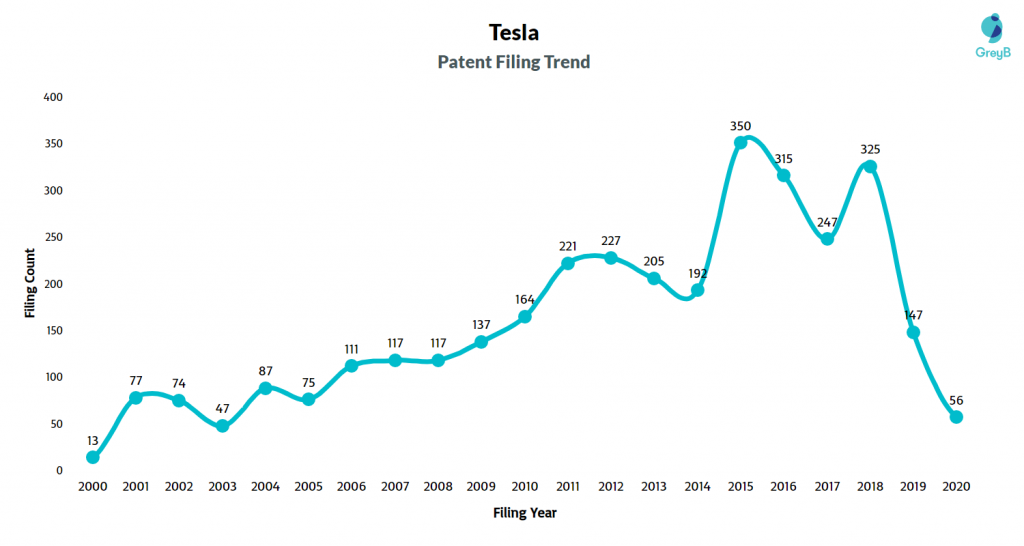 How Many Patents did Tesla File in Different Countries?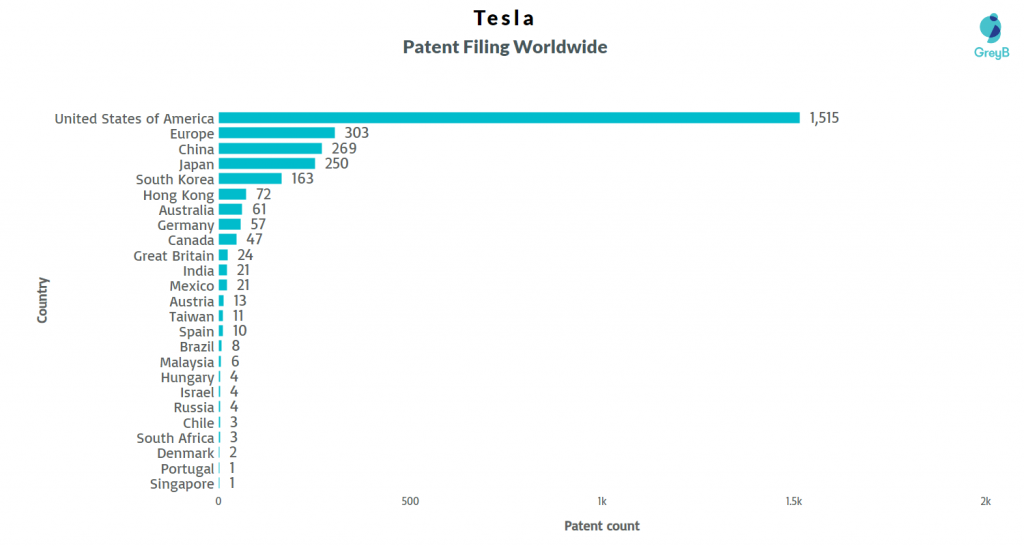 The chart below distributes patents filed by Tesla in different countries on the basis of the technology protected in patents. It also represents the markets where Tesla thinks it's important to protect particular technology inventions.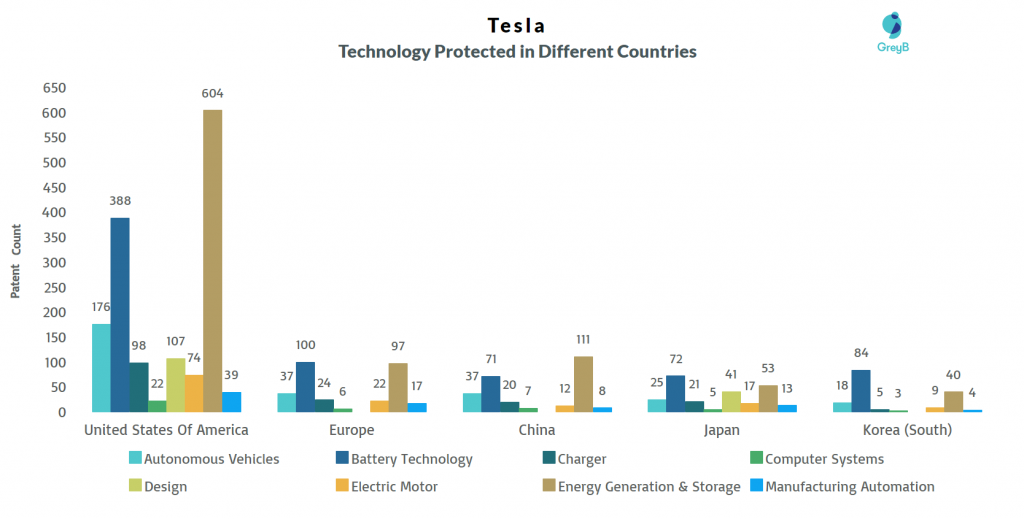 Where are Research Centers of Tesla Located?
The exhibit below is plotted by considering the country where an invention in a patent family was introduced for the first time. In turn, this helps find the R&D centers across the globe and lets us peek into the kind of research going on in a particular country.
How R&D Direction of Tesla Changed Over the Years?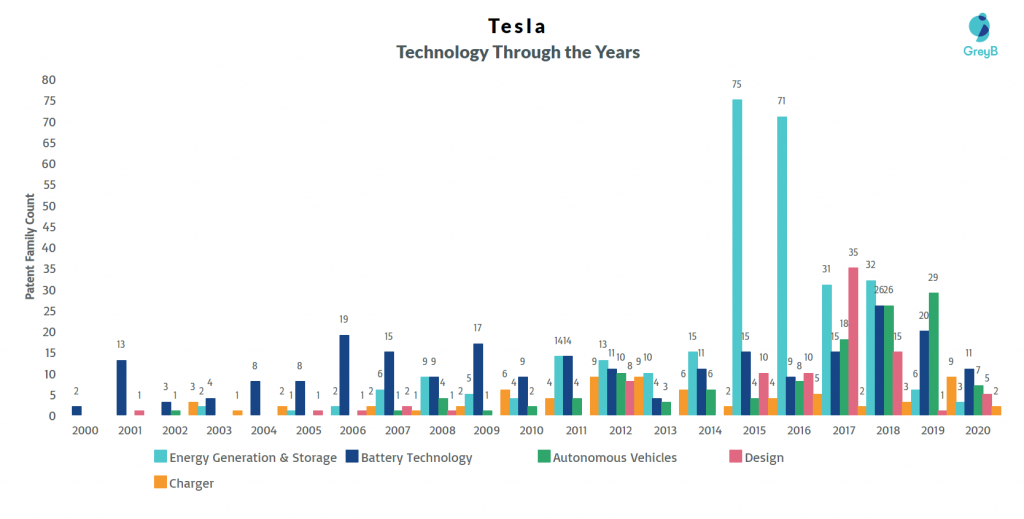 How Many Tesla Patents Earlier Belonged to Other Companies?
The chart below breaks Tesla's patents on the basis of their first owner. 48% of the patent families in Tesla's patent portfolio are acquired and aren't originally filed by Tesla.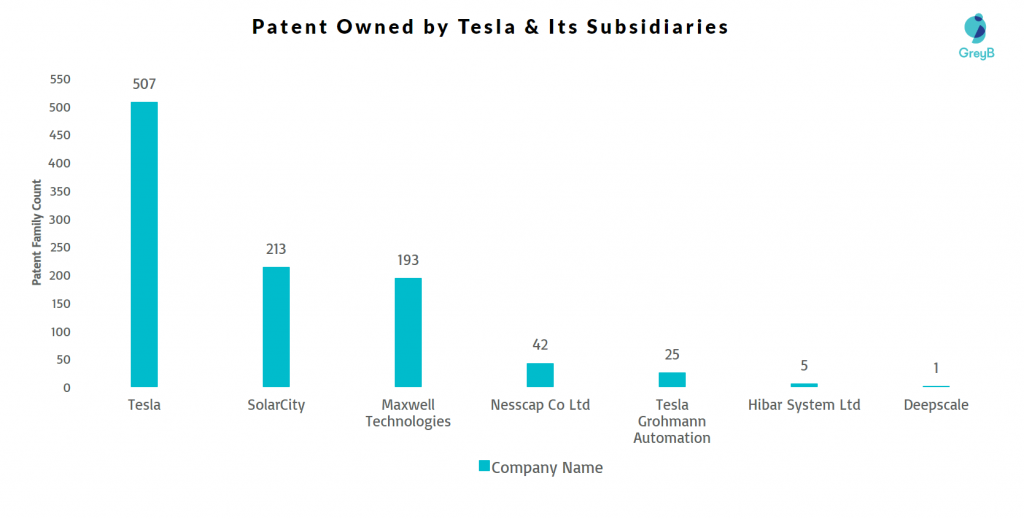 10 Best Tesla Patents
US7923144B2 is the most popular (cited 575 times in other patents) patent of Tesla. It received citations from companies like Samsung, BMW, and Ethicon Llc.
Below is the list of 10 most cited patents of Tesla:
Which Companies are Building on Tesla's Research?
The top-cited technologies in Tesla's patent portfolio are Energy Generation & Storage and Battery Technology. LG, Ford Motor, and Samsung are the top forward citing assignees. The table below shows how many applications of different assignees are citing Tesla's patents.
Top Forward Citing Assignees
Forward Citing Assignees
Application Count
LG
156
Ford Motor
143
Samsung
133
Sunpower
108
GM Global Technology Operations
108
Solarcity
91
Robert Bosch
91
Toyota
62
IBM
61
Hyundai Motor
48
What is the Success Rate of Tesla Motors at the USPTO?
Tesla has filed 1268 patent applications at USPTO so far (Excluding Design and PCT applications). Out of these 902 have been granted leading to the grant rate of 80.25%.
Below are the key stats of Tesla's patent prosecution at the USPTO.
Top Patent Law Firms that Filed Most Patents for Tesla at the USPTO
| | | |
| --- | --- | --- |
| Law Firm | Total Applications | Success Rate |
| Knobbe Martens | 527 | 90.85% |
| Kilpatrick Townsend & Stockton | 257 | 85.16% |
| Knobbe Martens Olson & Bear | 118 | 80.81% |
| Park Vaughan Fleming & Dowler | 67 | 53.73% |
| Dentons US | 54 | 70.97% |
| Fitch Even Tabin & Flannery | 28 | 96.43% |
| Tucker Ellis | 8 | 100.0% |