Kweichow Moutai has a total of 366 patents globally, out of which 315 have been granted. Of these 366 patents, more than 65% patents are active. China is where Kweichow Moutai has filed the maximum number of patents, followed by Taiwan and Japan, it has generated an annual revenue of $16.58 billion in the year 2021. Parallelly, China seems to be the main focused R&D center and is also the origin country of Kweichow Moutai.
Kweichow Moutai was founded in the year 1999 and is headquartered in Renhuai, China. Kweichow Moutai Co., Ltd. is a company that works in the wine industry. Its operations include raw material acquisition, production, and product sales. As of February 2022, Kweichow Moutai has a market cap of $ 359.03 Billion.
Do read about some of the most popular patents of Kweichow Moutai which have been covered by us in this article and also you can find Kweichow Moutai's patents information, the worldwide patent filing activity and its patent filing trend over the years, and many other stats over Kweichow Moutai's patent portfolio.
How many patents does the Chairman of Kweichow Moutai have?
The Chairman, Yuan Renguo, has 0 patents.
How many patents does Kweichow Moutai have?
Kweichow Moutai has a total of 366 patents globally. These patents belong to 361 unique patent families. Out of 366 patents, 239 patents are active.
How many Kweichow Moutai patents are Alive/Dead?
Worldwide Patents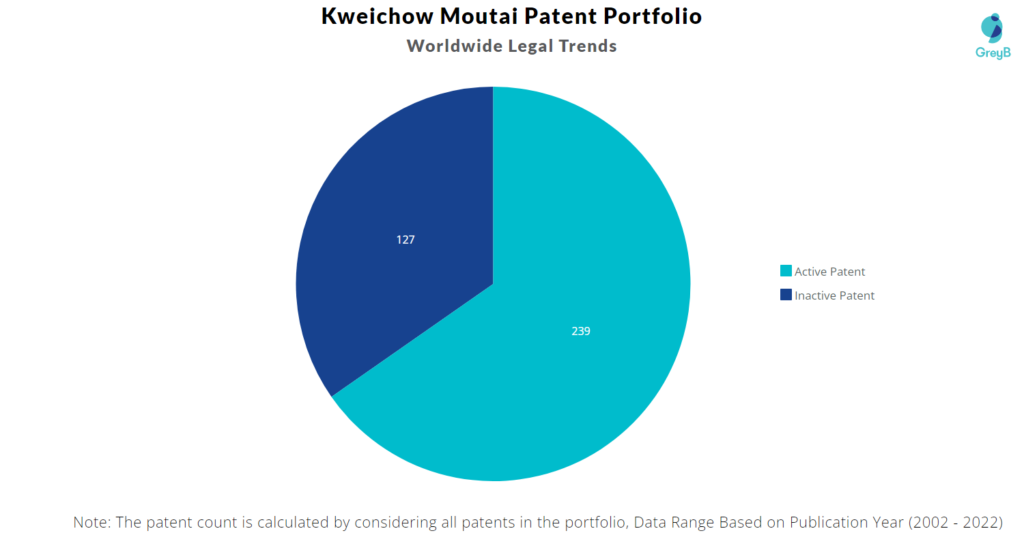 Patent Families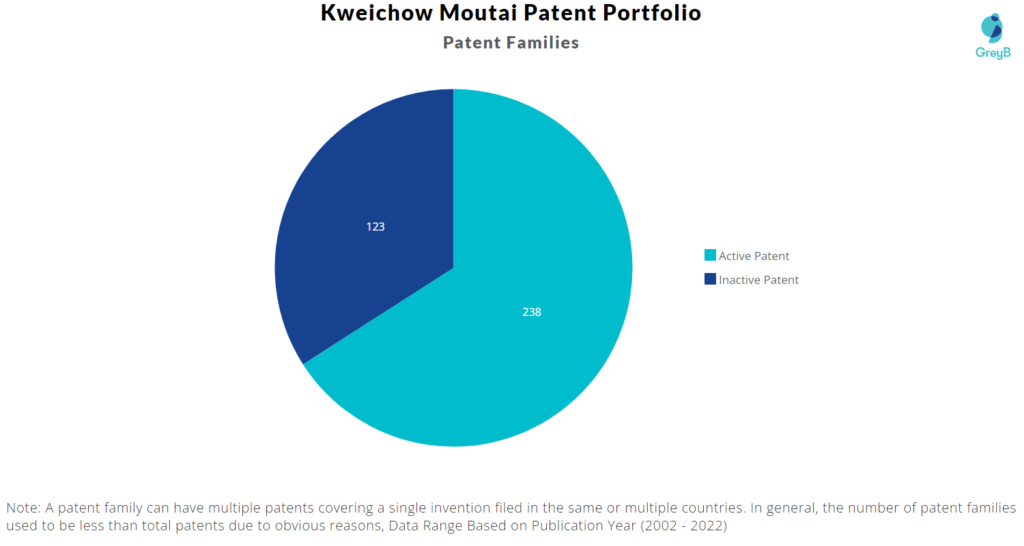 How Many Patents did Kweichow Moutai File Every Year?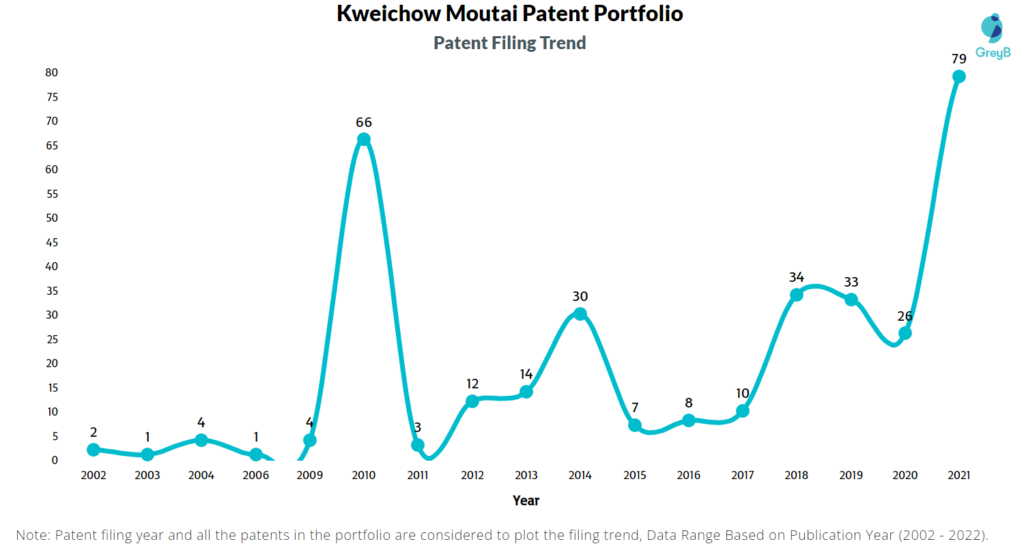 | | | |
| --- | --- | --- |
| Year of Patents Filing or Grant | Kweichow Moutai Applications Filed | Kweichow Moutai Patents Granted |
| 2011 | 3 | 27 |
| 2012 | 12 | 10 |
| 2013 | 14 | 16 |
| 2014 | 30 | 12 |
| 2015 | 7 | 14 |
| 2016 | 8 | 10 |
| 2017 | 10 | 8 |
| 2018 | 34 | 23 |
| 2019 | 33 | 41 |
| 2020 | 26 | 72 |
| 2021 | 79 | 2 |
| 2022 | – | 27 |
How Many Patents did Kweichow Moutai File in Different Countries?
Where are Research Centers of Kweichow Moutai Patents Located?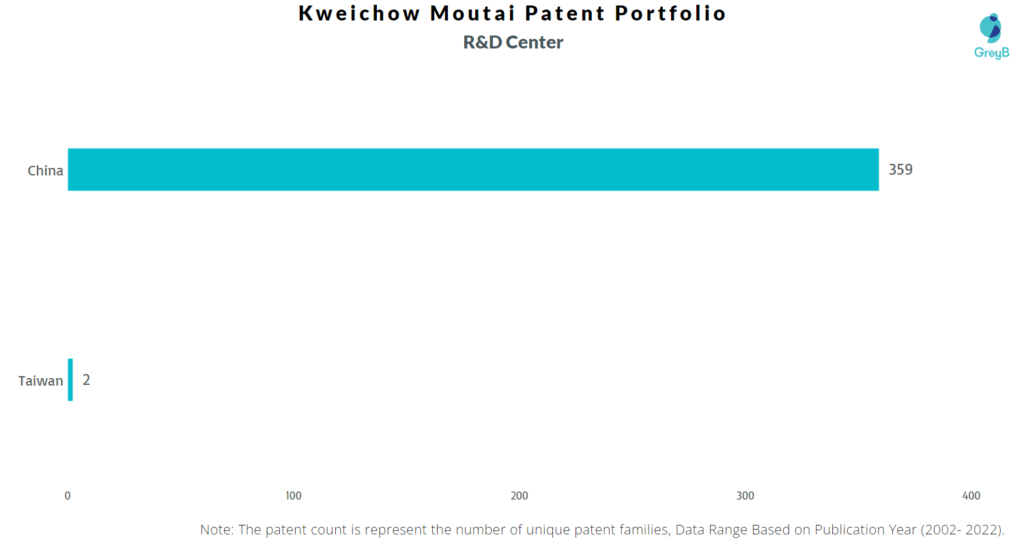 10 Best Kweichow Moutai Patents
CN102776111A is the most popular patent in the Kweichow Moutai portfolio. It has received 11 citations so far from companies like Hubei University of Technology and COFCO Biochemical Energy.
Below is the list of 10 most cited patents of Kweichow Moutai:
A beverage firm has surpassed China's largest bank as the country's most valuable publicly traded company. Kweichow Moutai has surpassed Industrial & Commercial Bank of China (ICBC), the world's largest commercial bank by assets, to become China's most valuable public corporation. It is the world's largest beverage corporation having surpassed UK-based Diageo three years ago and China's most valuable non-technology firm as of 2021.
It produces and distributes a distinct brand of baijiu, a clear, colourless whiskey widely regarded as China's national spirit. The alcohol concentration of baijiu is normally between 35 and 60 percent by volume.
Why is it so well-known?
Kweichow Moutai was a favourite beverage of Mao Zedong, the founding father of the People's Republic of China (PRC), who famously served it at state dinners during US President Richard Nixon's visit to China in 1972.
"I think if we drink enough Moutai, we can solve everything," US Secretary of State Henry Kissinger told Deng Xiaoping, China's future paramount leader, in 1974.

Moutai became the elite's preferred brand, a must-have at corporate banquets and a symbol of wealth and power, thanks to such effusive endorsements.
EXCLUSIVE INSIGHTS COMING SOON!
What are Kweichow Moutai's key innovation segments?
What Technologies are Covered by