Leon Stenneth has filed 186 US patents, out of which none have been granted. Of these 186 patents, more than 88% patents are active. "Given stats based on the United States of America data".
Leon Oliver Stenneth is currently associated with Microsoft as a Principal Applied Scientist. Most oftenly, he published in the field of maps, navigation, autonomous driving, artificial intelligence, machine learning, algorithms and big data processing.
Do read about some of the most popular patents of Leon Stenneth which have been covered by us in this article and also you can find his patents filing tend over the years, the worldwide coverage and many other stats over Leon Stenneth patent portfolio.
How many patents does Leon Stenneth have?
Leon Stenneth has a total of 186 US patents. These patents belong to 162 unique patent families. Out of 186 patents, 165 patents are active.
How Many Patents did Leon Stenneth File Every Year?
Are you wondering why there is a drop in patent filing for the last two years? It is because a patent application can take up to 18 months to get published. Certainly, it doesn't suggest a decrease in the patent filing.
How many Leon Stenneth patents are Alive/Dead?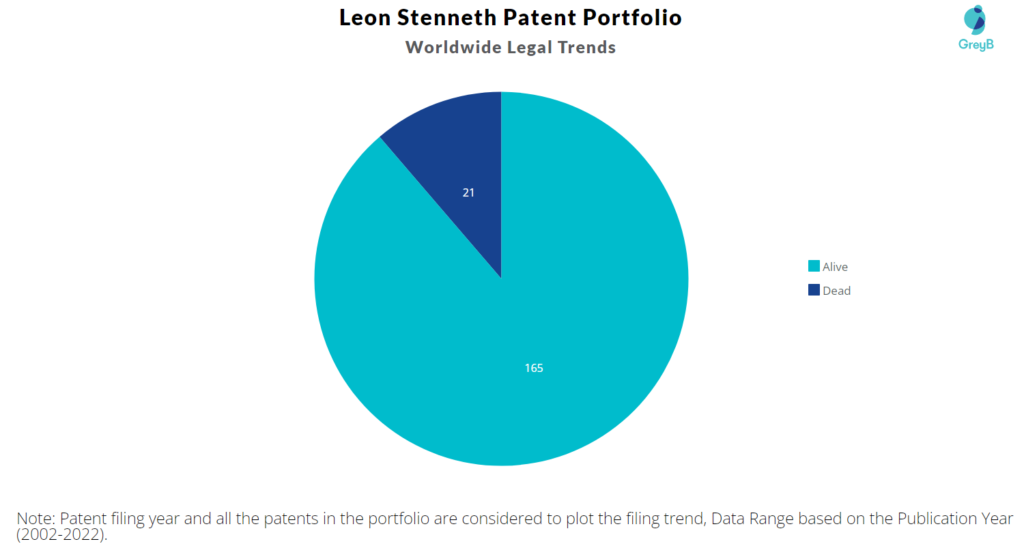 How Many Patents did Leon Stenneth File in Different Countries?
Countries in which Leon Stenneth Filed Patents
| | |
| --- | --- |
| Country | Patents |
| Europe | 54 |
| China | 10 |
| Australia | 5 |
| Canada | 1 |
| Austria | 1 |
| Argentina | 1 |
| Brazil | 1 |
10 Best Leon Stenneth Patents
US20160026182A1 is the most popular patent in the Leon Stenneth portfolio. It has received 244 citations so far from companies like Ford Global Technologies and IBM.
Below is the list of 10 most cited patents of Leon Stenneth:
What are Leon Stenneth's key innovation segments?
What Technologies are Covered by