Mirada Technologies has a total of 6 patents globally, out of which 2 have been granted. Of these 6 patents, more than 50% patents are active. The United States of America is where Mirada Technologies has filed all their patents. Parallelly, United States of America seems to be the main focused R&D centre and also is the origin country of Mirada Technologies.
Mirada Technologies was founded in 2017. Mirada Technologies creates the components that enable enhanced LiDAR. It develops the essential elements for high-tech LiDAR, such as laser scanning and detection technologies. Its standout item is a ground-breaking laser scanner with ranging range, field of view, dependability, and volume scalability.
Do read about some of the most popular patents of Mirada Technologies which have been covered by us in this article and also you can find Mirada Technologies patents information, the worldwide patent filing activity and its patent filing trend over the years, and many other stats over Mirada Technologies patent portfolio.
How many patents do the Founder and CEO of Mirada Technologies have?
The Founder Andrew Miner (Also CEO) have 0 patents, Jon Mapel have 0 patents.
How many patents does Mirada Technologies have?
Mirada Technologies has a total of 6 patents globally. These patents belong to 2 unique patent families. Out of 6 patents, 2 patents are active.
How Many Patents did Mirada Technologies File Every Year?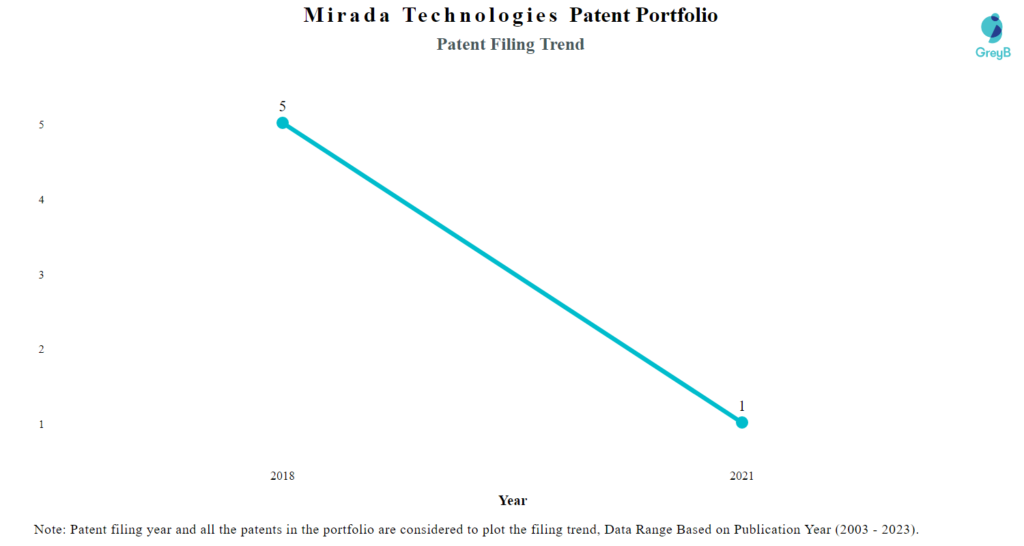 Are you wondering why there is a drop in patent filing for the last two years? It is because a patent application can take up to 18 months to get published. Certainly, it doesn't suggest a decrease in the patent filing.
| | | |
| --- | --- | --- |
| Year of Patents Filing or Grant | Mirada Technologies Applications Filed | Mirada Technologies Patents Granted |
| 2021 | 1 | – |
| 2020 | – | 1 |
| 2019 | – | 1 |
| 2018 | 5 | – |
How many Mirada Technologies patents are Alive/Dead?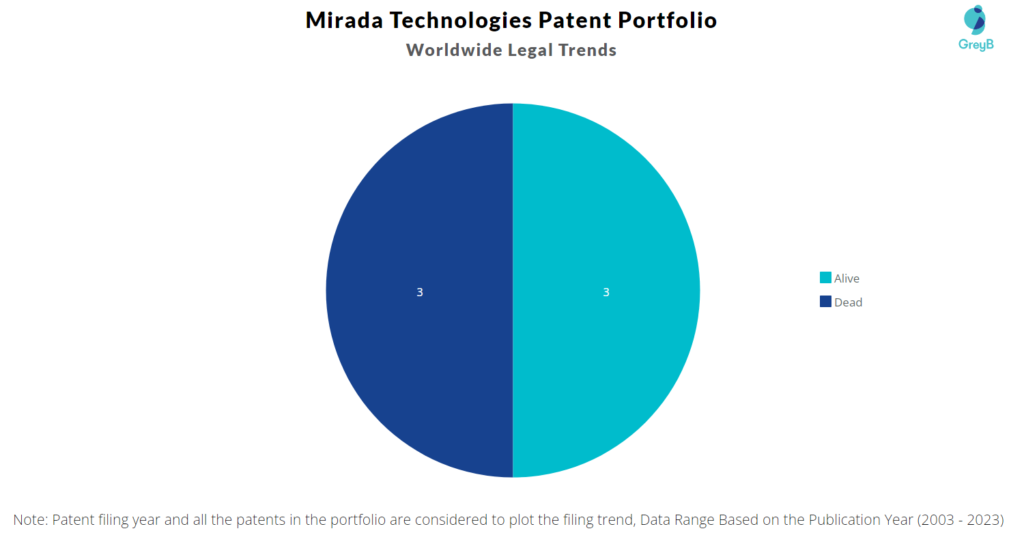 How Many Patents did Mirada Technologies File in Different Countries?
Mirada Technologies filled all their patents in United States of America.
Where are Research Centers of Mirada Technologies Patents Located?
The Research Center of Mirada Technologies Patents is the United States of America.
What Percentage of Mirada Technologies US Patent Applications were Granted?
Mirada Technologies (Excluding its subsidiaries) has filed 5 patent applications at USPTO so far (Excluding Design and PCT applications). Out of these 2 have been granted leading to a grant rate of 100%.
Below are the key stats of Mirada Technologies patent prosecution at the USPTO.

Which Law Firms Filed Most US Patents for Mirada Technologies?
| | | |
| --- | --- | --- |
| Law Firm | Total Applications | Success Rate |
| Mirada Technologies | 3 | 100% |
| Myers Bigel PA | 2 | 100% |
List of Mirada Technologies Patents
| | |
| --- | --- |
| Mirada Technologies Patent | Title |
| US10768346B2 | Optical Beam Steering Devices Having Polygonal Reflectors Therein |
| US10444488B2 | Optical Beam Steering Devices Having Electrically Conductive Fluids Therein And Methods Of Operating Same |
| US20220082817A1 | Optical Beam Scanners Having Multiple Loop Scanners Therein And Methods Of Operating Same |
| WO2019133101A3 | Lidar Systems And Optical Beam Steering Devices Having Neutrally Buoyant Reflectors Therein |
| WO2018217556A1 | Optical Beam Steering Devices Having Polygonal Reflectors Therein |
| WO2018156701A1 | Optical Beam Steering Devices Having Electrically Conductive Fluids Therein And Methods Of Operating Same |