HighRadius has a total of 14 patents globally, out of which 2 have been granted. Of these 14 patents, more than 82% patents are active. United States of America is where HighRadius has filed the maximum number of patents, followed by India, it has generated an annual revenue of $250 million in the year 2021. Parallelly, United States of America seems to be the main focused R&D center and is also the origin country of HighRadius.
HighRadius was founded in the year 2006 by Sashi Narahari. Company is doing business in fintech enterprise Software-as-a-Service (SaaS). As of January 2022, HighRadius has a market valuation of $1 Billion.
Do read about some of the most popular patents of HighRadius which have been covered by us in this article and also you can find HighRadius patents information, the worldwide patent filing activity and its patent filing trend over the years, and many other stats over HighRadius patent portfolio.
How many patents does the founder and the CEO of HighRadius have?
The founder and CEO, Sashi Narahari has 0 patents.
How many patents does HighRadius have?
HighRadius has a total of 14 patents globally. These patents belong to 6 unique patent families. Out of 14 patents, 14 patents are active.
How many HighRadius patents are Alive/Dead?
Worldwide Patents
Patent Families
How Many Patents did HighRadius File Every Year?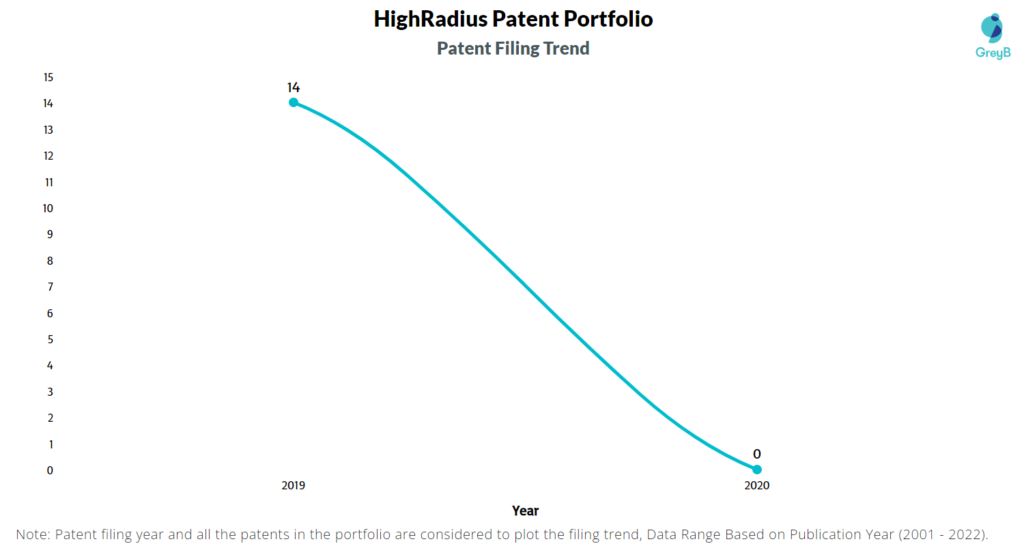 Are you wondering why there is a drop in patent filing for the last two years? It is because a patent application can take up to 18 months to get published. Certainly, it doesn't suggest a decrease in the patent filing.
| | | |
| --- | --- | --- |
| Year of Patents Filing or Grant | HighRadius Applications Filed | HighRadius Patents Granted |
| 2019 | 14 | – |
| 2020 | – | – |
| 2021 | – | 2 |
How Many Patents did HighRadius File in Different Countries?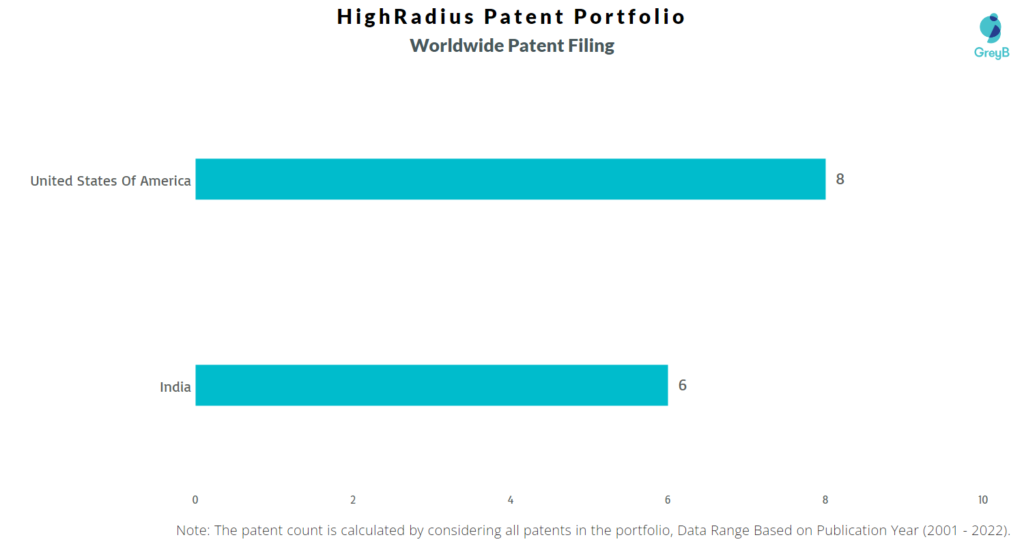 Countries in which HighRadius Filed Patents
| | |
| --- | --- |
| Country | Patents |
| United States Of America | 8 |
| India | 6 |
Where are Research Centers of HighRadius Patents Located?
What Percentage of HighRadius US Patent Applications were Granted?
HighRadius (Excluding its subsidiaries) has filed 8 patent applications at USPTO so far (Excluding Design and PCT applications). Out of these 2 have been granted leading to a grant rate of 66.67%.
Below are the key stats of HighRadius patent prosecution at the USPTO.
Which Law Firms Filed Most US Patents for HighRadius?
| | | |
| --- | --- | --- |
| Law Firm | Total Application | Success Rate |
| Adsero Ip Llc | 7 | 66.67% |
What Technologies are Covered by HighRadius?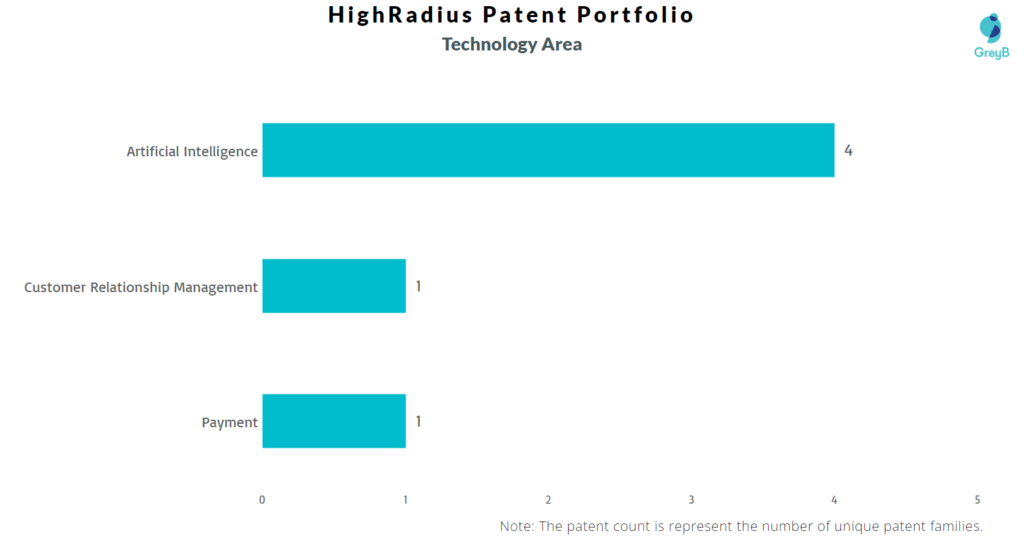 Patents related to AI includes Machine Learning assisted transaction component settlement, Provided techniques manage and predict future events in case of payments and machine learning to identify abnormal event resolutions and provide guidance for resolution.
Patents filed under CRM relates to the enhanced CRM system that performs activities automatically and with the assistance of artificial intelligence and machine learning based on historical information.
Payment related patents includes method to process virtual credit card (VCC) payments automatically.
The chart below distributes patents filed by HighRadius in different countries on the basis of the technology protected in patents. It also represents the markets where HighRadius thinks it's important to protect particular technology inventions.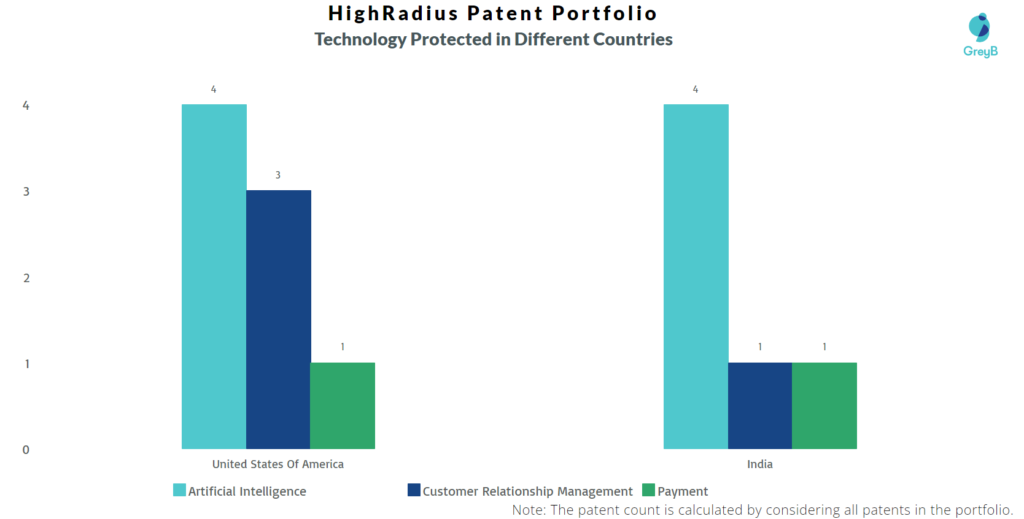 R&D Focus: How HighRadius search focus changed over the years?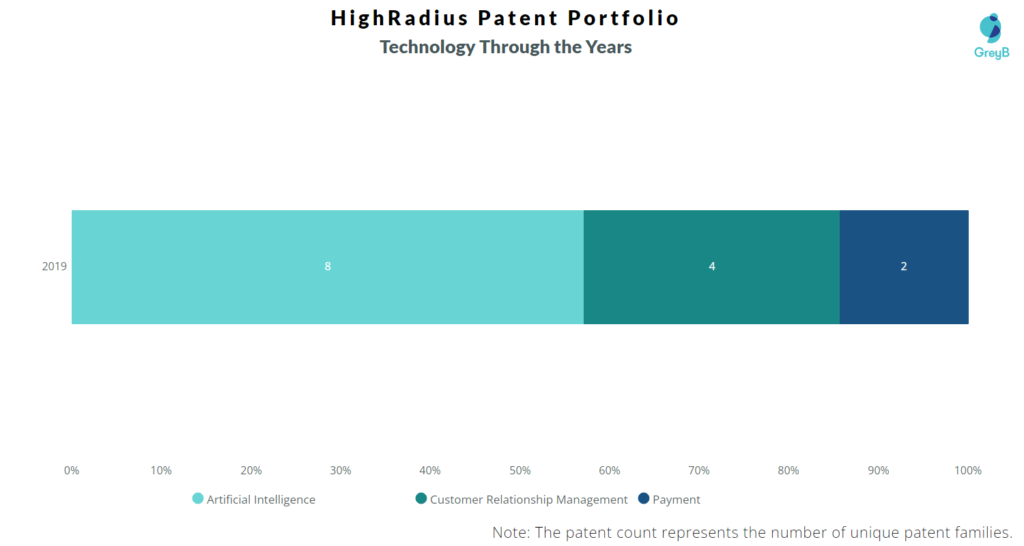 List of HighRadius Patents
| | |
| --- | --- |
| HighRadius Patents | Title |
| US11100409B2 | Machine learning assisted transaction component settlement |
| US11080768B2 | Customer relationship management call intent generation |
| US20200265485A1 | Customer relationship management call intent generation |
| US20200265445A1 | Customer relationship management call intent generation |
| US20200265443A1 | Event prediction using artificial intelligence |
| US20200265439A1 | Predicting and resolving request holds |
| US20200265415A1 | Touchless virtual card payment automation |
| US20200265393A1 | Predictive analytics for abnormal event resolutions |
| IN201941006158A | Predicting and resolving request holds |
| IN201941006160A | Customer relationship management call intent generation |
| IN201941006157A | Touchless virtual card payment automation |
| IN201941006155A | Machine learning assisted transaction component settlement |
| IN201941006159A | Event prediction using artifical intellegence |
| IN201941006156A | Predictive analytics for abnormal event resolutions |
Authored By: Navjyot Singh, Insights;Gate Team