Ather Energy has a total of 151 patents globally, out of which 102 have been granted. Of these 151 patents, more than 90% patents are active. India is where Ather Energy has filed the maximum number of patents, followed by Vietnam and Indonesia. Parallelly, India seems to be the main focused R&D center and is also the origin country of Ather Energy.
Ather Energy was founded in the year 2013 by Tarun Mehta and Swapnil Jain. Company is doing business in Electrical Vehicle. As of January 2022, Ather Energy has a market valuation of $187 million.
Do read about some of the most popular patents of Ather Energy which have been covered by us in this article and also you can find Ather Energy's patents information, the worldwide patent filing activity and its patent filing trend over the years, and many other stats over Ather Energy's patent portfolio.
How many patents does the founder and CEO of Ather Energy have?
The co-founder, Swapnil Jain has 2 patents. The CEO and co-founder, Tarun Mehta has 5 patents.
How many patents does Ather Energy have?
Ather Energy has a total of 151 patents globally. These patents belong to 150 unique patent families. Out of 151 patents, 136 patents are active.
How many Ather Energy patents are Alive/Dead?
Worldwide Patents
Patent Families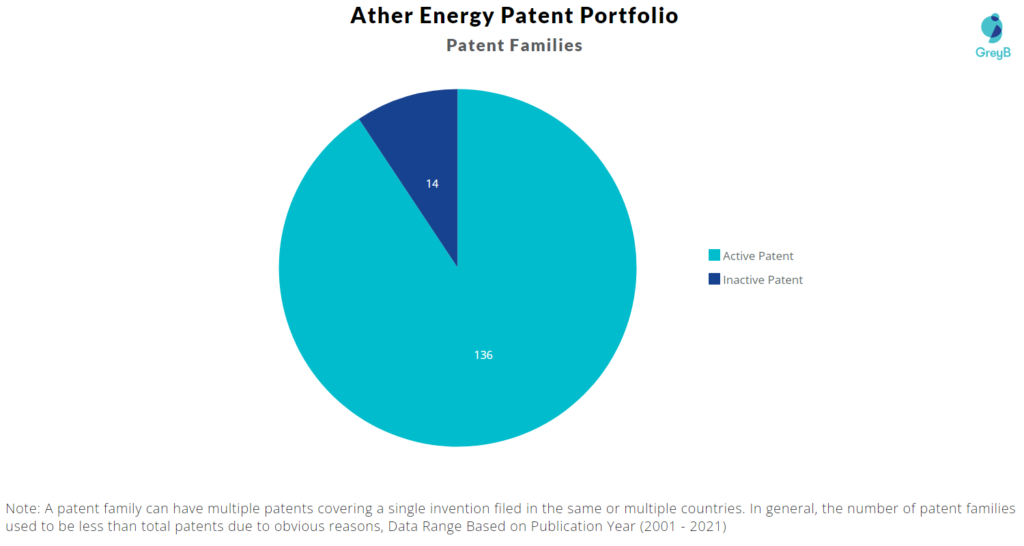 How Many Patents did Ather Energy File Every Year?
Are you wondering why there is a drop in patent filing for the last two years? It is because a patent application can take up to 18 months to get published. Certainly, it doesn't suggest a decrease in the patent filing.
| | | |
| --- | --- | --- |
| Year of Patents Filing or Grant | Ather Energy Applications Filed | Ather Energy Patents Granted |
| 2014 | 1 | – |
| 2015 | – | – |
| 2016 | 72 | 1 |
| 2017 | 52 | 44 |
| 2018 | 13 | 26 |
| 2019 | 4 | 13 |
| 2020 | 9 | 8 |
| 2021 | – | 10 |
How Many Patents did Ather Energy File in Different Countries?
Countries in which Ather Energy Filed Patents
| | |
| --- | --- |
| Country | Patents |
| India | 133 |
| Vietnam | 2 |
| Indonesia | 2 |
| Taiwan | 1 |
| Malaysia | 1 |
| Philippines | 1 |
Where are Research Centers of Ather Energy Patents Located?
"We want to start building machine learning solutions with Google Cloud as rapidly as possible," says Swapnil. "The next big area we'll focus on are features that will improve the ownership and daily ride experience. Our upcoming OTAs will include features like predictive maintenance, improved range prediction, and adding first to category abilities like rider profiling."
With pothole-filled roads, unnamed streets, chronic traffic congestion, perplexing city layouts, and free-for-all driving, driving in India can be challenging. Swapnil and Tarun had a vision to solve these issues with an electric scooter that adapts to changing road conditions, driving behaviours, and vehicle performance.
With Cloud IoT Core and BigQuery, Ather Energy created an intelligent electric scooter with route optimization and predictive maintenance to help people in India's dynamic economy.
Ather Energy's synergies with Cloud IoT solutions resulted in a one-of-a-kind mobility platform for India and beyond. Ather Energy's platform capabilities are enhanced with Google Maps Platform-enabled navigation as a major component. The Ather 450 uses predictive maintenance to prevent problems, organises electricity use to save money, analyses traffic and road conditions to find the best route, and informs riders to vacant charge stations in the Ather Grid, the startup's charging infrastructure.
EXCLUSIVE INSIGHTS COMING SOON!
What are Ather Energy key innovation segments?
What Technologies are Covered by Ather Energy?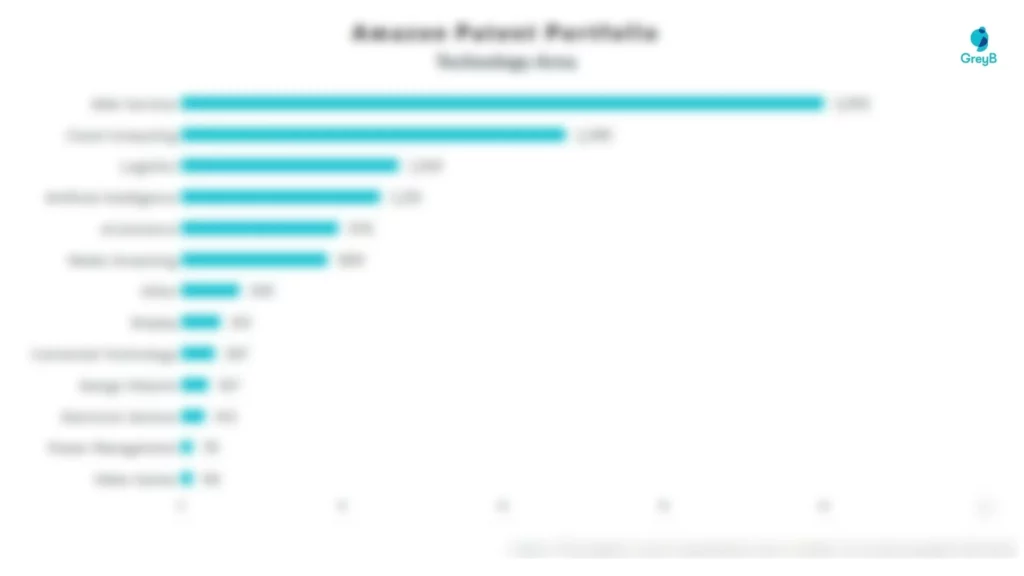 The chart below distributes patents filed by Ather Energy in different countries on the basis of the technology protected in patents. It also represents the markets where Ather Energy thinks it's important to protect particular technology inventions.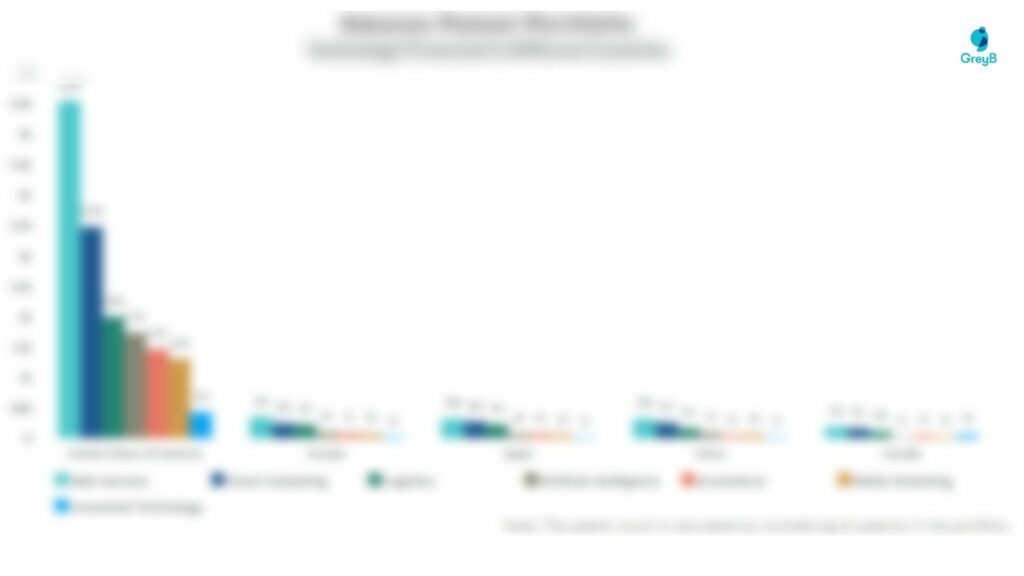 R&D Focus: How Ather Energy search focus changed over the years?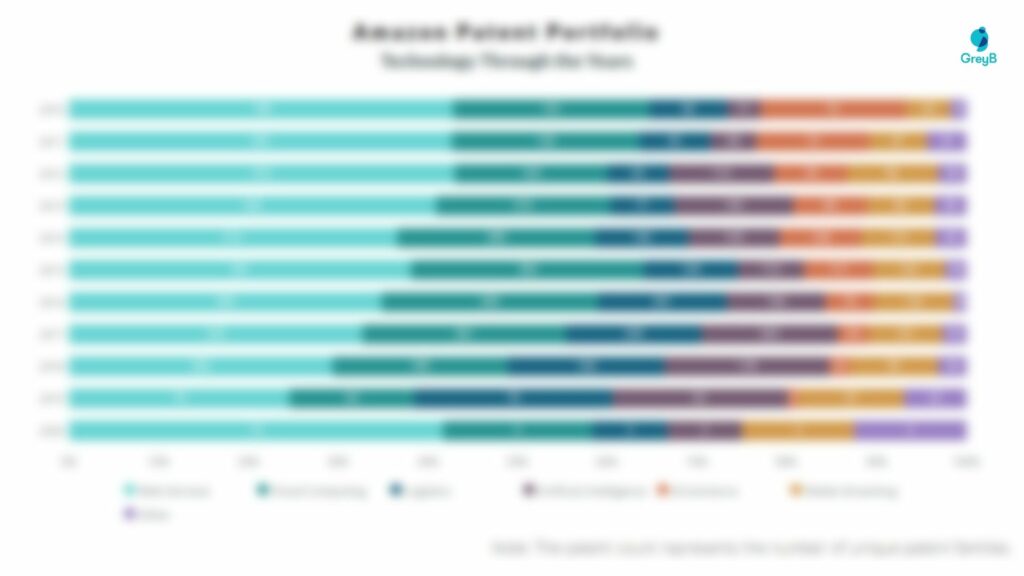 EXCLUSIVE INSIGHTS COMING SOON!
Interested in knowing about the areas of innovation that are being protected by Ather Energy?