Beyond Meat has a total of 16 patents globally, out of which 4 have been granted. Of these 16 patents, all patents are active. USA is where Beyond Meat has filed the maximum number of patents, followed by Australia and Israel, it has generated an annual revenue of $406.8 million in the year 2020. Parallelly, USA seems to be the main focused R&D center and is also the origin country of Beyond Meat.
Beyond Meat, formerly known as Savage River, was founded by Ethan Brown in 2009. The company offers plant-based options in the beef, pork and poultry categories. As of March 2022, Beyond Meat has a market cap of $2.45 Billion.
Do read about some of the most popular patents of Beyond Meat which have been covered by us in this article and also you can find Beyond Meat' patents information, the worldwide patent filing activity and its patent filing trend over the years, and many other stats over Beyond Meat' patent portfolio.
How many patents does the founder and the CEO of Beyond Meat have?
The founder and CEO, Ethan Brown, has 0 patents.
How many patents does Beyond Meat have?
Beyond Meat has a total of 16 patents globally. These patents belong to 4 unique patent families. Out of 16 patents, all patents are active.
How many Beyond Meat patents are Alive/Dead?
Worldwide Patents
Patent Families
How Many Patents did Beyond Meat File Every Year?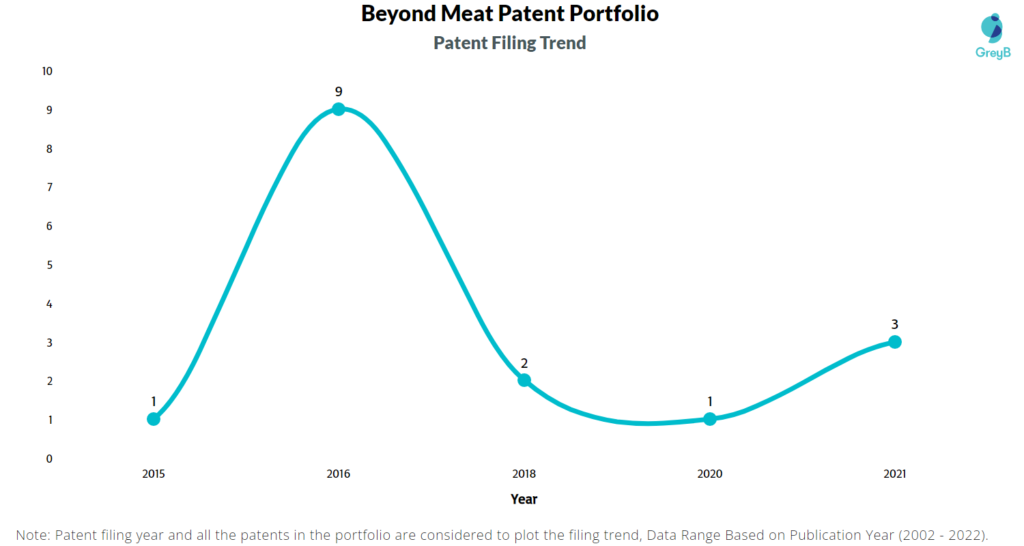 Are you wondering why there is a drop in patent filing for the last two years? It is because a patent application can take up to 18 months to get published. Certainly, it doesn't suggest a decrease in the patent filing.
| | | |
| --- | --- | --- |
| Year of Patents Filing or Grant | Beyond Meat Applications Filed | Beyond Meat Patents Granted |
| 2011 | – | – |
| 2012 | – | – |
| 2013 | – | – |
| 2014 | – | – |
| 2015 | 1 | – |
| 2016 | 9 | 1 |
| 2017 | – | – |
| 2018 | 2 | – |
| 2019 | – | – |
| 2020 | 1 | 1 |
| 2021 | 3 | 2 |
| 2022 | – | – |
How Many Patents did Beyond Meat File in Different Countries?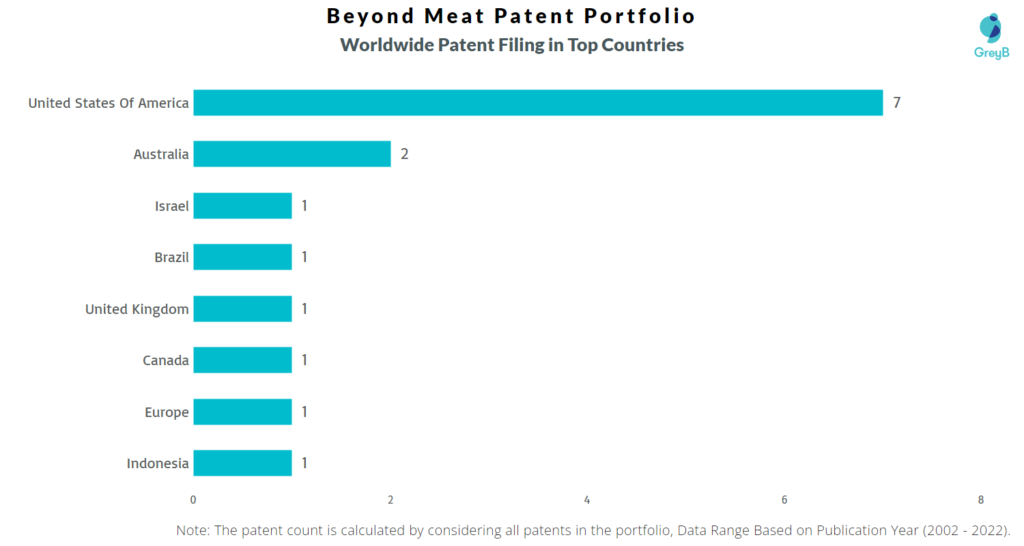 Where are Research Centers of Beyond Meat Patents Located?
Best Beyond Meat Patents
US20170105438A1 is the most popular patent in the Beyond Meat portfolio. It has received 37 citations so far from companies like Impossible Foods, The Hershey Company, and Land O'lakes, Inc.
Below is the list of most cited patents of Beyond Meat:
What Percentage of Beyond Meat US Patent Applications were Granted?
Beyond Meat (Excluding its subsidiaries) has filed 15 patent applications at USPTO so far (Excluding Design and PCT applications). Out of these 2 have been granted leading to a grant rate of 40%.
Below are the key stats of Beyond Meat patent prosecution at the USPTO.

Which Law Firms Filed Most US Patents for Beyond Meat?
| | | |
| --- | --- | --- |
| Law Firm | Total Application | Success Rate |
| Kirton Mcconkie | 12 | 40.0% |
Plant-based meat companies like Beyond Meat and Impossible Foods have spent a lot of money on research and development to make their goods as realistic as possible.
Beyond Meat employs a food extrusion machine invented at the University of Missouri to push plant proteins into a fibrous, meat-like texture that resembles muscle fibres in order to make its Beyond Burger product. Rather than using genetic engineering, the Beyond Meat burger employs beet juice to mimic the bleeding that occurs when a real burger is eaten. To better simulate the texture of actual meat, coconut oil and cocoa butter are utilised to give marbling.
Ingredient development has a lot of room for innovation, even without genetic engineering. The vast majority of plant-based meat products rely on a small number of plant proteins, with soy, pea, and wheat proteins accounting for the majority of them. Beyond these three crops, there is a vast array of accessible plant proteins that has yet to be investigated.
In the plant-based meat sector, technology is rapidly evolving, and the next few years could be critical in determining whether plant-based meat can challenge the global meat industry.
| | |
| --- | --- |
| Beyond Meat Patents | Title |
| US20210259290A1 | Meat-like food products |
| US11019836B2 | Food products comprising cell wall material |
| US20190037893A1 | Meat-like food products |
| US20180310599A1 | Meat-like food products |
| US20170105438A1 | Meat-like food products |
| US9526267B2 | Nutrient-dense meat structured protein products |
| US62958192P0 | Meat-like food products comprising sal butter and/or sal butter compositions |
| EP3361881A1 | Meat-like food products |
| WO2021142157A1 | Meat-like food products comprising sal butter and/or sal butter compositions |
| CA3002809A1 | Meat-like food products |
| AU2016342157C1 | Meat-like food products |
| AU2021212057A1 | Meat-like food products |
| GB2558130B | Meat-like food products |
| BR112018008097A2 | Food Products like meat |
| ID201809984A | Meat-like Food Products |
| IL258677A | Meat-like food products |