BPCE has a total of 77 patents globally, out of which 49 have been granted. Of these 77 patents, more than 32% patents are active. France is where BPCE has filed the maximum number of patents, followed by USA and Korea. Parallelly, France seems to be the main focused R&D center and is also the origin country of BPCE.
BPCE was founded in 2007. BPCE operates as a bank. The Company offers banking, insurance, savings, cash management, financing, and investment solutions. BPCE serves customers worldwide.
Do read about some of the most popular patents of BPCE which have been covered by us in this article and also you can find BPCE patents information, the worldwide patent filing activity and its patent filing trend over the years, and many other stats over BPCE patent portfolio.
How many patents does the CEO of BPCE have?
The CEO, Laurent Mignon have 1 patents.
How many patents does BPCE have?
BPCE has a total of 77 patents globally. These patents belong to 56 unique patent families. Out of 77 patents, 25 patents are active.
How many BPCE patents are Alive/Dead?
Worldwide Patents
Patent Families
How Many Patents did BPCE File Every Year?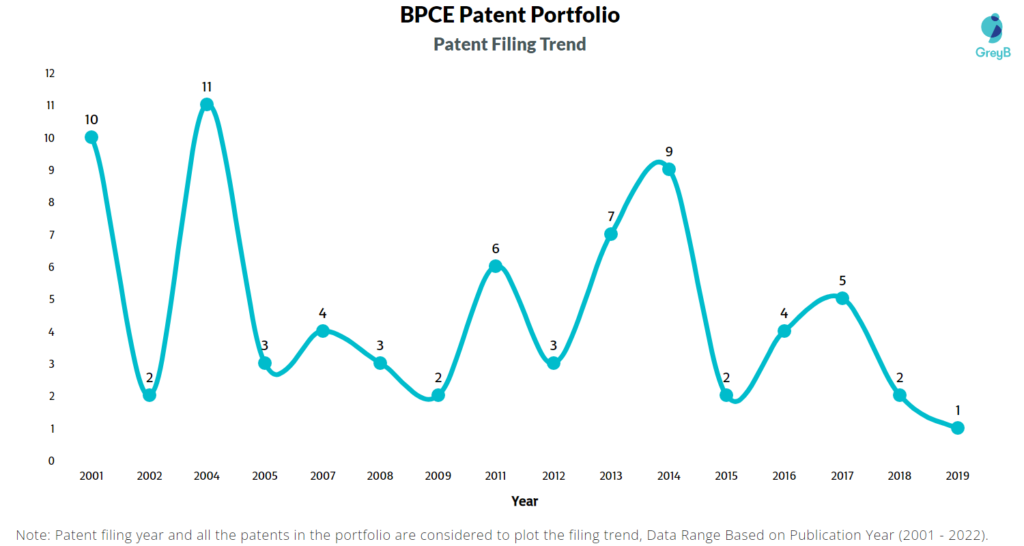 | | | |
| --- | --- | --- |
| Year of Patents Filing or Grant | BPCE Applications Filed | BPCE Patents Granted |
| 2011 | 6 | 3 |
| 2012 | 3 | 1 |
| 2013 | 7 | 4 |
| 2014 | 9 | 1 |
| 2015 | 2 | 3 |
| 2016 | 4 | – |
| 2017 | 5 | 3 |
| 2018 | 2 | 2 |
| 2019 | 1 | 2 |
How Many Patents did BPCE File in Different Countries?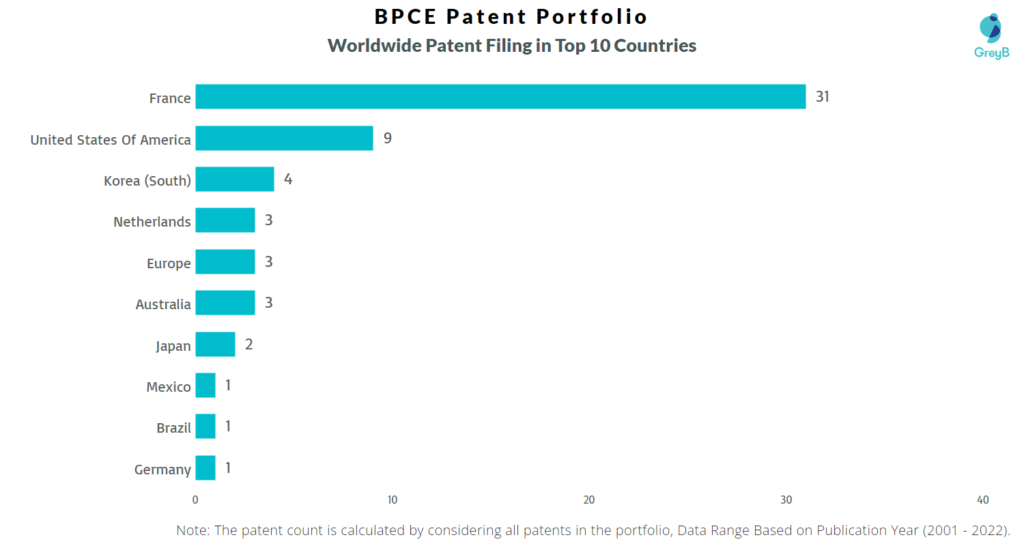 Countries in which BPCE Filed Patents
| | |
| --- | --- |
| Country | Patents |
| France | 31 |
| United States Of America | 9 |
| Korea (South) | 4 |
| Netherlands | 3 |
| Europe | 3 |
| Australia | 3 |
| Japan | 2 |
| Mexico | 1 |
| Brazil | 1 |
| Germany | 1 |
| Russian Federation | 1 |
| United Kingdom | 1 |
| China | 1 |
| Austria | 1 |
| Hong Kong (S.A.R.) | 1 |
| India | 1 |
Where are Research Centers of BPCE Patents Located?
10 Best BPCE Patents
US20050049952A1 is the most popular patent in the BPCE portfolio. It has received 88 citations so far from companies like Verizon Media Inc, One by AOL and Research Affiliates Llc.
Below is the list of 10 most cited patents of BPCE:
After a 12-year period of transformation, Groupe BPCE is fully prepared to step up the pace of its business development by helping its customers meet their investment needs during this period of economic recovery. The Covid crisis raised people's awareness of profound social trends such as the growing digitalization of society and adoption of hybrid working practices, and the acceleration of the energy transition.
BPCE intends to fully grasp this momentum and to realize the full potential of its multi-brand, entrepreneurial cooperative banking model in order to be a front-ranking player in banking, insurance and asset management useful for all.
The BPCE 2024 strategic plan is based on 3 strategic priorities:
Winning spirit: additional revenues worth €1.5 billion in 5 priority areas,
Customer: the highest quality of service with a tailored customer relationship model,
Climate: concrete and measurable commitments within the framework of a "net zero
It is also informed by 3 key principles:
Simple: a simpler, more intelligible, and more efficient organization,
Innovative: strong ambitions in data and the future of work, a foundation for innovation in HR,
Secure: an improvement in the Group's economic performance and confirmation of its role as a trusted third party
Laurent Mignon, Chairman of the Management Board of Groupe BPCE, said:
"Twelve years after its creation, and thanks to an acceleration in its transformation, Groupe BPCE now commands strong positions in each of its business lines with robust financial fundamentals that stand among the industry's very best in Europe.
BPCE's new strategic plan for the next 20 years is designed to make the areas of new conquest in sectors such as health care, the energy transition, and insurance. With this plan, we are going to release the full potential of all our companies – notably the Banques Populaires and the Caisses d'Epargne – in their drive to support all our customers.
BPCE is to simplify its organizational structure and IT resources and make innovation serve the ambitions of a new strategic plan. CEO: "At the end of this plan, we will not only have conquered new territories by supporting the economic recovery and the realization of our customers' projects".
EXCLUSIVE INSIGHTS COMING SOON!
What are BPCE's key innovation segments?
What Technologies are Covered by BPCE?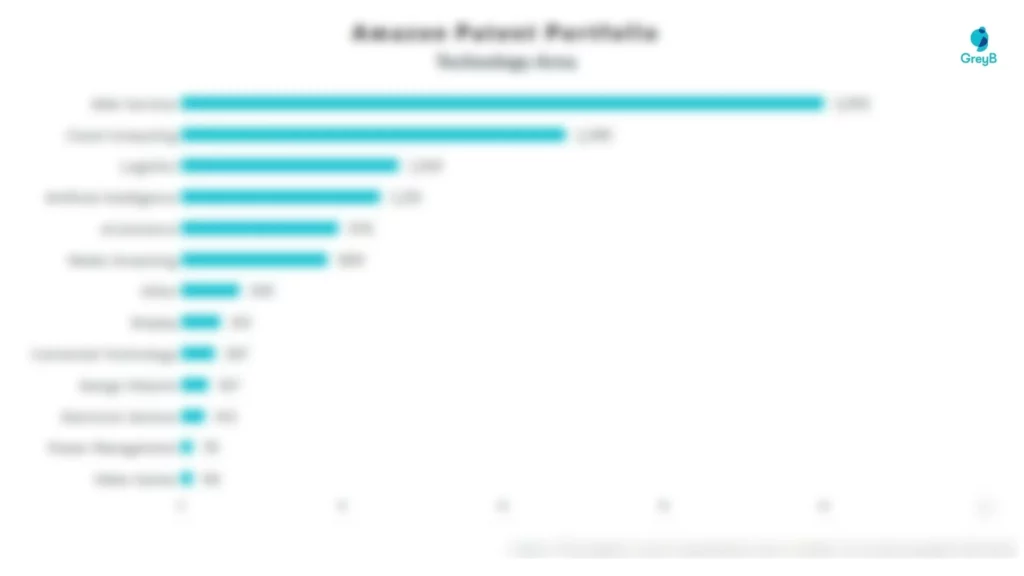 The chart below distributes patents filed by BPCE in different countries on the basis of the technology protected in patents. It also represents the markets where BPCE thinks it's important to protect particular technology inventions.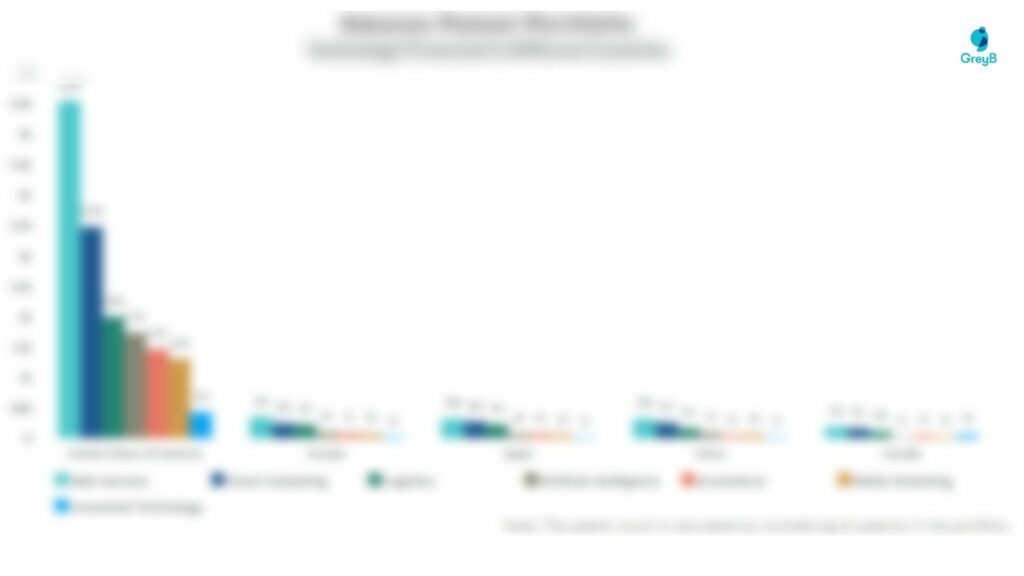 R&D Focus: How BPCE search focus changed over the years?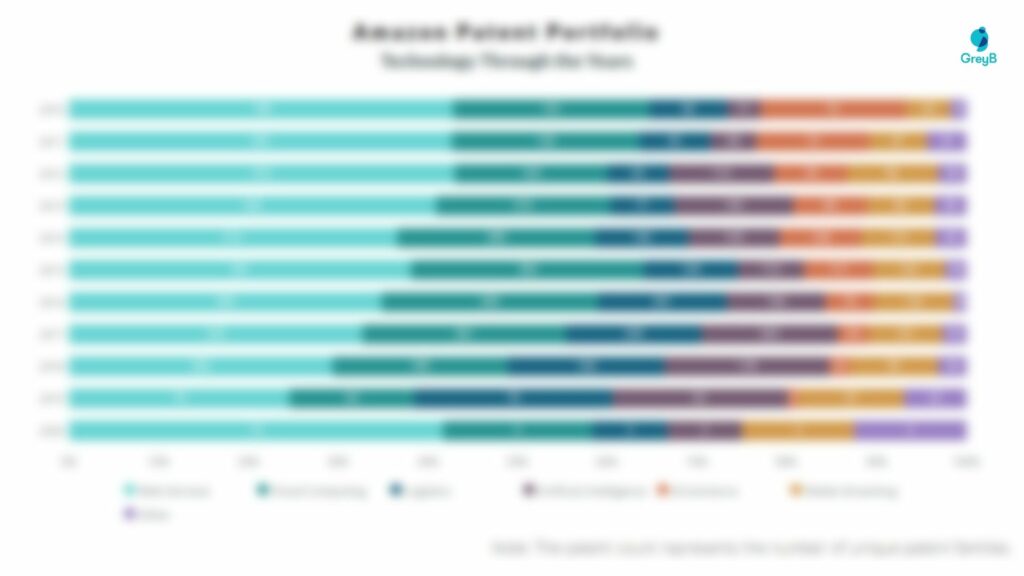 EXCLUSIVE INSIGHTS COMING SOON!
Interested in knowing about the areas of innovation that are being protected by BPCE?