Co-operative Group has a total of 29 patents globally, out of which 27 have been granted. Of these 29 patents, more than 86% patents are active. United Kingdom is where Co-operative Group has filed the maximum number of patents, followed by Singapore and United States of America, it has generated an annual revenue of $15.69 billion in the year 2020. Parallelly, United Kingdom seems to be the main focused R&D center and is also the origin country of Co-operative Group.
Co-operative Group was founded in the year 1844 by Rochdale Pioneers. Company is doing business in retail including food retail and wholesale; e-pharmacy; insurance services; legal services and funeral care. As of January 2022, Co-operative Group has a market cap of $4.808 Billion.
Do read about some of the most popular patents of Co-operative Group which have been covered by us in this article and also you can find Co-operative Group's patents information, the worldwide patent filing activity and its patent filing trend over the years, and many other stats over Co-operative Group's patent portfolio.
How many patents does the Founder and CEO of Co-operative Group have?
The founder, Rochdale Pioneers has 0 patents and the CEO, Steven Geoffrey Murrells has 0 patents.
How many patents does Co-operative Group have?
Co-operative Group has a total of 29 patents globally. These patents belong to 29 unique patent families. Out of 29 patents, 25 patents are active.
How many Co-operative Group patents are Alive/Dead?
Worldwide Patents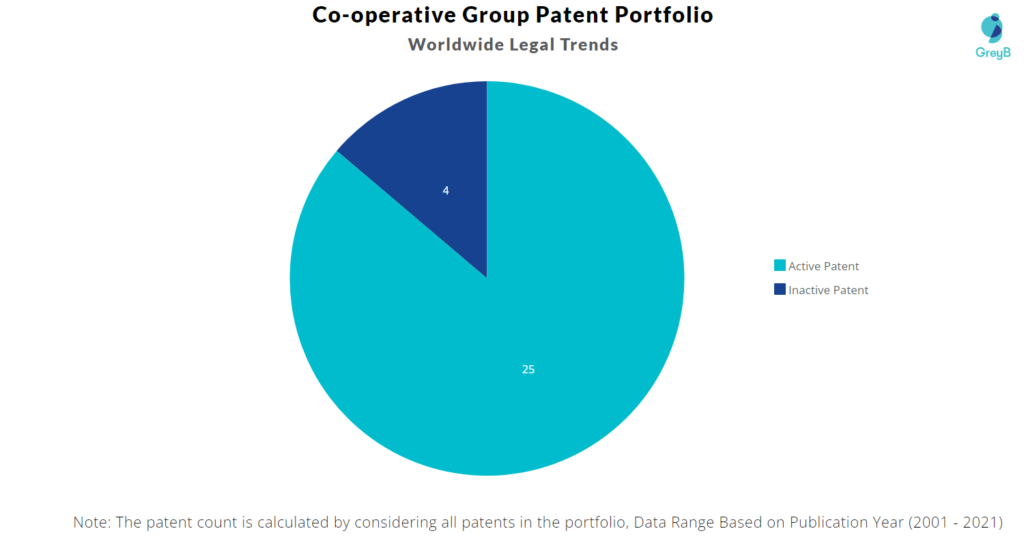 Patent Families
How Many Patents did Co-operative Group File Every Year?
Are you wondering why there is a drop in patent filing for the last two years? It is because a patent application can take up to 18 months to get published. Certainly, it doesn't suggest a decrease in the patent filing.
| | | |
| --- | --- | --- |
| Year of Patents Filing or Grant | Co-operative Group Applications Filed | Co-operative Group Patents Granted |
| 2011 | – | – |
| 2012 | – | – |
| 2013 | – | – |
| 2014 | – | – |
| 2015 | – | – |
| 2016 | – | – |
| 2017 | 25 | 25 |
How Many Patents did Co-operative Group File in Different Countries?
Countries in which Co-operative Group Filed Patents
| | |
| --- | --- |
| Country | Patents |
| United Kingdom | 25 |
| Singapore | 1 |
| United States Of America | 1 |
Where are Research Centers of Co-operative Group Patents Located?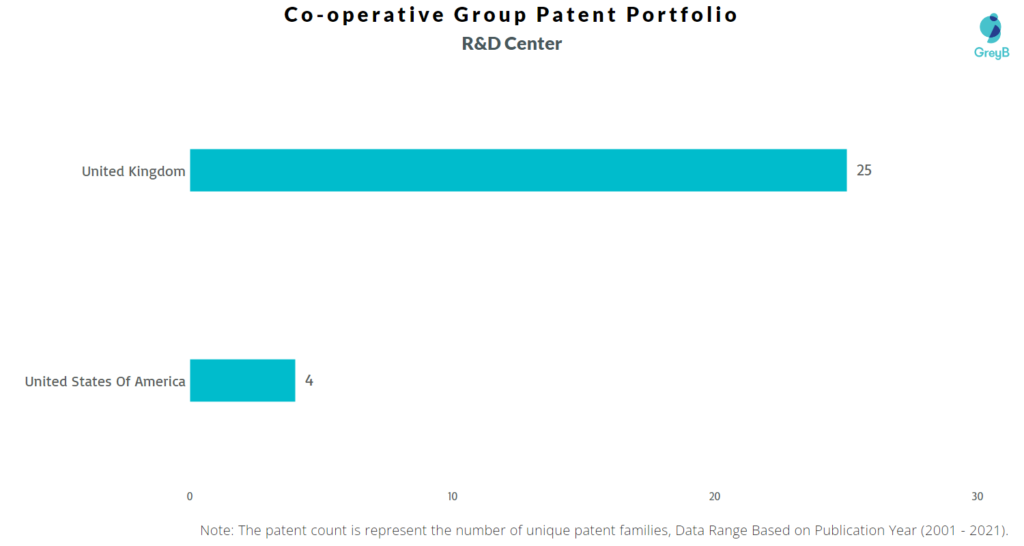 What Technologies are Covered by Co-operative Group?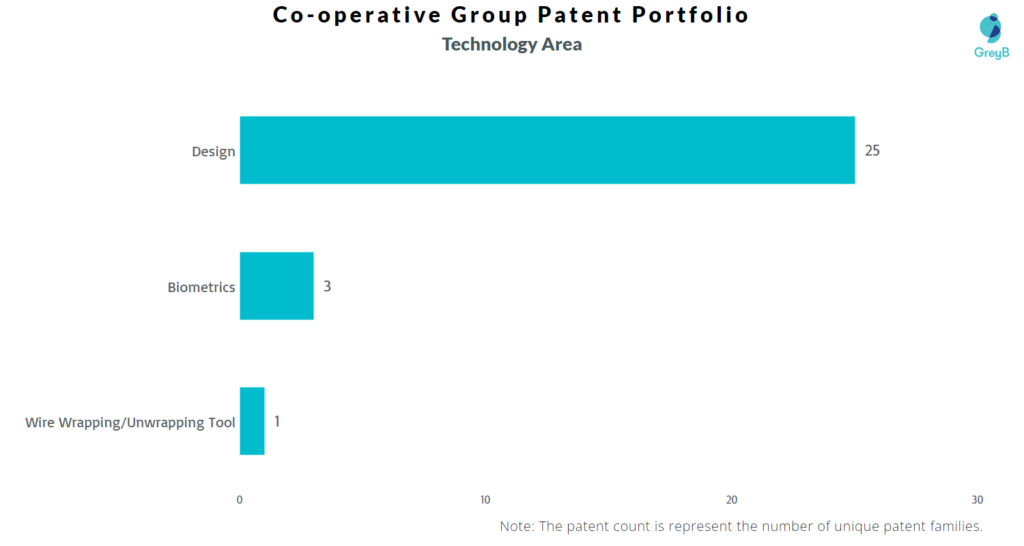 Patents related to Design includes ornamental or unique design of Shop fixtures and shop Fascia
Patents filed under Biometrics are related to authentication and identification of an individual.
Wire wrapping/unwrapping tool is presented in one of the patents. A quick-release mechanism is given on a tool capable of wrapping and unwrapping wires on terminals, allowing for quick and easy replacement of bits and sleeves utilised for the wrapping and unwrapping tasks.
The chart below distributes patents filed by Co-operative Group in different countries on the basis of the technology protected in patents. It also represents the markets where Co-operative Group thinks it's important to protect particular technology inventions.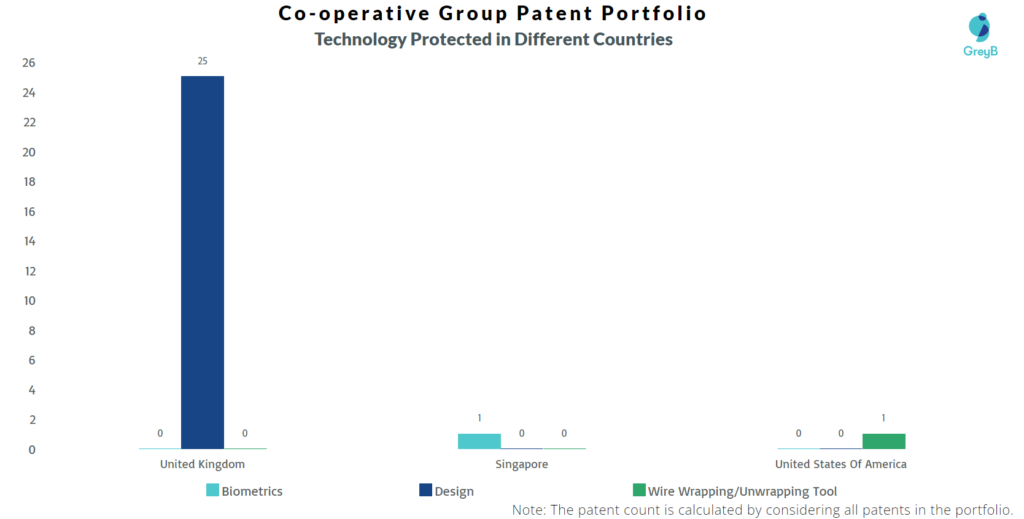 R&D Focus: How Co-operative Group search focus changed over the years?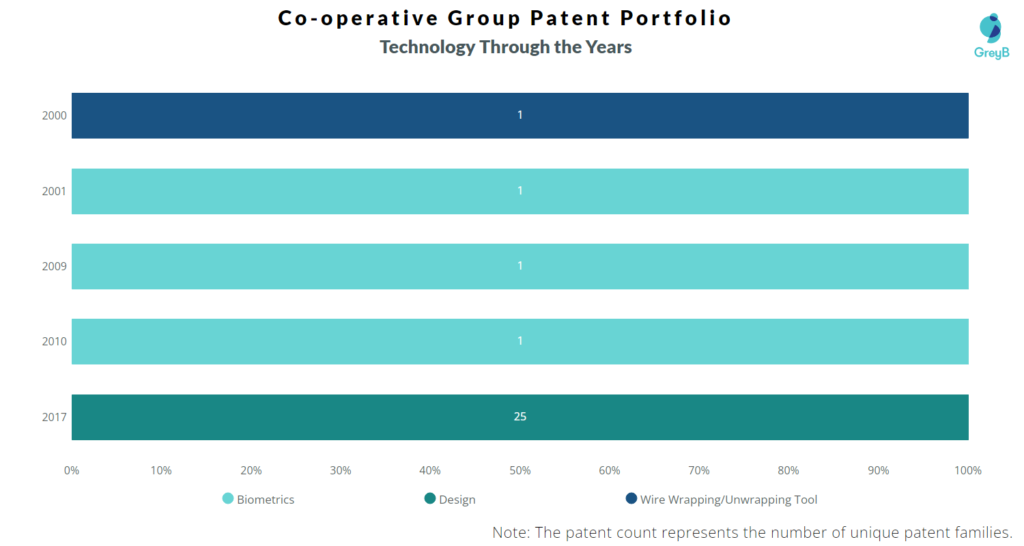 List of Co-operative Group Patents
| | |
| --- | --- |
| Co-operative Group Patents | Title |
| US6269845B1 | Wire wrapping and unwrapping tool |
| WO2011034831A3 | Systems and methods for securely monitoring an individual |
| WO2009117171A1 | Systems and methods of identification based on biometric parameters |
| GB6015608S | Store Fascia and fixtures |
| GB6015593S | Shop fixtures and shop fascias |
| GB6015606S | Shop fixtures and shop fascias |
| GB6015604S | Shop fixtures and shop fascias |
| GB6015600S | Shop fixtures and shop fascias |
| GB6015607S | Store Fascia and fixtures |
| GB6015602S | Shop fixtures and shop fascias |
| GB6015590S | Shop fixtures and shop fascias |
| GB6015591S | Shop fixtures and shop fascias |
| GB6015592S | Shop fixtures and shop fascias |
| GB6015589S | Shop fixtures and shop fascias |
| GB6015587S | Shop fixtures and shop fascias |
| GB6015609S | Store Fascia and fixtures |
| GB6015605S | Shop fixtures and shop fascias |
| GB6015598S | Shop fixtures and shop fascias |
| GB6015603S | Shop fixtures and shop fascias |
| GB6015599S | Shop fixtures and shop fascias |
| GB6015595S | Shop fixtures and shop fascias |
| GB6015596S | Shop fixtures and shop fascias |
| GB6015586S | Shop fixtures and shop fascias |
| GB6015588S | Shop fixtures and shop fascias |
| GB6015601S | Shop fixtures and shop fascias |
| GB6015597S | Shop fixtures and shop fascias |
| GB6015610S | Store Fascia and fixtures |
| GB6015594S | Shop fixtures and shop fascias |
| SG84637B | Device using histological and physiological biometric marker for authentication and activation |