Emirates Airline has a total of 6 patents globally, out of which 3 have been granted. Of these 6 patents, none of the patents are active. The USA & Eurpean Countries is where Emirates Airline has filed the maximum number of patents, it has generated an annual revenue of $16.7 billion in the year 2020. Parallelly, the USA seems to be the main focused R&D center of Emirates Airline.
Emirates Airline was founded in the year 1985 by Ahmed bin Saeed Al Maktoum. Emirates is the largest airline in the United Arab Emirates and one of two flag carriers, the other being Etihad.
Do read about some of the most popular patents of Emirates Airline which have been covered by us in this article and also you can find Emirates Airline patents information, the worldwide patent filing activity and its patent filing trend over the years, and many other stats over Emirates Airline patent portfolio.
How many patents does the founder and the CEO of Emirates Airline have?
The founder and CEO, Ahmed bin Saeed Al Maktoum, has 0 patents.
How many patents does Emirates Airline have?
Emirates Airline has a total of 6 patents globally. These patents belong to 4 unique patent families. Out of 6 patents, none of them are active.
How Many Patents did Emirates Airline File Every Year?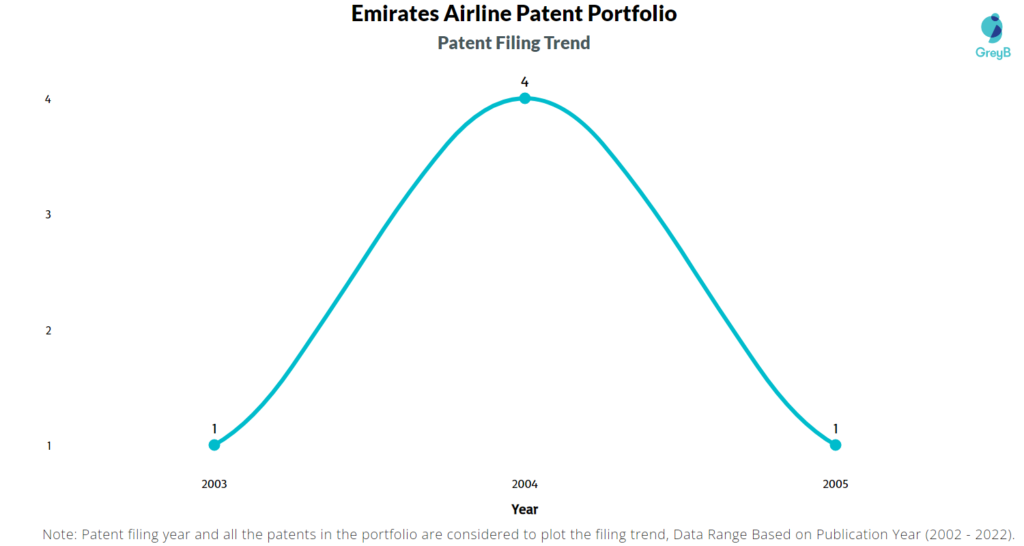 Are you wondering why there is a drop in patent filing for the last two years? It is because a patent application can take up to 18 months to get published. Certainly, it doesn't suggest a decrease in the patent filing.
How many Emirates Airline patents are Alive/Dead?
Of all the 6 patents, all of them are dead.
How Many Patents did Emirates Airline File in Different Countries?
Where are Research Centres of Emirates Airline Patents Located?
Of all the 4 R&D Centres, all of them are located in USA.
Most Cited Emirates Airline Patents
US20040230472A1 is the most popular patent in the Emirates Airline portfolio. It talks about reservations and has received 44 citations so far from companies like Oracle, IBM, and Ticketmaster.
Let's talk about the company!
Successful airlines have been able to differentiate themselves in today's competitive industry by providing outstanding client experiences at a low cost. Among its competitors, Emirates Airlines is at the forefront of customer service and cost effectiveness. Emirates' management has understood that machine learning would be critical to unlocking future efficiency and enhancing customer satisfaction.
Predicting unrestricted demand is a challenge for all airlines, because as seats fill up, airlines raise fares, so restricting demand. Predicting unrestricted demand is critical for fleet planning and optimization to optimise revenue per unit of available capacity. Price optimization can also be enhanced by forecasting customers' willingness to pay and then using efficient dynamic pricing models.
This can be solved by using Machine Learning. Machine learning is well suited to predicting tasks like recognising trends in large data sets that are linked to specific effects or occurrences, which would be very impossible for humans to achieve otherwise.
Machine learning can also be used to predict the effects of weather events on aircraft delays, as well as possibly airport congestion. Condition-based vs. time-based maintenance records could be evaluated to uncover early warning indications that later lead to unexpected repair delays.
Emirates has also adopted artificial intelligence efforts such as driverless cars to improve airport operations, baggage handling without human interaction at airports, and chatbots to increase customer engagement in marketing.
EXCLUSIVE INSIGHTS COMING SOON!
What are Emirates Airline's key innovation segments?
What Technologies are Covered by