HashiCorp has a total of 12 patents globally, out of which 5 have been granted. Of these 12 patents, 100% patents are active. United States of America is where HashiCorp has filed all the patents, and it also seems reasonable as the biggest market for HashiCorp is USA, it has generated an annual revenue of $211.9 million in the year 2020. Parallelly, USA seems to be the main focused R&D center and is also the origin country of HashiCorp.
HashiCorp was founded in the year 1985 by Mitchell Hashimoto and Armon Dadgar. Company is doing business in development of a cloud infrastructure automation platform that addresses infrastructure development, operations, and security issues. To address the realities of multi-cloud, the company's platform provides consistent workflows for provisioning, securing, connecting, and running infrastructure for any application, allowing organisations to adapt workflows to provision, secure, connect, and run any infrastructure for any application while focusing on business-critical tasks. As of December 2021, HashiCorp has a market valuation of $5.1 Billion.
Do read about some of the most popular patents of HashiCorp which have been covered by us in this article and also you can find HashiCorp's patents information, the worldwide patent filing activity and its patent filing trend over the years, and many other stats over HashiCorp's patent portfolio.
How many patents does HashiCorp have?
HashiCorp has a total of 12 patents globally. These patents belong to 5 unique patent families. Out of 12 patents, 12 patents are active.
How many HashiCorp patents are Alive/Dead?
Worldwide Patents
Patent Families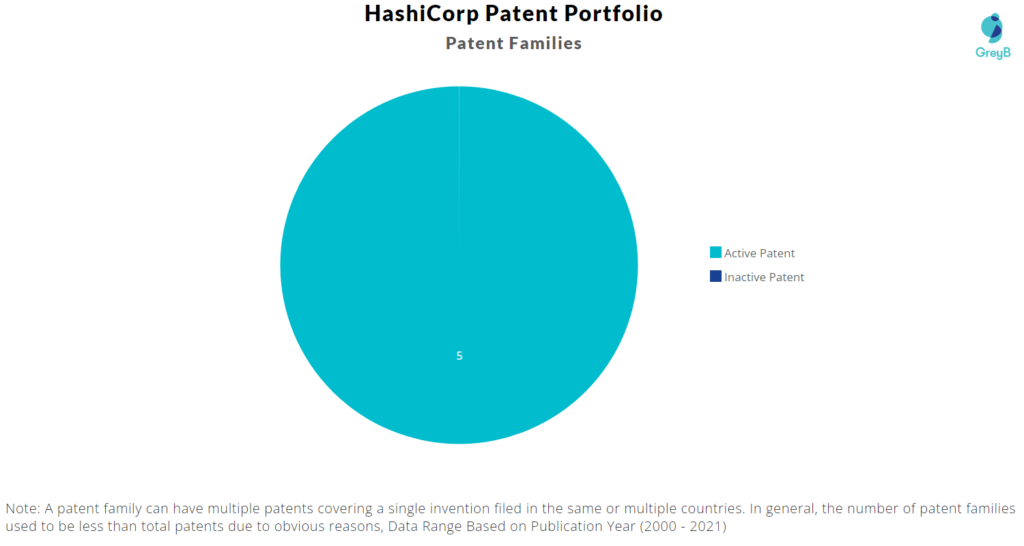 How Many Patents did HashiCorp File Every Year?
Are you wondering why there is a drop in patent filing for the last two years? It is because a patent application can take up to 18 months to get published. Certainly, it doesn't suggest a decrease in the patent filing.
| | | |
| --- | --- | --- |
| Year of Patents Filing or Grant | HashiCorp Applications Filed | HashiCorp Patents Granted |
| 2019 | 6 | – |
| 2020 | 4 | – |
| 2021 | 2 | 4 |
How Many Patents did HashiCorp File in Different Countries?
Countries in which HashiCorp Filed Patents
| | |
| --- | --- |
| Country | Patents |
| United States Of America | 12 |
Where are Research Centers of HashiCorp Patents Located?
What Percentage of HashiCorp US Patent Applications were Granted?
HashiCorp (Excluding its subsidiaries) has filed 3 patent applications at USPTO so far (Excluding Design and PCT applications). Out of these 3 have been granted leading to a grant rate of 100%.
Below are the key stats of HashiCorp patent prosecution at the USPTO.
Which Law Firms Filed Most US Patents for HashiCorp?
| | | |
| --- | --- | --- |
| Law Firm | Total Application | Success Rate |
| Kilpatrick Townsend & Stockton Llp West Coast | 3 | 100.0% |
What Technologies are covered by HashiCorp's Patents?
All the patents relate to the field of IT Infrastructure. Among these patents, majorly relates to Cloud Computing followed by Lifecycle Management of the IT Infrastructure.
Patents related to Lifecycle Management of IT Infrastructure includes the provisioning, modification, and/or de-provisioning of the underlying resources.
Patents related to Cloud Computing includes:
• The methods of moving or importing the current IT infrastructure to a cloud based system.
• Ticket-based cloud infrastructure provisioning for a software-as-a-service (SaaS) provider which is customizable and automating the processing of cloud provisioning using infrastructure as code (IaC) which was previously done manually.
• A method for estimating a cost associated with provisioning a cloud-based infrastructure. A cost estimator system accepts data indicating one or more computer resources required for a cloud-based application, as well as a plan, a configuration, or proposed adjustments for a cloud-based infrastructure. The plan, configuration, or suggested changes are incorporated into a new configuration for the cloud-based infrastructure. A price resolver resolves the price of the resources that are part of the new configuration and requests pricing data for the resolved resources from one or more cloud providers associated with the new configuration. The cost estimator system then generates a cost estimate for the new cloud-based infrastructure configuration based on the pricing data obtained by the price resolver.
• Providing data security and management in a cloud computing platform. The performance standby nodes are standby nodes that are set up to handle requests that don't change the data store. These pseudo read-replica nodes are also set up to send any queries that result in a storage write to an active node, while still serving read-only requests locally.
List of HashiCorp Patents
| | |
| --- | --- |
| HashiCorp Patents | Title (English) |
| US20210359920A1 | Ticket-based provisioning of cloud infrastructure for a saas provider |
| US20210328864A1 | Generating configuration files for configuring an information technology infrastructure |
| US20210319115A1 | Performance standby nodes for a secure storage system |
| US20210318912A1 | Cost estimation for a cloud-based infrastructure provisioning system |
| US11102280B1 | Infrastructure imports for an information technology platform |
| US11050613B2 | Generating configuration files for configuring an information technology infrastructure |
| US11050625B2 | Generating configuration files for configuring an information technology infrastructure |
| US10999162B1 | Ticket-based provisioning of cloud infrastructure for a saas provider |
| US20200186424A1 | Validation of execution plan for configuring an information technology infrastructure |
| US20200183707A1 | Lifecycle management for information technology infrastructure |
| US20200183679A1 | Lifecycle management for information technology infrastructure |
| US20200183739A1 | Validation of execution plan for configuring an information technology infrastructure |
Authored By: Navjyot Singh, Insights;Gate Team