Kazuhiro Tsuga is the current President of Panasonic. He first joined Panasonic, earlier named Matsushita Electric, in 1979. With a background in R&D, he developed some key innovations at Panasonic. Kazuhiro Tsuga has spent years in reshaping the worldwide electronics giant, Panasonic, since a long time known for its consumer centric products into a developing, beneficial supplier of business-to-business frameworks, housing, and 'green' advancement. Under the supervision of Tsuga, Panasonic returned to profitability, restored its dividend, and doubled its stock price.
A concept called "Lifestyle Update" has been introduced by him. Panasonic's vision of "A Better Life, A Better World" has been shaping out pretty good.
"We must understand in what way Panasonic can serve society."
Kazuhiro Tsuga was ranked 30th in the "FORTUNE Businessperson of the Year 2015".
Kazuhiro Tsuga Patents
Kazuhiro Tsuga's patent portfolio has 433 patents that belong to 24 unique patent families. We have used the below exhibits to highlight the key statistics of Kazuhiro Tsuga's patent portfolio.
Worldwide Patents Status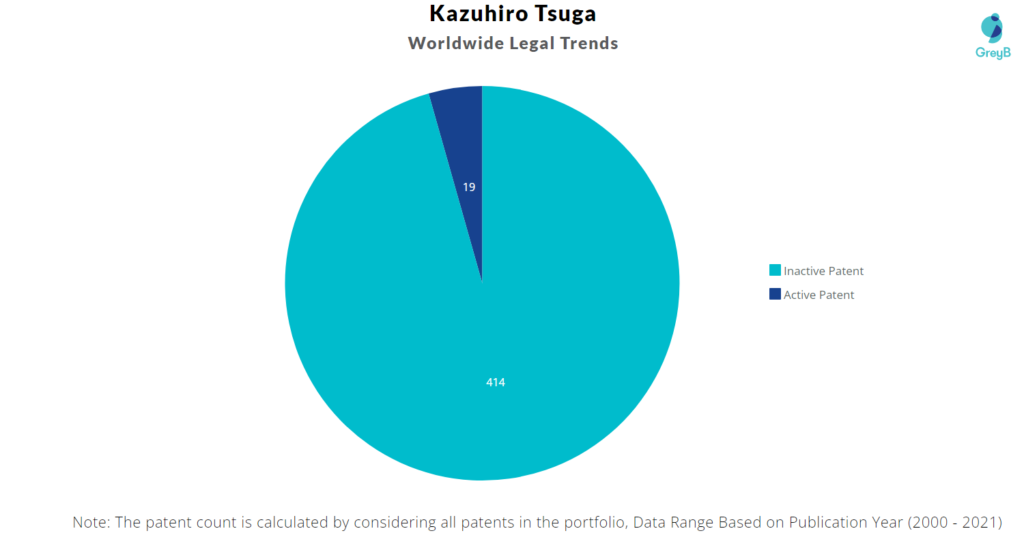 Patent Families
How Many Patents did Kazuhiro Tsuga File Every Year?
How Many Patents did Kazuhiro Tsuga File in Different Countries?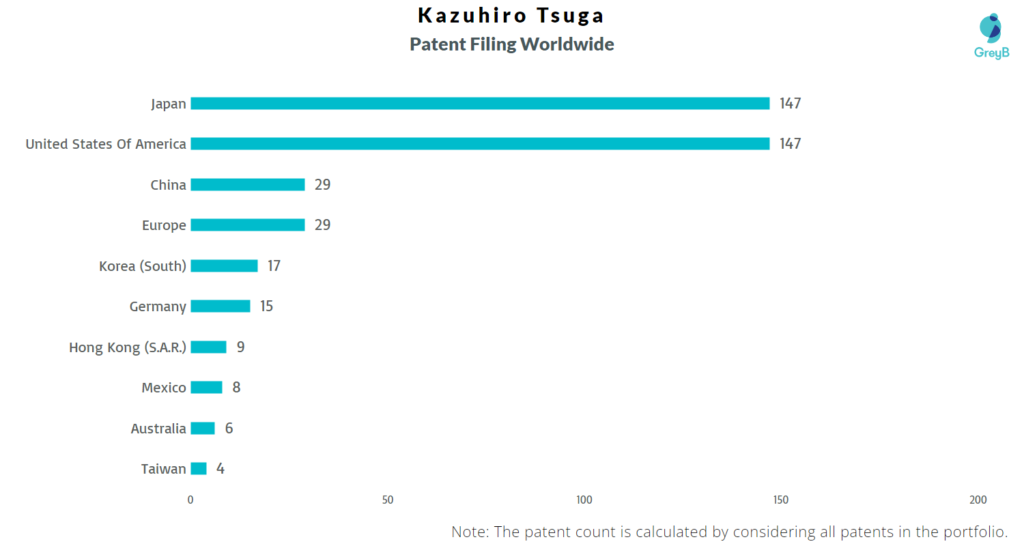 Countries in which Kazuhiro Tsuga Filed Patents
| | |
| --- | --- |
| Country | Patents |
| Japan | 147 |
| United States Of America | 147 |
| China | 29 |
| Europe | 29 |
| Korea (South) | 17 |
| Germany | 15 |
| Hong Kong (S.A.R.) | 9 |
| Mexico | 8 |
| Australia | 6 |
| Taiwan | 4 |
| Brazil | 4 |
| Canada | 4 |
| Malaysia | 4 |
What Technologies are covered by Kazuhiro Tsuga's Patents?
Kazuhiro Tsuga's main area of focus seems to be "Optical Disc" and majority of these patents include the methods for recording and reproducing data related to the optical disc. Patents related to Networking include a terminal network device and also methods of encoding bitstreams for network connection.
10 Best Kazuhiro Tsuga Patents
US6253026B1 is the most popular patent in Kazuhiro Tsuga's portfolio. It has received 217 citations so far from companies like Sony Corporation and Pioneer Electronic Corporation.
| | |
| --- | --- |
| Publication Number | Citation Count |
| US6253026B1 | 217 |
| US6470460B1 | 209 |
| US6263155B1 | 174 |
| US20040179820A1 | 165 |
| US6347187B1 | 146 |
| US20030053797A1 | 126 |
| US6560404B1 | 110 |
| US6285826B1 | 107 |
| US6424797B1 | 102 |
| JP2007166651A | 101 |
List of Kazuhiro Tsuga's Patents
| | |
| --- | --- |
| Publication Number | Title |
| US11061236B2 | Head-Mounted Display And Control Method Thereof |
| CN104054353B | Terminal Device And Control Method |
| US9788082B2 | Terminal Device And Control Method |
| JP06195172B2 | A Terminal Device And A Control Method |
| HK1151913B | High-Resolution Optical Disk For Recording Stereoscopic Video, Optical Disk Reproducing Device And Optical Disk Recording Device |
| HK1152814B | High-Resolution Optical Disk For Recording Stereoscopic Video, Optical Disk Reproducing Device And Optical Disk Recording Device |
| JP05314797B2 | A High Resolution, The Optical Disk For Three-Dimensional Video Recording, An Optical Disk Reproducing Apparatus, And An Optical Disk Recording Device |
| JP05163826B2 | A High Resolution, The Optical Disk For Three-Dimensional Video Recording, An Optical Disk Reproducing Apparatus, An Optical Disk Recording Device |
| US8391686B2 | High-Resolution Optical Disk For Recording Stereoscopic Video, Optical Disk Reproducing Device, And Optical Disk Recording Device |
| US8391689B2 | High-Resolution Optical Disk For Recording Stereoscopic Video, Optical Disk Reproducing Device, And Optical Disk Recording Device |
| US8391690B2 | High-Resolution Optical Disk For Recording Stereoscopic Video, Optical Disk Reproducing Device, And Optical Disk Recording Device |
| US8391691B2 | High-Resolution Optical Disk For Recording Stereoscopic Video, Optical Disk Reproducing Device, And Optical Disk Recording Device |
| US8391692B2 | High-Resolution Optical Disk For Recording Stereoscopic Video, Optical Disk Reproducing Device, And Optical Disk Recording Device |
| US8391693B2 | High-Resolution Optical Disk For Recording Stereoscopic Video, Optical Disk Reproducing Device, And Optical Disk Recording Device |
| JP05041082B2 | A High Resolution, The Optical Disk For Three-Dimensional Video Recording, An Optical Disk Reproducing Apparatus, An Optical Disk Recording Device |
| JP05027938B2 | A High Resolution, The Optical Disk For Three-Dimensional Video Recording, An Optical Disk Reproducing Apparatus, And An Optical Disk Recording Device |
| EP1592242B1 | An Optical Disc, A Recorder, A Player, A Recording Method, And A Reproducing Method That Are All Used For The Optical Disc |
| BRPI0008790B1 | Means And Apparatus And Method For Recording Information Of A Recording. |
| US8238715B2 | Optical Disc, Video Data Editing Apparatus, Computer-Readable Recording Medium Storing An Editing Program, Reproduction Apparatus For The Optical Disc, And Computer-Readable Recording Medium Storing An Reproduction Program |
| US8200064B2 | High-Resolution Optical Disk For Recording Stereoscopic Video, Optical Disk Reproducing Device, And Optical Disk Recording Device |
| US8184961B2 | High-Resolution Optical Disk For Recording Stereoscopic Video, Optical Disk Reproducing Device, And Optical Disk Recording Device |
| US8150240B2 | High-Resolution Optical Disk For Recording Stereoscopic Video, Optical Disk Reproducing Device, And Optical Disk Recording Device |
| US8139929B2 | High-Resolution Optical Disk For Recording Stereoscopic Video, Optical Disk Reproducing Device, And Optical Disk Recording Device |
| BRPI0009534B1 | Optical Disc, Method And Recording Device For Recording An Optical Disk And Method Of Playback Device For Playback Of An Optical Disc. |
| JP04798313B2 | A High Resolution And The Optical Disk For Three-Dimensional Video Recording, An Optical Disk Reproducing Apparatus, An Optical Disk Recording Device |
| JP04798314B2 | A High Resolution And The Optical Disk For Three-Dimensional Video Recording, An Optical Disk Reproducing Apparatus, An Optical Disk Recording Device |
| JP04784706B2 | A High Resolution And The Optical Disk For Three-Dimensional Video Recording, An Optical Disk Reproducing Apparatus, An Optical Disk Recording Device |
| JP04770992B2 | A High Resolution And The Optical Disk For Three-Dimensional Video Recording, An Optical Disk Reproducing Apparatus, An Optical Disk Recording Device |
| JP04770994B2 | A High Resolution And The Optical Disk For Three-Dimensional Video Recording, An Optical Disk Reproducing Apparatus, An Optical Disk Recording Device |
| JP04771012B2 | A High Resolution And The Optical Disk For Three-Dimensional Video Recording, An Optical Disk Reproducing Apparatus, An Optical Disk Recording Device |
| JP04771013B2 | A High Resolution And The Optical Disk For Three-Dimensional Video Recording, An Optical Disk Reproducing Apparatus, An Optical Disk Recording Device |
| CN1905658B | Optical Disc, A Recorder, A Player, A Recording Method, And A Reproducing Method |
| JP04766199B2 | A High Resolution And The Optical Disk For Three-Dimensional Video Recording, An Optical Disk Reproducing Apparatus, An Optical Disk Recording Device |
| JP04766201B2 | A High Resolution And The Optical Disk For Three-Dimensional Video Recording, An Optical Disk Reproducing Apparatus, An Optical Disk Recording Device |
| JP04744647B1 | A High Resolution And The Optical Disk For Three-Dimensional Video Recording, An Optical Disk Reproducing Apparatus, And An Optical Disk Recording Device |
| JP04744648B1 | A High Resolution And The Optical Disk For Three-Dimensional Video Recording, An Optical Disk Reproducing Apparatus, And An Optical Disk Recording Device |
| JP04706796B2 | A High Resolution And The Optical Disk For Three-Dimensional Video Recording, An Optical Disk Reproducing Apparatus, An Optical Disk Recording Device |
| JP04706797B2 | A High Resolution And The Optical Disk For Three-Dimensional Video Recording, An Optical Disk Reproducing Apparatus, An Optical Disk Recording Device |
| JP04706798B2 | A High Resolution And The Optical Disk For Three-Dimensional Video Recording, An Optical Disk Reproducing Apparatus, An Optical Disk Recording Device |
| JP04706799B2 | A High Resolution And The Optical Disk For Three-Dimensional Video Recording, An Optical Disk Reproducing Apparatus, An Optical Disk Recording Device |
| JP04706800B2 | A High Resolution And The Optical Disk For Three-Dimensional Video Recording, An Optical Disk Reproducing Apparatus, An Optical Disk Recording Device |
| JP04706801B2 | A High Resolution And The Optical Disk For Three-Dimensional Video Recording, An Optical Disk Reproducing Apparatus, An Optical Disk Recording Device |
| JP04618393B2 | A High Resolution And The Optical Disk For Three-Dimensional Video Recording, An Optical Disk Reproducing Apparatus, An Optical Disk Recording Device |
| JP04605311B1 | A High Resolution And The Optical Disk For Three-Dimensional Video Recording, An Optical Disk Reproducing Apparatus, An Optical Disk Recording Device |
| JP04605312B1 | A High Resolution And The Optical Disk For Three-Dimensional Video Recording, An Optical Disk Reproducing Apparatus, An Optical Disk Recording Device |
| JP04605313B2 | A High Resolution And The Optical Disk For Three-Dimensional Video Recording, An Optical Disk Reproducing Apparatus, An Optical Disk Recording Device |
| JP04561927B2 | A High Resolution And The Optical Disk For Three-Dimensional Video Recording, An Optical Disk Reproducing Apparatus, An Optical Disk Recording Device |
| CA2364301C | Information Recording Medium, Apparatus And Method For Performing After-Recording On A Recording Medium |
| US7747145B2 | High-Resolution Optical Disk For Recording Stereoscopic Video, Optical Disk Reproducing Device, And Optical Disk Recording Device |
| JP04488108B2 | A High Resolution And The Optical Disk For Three-Dimensional Video Recording, An Optical Disk Reproducing Apparatus, An Optical Disk Recording Device |
| JP04488111B2 | A High Resolution And The Optical Disk For Three-Dimensional Video Recording, An Optical Disk Reproducing Apparatus, An Optical Disk Recording Device |
| JP04489248B2 | The Apparatus And Method Which Perform Recording Of Data, And Reproduction|Regeneration With Respect To An Optical Disk And An Optical Disk |
| US7742682B2 | Information Recording Medium, Apparatus And Method For Recording Or Reproducing Data Thereof |
| CN100579193C | A Recorder, A Player, A Recording Method, And A Reproducing Method |
| CN100566399C | A Recorder, A Player, A Recording Method, And A Reproducing Method |
| JP04372834B2 | A High Resolution And The Optical Disk For Three-Dimensional Video Recording, An Optical Disk Reproducing Apparatus, An Optical Disk Recording Device |
| JP04368937B2 | A High Resolution And The Optical Disk For Three-Dimensional Video Recording, An Optical Disk Reproducing Apparatus, An Optical Disk Recording Device |
| JP04368938B2 | A High Resolution And The Optical Disk For Three-Dimensional Video Recording, An Optical Disk Reproducing Apparatus, An Optical Disk Recording Device |
| JP04368939B2 | A High Resolution And The Optical Disk For Three-Dimensional Video Recording, An Optical Disk Reproducing Apparatus, An Optical Disk Recording Device |
| JP04321658B2 | A High Resolution And The Optical Disk For Three-Dimensional Video Recording, Optical Disk Reproducing|Regenerating Apparatus, An Optical Disk Recording Device |
| CN100531349C | Optical Disc, A Recorder, A Player, A Recording Method, And A Reproducing Method |
| CN100520943C | Performing After-Recording The Data On The Information Recording Medium Of The Information Recording Device |
| CN100479512C | Optical Disc, A Recorder, A Player, A Recording Method, And A Reproducing Method |
| CN100470658C | Recording Device, Reproducing Device, Recording And Reproducing Method |
| US7483621B2 | Reproduction Apparatus For Selecting Sub-Data With Use Of Numeric Keypad |
| US7480444B2 | Reproduction Apparatus For Cyclically Changing Sub-Data |
| CA2368456C | Optical Disc, Recording Device And Reproducing Device |
| US7474836B2 | Playback Method For An After-Recording Operation |
| DE60040326D1 | Optical Disc, Recording Device And Reproducing Device |
| EP1115118B1 | Optical Disc, Recording Device And Reproducing Device |
| JP04124268B2 | A High Resolution And The Optical Disk For Three-Dimensional-Video Recording, An Optical-Disk Reproducing Apparatus, An Optical-Disk Recording Device |
| JP04069957B2 | A High Resolution And The Optical Disk For Three-Dimensional-Video Recording, An Optical-Disk Reproducing Apparatus, An Optical-Disk Recording Device |
| JP04050880B2 | A Video-Recording Apparatus, The Video-Recording Method, A Reproducing Apparatus, The Reproduction|Regeneration Method |
| JP04036239B2 | A High Resolution And The Optical Disk For Three-Dimensional-Video Recording, An Optical-Disk Reproducing Apparatus, An Optical-Disk Recording Device |
| US7305170B2 | Information Recording Medium, Apparatus And Method For Recording Or Reproducing Data Thereof |
| US7289722B2 | Optical Disc, Recording Device And Reproducing Device |
| US7274860B2 | Apparatus, Method, And Recording Medium Implementing Audio Gap Information For An Audio Presentation Discontinuous Period |
| MX246003B | Optical Disc, Recording Device And Reproduction Device. |
| US7215876B2 | Optical Disc, Video Data Editing Apparatus, Computer-Readable Recording Medium Storing An Editing Program, Reproduction Apparatus For The Optical Disc, And Computer-Readable Recording Medium Storing An Reproduction Program |
| US7194194B2 | Method And An Apparatus For Reproducing Bitstream Having Non-Sequential System Clock Data Seamlessly Therebetween |
| MY128112A | Optical Disc, Optical Disc Recording And Reproducing Apparatus, And Optical Disc Recording And Reproducing Method |
| US7158715B2 | Optical Disc, A Recorder, A Player, A Recording Method, And A Reproducing Method That Are All Used For The Optical Disc |
| US7155113B2 | Optical Disc, A Recorder, A Player, A Recording Method, And A Reproducing Method That Are All Used For The Optical Disc |
| KR658867B1 | Optical Disc, Recording Device And Reproducing Device |
| US7149414B2 | Optical Disc, Optical Disc Recording Apparatus, And Optical Disc Recording Method For Facilitating Dubbing, Storage Medium For Storing Optical Disc Recording Program For Facilitating Dubbing, Optical Disc Reproducing Apparatus, And Optical Disc Reproducing Method |
| CN1284186C | Recording Method And Playback Method Of Compact Disc |
| US7130531B2 | Optical Disc, Recording Apparatus, And Computer-Readable Recording Medium |
| KR636498B1 | Information Recording Medium, Apparatus And Method For Recording Or Reproducing Data Thereof |
| CN1280826C | Optical Disc Recording Method And Reproducing Apparatus And Optical Disk Reproducing Method |
| CN1278335C | The Data Recorded On The Information Recording Medium For Performing After-Recording Method |
| US7088912B2 | Optical Disc, Recording Apparatus, And Computer-Readable Recording Medium |
| US7085478B2 | Optical Disc, Recording Apparatus, And Computer-Readable Recording Medium |
| MY125100A | Information Recording Medium, Apparatus And Method For Recording Or Reproducing The Recording Medium |
| US7079757B2 | Optical Disc, Recording Apparatus, And Computer-Readable Recording Medium |
| US7072573B2 | Information Recording Medium, Apparatus And Method For Recording Or Reproducing Data Thereof |
| KR591806B1 | Information Recording Medium, Apparatus And Method For Performing After-Recording On The Recording Medium |
| US7062155B2 | Optical Disc, Recording Device And Reproducing Device |
| MY123376A | Optical Disc, Recording Device And Reproducing Device |
| KR583497B1 | Optical Disc, Recording Device And Reproducing Device |
| MY122722A | Optical Disc, A Recorder, A Player, A Recording Method, And A Reproducing Method That Are All Used For The Optical Disc. |
| DE60022864T2 | An Optical Disk, A Pickup, A Player, A Recording Method, And A Reproducing Method Which Are All Used For The Optical Disk |
| DE60022864D1 | An Optical Disk, A Pickup, A Player, A Recording Method, And A Reproducing Method Which Are All Used For The Optical Disk |
| CN1238857C | Recording Method And Reappearance Method Of Disc |
| KR541492B1 | An Optical Disc, A Recorder, A Player, A Recording Method, And A Reproducing Method That Are All Used For The Optical Disc |
| KR533185B1 | Optical Disc, Optical Disc Recording And Reproducing Apparatus, And Optical Disc Recording And Reproducing Method |
| MX232527B | Optical Disc, Optical Disc Recording And Recording Device And Optical Disc Playing And Reproduction Method. |
| MX232516B | Media Recording Information, Apparatus And Method For Recording Or Reproducing The Media Degrabacion. |
| CN1228781C | Information Recording Medium, Recording And Reproducing Device And Method For Recording Medium |
| US6954584B2 | Method And An Apparatus Reproducing Bitstream Having Non-Sequential System Clock Data Seamlessly Therebetween |
| EP1161091B1 | An Optical Disc, A Recorder, A Player, A Recording Method, And A Reproducing Method That Are All Used For The Optical Disc |
| US6925248B2 | Information Recording Medium, Apparatus And Method For Recording Or Reproducing Data Thereof |
| US6922521B2 | Information Recording Medium, Apparatus And Method For Recording Or Reproducing Data Thereof |
| KR496729B1 | Information Recording Medium, Apparatus And Method For Recording Or Reproducing The Recording Medium |
| CN1206853C | Optical Disc, A Recorder, A Player, A Recording Method, And A Reproducing Method |
| US6907190B2 | Method And An Apparatus For Reproducing Bitstream Having Non-Sequential System Clock Data Seamlessly Therebetween |
| KR469523B1 | The Information Recording Medium For The Register Of Data Or Regeneration, And Apparatus And Method. |
| MX225190B | Optical Disc, Recorder, Player, Recording Method And Queson Reproduction Method Used All For Optical Disc. |
| US6798981B1 | Multimedia Optical Disc For Storing Audio Data And Sub-Picture Data In A Plurality Of Channels As Well As Moving Picture Data And Apparatus And Method For Reproducing The Multimedia Optical Disc |
| US6795641B2 | Optical Disc, Video Data Editing Apparatus, Computer-Readable Recording Medium Storing An Editing Program, Reproduction Apparatus For The Optical Disc, And Computer-Readable Recording Medium Storing A Reproduction Program |
| US6795383B1 | Optical Disk And Apparatus And Method Of Recording And Reproducing Data Thereof |
| MX221971B | Media Of Recording Information, Apparatus And Method To Record Or Reproduce Data Of The Same. |
| US6760539B2 | Optical Disc, A Recorder, A Player, A Recording Method, And A Reproducing Method That Are All Used For The Optical Disc |
| TW580697B | Information Recording Medium, Apparatus And Method For Recording Or Reproducing The Recording Medium |
| AU769215B2 | Optical Disc, Recording Device And Reproducing Device |
| US6681077B1 | Optical Disc, Recording Device And Reproducing Device |
| US6678466B2 | Optical Disc, Optical Disc Recording Apparatus, And Optical Disc Recording Method For Facilitating Dubbing, Storage Medium For Storing Optical Disc Recording Program For Facilitating Dubbing, Optical Disc Reproducing Apparatus, And Optical Disc Reproducing Method |
| US6665491B1 | Information Recording Medium, Apparatus And Method For Performing After-Recording On The Recording Medium |
| US6611655B1 | Optical Disc, Recording Device And Reproducing Device |
| US6611656B2 | Information Recording Medium, Apparatus And Method For Recording Or Reproducing Data Thereof |
| AU764308B2 | Information Recording Medium, Apparatus And Method For Performing After-Recording On The Recording Medium |
| US6591059B1 | Optical Disk, A Recorder, A Player, A Recording Method, And A Reproducing Method For The Optical Disk Which Utilize Control Information Containing Copy Managing System Information And Status Information |
| TW535154B | Anoptical Disc, A Recorder, A Player, A Recording Method,And A Reproducing Mmethod That Are All Used For Thheoptical Disc |
| US6560404B1 | Reproduction Apparatus And Method Including Prohibiting Certain Images From Being Output For Reproduction |
| US6549722B2 | Apparatus, Method, And Recording Medium Implementing Audio Gap Information For An Audio Presentation Discontinuous Period |
| US6546195B2 | Method And An Apparatus For Reproducing Bitstream Having Non-Sequential System Clock Data Seamlessly Therebetween |
| US6529682B1 | Information Recording Medium, Apparatus And Method For Performing After-Recording On The Recording Medium |
| US6526226B2 | Method And An Apparatus For Reproducing Bitstream Having Non-Sequential System Clock Data Seamlessly Therebetween |
| US6526222B2 | Optical Disc, Optical Disc Recording And Reproducing Apparatus, And Optical Disc Recording And Reproducing Method |
| USRE37994E1 | Method And An Apparatus For System Encoding Bitstreams For Seamless Connection |
| US6519410B1 | Information Recording Medium, Apparatus And Method For Recording Or Reproducing The Recording Medium |
| US6519414B2 | Method And An Apparatus For Reproducing Bitstream Having Non-Sequential System Clock Data Seamlessly Therebetween |
| US6516138B2 | Method And An Apparatus For Reproducing Bitstream Having Non-Sequential System Clock Data Seamlessly Therebetween |
| US6516139B2 | Method And An Apparatus For Reproducing Bitstream Having Non-Sequential System Clock Data Seamlessly Therebetween |
| US6502198B2 | Method And An Apparatus For Reproducing Bitstream Having Non-Sequential System Clock Data Seamlessly Therebetween |
| US6502199B2 | Method And An Apparatus For Reproducing Bitstream Having Non-Sequential System Clock Data Seamlessly Therebetween |
| US6502200B2 | Method And An Apparatus For Reproducing Bitstream Having Non-Sequential System Clock Data Seamlessly Therebetween |
| US6493505B1 | Optical Disc, Video Data Editing Apparatus, Computer-Readable Recording Medium Storing An Editing Program, Reproduction Apparatus For The Optical Disc, And Computer-Readable Recording Medium Storing An Reproduction Program |
| US6487364B2 | Optical Disc, Video Data Editing Apparatus, Computer-Readable Recording Medium Storing An Editing Program, Reproduction Apparatus For The Optical Disc, And Computer-Readable Recording Medium Storing A Reproduction Program |
| US6484266B2 | Method And An Apparatus For Reproducing Bitstream Having Non-Sequential System Clock Data Seamlessly Therebetween |
| US6480828B1 | Information Recording Medium, Apparatus And Method For Performing After-Recording On The Recording Medium |
| US6477320B1 | Optical Disc, A Recorder, A Player, A Recording Method, And A Reproducing Method That Are All Used For The Optical Disc |
| US6470460B1 | Method And An Apparatus For Reproducing Bitstream Having Non-Sequential System Clock Data Seamlessly Therebetween |
| US6470140B1 | Optical Disc Optical Disc Recording And Reproducing Apparatus, And Optical Disc Recording And Reproducing Method |
| US6456780B2 | Optical Disc, Optical Disc Recording Apparatus, And Optical Disc Recording Method For Facilitating Dubbing, Storage Medium For Storing Optical Disc Recording Program For Facilitating Dubbing, Optical Disc Reproducing Apparatus, And Optical Disc Reproducing Method |
| US6442337B1 | Information Recording Medium, Apparatus And Method For Recording Or Reproducing Data Thereof |
| DE60000052T2 | Optical Disc, Recording And Playback Device |
| TW498305B | Optical Disc, Optical Disc Recordingand Reproducing Apraratus, And Opticaldisc Recording And Reproducing Method |
| US6424797B1 | Optical Disc, Recording Device And Reproducing Device |
| DE60000049T2 | Device And Method For Recording Of The Recording Medium |
| DE60000042T2 | An Optical Disk, A Pickup, A Player, A Recording Method, And A Reproducing Method Which Are All Used For The Optical Disk |
| US6404980B1 | Optical Disc, Optical Disc Recording Apparatus, And Optical Disc Recording Method For Facilitating Dubbing, Storage Medium For Strong Optical Disc Recording Program For Facilitating Dubbing, Optical Disc Reproducing Apparatus, And Optical Disc Reproducing Method |
| US6400893B1 | Optical Disc, Recording Device And Reproducing Device |
| US6385394B1 | Information Recording Medium, Apparatus And Method For Recording Or Reproducing Data Thereof |
| DE60000011T2 | Information Recording Medium, Apparatus And Procedure For The Subsequent Recording On The Information Recording Medium |
| DE60000013T2 | Optical Disc, Recording And Display Device |
| DE60000009T2 | An Optical Disk Apparatus For Recording And Playback Of Optical Discs And Methods For Recording And Reproducing Optical Disks |
| TW485344B | Optical Disc, Recording Device And Repfoducingdevice |
| US6377747B1 | Optical Disc, Recording Device And Reproducing Device |
| US6374037B1 | Information Recording Medium Apparatus And Method For Performing After-Recording On The Recording Medium |
| US6374041B1 | Optical Disc, A Recorder, A Player, A Recording Method, And A Reproducing Method That Are All Used For The Optical Disc |
| US6374042B1 | Optical Disc, A Recorder, A Player, A Recording Method, And A Reproducing Method That Are All Used For The Optical Disc |
| US6370321B1 | Optical Disc, A Recorder, A Player, A Recording Method, And A Reproducing Method That Are All Used For The Optical Disc |
| US6356707B1 | Multimedia Optical Disk, Reproduction Apparatus And Method For Achieving Variable Scene Development Based On Interactive Control |
| DE60000052D1 | An Optical Disk Recording And Playback Device |
| DE60000049D1 | Device And Method For Recording Of The Recording Medium |
| US6347187B1 | Optical Disc, Recording Apparatus, And Computer-Readable Recording Medium |
| DE60000042D1 | An Optical Disk, A Pickup, A Player, A Recording Method, And A Reproducing Method All Of Which Are Used For The Optical Disk |
| KR321020B1 | Optical Disc For Recording High Resolution And Normal Image Optical Disc Player Optical Disc Recorder And Playback Control Information Generator |
| EP1041569B1 | Optical Disc, Recording Device And Reproducing Device |
| JP03242639B2 | An Optical Disk, Its Recording Device, And Reproducing|Regenerating Apparatus |
| EP1067789B1 | An Optical Disc, A Recorder, A Player, A Recording Method, And A Reproducing Method That Are All Used For The Optical Disc |
| EP1035546B1 | Apparatus And Method For Recording The Recording Medium |
| DE60000011D1 | Information Recording Medium, Apparatus And Procedure For The Subsequent Recording On The Information Recording Medium |
| DE60000013D1 | An Optical Disk Recording And Playback Device |
| DE60000009D1 | An Optical Disk Apparatus For Recording And Playback Of Optical Discs And Methods For Recording And Reproducing Optical Disks |
| EP1030307B1 | Information Recording Medium, Apparatus And Method For Performing After-Recording On The Recording Medium |
| EP1041565B1 | Optical Disc, Recording Device And Reproducing Device |
| EP1043724B1 | Optical Disc, Optical Disc Recording And Reproducing Apparatus, And Optical Disc Recording And Reproducing Method |
| US6285826B1 | Optical Disc Recording Device And Reproducing Device |
| US6282363B1 | Optical Disc Recording Apparatus And Optical Disc Recording Method For Facilitating Dubbing Audio Streams |
| US6278834B1 | Optical Disc Reproducing Apparatus, And Optical Disc Reproducing Method For Reproducing Audio Streams |
| US6278839B1 | Optical Disc, A Recorder, A Player, A Recording Method, And A Reproducing Method That Are All Used For The Optical Disc |
| JP03199711B2 | An Optical Disk, Its Recording Device, And Reproducing|Regenerating Apparatus |
| US6272286B1 | Optical Disc, A Recorder, A Player, A Recording Method, And A Reproducing Method That Are All Used For The Optical Disc |
| US6263155B1 | Optical Disc, Recording Apparatus, And Computer-Readable Recording Medium |
| US6263150B1 | Video Data Editing Apparatus, Optical Disc For Use As A Recording Medium Of A Video Data Editing Apparatus, And Computer-Readable Recording Medium Storing An Editing Program |
| US6253021B1 | Optical Disc Recording Apparatus Recording Method, And A Storage Medium For Storing Optical Disc Recording Program For Facilitating Dubbing An Audio Stream |
| US6253026B1 | Optical Disc, Recording Apparatus, And Computer-Readable Recording Medium |
| US6229955B1 | Optical Disc, Recording Apparatus, And Computer-Readable Recording Medium |
| JP03162044B2 | An Optical Disk, Its Recording Device, Reproducing|Regenerating Apparatus, The Recording Method, And A Reproduction|Regenerating Method |
| JP03162045B2 | An Optical Disk, Its Recording Device, Reproducing|Regenerating Apparatus, The Recording Method, And A Reproduction|Regenerating Method |
| JP03162046B2 | An Optical Disk, Its Recording Device, Reproducing|Regenerating Apparatus, The Recording Method, And A Reproduction|Regenerating Method |
| JP03162047B2 | An Optical Disk, Its Recording Device, Reproducing|Regenerating Apparatus, The Recording Method, And A Reproduction|Regenerating Method |
| JP03162048B2 | An Optical Disk, Its Recording Device, Reproducing|Regenerating Apparatus, The Recording Method, And A Reproduction|Regenerating Method |
| JP03162049B2 | An Optical Disk, Its Recording Device, Reproducing|Regenerating Apparatus, The Recording Method, And A Reproduction|Regenerating Method |
| JP03162050B2 | An Optical Disk, Its Recording Device, Reproducing|Regenerating Apparatus, The Recording Method, And A Reproduction|Regenerating Method |
| JP03159692B2 | An Optical Disk, Its Recording Device, And Reproducing|Regenerating Apparatus |
| JP03154703B2 | An Optical Disk, An Optical Disk Recording/Reproducing Apparatus, And The Optical Disk Recording And Reproducing Method |
| JP03137624B2 | An Information Recording Medium, An Information Recording Device, And The Information Recording Method |
| JP03137626B2 | An Information Recording Medium, The Apparatus And Method Which Record Information With Respect To The Information Recording Medium |
| CN110010138A | Head-Mounted Display And Control Method Thereof |
| JP2019102062A | Head-Mounted Display And Method For Controlling The Same | A Head Mounted Display And Its Control Method |
| US20190179147A1 | Head-Mounted Display And Control Method Thereof |
| EP3495942A1 | Head-Mounted Display And Control Method Thereof |
| JP2014514986X | Antifouling Assembly In The Working Cylinder |
| JP2015029161A | Optical Disk For Recording High Resolution And Stereoscopic Video, Optical Disk Reproducer And Optical Disk Recorder | A High Resolution, The Optical Disk For Three-Dimensional Video Recording, An Optical Disk Reproducing Apparatus, An Optical Disk Recording Device |
| US20150007220A1 | Terminal Device And Control Method |
| CN104054353A | Terminal Device And Control Method |
| WO2014038170A1 | Terminal Apparatus And Control Method |
| JP2012178870A | Optical Disk For Recording High Resolution And Stereoscopic Video, Optical Disk Reproducer And Optical Disk Recorder | A High Resolution, The Optical Disk For Three-Dimensional Video Recording, An Optical Disk Reproducing Apparatus, An Optical Disk Recording Device |
| HK1152814A1 | High-Resolution Optical Disk For Recording Stereoscopic Video, Optical Disk Reproducing Device And Optical Disk Recording Device |
| HK1152814A | High-Resolution Optical Disk For Recording Stereoscopic Video, Optical Disk Reproducing Device And Optical Disk Recording Device |
| HK1151913A1 | High-Resolution Optical Disk For Recording Stereoscopic Video, Optical Disk Reproducing Device And Optical Disk Recording Device |
| HK1151913A | High-Resolution Optical Disk For Recording Stereoscopic Video, Optical Disk Reproducing Device And Optical Disk Recording Device |
| HK1151914A | High-Resolution Optical Disk For Recording Stereoscopic Video,Optical Disk Reproducing Device And Optical Disk Recording Device |
| HK1151153A | Optical Disk For High Resolution And Three Dimensional Video Recording, Optical Disk Reproduction Apparatus, And Optical Disk Recording Apparatus |
| HK1151155A | Optical Disk For High Resolution And Three Dimensional Video Recording, Optical Disk Reproduction Apparatus, And Optical Disk Recording Apparatus |
| US20110234751A1 | High-Resolution Optical Disk For Recording Stereoscopic Video, Optical Disk Reproducing Device, And Optical Disk Recording Device |
| US20110234752A1 | High-Resolution Optical Disk For Recording Stereoscopic Video, Optical Disk Reproducing Device, And Optical Disk Recording Device |
| US20110236001A1 | High-Resolution Optical Disk For Recording Stereoscopic Video, Optical Disk Reproducing Device, And Optical Disk Recording Device |
| JP2011172247A | Optical Disk For Recording High Resolution Image And Three-Dimensional Image, Optical Disk Reproducing Apparatus, And Optical Disk Recording Apparatus | A High Resolution And The Optical Disk For Three-Dimensional Video Recording, An Optical Disk Reproducing Apparatus, An Optical Disk Recording Device |
| JP2011172248A | Optical Disk For Recording High Resolution Image And Three-Dimensional Image, Optical Disk Reproducing Apparatus, And Optical Disk Recording Apparatus | A High Resolution And The Optical Disk For Three-Dimensional Video Recording, An Optical Disk Reproducing Apparatus, An Optical Disk Recording Device |
| JP2011160445A | Optical Disk For Recording High Resolution And Three-Dimensional Video, Reproducer For Optical Disk And Recorder For Optical Disk | A High Resolution And The Optical Disk For Three-Dimensional Video Recording, An Optical Disk Reproducing Apparatus, An Optical Disk Recording Device |
| JP2011147133A | Optical Disk For High Resolution And Three-Dimensional Video Recording, Optical Disk Reproduction Apparatus, And Optical Disk Recording Apparatus | A High Resolution And The Optical Disk For Three-Dimensional Video Recording, An Optical Disk Reproducing Apparatus, An Optical Disk Recording Device |
| US20110181695A1 | High-Resolution Optical Disk For Recording Stereoscopic Video, Optical Disk Reproducing Device, And Optical Disk Recording Device |
| US20110181696A1 | High-Resolution Optical Disk For Recording Stereoscopic Video, Optical Disk Reproducing Device, And Optical Disk Recording Device |
| JP2011142674A | Optical Disk For Recording Of High-Resolution And Stereoscopic Video, Optical Disk Reproducing Device, And Optical Disk Recording Device | A High Resolution And The Optical Disk For Three-Dimensional Video Recording, An Optical Disk Reproducing Apparatus, An Optical Disk Recording Device |
| JP2011120263A | Optical Disc For Recording High Resolution And Three-Dimensional Video, Optical Disc Reproducing Apparatus, And Optical Disc Recording Apparatus | A High Resolution And The Optical Disk For Three-Dimensional Video Recording, An Optical Disk Reproducing Apparatus, An Optical Disk Recording Device |
| JP2011101436A | Optical Disk For High Resolution And Stereoscopic Video Recording, Optical Disk Reproducing Device, Optical Disk Recorder | A High Resolution And The Optical Disk For Three-Dimensional Video Recording, An Optical Disk Reproducing Apparatus, An Optical Disk Recording Device |
| JP2011101437A | Optical Disk For High Resolution And Stereoscopic Video Recording, Optical Disk Reproducing Device, Optical Disk Recorder | A High Resolution And The Optical Disk For Three-Dimensional Video Recording, An Optical Disk Reproducing Apparatus, An Optical Disk Recording Device |
| US20110080468A1 | High-Resolution Optical Disk For Recording Stereoscopic Video, Optical Disk Reproducing Device, And Optical Disk Recording Device |
| JP2011019250A | Optical Disk For High Resolution And Three-Dimensional Video Recording, Optical Disk Reproduction Apparatus, And Optical Disk Recording Apparatus | A High Resolution And The Optical Disk For Three-Dimensional Video Recording, An Optical Disk Reproducing Apparatus, An Optical Disk Recording Device |
| JP2011015415A | High-Resolution Optical Disk For Recording Stereoscopic Video, Optical Disk Reproducing Device, Optical Disk Recording Device | A High Resolution And The Optical Disk For Three-Dimensional Video Recording, An Optical Disk Reproducing Apparatus, An Optical Disk Recording Device |
| JP2011015416A | High-Resolution Optical Disk For Recording Stereoscopic Video, Optical Disk Reproducing Device, Optical Disk Recording Device | A High Resolution And The Optical Disk For Three-Dimensional Video Recording, An Optical Disk Reproducing Apparatus, An Optical Disk Recording Device |
| JP2011015417A | High-Resolution Optical Disk For Recording Stereoscopic Video, Optical Disk Reproducing Device, Optical Disk Recording Device | A High Resolution And The Optical Disk For Three-Dimensional Video Recording, An Optical Disk Reproducing Apparatus, An Optical Disk Recording Device |
| JP2011015418A | High-Resolution Optical Disk For Recording Stereoscopic Video, Optical Disk Reproducing Device, Optical Disk Recording Device | A High Resolution And The Optical Disk For Three-Dimensional Video Recording, An Optical Disk Reproducing Apparatus, An Optical Disk Recording Device |
| JP2011015419A | High-Resolution Optical Disk For Recording Stereoscopic Video, Optical Disk Reproducing Device, Optical Disk Recording Device | A High Resolution And The Optical Disk For Three-Dimensional Video Recording, An Optical Disk Reproducing Apparatus, An Optical Disk Recording Device |
| JP2011015420A | High-Resolution Optical Disk For Recording Stereoscopic Video, Optical Disk Reproducing Device, Optical Disk Recording Device | A High Resolution And The Optical Disk For Three-Dimensional Video Recording, An Optical Disk Reproducing Apparatus, An Optical Disk Recording Device |
| JP2011010301A | Optical Disk For Recording High-Resolution And Three-Dimensional Image, Optical Disk Reproducing Apparatus And Optical Disk Recording Apparatus | A High Resolution And The Optical Disk For Three-Dimensional Video Recording, An Optical Disk Reproducing Apparatus, An Optical Disk Recording Device |
| JP2011010302A | Optical Disk For Recording High-Resolution And Three-Dimensional Image, Optical Disk Reproducing Apparatus And Optical Disk Recording Apparatus | A High Resolution And The Optical Disk For Three-Dimensional Video Recording, An Optical Disk Reproducing Apparatus, An Optical Disk Recording Device |
| JP2010283840A | Optical Disc For High-Resolution And Three-Dimensional Video Recording, Optical Disc Reproduction Apparatus, And Optical Disc Recording Apparatus | A High Resolution And The Optical Disk For Three-Dimensional Video Recording, An Optical Disk Reproducing Apparatus, An Optical Disk Recording Device |
| JP2010268515A | Optical Disk For High Resolution And Three-Dimensional Image Recording, Optical Disk Reproducing Device And Optical Disk Recording Device | A High Resolution And The Optical Disk For Three-Dimensional Video Recording, An Optical Disk Reproducing Apparatus, An Optical Disk Recording Device |
| JP2010268516A | Optical Disk For High Resolution And Three-Dimensional Image Recording, Optical Disk Reproducing Device And Optical Disk Recording Device | A High Resolution And The Optical Disk For Three-Dimensional Video Recording, An Optical Disk Reproducing Apparatus, An Optical Disk Recording Device |
| JP2010233257A | Optical Disk For High Resolution And Stereoscopic Video Recording, Optical Disk Reproduction Apparatus, And Optical Disk Recording Apparatus | A High Resolution And The Optical Disk For Three-Dimensional Video Recording, An Optical Disk Reproducing Apparatus, An Optical Disk Recording Device |
| JP2010193481A | Optical Disk For Recording High-Resolution And Stereoscopic Image, Optical Disk Reproducing Device, And Optical Disk Recording Apparatus | A High Resolution And The Optical Disk For Three-Dimensional Video Recording, An Optical Disk Reproducing Apparatus, An Optical Disk Recording Device |
| JP2010183607A | Optical Disc For High Resolution And Three-Dimensional Video Recording, Optical Disc Reproduction Apparatus, And Optical Disc Recording Apparatus | A High Resolution And The Optical Disk For Three-Dimensional Video Recording, An Optical Disk Reproducing Apparatus, An Optical Disk Recording Device |
| JP2010020898A | Optical Disk For High Resolution And Three-Dimensional Video Recording, Optical Disk Reproduction Apparatus, And Optical Disk Recording Apparatus | A High Resolution And The Optical Disk For Three-Dimensional Video Recording, An Optical Disk Reproducing Apparatus, An Optical Disk Recording Device |
| US20100020158A1 | High-Resolution Optical Disk For Recording Stereoscopic Video, Optical Disk Reproducing Device, And Optical Disk Recording Device |
| JP2009239978A | Optical Disk For High Resolution And Three-Dimensional Video Recording, Optical Disk Reproduction Apparatus, And Optical Disk Recording Apparatus | A High Resolution And The Optical Disk For Three-Dimensional Video Recording, An Optical Disk Reproducing Apparatus, An Optical Disk Recording Device |
| JP2009219165A | Optical Disc For High Resolution And Three-Dimensional Video Recording, Optical Disc Reproducing Device, And Optical Disc Recording Device | A High Resolution And The Optical Disk For Three-Dimensional Video Recording, An Optical Disk Reproducing Apparatus, An Optical Disk Recording Device |
| JP2009177851A | Optical Disk For High Resolution And Three-Dimensional Video Recording, Optical Disk Reproduction Apparatus, And Optical Disk Recording Apparatus | A High Resolution And The Optical Disk For Three-Dimensional Video Recording, Optical Disk Reproducing|Regenerating Apparatus, An Optical Disk Recording Device |
| JP2009153210A | Optical Disk For Recording High-Resolution Video And Stereoscopic Video, Optical Disk Reproducing Device, And Optical Disk Recording Device | A High Resolution And The Optical Disk For Three-Dimensional Video Recording, Optical Disk Reproducing|Regenerating Apparatus, An Optical Disk Recording Device |
| JP2009153211A | Optical Disk For Recording High-Resolution Video And Stereoscopic Video, Optical Disk Reproducing Device, And Optical Disk Recording Device | A High Resolution And The Optical Disk For Three-Dimensional Video Recording, Optical Disk Reproducing|Regenerating Apparatus, An Optical Disk Recording Device |
| JP2009153212A | Optical Disk For Recording High-Resolution Video And Stereoscopic Video, Optical Disk Reproducing Device, And Optical Disk Recording Device | A High Resolution And The Optical Disk For Three-Dimensional Video Recording, Optical Disk Reproducing|Regenerating Apparatus, An Optical Disk Recording Device |
| US20090103903A1 | Multimedia Optical Disc For Storing Audio Data And Sub-Picture Data In A Plurality Of Channels As Well As Moving Picture Data And Apparatus And Method For Reproducing The Multimedia Optical Disc |
| US20080292287A1 | High-Resolution Optical Disk For Recording Stereoscopic Video, Optical Disk Reproducing Device, And Optical Disk Recording Device |
| JP2008236757A | High-Resolution Optical Disk For Recording Stereoscopic Video, Optical Disk Reproducing Device, And Optical Disk Recording Device | A High Resolution And The Optical Disk For Three-Dimensional Video Recording, Optical Disk Reproducing|Regenerating Apparatus, An Optical Disk Recording Device |
| US20080101767A1 | High-Resolution Optical Disk For Recording Stereoscopic Video, Optical Disk Reproducing Device, And Optical Disk Recording Device |
| JP2008067393A | High-Resolution Optical Disk For Recording Stereoscopic Video, Optical Disk Reproducing Device, And Optical Disk Recording Device | A High Resolution And The Optical Disk For Three-Dimensional-Video Recording, An Optical-Disk Reproducing Apparatus, An Optical-Disk Recording Device |
| US20080056686A1 | High-Resolution Optical Disk For Recording Stereoscopic Video, Optical Disk Reproducing Device, And Optical Disk Recording Device |
| JP2008048430A | Optical Disc For High Resolution And Three-Dimensional Video Recording, Optical Disc Reproduction Apparatus, And Optical Disc Recording Apparatus | A High Resolution And The Optical Disk For Three-Dimensional-Video Recording, An Optical-Disk Reproducing Apparatus, An Optical-Disk Recording Device |
| US20080050095A1 | Information Recording Medium, Apparatus And Method For Recording Or Reproducing Data Thereof |
| US20080044162A1 | Information Recording Medium, Apparatus And Method For Recording Or Reproducing Data Thereof |
| US20070172208A1 | Optical Disc, Video Data Editing Apparatus, Computer-Readable Recording Medium Storing An Editing Program, Reproduction Apparatus For The Optical Disc, And Computer-Readable Recording Medium Storing An Reproduction Program |
| JP2007166651A | Optical Disk For High Resolution And Three-Dimensional Video Recording, Optical Disk Reproduction Apparatus, And Optical Disk Recording Apparatus | A High Resolution And The Optical Disk For Three-Dimensional-Video Recording, Optical-Disk Reproduction|Playback Apparatus, An Optical-Disk Recording Device |
| CN1964457A | Optical Disc, Recorder, Re-Player, Recording Method, And Replaying Method |
| CN1905657A | Optical Disc, A Recorder, A Player, A Recording Method, And A Reproducing Method That Are All Used For The Optical Disc |
| CN1905658A | Optical Disc And Recorder, Player, Recording Method And Playing Method Thereof |
| CN1905659A | Optical Disc And Its Recorder, A Replayer, A Recording Method, And A Reproducing Method |
| US20060251391A1 | Optical Disc, Recording Apparatus, And Computer-Readable Recording Medium |
| EP1592242A3 | An Optical Disc, A Recorder, A Player, A Recording Method, And A Reproducing Method That Are All Used For The Optical Disc |
| US20060188231A1 | Information Recording Medium, Apparatus And Method For Recording Or Reproducing Data Thereof |
| CN1805042A | Optical Disc, Recording Device And Reproducing Device |
| US20060140590A1 | Optical Disc, Recording Device And Reproducing Device |
| CN1779840A | Information Recording Medium, Apparatus And Method For Performing After-Recording On The Recording Medium |
| EP1592242A2 | An Optical Disc, A Recorder, A Player, A Recording Method, And A Reproducing Method That Are All Used For The Optical Disc |
| CN1681309A | Optical Disc, A Recorder, A Player, A Recording Method, And A Reproducing Method |
| EP1115118A3 | Optical Disc, Recording Device And Reproducing Device |
| EP1150292A3 | Optical Disc, Recording Device And Reproducing Device |
| US20050008337A1 | Multimedia Optical Disc For Storing Audio Data And Sub-Picture Data In A Plurality Of Channels As Well As Moving Picture Data And Apparatus And Method For Reproducing The Multimedia Optical Disc |
| US20050008338A1 | Multimedia Optical Disc For Storing Audio Data And Sub-Picture Data In A Plurality Of Channels As Well As Moving Picture Data And Apparatus And Method For Reproducing The Multimedia Optical Disc |
| US20040264947A1 | Optical Disc, Video Data Editing Apparatus, Computer-Readable Recording Medium Storing An Editing Program, Reproduction Apparatus For The Optical Disc, And Computer-Readable Recording Medium Storing An Reproduction Program |
| EP1139347A3 | Information Recording Medium, Apparatus And Method For Recording Or Reproducing The Recording Medium |
| US20040179820A1 | Method And An Apparatus For Reproducing Bitstream Having Non-Sequential System Clock Data Seamlessly Therebetween |
| US20040175133A1 | Method And An Apparatus Reproducing Bitstream Having Non-Sequential System Clock Data Seamlessly Therebetween |
| US20040096704A1 | Optical Disc, Recording Device And Reproducing Device |
| US20040071446A1 | Optical Disc, Optical Disc Recording Apparatus, And Optical Recording Method For Facilitating Dubbing, Storage Medium For Storing Optical Disc Recording A Program For Facilitating Dubbing, Optical Disc Reproducing Apparatus, And Optical Disc Reproducing Method |
| US20040057700A1 | Information Recording Medium, Apparatus And Method For Performing After-Recording On The Recording Medium |
| US20030190151A1 | Information Recording Medium, Apparatus And Method For Recording Or Reproducing Data Thereof |
| US20030190152A1 | Information Recording Medium, Apparatus And Method For Recording Or Reproducing Data Thereof |
| US20030175012A1 | Optical Disc, Video Data Editing Apparatus, Computer-Readable Recording Medium Storing An Editing Program, Reproduction Apparatus For The Optical Disc, And Computer-Readable Recording Medium Storing An Reproduction Program |
| US20030165329A1 | Information Recording Medium, Apparatus And Method For Recording Or Reproducing Data Thereof |
| US20030138238A1 | Method And An Apparatus For Reproducing Bitstream Having Non-Sequential System Clock Data Seamlessly Therebetween |
| US20030123855A1 | Apparatus,Method,And Recording Medium Implementing Audio Gap Information For An Audio Preesentation Discontinuous Period |
| JP2003163892A | Recording And Reproducing Method | The Recording Method And The Reproduction|Regeneration Method |
| JP2003153206A | Recording Method And Reproducing Apparatus And Method | The Recording Method, A Reproducing Apparatus, And The Reproduction|Regeneration Method |
| JP2003132646A | Recording Method, Reproducing Method And Reproducing Device | The Recording Method, The Reproduction|Regeneration Method, And A Reproducing Apparatus |
| US20030086688A1 | Optical Disc, Recording Apparatus, And Computer-Readable Recording Medium |
| JP2003101955A | Apparatus And Method For Reproduction | A Reproduction|Regeneration Apparatus, The Reproduction|Regeneration Method |
| JP2003101963A | Reproducing Device And Reproducing Method | A Reproduction|Regeneration Apparatus, The Reproduction|Regeneration Method |
| JP2003101964A | Reproducing Device And Reproducing Method | A Reproduction|Regeneration Apparatus, The Reproduction|Regeneration Method |
| JP2003101965A | Reproducing Device And Reproducing Method | A Reproduction|Regeneration Apparatus, The Reproduction|Regeneration Method |
| JP2003101966A | Reproducing Device | Reproduction|Regeneration Apparatus |
| JP2003101953A | Method For Generating Bit Stream And Method For Recording Information | The Bit Stream Production|Generation Method And The Information Recording Method |
| JP2003101954A | Method For Generating Bit Stream And Method For Recording Information | The Bit Stream Production|Generation Method And The Information Recording Method |
| US20030053797A1 | High-Resolution Optical Disk For Recording Stereoscopic Video, Optical Disk Reproducing Device, And Optical Disk Recording Device |
| JP2003087743A | Method For Generating Bit Stream And Method For Recording Information | The Bit Stream Formation|Generation|Production Method And The Information Recording Method |
| JP2003087744A | Method For Generating Bit Stream And Method For Recording Information | The Bit Stream Formation|Generation|Production Method And The Information Recording Method |
| JP2003087737A | Reproducing Method, Reproducing Device, Recording Method, Recording Device, And Optical Disk | The Reproduction|Regeneration Method, A Reproducing Apparatus, The Recording Method, A Recording Device, An Optical Disk |
| JP2003087738A | Reproducing Method, Reproducing Device, Recording Method, Recording Device, And Optical Disk | The Reproduction|Regeneration Method, A Reproducing Apparatus, The Recording Method, A Recording Device, An Optical Disk |
| JP2003087739A | Reproducing Method, Reproducing Device, Recording Method, Recording Device, And Optical Disk | The Reproduction|Regeneration Method, A Reproducing Apparatus, The Recording Method, A Recording Device, An Optical Disk |
| JP2003087740A | Reproducing Method, Reproducing Device, Recording Method, Recording Device, And Optical Disk | The Reproduction|Regeneration Method, A Reproducing Apparatus, The Recording Method, A Recording Device, An Optical Disk |
| JP2003087741A | Reproducing Method, Reproducing Device, Recording Method, Recording Device, And Optical Disk | The Reproduction|Regeneration Method, A Reproducing Apparatus, The Recording Method, A Recording Device, An Optical Disk |
| JP2003087742A | Reproducing Method, Reproducing Device, Recording Method, Recording Device, And Optical Disk | The Reproduction|Regeneration Method, A Reproducing Apparatus, The Recording Method, A Recording Device, An Optical Disk |
| JP2003069954A | Bit Stream Generating Method And Information Recording Method | The Bit Stream Formation|Generation|Production Method And The Information Recording Method |
| JP2003045127A | Reproducing Method, Reproducing Device, Recording Method, Recording Device, Optical Disk | The Reproduction|Regeneration Method, A Reproducing Apparatus, The Recording Method, A Recording Device, An Optical Disk |
| JP2003022661A | Reproducing Device And Reproducing Method | A Reproducing Apparatus, The Reproduction|Regeneration Method |
| EP1102270A4 | Opitical Disk, And Method And Device For Recording/Reproducing Data On/From Optical Disk |
| US20020141738A1 | Optical Disc, Optical Disc Recording Apparatus, And Optical Disc Recording Method For Facilitating Dubbing, Storage Medium For Storing Optical Disc Recording Program For Facilitating Dubbing, Optical Disc Reproducing Apparatus, And Optical Disc Reproducing Method |
| CN1372763A | Optical Disc, A Recorder, A Player, A Recording Method, And A Reproducing Method |
| US20020118960A1 | Optical Disc, A Recorder, A Player, A Recording Method, And A Reproducing Method That Are All Used For The Optical Disc |
| US20020097989A1 | Optical Disc, A Recorder, A Player, A Recording Method, And A Reproducing Method That Are All Used For The Optical Disc |
| US20020076205A1 | Optical Disc, A Recorder, A Player, A Recording Method, And A Reproducing Method That Are All Used For The Optical Disc |
| CN1346491A | Optical Disc, Recording Device And Reproducing Device |
| CN1345447A | Optical Disc, Recording Device And Reproducing Device |
| KR2002027482A | An Optical Disc A Recorder A Player A Recording Method And A Reproducing Method That Are All Used For The Optical Disc |
| CN1344412A | Information Recording Medium, Apparatus And Method For Performing After-Recording On The Recording Medium |
| JP2002094945A | Recording Medium, Video Recording Device, Program Storage Medium | A Recording Medium, A Video Recording Apparatus, A Program Store Medium |
| CN1342317A | Information Recording Medium, Recording And Reproducing Device And Method For Recording Medium |
| CN1342316A | Optical Disk, Optical Disk Recording And Reproducing Apparatus, And Optical Disc Recording And Reproducing Method |
| US20020031336A1 | Apparatus,Method, And Recording Medium Implementing Audio Gap Information For An Audio Presentation Discontinuous Period |
| US20020025143A1 | Method And An Apparatus For Reproducing Bitstream Having Non-Sequential System Clock Data Seamlessly Therebetween |
| US20020018643A1 | Information Recording Medium, Apparatus And Method For Recording Or Reproducing Data Thereof |
| KR2002007350A | Optical Disc Recording Device And Reproducing Device |
| KR2002007305A | Information Recording Medium Apparatus And Method For Performing After-Recording On The Recording Medium |
| KR2002006675A | Information Recording Medium Apparatus And Method For Recording Or Reproducing The Recording Medium |
| KR2002006695A | Optical Disc Recording Device And Reproducing Device |
| KR2002006674A | Optical Disc Optical Disc Recording And Reproducing Apparatus And Optical Disc Recording And Reproducing Method |
| BR200009534A | Optical Disc, Recording Device And Playback Device |
| US20020003944A1 | Method And An Apparatus For Reproducing Bitstream Having Non-Sequential System Clock Data Seamlessly Therebetween |
| US20020003945A1 | Method And An Apparatus For Reproducing Bitstream Having Non-Sequential System Clock Data Seamlessly Therebetween |
| US20020003950A1 | Method And An Apparatus For Reproducing Bitstream Having Non-Sequential System Clock Data Seamlessly Therebetween |
| US20020003951A1 | Method And An Apparatus For Reproducing Bitstream Having Non-Sequential System Clock Data Seamlessly Therebetween |
| US20020001454A1 | Method And An Apparatus For Reproducing Bitstream Having Non-Sequential System Clock Data Seamlessly Therebetween |
| US20020001455A1 | Method And An Apparatus For Reproducing Bitstream Having Non-Sequential System Clock Data Seamlessly Therebetween |
| MX2001009020A | Lens Driving Device |
| MX2001009022A | Optical Disc Optical Disc Recording And Reproducing Apparatus, And Optical Disc Recording And Reproducing Method |
| US20010055474A1 | Method And An Apparatus For Reproducing Bitstream Having Non-Sequential System Clock Data Seamlessly Therebetween |
| US20010053281A1 | Method And An Apparatus For Reproducing Bitstream Having Non-Sequential System Clock Data Seamlessly Therebetween |
| EP1161091A1 | An Optical Disc, A Recorder, A Player, A Recording Method, And A Reproducing Method That Are All Used For The Optical Disc |
| US20010046377A1 | Optical Disc, Optical Disc Recording Apparatus, And Optical Disc Recording Method For Facilitating Dubbing, Storage Medium For Storing Optical Disc Recording Program For Facilitating Dubbing, Optical Disc Reproducing Apparatus, And Optical Disc Reproducing Method |
| US20010043799A1 | Optical Disc, Video Data Editing Apparatus, Computer-Readable Recording Medium Storing An Editing Program, Reproduction Apparatus For The Optical Disc, And Computer-Readable Recording Medium Storing An Reproduction Program |
| US20010043790A1 | Optical Disc, Recording Apparatus, And Computer-Readable Recording Medium |
| US20010043803A1 | Optical Disc, Recording Apparatus, And Computer-Readable Recording Medium |
| BR200008790A | Information Recording Medium, Apparatus And Method Of Performing A Recording Nomeio Recording |
| US20010041057A1 | Optical Disc, Recording Apparatus, And Computer-Readable Recording Medium |
| US20010038745A1 | Optical Disc, Optical Disc Recording And Reproducing Apparatus, And Optical Disc Recording And Reproducing Method |
| EP1150292A2 | Optical Disc, Recording Device And Reproducing Device |
| EP1139347A2 | Information Recording Medium, Apparatus And Method For Recording Or Reproducing The Recording Medium |
| JP2001258009A | Electronic Media Distribution System | Electronic-Media Delivery System |
| EP1130596A3 | Information Recording Medium, Apparatus And Method For Performing After-Recording On The Recording Medium |
| EP1130596A2 | Information Recording Medium, Apparatus And Method For Performing After-Recording On The Recording Medium |
| JP2001197417A | Optical Disk, Its Recorder, Reproduction Device, Recording Method And Reproduction Method | An Optical Disk, Its Recording Device, Reproducing|Regenerating Apparatus, The Recording Method, And A Reproduction|Regenerating Method |
| JP2001197418A | Optical Disk, Its Recorder, Reproduction Device, Recording Method And Reproduction Method | An Optical Disk, Its Recording Device, Reproducing|Regenerating Apparatus, The Recording Method, And A Reproduction|Regenerating Method |
| JP2001197441A | Optical Disk, Method And Device For Its Recording, And Method And Device For Its Reproduction | An Optical Disk, Its Recording Device, Reproducing|Regenerating Apparatus, The Recording Method, And A Reproduction|Regenerating Method |
| JP2001197442A | Optical Disk, Method And Device For Its Recording, And Method And Device For Its Reproducing | An Optical Disk, Its Recording Device, Reproducing|Regenerating Apparatus, The Recording Method, And A Reproduction|Regenerating Method |
| EP1115118A2 | Optical Disc, Recording Device And Reproducing Device |
| US20010005448A1 | Information Recording Medium, Apparatus And Method For Recording Or Reproducing Data Thereof |
| JP2001167560A | Recording System And Reproduction System For Optical Disk | An Optical Disk Recording System And An Optical Disk Reproduction System |
| JP2001167529A | Information Recording Medium, Information Recording Method And Information Reproducing Device | An Information Recording Medium, The Information Recording Method, And An Information Reproduction Apparatus |
| JP2001155439A | Information Recording Medium, Information Recording Method And Information Reproducing Device | An Information Recording Medium, The Information Recording Method, And An Information Reproduction Apparatus |
| JP2001145053A | Optical Disk And Its Recorder And Reproducing Device | An Optical Disk, Its Recording Device, And Reproducing|Regenerating Apparatus |
| EP1102270A1 | Opitical Disk, And Method And Device For Recording/Reproducing Data On/From Optical Disk |
| JP2001135067A | Optical Disk, Its Recording Device And Reproducing Device | An Optical Disk, Its Recording Device, And Reproducing|Regenerating Apparatus |
| JP2001126448A | Optical Disk And Recording Device And Reproducing Device For The Same | An Optical Disk, Its Recording Device, And Reproducing|Regenerating Apparatus |
| JP2001128104A | Optical Disk And Its Recording Device And Reproducing Device | An Optical Disk, Its Recording Device, And Reproducing|Regenerating Apparatus |
| WO2001005148B1 | An Optical Disc, A Recorder, A Player, A Recording Method, And A Reproducing Method That Are All Used For The Optical Disc |
| KR2001034131A | Information Recording Medium Apparatus And Method For Recording Or Reproducing Data Thereof |
| KR2001032946A | Information Recording Medium Apparatus And Method For Recording Or Reproducing Data Thereof |
| JP2001111944A | Optical Disk, Optical Disk Recording And Reproducing Device And Optical Disk Recording And Reproducing Method | An Optical Disk, An Optical Disk Recording/Reproducing Apparatus, And The Optical Disk Recording And Reproducing Method |
| JP2001101834A | Optical Disk, Optical Disk Recording And Reproducing Device, And Optical Disk Recording And Reproducing Method | An Optical Disk, An Optical Disk Recording/Reproducing Apparatus, And The Optical Disk Recording And Reproducing Method |
| JP2001094914A | Information Recording Medium And Device And Method For Recording Information To The Information Recording Medium | An Information Recording Medium, The Apparatus And Method Which Record Information With Respect To The Information Recording Medium |
| JP2001086444A | Optical Disk, Device And Method For Recording And Reproducing Therefor | An Optical Disk, Its Recording Device, Reproducing|Regenerating Apparatus, The Recording Method, And A Reproduction|Regenerating Method |
| JP2001086445A | Optical Disk, Its Recorder, Reproducing Device, Recording Method And Reproducing Method | An Optical Disk, Its Recording Device, Reproducing|Regenerating Apparatus, The Recording Method, And A Reproduction|Regenerating Method |
| JP2001086446A | Optical Disk, Its Recorder, Reproducing Device, Recording Method And Reproducing Method | An Optical Disk, Its Recording Device, Reproducing|Regenerating Apparatus, The Recording Method, And A Reproduction|Regenerating Method |
| JP2001086455A | Optical Disk, Its Recorder, Reproducing Device, Recording Method And Reproducing Method | An Optical Disk, Its Recording Device, Reproducing|Regenerating Apparatus, The Recording Method, And A Reproduction|Regenerating Method |
| JP2001086463A | Optical Disk, Its Recorder, Reproducing Device, Recording Method And Reproducing Method | An Optical Disk, Its Recording Device, Reproducing|Regenerating Apparatus, The Recording Method, And A Reproduction|Regenerating Method |
| JP2001086464A | Optical Disk, Its Recorder, Reproducing Device, Recording Method And Reproducing Method | An Optical Disk, Its Recording Device, Reproducing|Regenerating Apparatus, The Recording Method, And A Reproduction|Regenerating Method |
| JP2001086465A | Optical Disk, Its Recorder, Reproducing Device, Recording Method And Reproducing Method | An Optical Disk, Its Recording Device, Reproducing|Regenerating Apparatus, The Recording Method, And A Reproduction|Regenerating Method |
| JP2001086466A | Optical Disk, Its Recorder, Reproducing Device, Recording Method And Reproducing Method | An Optical Disk, Its Recording Device, Reproducing|Regenerating Apparatus, The Recording Method, And A Reproduction|Regenerating Method |
| JP2001060365A | Information Recording Medium, Information Recorder And Information Recording Method | An Information Recording Medium, An Information Recording Device, And The Information Recording Method |
| JP2001060366A | Information Recording Medium, Information Recorder And Information Recording Method | An Information Recording Medium, An Information Recording Device, And The Information Recording Method |
| JP2001060367A | Information Recording Medium, Information Recorde And Information Recording Method | An Information Recording Medium, An Information Recording Device, And The Information Recording Method |
| JP2001052467A | Optical Disk And Device And Method For Recording And Reproducing Data To/From Optical Disk | The Apparatus And Method Which Perform Recording Of Data, And Reproduction|Regeneration With Respect To An Optical Disk And An Optical Disk |
| MX2000005659A | Information Recording Medium, Device And Method For Recording And Reproducing Information In/From Information Recording Medium |
| JP2001023355A | Optical Disk Recording Device, Optical Disk Recording Method And Program Recording Medium | An Optical Disk Recording Device, The Optical Disk Recording Method, And A Program Recording Medium |
| WO2001005148A1 | An Optical Disc, A Recorder, A Player, A Recording Method, And A Reproducing Method That Are All Used For The Optical Disc |
| JP2001008171A | Optical Disk Recorder, Optical Disk Recording Method, Optical Disk, Optical Disk Reproducing Device, Optical Disk Reproducing Method And Program Recording Medium | An Optical Disk Recording Device, The Optical Disk Recording Method, An Optical Disk, An Optical Disk Reproducing Apparatus, An Optical Disk Replay Method, And A Program Recording Medium |
| EP1067789A1 | An Optical Disc, A Recorder, A Player, A Recording Method, And A Reproducing Method That Are All Used For The Optical Disc |
| AU200034570A | Optical Disc, Recording Device And Reproducing Device |
| AU2000034570A1 | Optical Disc, Recording Device And Reproducing Device |
| JP2000358209A | Optical Disk Recorder, Optical Disk Recording Method, Optical Disk, Optical Disk Reproducing Device, Optical Disk Reproducing Method And Program Recording Medium | An Optical Disk Recording Device, The Optical Disk Recording Method, An Optical Disk, An Optical Disk Reproducing Apparatus, An Optical Disk Replay Method, And A Program Recording Medium |
| WO2000060597B1 | Optical Disc, Recording Device And Reproducing Device |
| JP2000348442A | Optical Disk And Recording Apparatus And Reproducing Apparatus Therefor | An Optical Disk, Its Recording Device, And Reproducing|Regenerating Apparatus |
| JP2000348467A | Optical Disk And Recording Apparatus And Reproducing Apparatus Therefor | An Optical Disk, Its Recording Device, And Reproducing|Regenerating Apparatus |
| AU200024611A | Information Recording Medium, Apparatus And Method For Performing After-Recording On The Recording Medium |
| WO2000075928A1 | Opitical Disk, And Method And Device For Recording/Reproducing Data On/From Optical Disk |
| AU2000024611A1 | Information Recording Medium, Apparatus And Method For Performing After-Recording On The Recording Medium |
| JP2000324429A | Information Recording Medium And Device And Method For Recording Information On The Medium | An Information Recording Medium, The Apparatus And Method Which Record Information With Respect To The Information Recording Medium |
| JP2000322878A | Optical Disk, Device For Optical Disk Recording/ Reproducing And Method Therefor | An Optical Disk, An Optical Disk Recording/Reproducing Apparatus, And The Optical Disk Recording And Reproducing Method |
| JP2000306327A | Information Recording Medium As Well As Apparatus And Method For Afterrecording With Respect To The Information Recording Medium | An Information Recording Medium, The Recording Device Which Postrecords With Respect To The Information Recording Medium, And The Recording Method |
| WO2000060597A1 | Optical Disc, Recording Device And Reproducing Device |
| CA2368456A1 | Optical Disc, Recording Device And Reproducing Device |
| WO2000060598A1 | Optical Disc, Recording Device And Reproducing Device |
| EP1043724A1 | Optical Disc, Optical Disc Recording And Reproducing Apparatus, And Optical Disc Recording And Reproducing Method |
| EP1041569A1 | Optical Disc, Recording Device And Reproducing Device |
| EP1041565A1 | Optical Disc, Recording Device And Reproducing Device |
| WO2000054278A1 | Information Recording Medium, Apparatus And Method For Recording Or Reproducing The Recording Medium |
| WO2000054277A1 | Optical Disc, Optical Disc Recording And Reproducing Apparatus, And Optical Disc Recording And Reproducing Method |
| EP1035546A1 | Apparatus And Method For Recording The Recording Medium |
| CA2364301A1 | Information Recording Medium, Apparatus And Method For Performing After-Recording On A Recording Medium |
| WO2000049617A1 | Information Recording Medium, Apparatus And Method For Performing After-Recording On The Recording Medium |
| EP1030307A1 | Information Recording Medium, Apparatus And Method For Performing After-Recording On The Recording Medium |
Authored By: Navjyot Singh, Insights;Gate Team