KFC has a total of 21 patents globally, out of which 19 have been granted. Of these 21 patents, more than 47% patents are active. United States of America is where KFC has filed all the patents, it has generated an annual revenue of $1.74 billion in the year 2020. Parallelly, United States of America seems to be the main focused R&D center and is also the origin country of KFC.
KFC (also known as Kentucky Fried Chicken) was founded in the year 1952 by Colonel Sanders and Pete Harman. Company is doing business as a fast-food chicken operator, developer, and franchiser. As of December 2021, KFC has a market cap of $13.48 Billion.
Do read about some of the most popular patents of KFC which have been covered by us in this article and also you can find KFC's patents information, the worldwide patent filing activity and its patent filing trend over the years, and many other stats over KFC's patent portfolio.
How many patents does KFC have?
KFC has a total of 21 patents globally. These patents belong to 20 unique patent families. Out of 21 patents, 10 patents are active.
How many KFC patents are Alive/Dead?
Worldwide Patents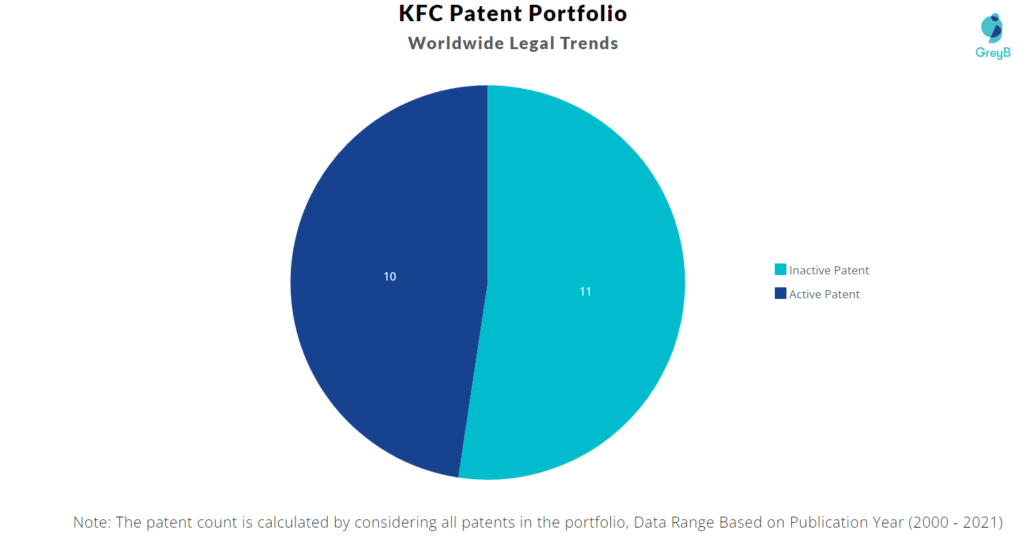 Patent Families
How Many Patents did KFC File Every Year?
Are you wondering why there is a drop in patent filing for the last two years? It is because a patent application can take up to 18 months to get published. Certainly, it doesn't suggest a decrease in the patent filing.
| | | |
| --- | --- | --- |
| Year of Patents Filing or Grant | KFC Applications Filed | KFC Patents Granted |
| 2011 | 1 | – |
| 2012 | 2 | 3 |
| 2013 | 4 | 1 |
| 2014 | 1 | 3 |
| 2015 | – | 2 |
How Many Patents did KFC File in Different Countries?
Countries in which KFC Filed Patents
| | |
| --- | --- |
| Country | Patents |
| United States Of America | 21 |
Where are Research Centers of KFC Patents Located?
10 Best KFC Patents
US7293695B2 is the most popular patent in the KFC portfolio. It has received 40 citations so far from companies like Alliance Packaging, Clearpark and Apple.
Below is the list of 10 most cited patents of KFC:
What Percentage of KFC US Patent Applications were Granted?
KFC (Excluding its subsidiaries) has filed 19 patent applications at USPTO so far (Excluding Design and PCT applications). Out of these 15 have been granted leading to a grant rate of 83.33%.
Below are the key stats of KFC patent prosecution at the USPTO.

Which Law Firms Filed Most US Patents for KFC?
| | | |
| --- | --- | --- |
| Law Firm | Total Application | Success Rate |
| Stites & Harbison Pllc | 9 | 77.78% |
| Covington & Burling Llp | 5 | 80.00% |
| Dicke Billig & Czaja | 2 | 100.00% |
| Knobbe Martens Olson & Bear Llp | 1 | 0% |
| Paul J Berman | 1 | 100.00% |
What Technologies are Covered by KFC?
Patents related to Design includes ornamental or unique design of Food or Beverage containers, Food packages, Food tray, Utensils, and Rack.
Patents filed under Food Package category relates to Interactive compartmented food package, Removable absorbent insert for food container, and tray and lid system for food container.
Oven related patents includes self-cleaning convection oven and Grill rack and process of grilling.
The most cited patent, US7293695B2-Interactive compartmented food package relates to a low-cost compartmented food package that is simple to assemble, stays firmly expanded and operational, and has characteristics that make it interactive and enjoyable for children.
A single blank of paperboard material is used to make a food packaging in line with the innovation. It is inexpensive to produce, simple to handle, and durable and reliable in usage, meaning that it remains enlarged and operational after store staff have put it up. Furthermore, it contains parts that serve a purpose other than holding or containing food, such as an interactive component that can engage and hold a child's attention. The invention's food package is a "kids meal" package featuring pre-staging of some meal elements and final assembly at the point of sale. The packaging consists of a base or tray piece and a detachable cover, as well as a way to make it interactive and enjoyable for kids. It can be used for takeout or in-store dining. The lid can be printed with designs or other materials and then detached from the packaging along a perforated line to act as a standalone collectable item, game piece, or other item.
The chart below distributes patents filed by KFC in different countries on the basis of the technology protected in patents. It also represents the markets where KFC thinks it's important to protect particular technology inventions.
R&D Focus: How KFC search focus changed over the years?
List of KFC Patents
Authored By: Navjyot Singh, Insights;Gate Team