Luminous Computing, Inc. was founded in 2018 by Marcus Gomez, Michael Gao and Mitchell Nahmias and is doing business in building photonics chip that will handle workloads needed for AI at faster pace. As of October 2021, Luminous Computing has a market valuation of $38.37-$56.96 million.
Luminous Computing has a total of 13 patents globally, out of which 7 has been granted. Of these 13 patents 100% patents are active. USA is where Luminous Computing has filed maximum number of patents, followed by Taiwan and it also seems reasonable as the biggest market for Luminous Computing in the United States, it has generated an annual revenue of $2.5 million in the year 2020. Parallelly, United States seems to be the main focused R&D center and is also the origin country of Luminous Computing.
Do read about some of the most popular patents of Luminous Computing which have been covered by us in this article and also you can find Luminous Computing's patents information, the worldwide patent filing activity and its patent filing trend over the years, and many other stats over Luminous Computing's patent portfolio.
How many patents does Luminous Computing have?
Luminous Computing has a total of 13 patents globally. These patents belong to 5 unique patent families. Out of 13 patents, 13 patents are active.
How many Luminous Computing patents are Alive/Dead?
Worldwide Patents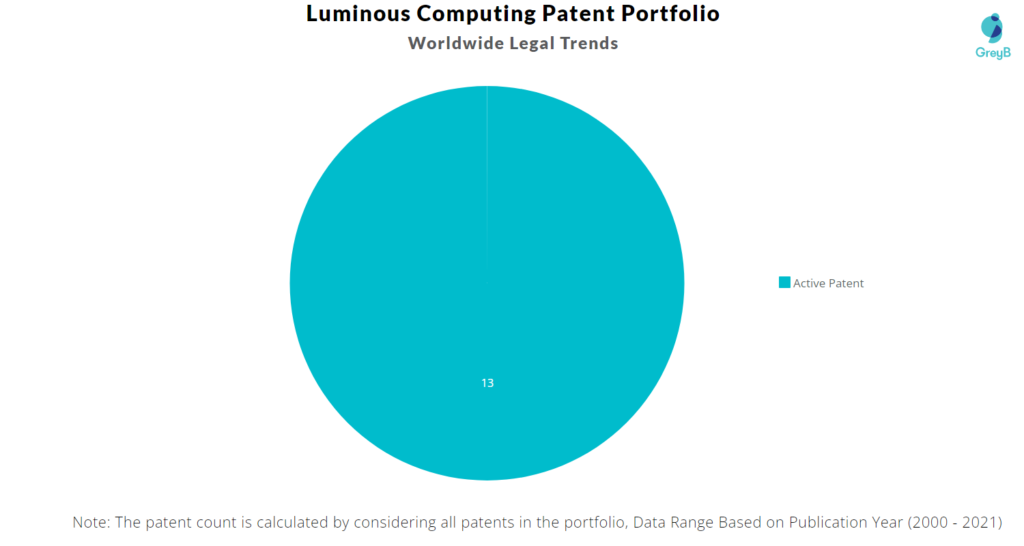 Patent Families
How Many Patents did Luminous Computing File Every Year?
Are you wondering why there is a drop in patent filing for the last two years? It is because a patent application can take up to 18 months to get published. Certainly, it doesn't suggest a decrease in the patent filing.
| | | |
| --- | --- | --- |
| Years of Patent Filing or Grant | Luminous Computing Application Filed | Luminous Computing Patents Granted |
| 2021 | 1 | 7 |
| 2020 | 9 | 6 |
| 2019 | 3 | 0 |
How Many Patents did Luminous Computing File in Different Countries?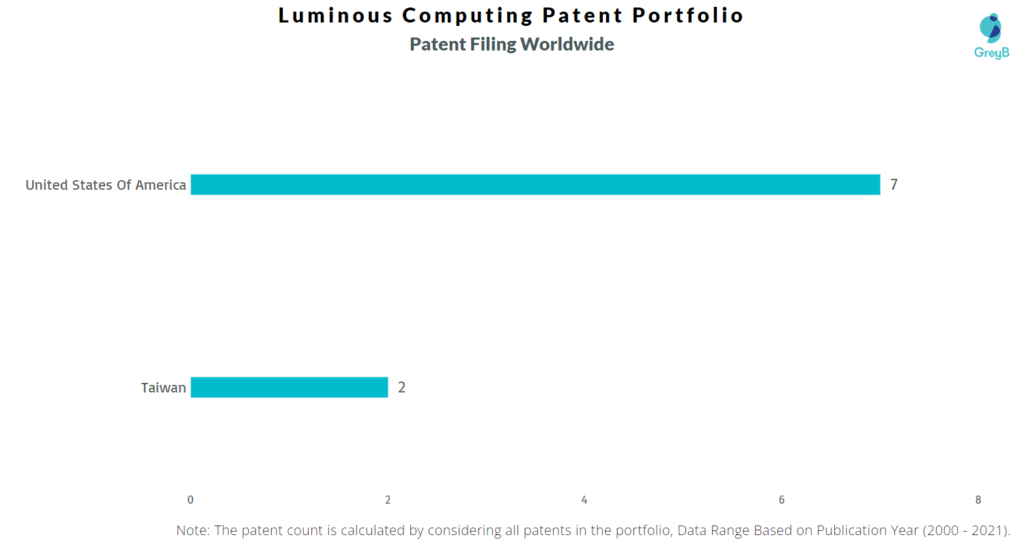 Countries in which Luminous Computing Filed Patents
| | |
| --- | --- |
| Country | Patents |
| United States Of America | 7 |
| Taiwan | 2 |
Where are Research Centers of Luminous Computing Patents Located?
What Percentage of Luminous Computing US Patent Applications were Granted?
Luminous Computing (Excluding its subsidiaries) has filed 6 patent applications at USPTO so far (Excluding Design and PCT applications). Out of these 4 have been granted leading to a grant rate of 100%.
Which Law Firms Filed Most US Patents for Luminous Computing?
| | | |
| --- | --- | --- |
| Law Firm | Total Application | Success Rate |
| Schox Pc | 6 | 100.00% |
Mission: To build the miracles required for humanity to take its next big leap forward.
Our models are expanding at a breakneck pace, and digital electronics is struggling to keep up. The world's semiconductor behemoths are mired in a cycle of incremental improvement that simply isn't cutting it. We need to rethink our core assumptions and use wholly new solutions to overcome actual tangible obstacles. Luminous Computing is going to create the world's largest supercomputer and make AI accessible, productive, and secure for everyone on the planet.
Luminous Computing has created an optical microprocessor that runs AI models significantly faster and consume less power than previous semiconductors.
List of Luminous Computing Patents
| | |
| --- | --- |
| Publication Number | Title (English) |
| US11016315B2 | Photonic bandgap phase modulator, optical filter bank, photonic computing system, and methods of use |
| US10908634B1 | Systems and methods for parallel photonic computing |
| US10837827B2 | System and method for photonic analog-to-digital conversion |
| US10656336B1 | Method for phase-based photonic computing |
| US20210288658A1 | Digital-to-analog converter system and method of operation |
| TW202117406A | Photonic bandgap phase modulator, optical filter bank, photonic computing system, and methods of use |
| US20210011312A1 | Photonic bandgap phase modulator, optical filter bank, photonic computing system, and methods of use |
| WO2021007163A1 | Photonic bandgap phase modulator, optical filter bank, photonic computing system, and methods of use |
| WO2021007302A1 | Systems and methods for parallel photonic computing |
| TW202036135A | System and method for photonic computing |
| WO2020191368A1 | System and method for photonic analog-to-digital conversion |
| US20200284984A1 | System for photonic computing |
| WO2020096913A1 | System and method for photonic computing |