IBM has filed more than fourteen thousand patent applications at an impressive grant rate of 85.84% at the USPTO. At present, IBM has 11175 pending US patent applications in the last 10 years. We analyzed the pending applications by using GreyB's FIT (File Impediment Tracker) Tool.
The FIT tool helps in-house counsels save the IP budget. It finds patent applications increasing prosecution costs due to prolonged prosecution cycle, more OAs, appeals, amendments, and RCEs, and suggests remedial actions and strategies.
Impediment Status/Prosecution Health of IBM's Pending Applications
To determine the impediment status, we have segregated the pending applications of IBM into the below three categories:
SOS – Facing High difficulty at USPTO
At-Risk – Applications that were running smoothly but of late have started displaying high probabilities of turning into an SOS application
On-Track – Running smooth as butter
Below exhibit displays the impediment status of applications: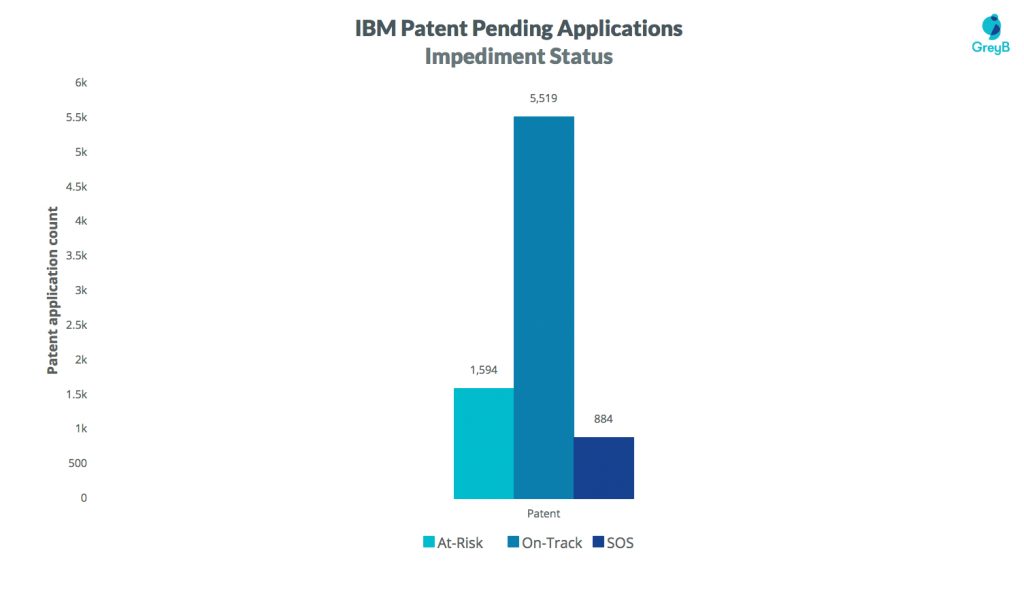 Office Actions Statistics of IBM's Pending Applications
28.5% of pending applications haven't received a single office action, and their examination has yet to begin. Also, IBM's average office action rate is 1.7 office actions per patent application. Considering this, 25.7 % of pending applications of IBM have an OA rate greater than its average OA rate.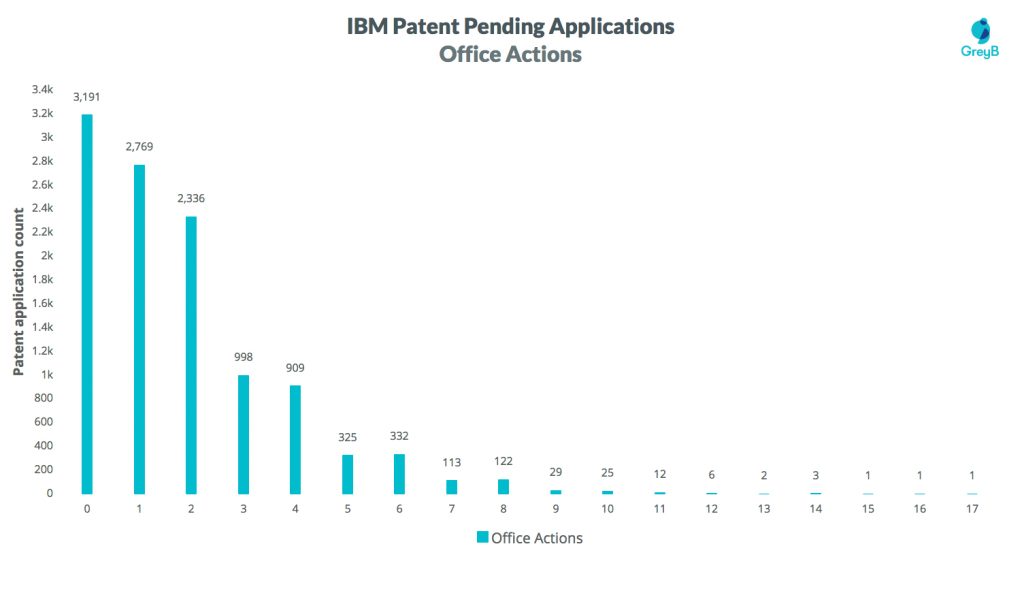 Cool Fact: For Inactive Pou Iplaw has a minimum average number of office actions – 1.39. OA per patent application.
Interview Statistics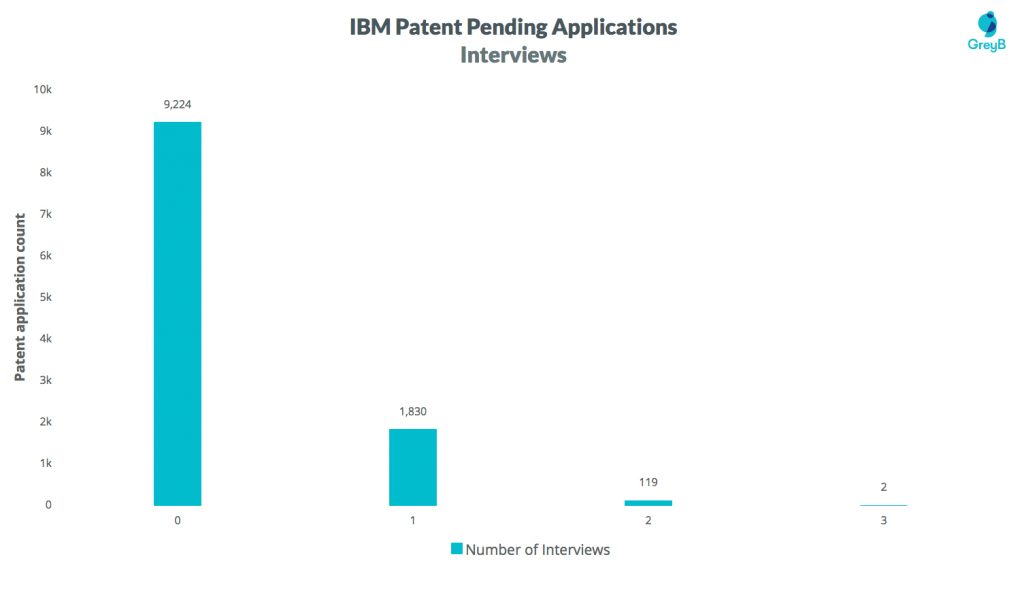 Year-wise distribution of IBM's Pending Patent Applications
The per-year count of pending applications has increased steadily over the last decade for IBM. The dip in 2020 is because not all the applications filed in 2020 have been published yet.IBM's average grant time is 3 years. 48% of pending applications of IBM have been in prosecution for 3 or more than 3 years. You can find more about these 48% lot here: IBM patent applications that have been in prosecution for 3 or more years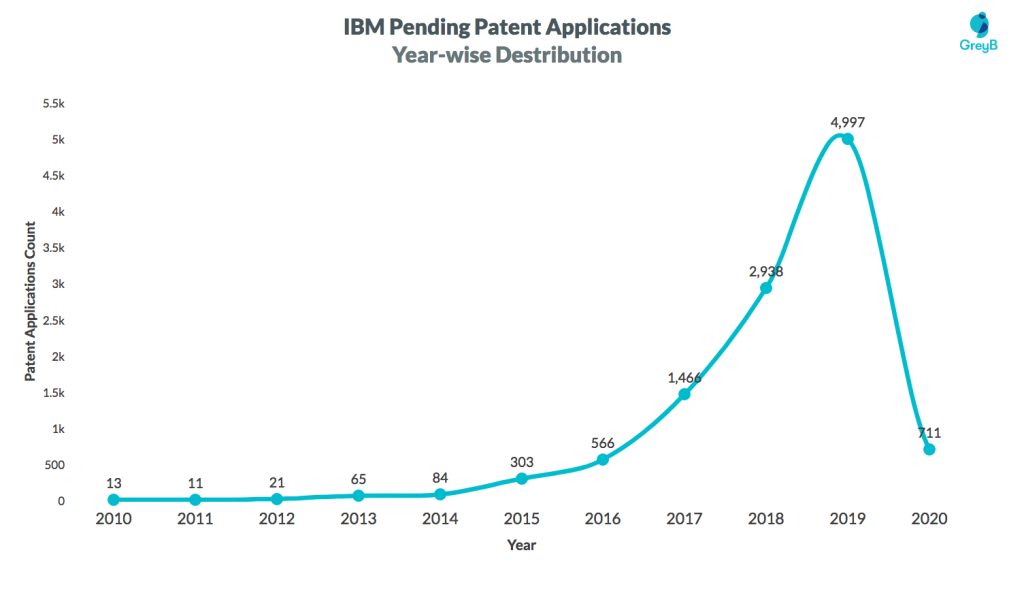 RCE Statistics
Law Firms Prosecuting Pending Applications of IBM at the USPTO
The table below has details of law firms prosecuting the pending applications. You can check the top law firms that prosecuted most patents for IBM here: Law firms that prosecuted most patents for IBM at the USPTO
| | |
| --- | --- |
| Cleaned Attorney | Count |
| IBM | 4302 |
| Cantor Colburn Llp | 1008 |
| Tutunjian & Bitetto Pc | 731 |
| Scully Scott Murphy & Presser Pc | 403 |
| Amin Turocy & Watson Llp | 315 |
| Roberts Calderon Safran & Cole Pc | 311 |
| Schmeiser Olsen & Watts Llp | 287 |
| Proactive Patents Llc | 279 |
| Griffiths & Seaton Pllc | 272 |
| Zilka Kotab Pc | 241 |
| Cuenot Forsythe & Kim Llc | 222 |
| Mcginn Intellectual Property Law Group Pllc | 215 |
| Walder Intellectual Property Law Pc | 215 |
| Patterson & Sheridan Llp | 214 |
| Otterstedt Wallace & Kammer Llp | 195 |
| Ryan Mason & Lewis Llp | 192 |
| Edell Shapiro & Finnan Llc | 139 |
| Duke W Yee | 120 |
| Heslin Rothenberg Farley & Mesiti Pc | 89 |
| Fleit Intellectual Property Law | 88 |
| Keohane & D'Alessandro | 87 |
| Foley Hoag Llp | 84 |
| Sherman Ip Llp | 84 |
| Michael J Chang Llc | 71 |
| Law Office Of Jim Boice | 70 |
| Lieberman & Brandsdorfer Llc | 65 |
| Nelson And Nelson | 64 |
| Intelletek Law Group Pllc | 59 |
| Ference & Associates Llc | 58 |
| Harrington & Smith Attorneys At Law Llc | 57 |
| Terrile Cannatti & Chambers Llp | 55 |
| Garlick & Markison | 52 |
| Troutman Pepper Hamilton Sanders Llp | 49 |
| Kunzler Bean & Adamson | 46 |
| David H Judson | 42 |
| F Chau & Associates Llc | 40 |
| Michael Best & Friedrich Llp | 34 |
| Conley Rose Pc | 32 |
| Lou Percello Attorney Pllc | 22 |
| North Shore Patents Pc | 22 |
| Jeffrey S Labaw | 21 |
| Russell Ng Pllc | 21 |
| International Ip Law Group | 20 |
| Dept Ien | 19 |
| Zip Group Pllc | 19 |
| Martin & Associates Llc | 18 |
| Venable Llp | 16 |
| Canaanlaw Pc | 13 |
| The Steadman Law Firm Pllc | 12 |
| Michael R Roberts | 11 |
| Law Office Of Anthony England Svl | 10 |
| Lynda Wood | 8 |
| Matthew J Bussan | 8 |
| Law Offices Of Ira D Blecker PC | 7 |
| Gregory Nordstrom | 5 |
| Hoffmann & Baron Llp | 3 |
| Law Office Of Ido Tuchman Yor | 3 |
| Oblon Mcclelland Maier & Neustadt Llp | 3 |
| Roy W Truelson | 3 |
| Daniel J Swirsky | 2 |
| Bierman And Muserlian | 1 |
| Caesar Rivise Pc | 1 |
| Dorius Law Pc | 1 |
| Hoffman Warnick Llc | 1 |
| Holland & Knight | 1 |
| Kunzler/Arc | 1 |
| Law Office Of Anthony England End | 1 |
| Lempia Summerfield Katz Llc | 1 |
| Macronix | 1 |
| Mollborn Patents Inc | 1 |
| Oliff Plc | 1 |
| Pou IP Law | 1 |
| Rolnik Law Firm Pc | 1 |
| Seed IP Law Group Llp | 1 |
| Servilla Whitney Llc | 1 |
| Shutts & Bowen Llp | 1 |
| Sotomayor Ip Consulting Ltd | 1 |
| Tel/Rfem | 1 |
| The Caldwell Firm Llc | 1 |
| The Roy Gross Law Firm Llc | 1 |
| Tokyo Electron US Holdings Inc | 1 |
| Van Pelt Yi & James Llp And Samsung | 1 |