Recorded Future has a total of 12 patents globally, out of which 6 have been granted. Of these 12 patents, all the patents are active. The United States of America is where Recorded Future has filed all their patents. Parallelly, United States of America seems to be the main focused R&D centre and also is the origin country of Recorded Future.
Recorded Future was founded in 2009. For the investigation and visualisation of the web, Recorded Future offers a browser-based analytical tool. The company searches financial databases, trade journals, government websites, blogs, public specialised sources, and online news sources.
Do read about some of the most popular patents of Recorded Future which have been covered by us in this article and also you can find Recorded Future patents information, the worldwide patent filing activity and its patent filing trend over the years, and many other stats over Recorded Future patent portfolio.
How many patents do the Founder and CEO of Recorded Future have?
The Founder Andy Palmer has 0 patent, Christopher Ahlberg (Also CEO) has 22 patents, Erik Wistrand has 10 patents, Jan Sparud has 8 patents, and Staffan Truve has 19 patents.
How many patents does Recorded Future have?
Recorded Future has a total of 12 patents globally. These patents belong to 8 unique patent families. Out of 12 patents, 6 patents are active.
How Many Patents did Recorded Future File Every Year?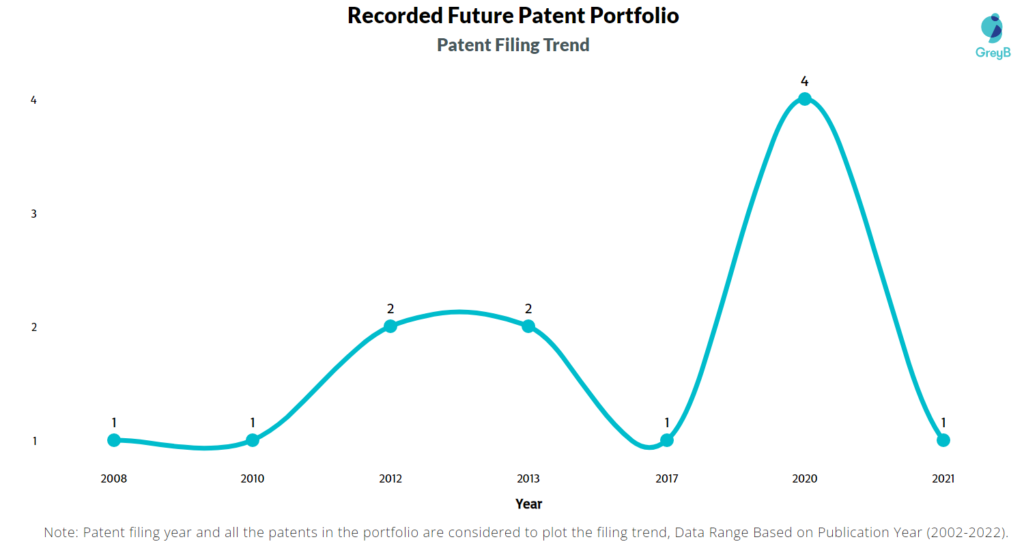 Are you wondering why there is a drop in patent filing for the last two years? It is because a patent application can take up to 18 months to get published. Certainly, it doesn't suggest a decrease in the patent filing.
| | | |
| --- | --- | --- |
| Year of Patents Filing or Grant | Recorded Future Applications Filed | Recorded Future Patents Granted |
| 2022 | – | 1 |
| 2021 | 1 | 1 |
| 2020 | 4 | – |
| 2017 | 1 | – |
| 2013 | 2 | 1 |
| 2012 | 2 | – |
| 2010 | 1 | – |
| 2008 | 1 | – |
How many Recorded Future patents are Alive/Dead?
How Many Patents did Recorded Future File in Different Countries?
Recorded Future filled all their patents in the United States of America.
Where are Research Centers of Recorded Future Patents Located?
The Research Center of Recorded Future Patents is the United States of America.
What Percentage of Recorded Future US Patent Applications were Granted?
Recorded Future (Excluding its subsidiaries) has filed 8 patent applications at USPTO so far (Excluding Design and PCT applications). Out of these 2 have been granted leading to a grant rate of 40%.
Below are the key stats of Recorded Future patent prosecution at the USPTO.
Which Law Firms Filed Most US Patents for Recorded Future?
| | | |
| --- | --- | --- |
| Law Firm | Total Applications | Success Rate |
| Kristofer E Elbing | 8 | 40% |
List of Recorded Future Patents
| | |
| --- | --- |
| Recorded Future Patent | Title |
| US11429261B2 | Interactive event-based information system |
| US20210042409A1 | Cross-network security evaluation |
| US10908792B2 | Interactive event-based information system |
| US20200401961A1 | Automated organizational security scoring system |
| US20180063170A1 | Network security scoring |
| US20150019544A1 | Information service for facts extracted from differing sources on a wide area network |
| US20140114941A1 | Search activity prediction |
| US20140074827A1 | Automated predictive scoring in event collection |
| US8468153B2 | Information service for facts extracted from differing sources on a wide area network |
| US20090132581A1 | Information service for facts extracted from differing sources on a wide area network |
| WO2020191110A1 | Cross-network security evaluation |
| WO2020154421A1 | Automated organizational security scoring system |
What are