Scotiabank has a total of 44 patents globally, out of which 18 have been granted. Of these 44 patents, more than 50% patents are active. The United States of America is where Scotiabank has filed the maximum number of patents, followed by Canada. Parallelly, USA seems to be the main focused R&D center and Canada is the origin country of Scotiabank.
Scotiabank was founded in 1832, Scotiabank is doing business in banking industry, Scotiabank offer personal and commercial banking, wealth management and private banking, corporate and investment banking, and capital markets. As of March 2022, Scotiabank has a market cap of $111.69 Billion.
Do read about some of the most popular patents of Scotiabank which have been covered by us in this article and also you can find Scotiabank patents information, the worldwide patent filing activity and its patent filing trend over the years, and many other stats over the Scotiabank patent portfolio.
How many patents does the CEO of Scotiabank have?
The CEO, Brian J Porter have 0 patents.
How many patents does Scotiabank have?
Scotiabank has a total of 44 patents globally. These patents belong to 28 unique patent families. Out of 44 patents, 22 patents are active.
How many Scotiabank patents are Alive/Dead?
Worldwide Patents
Patent Families
How Many Patents did Scotiabank File Every Year?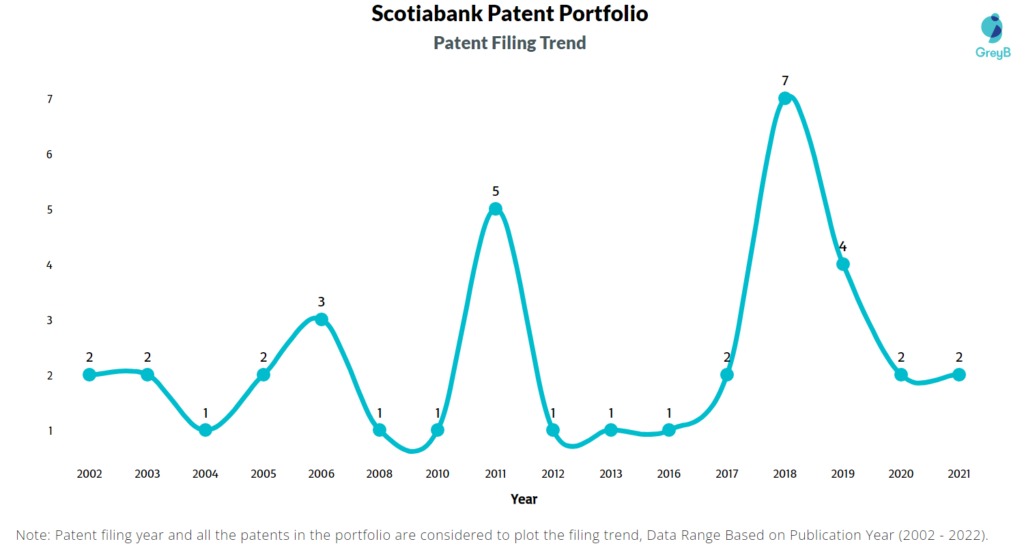 Are you wondering why there is a drop in patent filing for the last two years? It is because a patent application can take up to 18 months to get published. Certainly, it doesn't suggest a decrease in the patent filing.
| | | |
| --- | --- | --- |
| Year of Patents Filing or Grant | Scotiabank Applications Filed | Scotiabank Patents Granted |
| 2011 | 5 | 2 |
| 2012 | 1 | – |
| 2013 | 1 | 3 |
| 2016 | 1 | 1 |
| 2017 | 2 | – |
| 2018 | 7 | 1 |
| 2019 | 4 | – |
| 2020 | 2 | – |
| 2021 | 2 | – |
How Many Patents did Scotiabank File in Different Countries?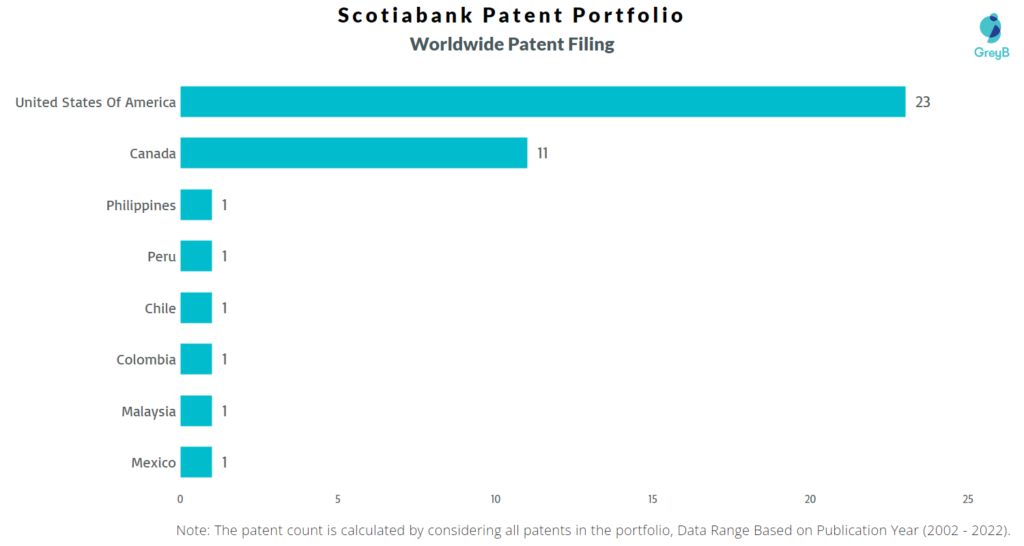 Countries in which Scotiabank Filed Patents
Where are Research Centers of Scotiabank Patents Located?
10 Best Scotiabank Patents
US6457205B1 is the most popular patent in the Scotiabank portfolio. It has received 39 citations so far from companies like Omachron Intellectual Property Inc, Techtronic Industries and Bissell Homecare Inc.
Below is the list of 10 most cited patents of Scotiabank:
Scotiabank's approach to Environmental, Social, and Governance (ESG) focuses on four pillars — Environmental Action, Economic Resilience, Inclusive Society and Leadership & Governance. The company develop, implement and invest in initiatives across these pillars in order to maximize our positive impact on the world. By working with stakeholders at all levels across our entire value chain, we are best positioned to build a better future.