Shanghai Construction Group has a total of 7457 patents globally, out of which 3635 have been granted. Of these 7457 patents, more than 84% patents are active. China is where Shanghai Construction Group has filed the maximum number of patents, followed by Europe and Switzerland and it also seems reasonable as the biggest market for Shanghai Construction Group is China, it has generated a revenue of $73.20 billion by September 2021. Parallelly, China seems to be the main focused R&D center and is also the origin country of Shanghai Construction Group.
Shanghai Construction Group was founded in 1994 by Zheng Xu. Company is doing business in construction and engineering. As of November 2021, Shanghai Construction Group has a market cap of $27.81 billion.
Do read about some of the most popular patents of Shanghai Construction Group which have been covered by us in this article and also you can find Shanghai Construction Group's patents information, the worldwide patent filing activity and its patent filing trend over the years, and many other stats over Shanghai Construction Group's patent portfolio.
How many patents does Shanghai Construction Group have?
Shanghai Construction Group has a total of 7457 patents globally. These patents belong to 6209 unique patent families. Out of 7457 patents, 6283 patents are active.
How many Shanghai Construction Group patents are Alive/Dead?
Worldwide Patents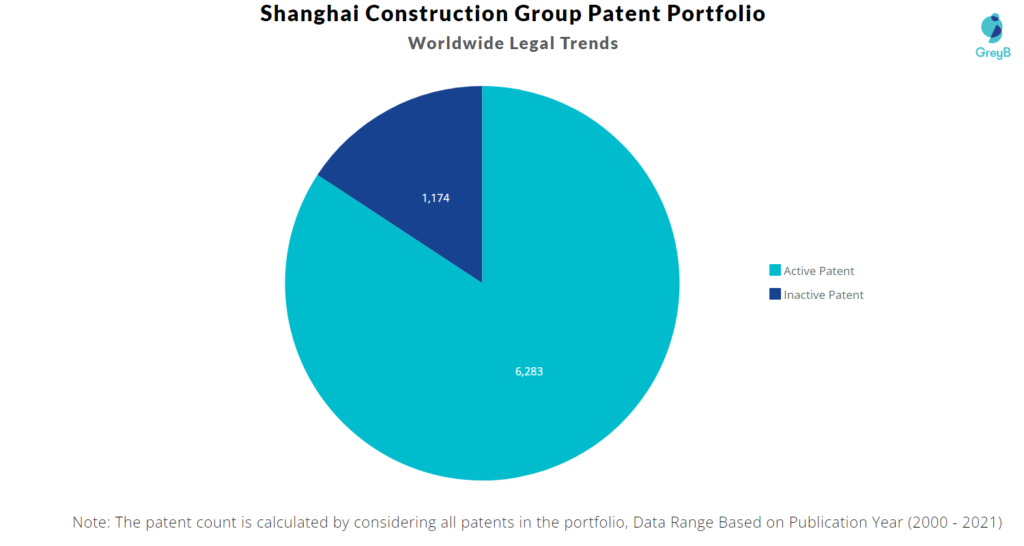 Patent Families
How Many Patents did Shanghai Construction Group File Every Year?
Are you wondering why there is a drop in patent filing for the last two years? It is because a patent application can take up to 18 months to get published. Certainly, it doesn't suggest a decrease in the patent filing.
| | | |
| --- | --- | --- |
| Year of Patents Filing or Grant | Shanghai Construction Group Applications Filed | Shanghai Construction Group Patents Granted |
| 2011 | 162 | 134 |
| 2012 | 317 | 171 |
| 2013 | 292 | 281 |
| 2014 | 458 | 331 |
| 2015 | 638 | 478 |
| 2016 | 715 | 624 |
| 2017 | 669 | 703 |
| 2018 | 879 | 801 |
| 2019 | 1149 | 957 |
| 2020 | 1281 | 1322 |
| 2021 | 317 | 1295 |
How Many Patents did Shanghai Construction Group File in Different Countries?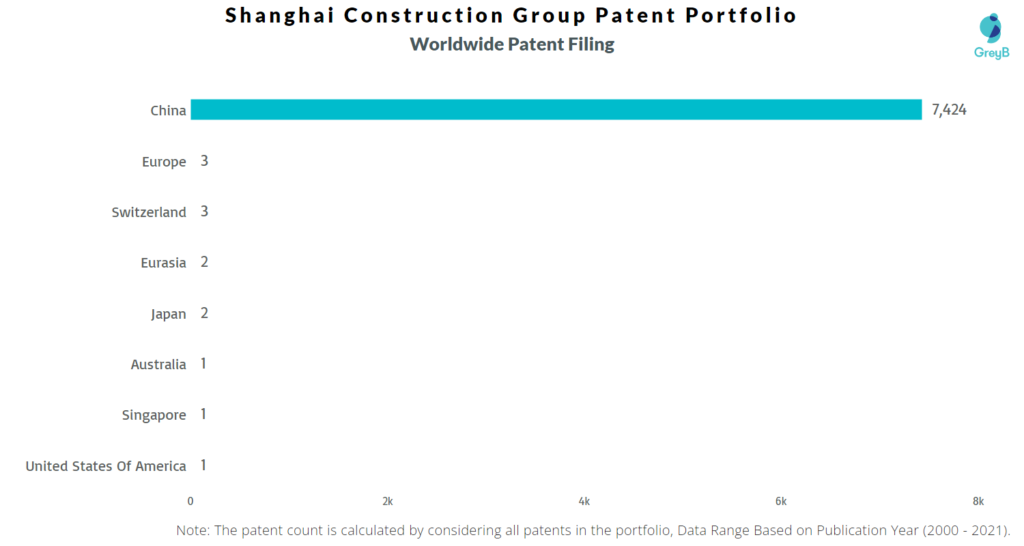 Countries in which Shanghai Construction Group Filed Patents
| | |
| --- | --- |
| Country | Patents |
| China | 7424 |
| Europe | 3 |
| Switzerland | 3 |
| Eurasia | 2 |
| Japan | 2 |
| Australia | 1 |
| Singapore | 1 |
| United States Of America | 1 |
Where are Research Centers of Shanghai Construction Group Patents Located?
10 Best Shanghai Construction Group Patents
CN1948633A is the most popular patent in the Shanghai Construction Group portfolio. It has received 155 citations so far from companies like Zhejiang Baoye Construction Group, Chengdu China Railway Long Engineering Group and Ma'anshan Seventeen Metallurgical Engineering Technology.
Below is the list of 10 most cited patents of Shanghai Construction Group:
Shanghai Construction Group has mastered different advanced ready-mixed concrete production technologies via constant technical innovation and has won numerous awards for national and Shanghai scientific and technological achievement. In China, the Company's product quality, equipment and facilities, manufacturing technology, and management abilities are all first-class.
Advancing industrial modernization by scientific and technological innovation, hence establishing technological advantages. The Group has made significant progress in the "trinity" development of industrialization, digitalization, and greening, has actively participated in national scientific research projects and made breakthroughs, which has resulted in a number of national science and technology awards, and has established a diverse research and development platform. Its national enterprise technology centre is at the forefront of construction in the sector.
Shanghai Construction Group places a strong emphasis on scientific and technological advancements in pre-mixed concrete technology, with the goal of developing core technology for its two major product lines: pre-mixed concrete and prefabricated components. The company has various R&D and application centres for innovative products, processes, technology, and materials, and it provides complete support for significant and demanding projects.
The Company has insisted on scientific and technological innovation since its inception, according to the ideals of clean, green, and factorised production. Advanced technologies, such as mass concrete pouring and super high concrete pouring, a batch of competitive, green, high-end, and superior concrete, special concrete, and novel pre-mixed concrete, as well as relevant manufacturing processes, have been developed by the Company.
What are Shanghai Construction Group key innovation segments?
What Technologies are Covered by Shanghai Construction Group?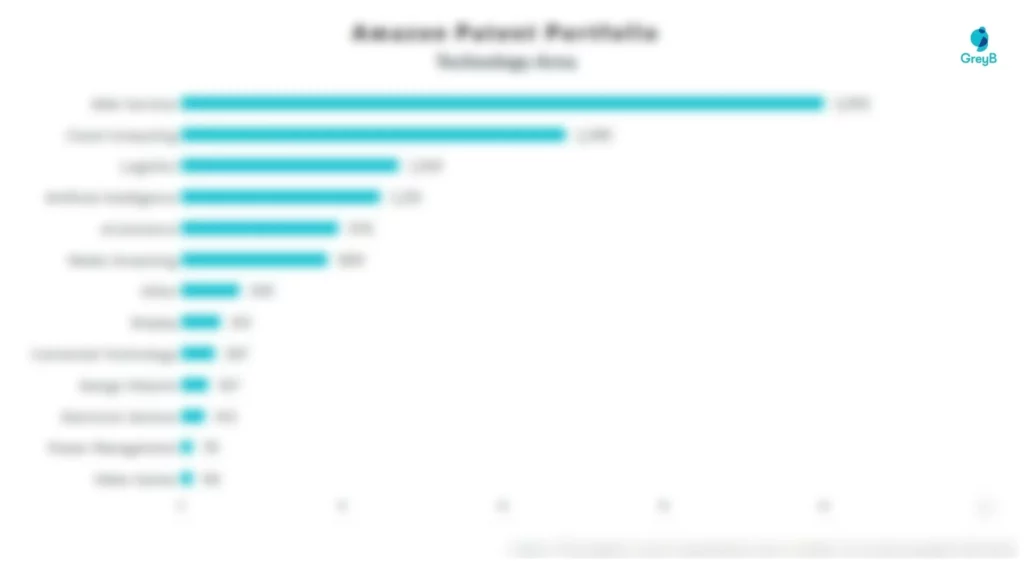 The chart below distributes patents filed by Shanghai Construction Group in different countries on the basis of the technology protected in patents. It also represents the markets where Shanghai Construction Group thinks it's important to protect particular technology inventions.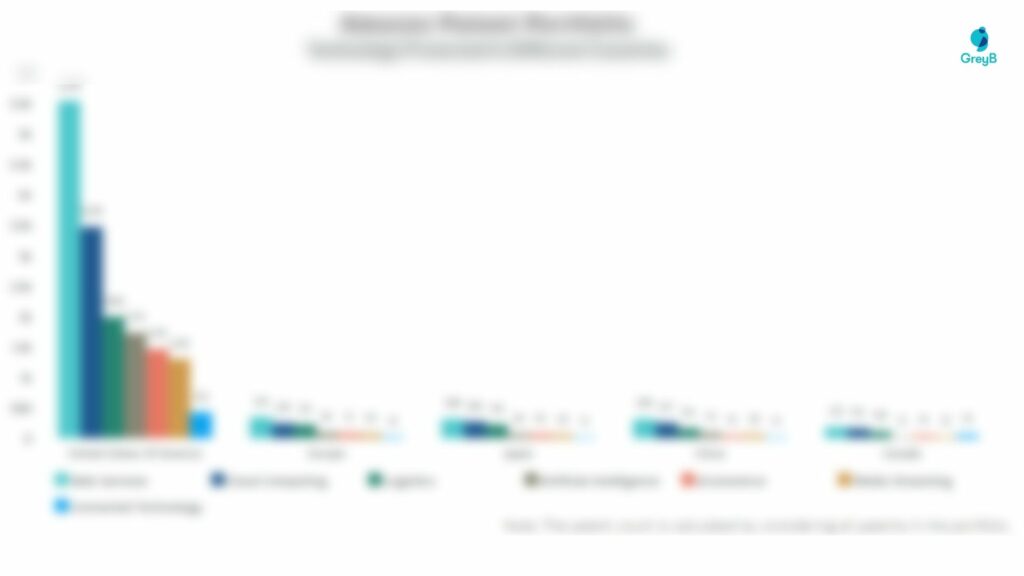 R&D Focus: How Shanghai Construction Group research focus changed over the years?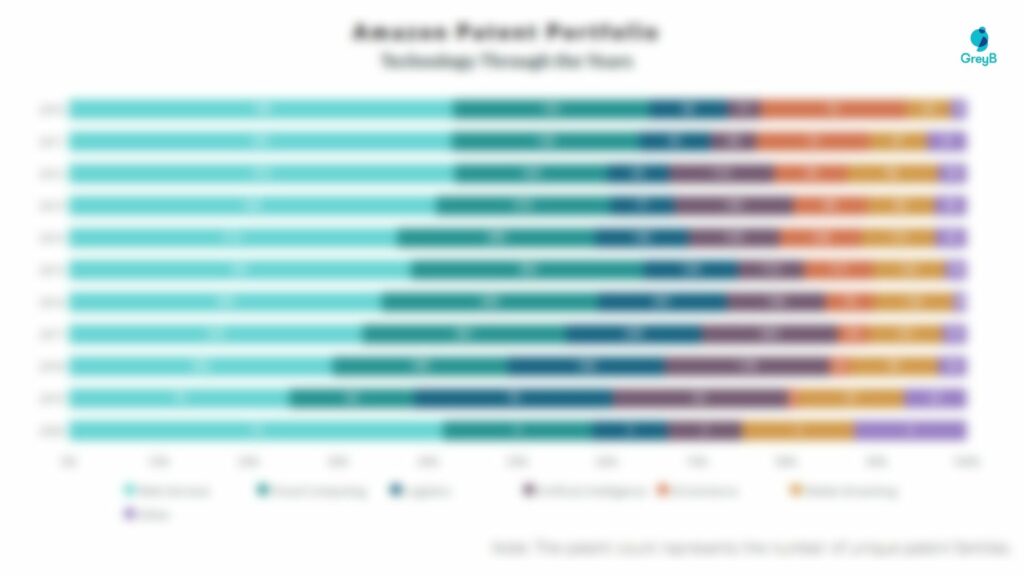 Interested in knowing about the areas of innovation that are being protected by Shanghai Construction Group?