Spycloud has a total of 7 patents globally, out of which 4 have been granted. Of these 7 patents, all the patents are active. The United States of America is where Spycloud has filed all their patents. Parallelly, United States of America seems to be the main focused R&D centre and also is the origin country of Spycloud.
Spycloud was founded in 2016. Spycloud creates security programme. The company provides a variety of cyber security solutions, including account takeover, fraud investigations, monitoring, password vetting, and third-party risk management. Spycloud focuses on consumer and employee accounts globally.
Do read about some of the most popular patents of Spycloud which have been covered by us in this article and also you can find Spycloud patents information, the worldwide patent filing activity and its patent filing trend over the years, and many other stats over Spycloud patent portfolio.
How many patents do the Founder and CEO of Spycloud have?
The Founder David Endler has 12 patents and Ted Ross (Also CEO) have 20 patents.
How many patents does Spycloud have?
Spycloud has a total of 7 patents globally. These patents belong to 6 unique patent families. Out of 7 patents, 7 patents are active.
How Many Patents did Spycloud File Every Year?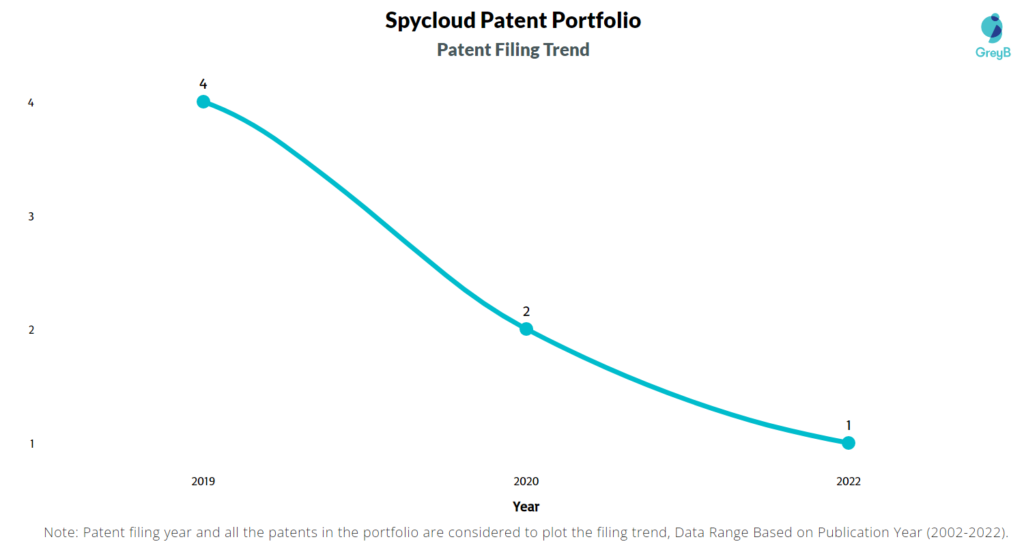 Are you wondering why there is a drop in patent filing for the last two years? It is because a patent application can take up to 18 months to get published. Certainly, it doesn't suggest a decrease in the patent filing.
| | | |
| --- | --- | --- |
| Year of Patents Filing or Grant | Spycloud Applications Filed | Spycloud Patents Granted |
| 2022 | 1 | 4 |
| 2020 | 2 | – |
| 2019 | 4 | – |
How many Spycloud patents are Alive/Dead?
All the Spycloud patents are alive.
How Many Patents did Spycloud File in Different Countries?
Spycloud filled all their patents in the United States of America.
Where are the Research Centers of Spycloud Patents Located?
The Research Center of Spycloud Patents is the United States of America.
What Percentage of Spycloud US Patent Applications were Granted?
Spycloud (Excluding its subsidiaries) has filed 6 patent applications at USPTO so far (Excluding Design and PCT applications). Out of these 2 have been granted leading to a grant rate of 100%.
Below are the key stats of Spycloud patent prosecution at the USPTO.
Which Law Firms Filed Most US Patents for Spycloud?
| | | |
| --- | --- | --- |
| Law Firm | Total Applications | Success Rate |
| Pillsbury Winthrop Shaw Pittman | 6 | 100% |
List of Spycloud Patents
| | |
| --- | --- |
| Spycloud Patent | Title |
| US11461458B2 | Measuring data-breach propensity |
| US11438360B2 | Determining the intersection of a set of compromised credentials with a set of active credentials with data structures and architectures that expedite comparisons |
| US11399021B2 | Filtering passwords based on a plurality of criteria |
| US20220166792A1 | Detecting use of compromised security credentials in private enterprise networks |
| US11283832B2 | Detecting use of compromised security credentials in private enterprise networks |
| US20200279050A1 | Generating and monitoring fictitious data entries to detect breaches |
| US20200137096A1 | Detecting Use of Passwords that Appear in a Repository of Breached Credentials |
What are Spycloud key innovation segments?
What Technologies are Covered by