TikTok has a total of 10 patents globally, out of which none have been granted. Of these 10 patents, more than 10% patents are active. United Kingdom is where TikTok has filed the maximum number of patents, followed by USA, it has generated an annual revenue of $ 4.6 billion in the year 2021. Parallelly, USA seems to be the main focused R&D center.
TikTok, known as Douyin in its home market, was launched in the year 2017 by ByteDance in Beijing, China. It began as a short-form video sharing site for lipsyncing and dance videos, but has since evolved into a full-fledged video service with material for all types of users. As of January 2022, TikTok has 1 billion monthly active users. As of February 2022, TikTok has a market cap of $50 Billion.
Do read about some of the most popular patents of TikTok which have been covered by us in this article and also you can find TikTok' patents information, the worldwide patent filing activity and its patent filing trend over the years, and many other stats over TikTok' patent portfolio.
How many patents does the CEO of TikTok have?
The CEO, Shou Zi, has 0 patents.
How many patents does TikTok have?
TikTok has a total of 10 patents globally. These patents belong to 4 unique patent families. Out of 10 patents, 1 patent is active.
How many TikTok patents are Alive/Dead?
Worldwide Patents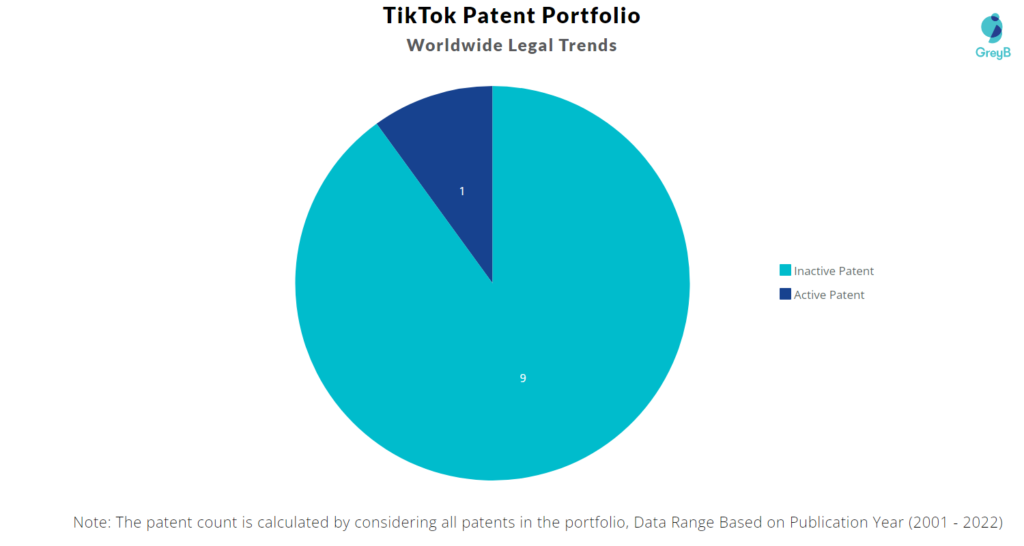 Patent Families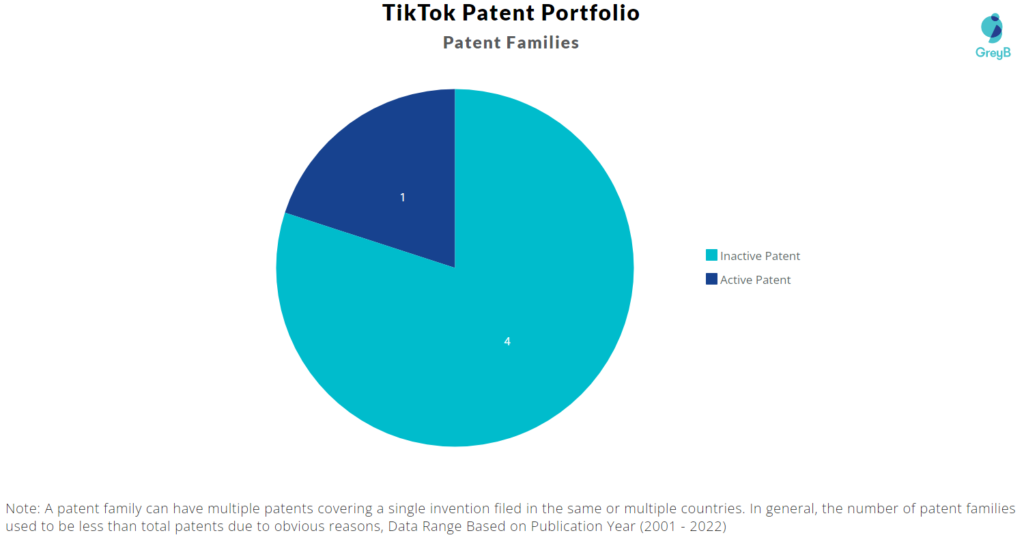 How Many Patents did TikTok File Every Year?
Are you wondering why there is a drop in patent filing for the last two years? It is because a patent application can take up to 18 months to get published. Certainly, it doesn't suggest a decrease in the patent filing.
How Many Patents did TikTok File in Different Countries?
Where are Research Centers of TikTok Patents Located?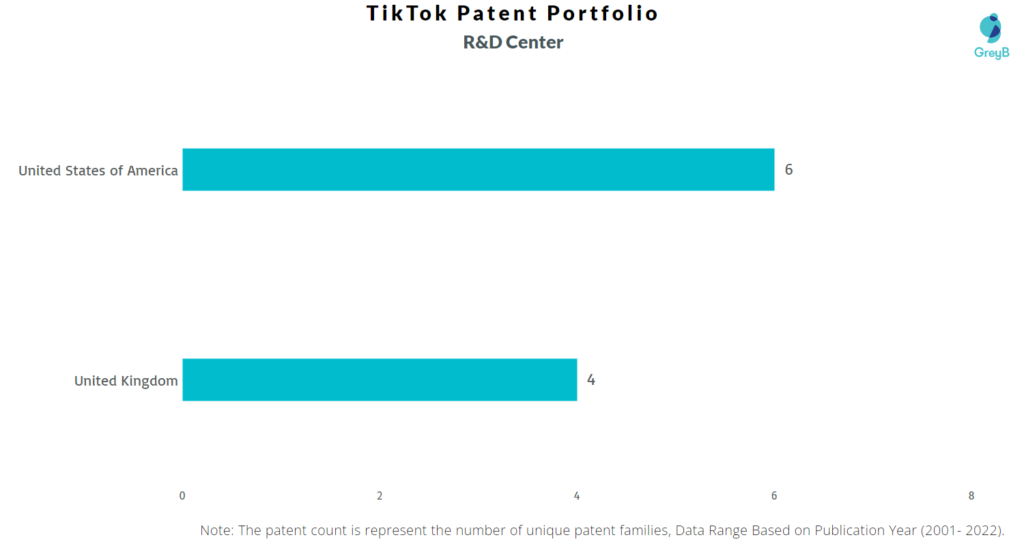 Most Cited TikTok Patents
WO2014068309A1 is the most popular patent in the TikTok portfolio. It has received 16 citations so far from companies like Amper Music, Shutterstock, and Blockchain Asics.
TikTok's parent firm, ByteDance, describes themselves as a company that uses artificial intelligence to improve mobile user experiences. A ByteDance proprietary algorithm begins curating and refining a "For You" page as soon as a new user checks in. As Bytedance's algorithm ingests the text, content, faces, length, topic, and other aspects of each video a user engages with, the For You page "is always learning." TikTok ranks first in average session duration among social networking applications, indicating ByteDance's investment in AI-driven user engagement. Every day, AI capabilities have enabled effective gamification of TikTok through global challengers.
TikTok's algorithms quickly learn individual tastes by tracking users' likes, comments, and time spent on each video on the consumer side. On the producer side, AI streamlines video editing by recommending music, hashtags, filters, and other upgrades that are currently trending or have proved to be popular.
However, the corporation isn't satisfied with the same straightforward short-form videos that have made it successful in the past. It is planning to include Augmented Reality, e-commerce and longer-form video.
Despite legal and other obstacles, ByteDance is constructing an empire of apps for a new generation and pushing the boundaries of traditional digital entertainment. If ByteDance can continue to accomplish its aim of creating a borderless firm with game-changing technology, it might lead to the formation of new borderless companies and push other developing market tech entrepreneurs to branch out as well. In the end, this tendency will result in a broader range of digital offerings for consumers and businesses around the world.
List of TikTok Patents
| | |
| --- | --- |
| TikTok Patents | Title |
| US20200394990A1 | Modular automated music production server |
| WO2018051140A1 | A method of combining data |
| WO2014068309A1 | Generative scheduling method |
| GB201805201D0 | Music generation |
| GB201802182D0 | Automated music production |
| GB201802440D0 | A method of generating music data |
| GB201721216D0 | Automated music production |
| GB201721215D0 | Automated music production |
| GB201721212D0 | Automated music production |
| GB201615934D0 | A method of combining data |