The patent filing trends of Building Material show the dominance of the 3 companies: Halliburton, BASF, and Schlumberger Technology. The trio has maintained the top 3 positions in the Building Materials patent filers list from 2007-2016.
Halliburton first overtook Schlumberger in 2013 to come at the second spot and then in 2015 it crossed BASF to become the leader of the pack. The patent filings of Schlumberger and Halliburton are more focused on Binding Materials, specifically Cement. However, BASF is more into Protective & Decorative Materials for Building & Construction.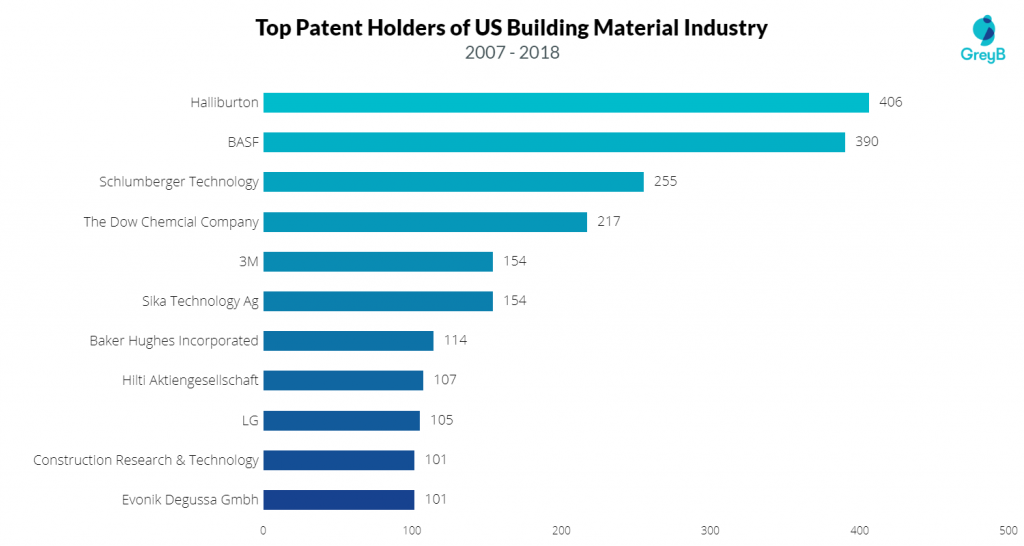 Halliburton has continuously developed new cementing techniques since patenting its two-plug system in 1922. The company has a long-standing history of 90 years in cementing techniques.
It has more than 105 cement laboratories throughout the globe. Engineers in these laboratories are researching on cement slurry designs for specific oil field and oil well needs.
In the last decade as well, the majority of Halliburton patent are filed in cement – 238 patents. The energy sector giant is also researching in the area of polymeric materials and pozzolanic materials. Smart building materials (47 patents), Protective and Decorative materials (42), and Reinforcing Components are other areas where Halliburton has considerable patent filing.
BASF has filed 390 patents on building material out of which 317 are filed for Protective and Decorative material, and 50 patents are filed for Polymeric Materials. This gives an idea of where BASF's research was concentrated during the last 10 years.
BASF's construction chemicals unit manufactures products for concrete repair fillers, an extensive range of advanced latex polymers, grouts, and sealants, and additives to enhance durability of building materials. The same unit developed products used in the longest railway tunnels in Switzerland and London's new Elizabeth underground train line.
BASF, however, is selling its $3 billion-plus construction chemical unit. Switzerland's Sika has shown interest to buy the unit.
Schlumberger has filed 255 patents for building materials. Like Halliburton, its research also is concentrated a lot on cementing techniques (149 patents) and polymeric materials (70 patents).
Schlumberger has developed multiple types of cementing technologies and software services to help its consumers evaluate parameters require constructing the different type of oil wells. Let's quickly have a look at the cementing techniques company offers:
Deepwater cementing technologies: Cement slurries for meeting deepwater requirements
Concrete based oil well cementing
Thermastone: thermally responsive cement which expands and contracts with change in temp and pressure.
EverCRETE CO2-resistant cement system: Carbon dioxide underground in an oil well becomes highly corrosive to oilfield cement. Any damage could lead to CO2 leakage. EverCRETE prevents such incidents by providing superb zonal isolation.
In additives, Schlumberger has modular liquid additive system and gas migration control additive in its product line.
Analysis By: Nitin Balodi, Marketing