Ukraine has a total of 216473 patent families globally. Of these 216473 patents, more than 46% of patents are active. On average, the country has filed almost 10146 patent families every year. US applicants filed for the most patents in Ukraine, except for Ukrainians themselves, followed by Germany and China. And to our surprise, Russia is ranked at 6th!
When it comes to the Top Patent Holders in Ukraine, surprisingly, numerous Ukrainian universities hold the top spots in terms of the most patents filed in Ukraine, aside from the major players in the industry such as Qualcomm, Bayer, BASF etc.
The top technology areas covered and protected in Ukraine includes Machine & Tools, Medical Technology, Pharmaceuticals, etc.
Do read about some of the most popular patents of Ukraine, its patent filing trend over the years, which companies filed the most patents in Ukraine, who are the top inventors in the country, and many other interesting stats and insights throughout our article.
How Many Patents are Filed in Ukraine Every Year?
Also, are you wondering why there is a drop in patent filing for the last two years? It is because a patent application can take up to 18 months to get published. Certainly, it doesn't suggest a decrease in the patent filing.
Research Centres of Ukrainian Patents
This graph is a good indicator of the main R&D locations, as most players file patents locally. It displays the geographical coverage of patent families filed in Ukraine. It also reveals which countries want their inventions protected in Ukraine.
This can help businesses plan their patent filing strategy and could also assist in identifying untapped markets for introducing a specific technology.
What are the Top 10 Technologies covered in Ukraine?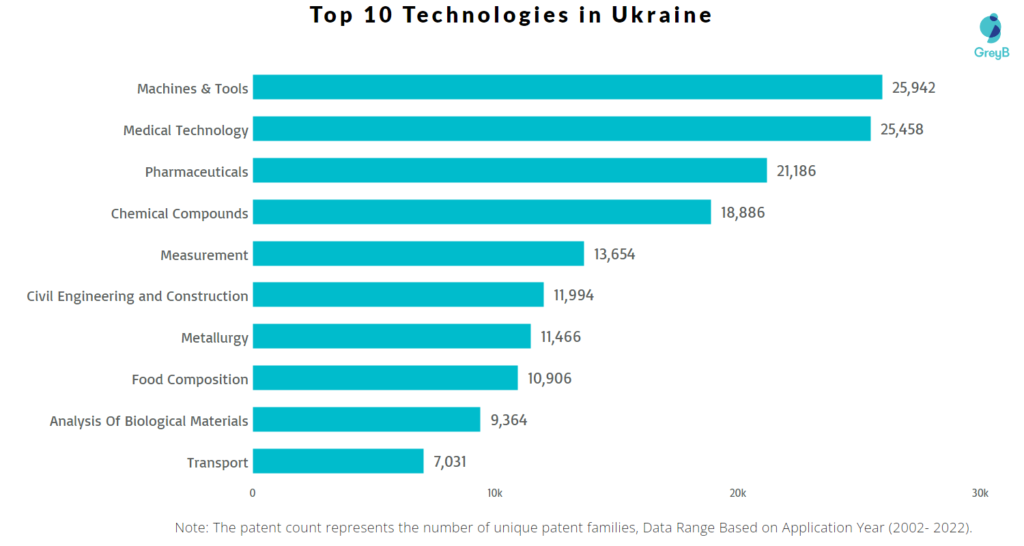 Which companies filed the most patents in Ukraine?
Qualcomm is an American multinational corporation that develops wireless technology-related semiconductors, software, and services. It possesses patents that are fundamental to the mobile communication protocols 5G, 4G, CDMA2000, TD-SCDMA, and WCDMA.
Bayer AG is a German multinational pharmaceutical and life sciences corporation. It is one of the world's major pharmaceutical companies and was the first one to synthesize and patent the well-known drug, Aspirin. The key technical areas covered by Bayer in Ukraine include Basic Material & Organic Chemistry and Pharmaceuticals.
In Ukraine, Novokramatorsk Machine Building Works (NKMZ) is a major heavy equipment manufacturer. Mining equipment, metallurgy equipment, rolling mills, forges, blast furnaces, ore crushers, presses, and other industrial process equipment are all manufactured by the company.
Ukraine is rich in natural resources, particularly in mineral and ore deposits. Tapping into this opportunity, many companies belonging to Metallurgical Industry have filed for patents in the country like SMS Siemag and ArcelorMittal, other than NKMZ itself.
During our research, we found that most companies in the Top 10 Assignees are related to the Chemical & Pharmaceutical Industry like Bayer, BASF, AstraZeneca, and Janssen Pharmaceuticals.
Which Universities filed the most patents in Ukraine?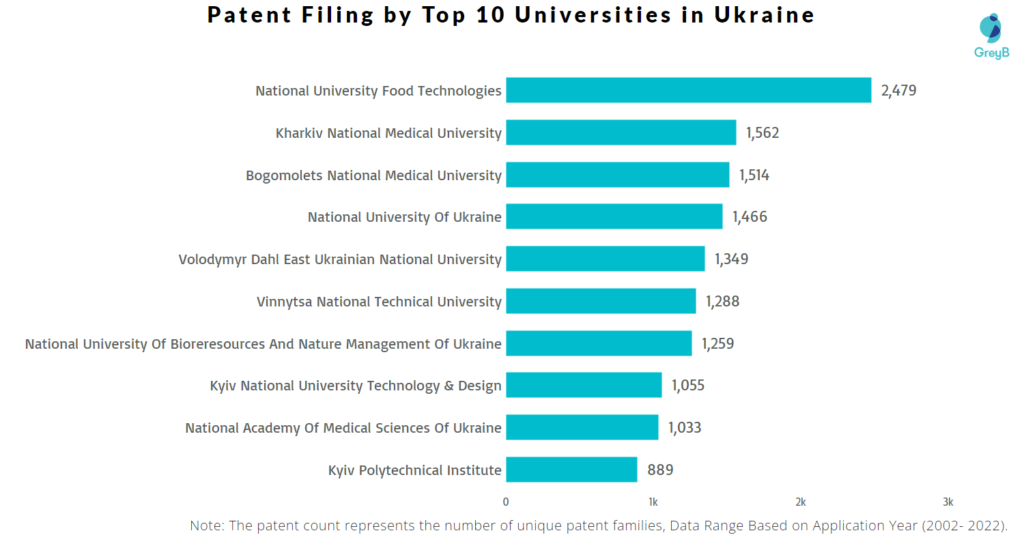 Who are the top patent inventors in Ukraine?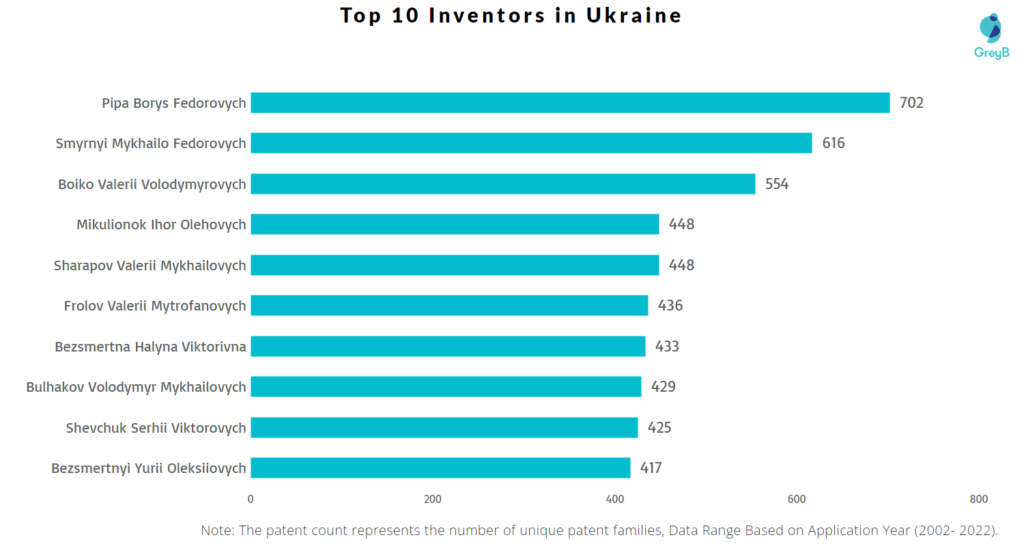 Professor Pipa Borys Fedorovych of the Department of Kyiv National University of Technology and Design, has submitted the most patents in Ukraine, with 702 so far. The most notable field in which he has worked is mechanical tools or machinery.
Smyrnyi Mykhailo Fedorovych, Doctor of Technical Sciences Deputy Editor-in-Chief of vladimir daly eastern ukrainian national university, holds the 2nd spot in the list of top inventors in Ukraine with 616 patents filed. The key areas that he has worked on cover Measurement and Audio-Visual Technology.
Boiko Valerii Volodymyrovych, surgeon-clinician, doctor of medical sciences, professor and director of the Institute of Academy of Medical Sciences of Ukraine, owns 554 patents filed in Ukraine. The major technological area covered by him includes Biotechnology and Medical Technology.
How many Ukraine patents are Alive/Dead?
Like in most foreign countries, Ukraine's patents last for 20 years and accordingly are here categorized as Dead or Alive.
Patent Families
10 Key Patents filed in Ukraine
UA63976U is the most popular patent in the Ukraine portfolio. It has received 296 citations. The patent "Method for making fish minced cutlets "sea pearl" using zostera and pumpkin seed cake" is a recipe!
Below is the list of 10 most cited patents of Ukraine:
Need to know anything else? We got you covered!
Stats Complied By: Harsha Sharma, Navjyot Singh, and Prinkal, Insights;Gate Team