Wright Brothers patent portfolio has 17 patents that belong to 17 unique patent families. Their patents belong to Aircrafts, Rudder, and Hand Glider.
How many Wright Brothers patents are Alive/Dead?
Worldwide Patents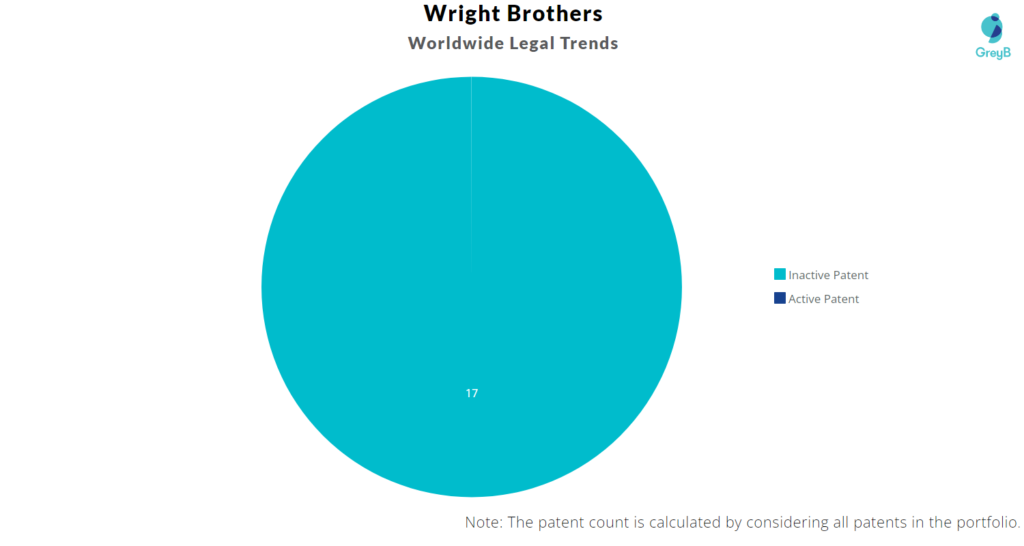 Patent Families
How Many Patents did Wright Brothers File Every Year?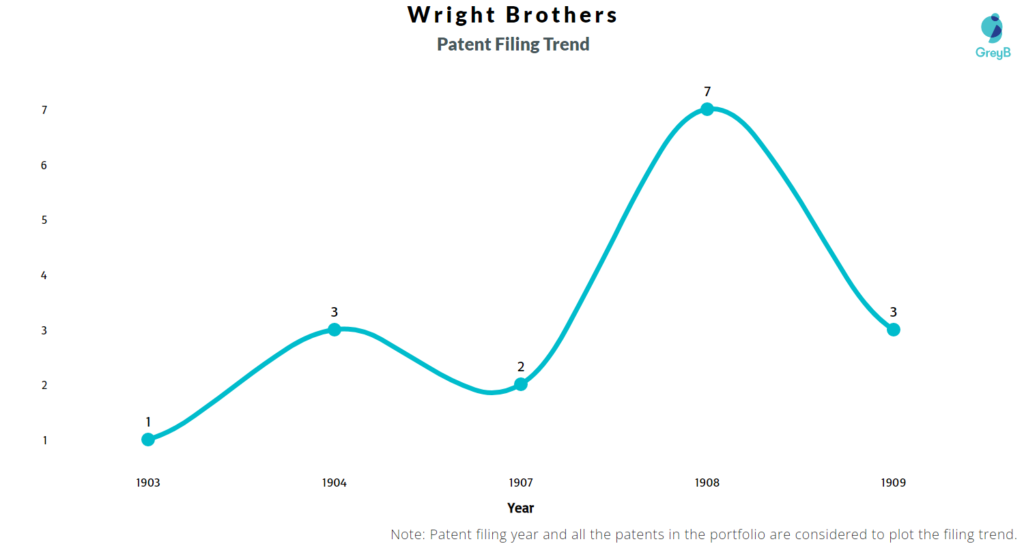 How Many Patents did Wright Brothers File in Different Countries?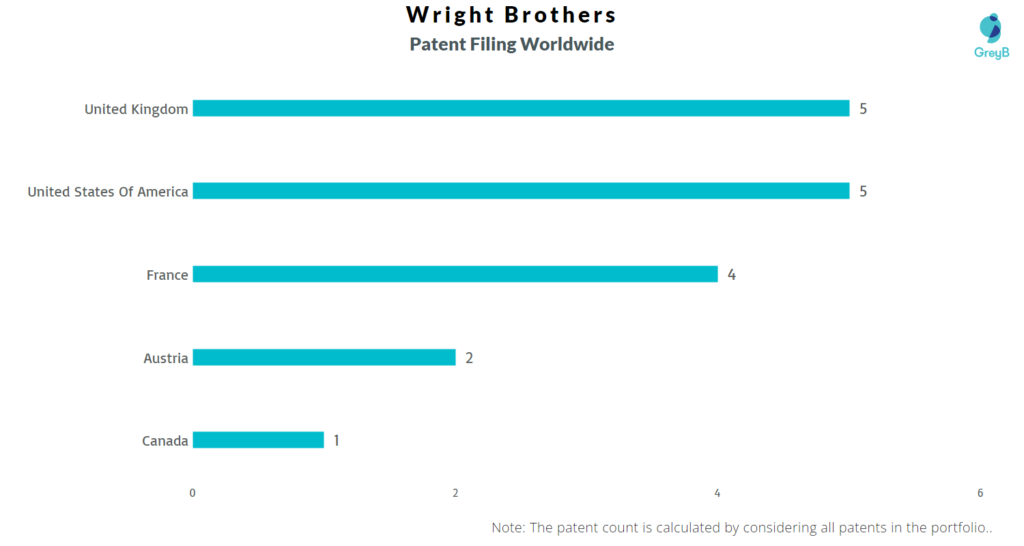 Countries in which Wright Brothers Filed Patents
| | |
| --- | --- |
| Country | Patents |
| United Kingdom | 5 |
| United States Of America | 5 |
| France | 4 |
| Austria | 2 |
| Canada | 1 |
What Technologies are covered by Wright Brothers Patents?
The Wright brothers are recognised today as pioneering engineers whose ground-breaking flight inspired generations of future pilots. The historic first flight of the Wright Flyer lasted 12 seconds, traveling 36 m (120 ft). The Wright brothers were the first to design and build a flying machine that could be controlled while flying.
The Wright brothers initial plan was based on a natural reality that most of us learn as children. To catch the wind, stick your hand out the window of a moving car and bend it at the wrist. Your hand is being pushed up by the air. On the other hand, the air pushes your hand down if you bend it the opposite way.
Air exerts a force as it flows past a surface; change the angle of that surface in the airstream and it changes the force – this is basic aerodynamics.
After their invention, people started travelling in 3 dimensions. These three controls — roll, pitch, and yaw — let a pilot navigate an airplane in all three dimensions, making it possible to fly from place to place.
Patents filed by the Wright Brothers are related to aircraft, rudder and Hand Glider.
Patents talking about aircraft includes mechanism to maintain aircraft's balance and improvements in controlling these machines.
The relative movements of the air and aeroplane decides the motion of the aircraft travelling in the opposite direction of the wind-flow. In these cases, these varying conditions tend to shift the machine from its desirable path. It is the chief object of our invention to provide means for remedying this difficulty.
It talks about providing a means for regulating lateral balance by using horizontal surfaces adjustable to different angles of incidence on the right and left sides of the machine's centre.
Patents related to rudders talk about the mechanism for controlling the rudders or directing the planes of aeronautical vehicles. They created aerodynamic rudders that allowed them to manoeuvre their aircraft along its three axes: the elevator elevated or lowered the glider's nose, the rudder steered left or right, and the aileron let them to turn around the longitudinal axis.
List of Wright Brothers Patents
| | |
| --- | --- |
| Wright Brothers Patents | Title |
| US908929A | Mechanism for flexing the rudder of a flying-machine or the like. |
| US987662A | Flying-machine. |
| US1122348A | Flying-machine. |
| US1075533A | Flying-machine. |
| US821393A | Flying-machine. |
| GB190916068A | Improvements in Mechanism for Actuating the Rudders or Controlling Planes of Aeronautical Machines. |
| GB190902913A | Improvements in or connected with Flying Machines. |
| GB190824077A | Improvements in or connected with Flying Machines. |
| GB190824076A | Improvements in or connected with Flying Machines. |
| GB190406732A | Improvements in Aeronautical Machines. |
| FR401905A | Improvements on flying machines |
| AT36566B | Gliders. |
| FR384125A | Improvements to aeronautical machines |
| FR384124A | Improvements to aeronautical machines |
| AT23174B | Flugmaschine. |
| FR342188A | Improvements to aircraft equipment |
| CA240447A | Airplane |