Yelp has a total of 10 patents globally, out of which 9 have been granted. Of these 10 patents, more than 80% patents are active. The USA is where Yelp has filed the maximum number of patents, followed by China and South Korea among other countries, it has generated an annual revenue of $1.03 billion in the year 2021. Parallelly, USA seems to be the main focused R&D center of Yelp.
Yelp was founded in the year 2004 by Jeremy Stoppelman and Russel Simmons. The company is an American firm that creates the Yelp.com website and the Yelp mobile app, both of which publish user-generated reviews of businesses. It also runs a dining reservation service called Yelp Reservations. San Francisco, California is the company's headquarters. As of May 2022, Yelp has a market cap of $2.02 Billion.
Do read about some of the most popular patents of Yelp which have been covered by us in this article and also you can find Yelp patents information, the worldwide patent filing activity and its patent filing trend over the years, and many other stats over Yelp patent portfolio.
How many patents does the founder and the CEO of Yelp have?
The CEO & co-founder, Jeremy Stoppelman, has 0 patents. The co-founder, Russel Simmons, has 0 patents.
How many patents does Yelp have?
Yelp has a total of 10 patents globally. These patents belong to 7 unique patent families. Out of 10 patents, 8 patents are active.
How Many Patents did Yelp File Every Year?
Are you wondering why there is a drop in patent filing for the last two years? It is because a patent application can take up to 18 months to get published. Certainly, it doesn't suggest a decrease in the patent filing.
| | | |
| --- | --- | --- |
| Year of Patents Filing or Grant | Yelp Applications Filed | Yelp Patents Granted |
| 2012 | 2 | – |
| 2013 | 2 | – |
| 2014 | – | – |
| 2015 | – | – |
| 2016 | 5 | 1 |
| 2017 | – | 1 |
| 2018 | – | – |
| 2019 | – | 2 |
| 2020 | – | 3 |
| 2021 | – | 1 |
| 2022 | – | – |
How many Yelp patents are Alive/Dead?
How Many Patents did Yelp File in Different Countries?
Where are Research Centres of Yelp Patents Located?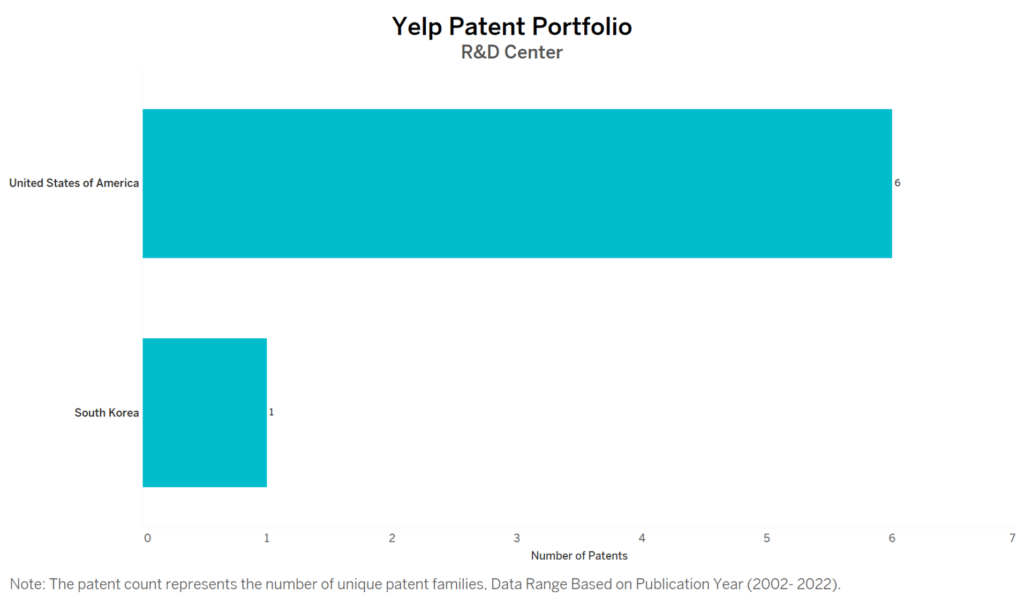 Most Cited Yelp Patents
US20130090959A1 is the most popular patent in the Yelp portfolio. It has received 110 citations so far from companies like Verizon, Uber, and Disney. It is related to restaurant management.
Let's talk about the company!
The Yelp.com website is a crowd-sourced local business review service. Their business approach is based on relevant reviews that generate advertising revenue. Each "star" in a Yelp rating affects a business owner's sales by 5-9 percent, according to an HBS study. Over the last few years, machine learning has become a fundamental part of their business strategy.
Yelp relies heavily on machine learning, both on the consumer side (identifying relevant companies through reviews and promoting useful recommendations) and on the advertising side (displaying relevant ads to users), as advertising accounts for the majority of their revenue.
In 2015, Yelp made its entry into machine learning using deep learning-powered image analysis, which recognises the colour, texture, and shape of objects in user-submitted photos with 83 percent accuracy and sorts them into categories using the identifying qualities.
Yelp has built deep convolutional neural networks to distinguish the classes and organise the images that are then displayed to users once the reviewers' photographs have been sorted (broad categories such as food, drinks, menu, and interior).
Following that, Yelp expanded its machine learning platform to include a custom ad platform where marketers can have a "two-step" AI system recommend photos and reviews for use in banner advertising targeting people. This machine learning technique raised the number of individuals clicking on advertisements by at least 15%.