Margarita Salas was a Spanish biochemist, researcher, and author in the field of Biochemistry and Molecular Genetics. She was the first woman ever elected to the Royal Spanish Academy.
Salas achieved greater heights in the fields of Biochemistry and Molecular biology. Though she is no longer between us, her works will always be going to inspire the coming generation of scientists, especially female scientists.
Margarita Salas was born in Valdes, Spain on Nov 30, 1938. Her father was a doctor and he became an inspiration for Salas to pursue science. She was a great fan of Rita Levi-Montalcini, a Noble Prize winner in Medicine. At age 16, she went to Madrid to perform the entrance exams of Chemistry and Medicine.
After her undergraduate degree, Salas joined Alberto Sols' laboratory where she completed her doctoral thesis on the anomeric specificity of glucose-6-phosphate isomerase.
After her Ph.D., she worked at New York University with Severo Ochoa. During her time in Ochoa's lab, Salas started researching the bacteriophage virus Phi29. Her research revealed that although this bacteriophage has only 20 genes, it hides a complex molecular machinery.
In 1970, she discovered a protein that is responsible for copying DNA, DNA polymerase that is capable of producing genetic copies precisely from tiny traces, like a drop of Blood. Based on minimal amounts of DNA, millions of copies can be made for use in genetic analysis, forensic medicine, archeological studies, etc.
Thanks to this discovery, geneticists, biologists, forensic investigators or police experts who work with DNA samples can copy and expand it.
The invention got patented (with European registration number 90,908,867) in 1989 that was recognized by the Spanish National Research Council as the highest-grossing patent in Spain.
Salas' recognition in Science and the contributions she made, helped her gain the hereditary noble title of "Marquise de Canero" granted by Spain. In 2019, she was awarded the 2019 European Inventor Award.
"She said that the important thing was not to have wrinkles on the face but not to have wrinkles in the brain. And I jokingly say: when I grow up I want to be like Rita Levi-Montalcini." – Margarita Salas
List of Awards and Honors
1991: Carlos J. Finlay Prize, UNESCO.
1997: Medal of Principality of Asturias.
1999: National Research Award Santiago Ramon y Cajal.
2000: L'Oreal-UNESCO Award for Women in Science.
2001: Selected among the 100 women of the twentieth century that paved the way for equality in the XXI Century by the Council of Women of the Community of Madrid.
2002: Isabel Ferrer Award of the Generalitat Valenciana.
2002: Gold Medal of the Community of Madrid.
2003: Grand Cross of the Civil Order of Alfonso X, the Wise.
2004: International Prize for Science and Research Cristóbal Gabarrón Foundation.
2005: Gold Medal for Merit in Work.
2005: Medal of Honor of the Complutense University of Madrid.
2006: Award of Excellence granted by FEDEPE (Spanish Federation of Women Directors, Executives, Professionals and Entrepreneurs).
2007: First Spanish woman to become a member of the National Academy of Science (United States).
2009: Gold Medal of the College of Veterinarians of the Principality of Asturias.
2009: Title of Honorary Ambassador of the Spain Brand, category of Science and Innovation, which fails Leading Brands of Spanish Forum with the approval of the Ministry of Foreign Affairs and Cooperation.
2009: Women Leader Award 2009, awarded by the Rafael del Pino, Aliter and Merck Foundation.
2009: Award "An entire professional life" of the Mapfre Foundation.
2014: Chemistry Excellence Award, awarded by the General Council of Associations of Chemists of Spain.
2016: Medalla Echegaray, the highest award from the Spanish Royal Academy of Sciences.
2018: ManchaArte Award.
2019: European Inventor Award Lifetime Achievement Award and Audience Award by European Patent Office.
Margarita Salas Patents
Margarita Salas' patent portfolio has 80 patents that belong to 19 unique patent families. The below exhibits highlight the key statistics of her patent portfolio.

Technology-wise distribution of Margarita Salas Patents
In the table below, we have picked one unique patent from each 19 patent families. All of her patents are focused on the bacteriophage virus Phi29.
| | |
| --- | --- |
| Publication Number | Title |
| AT155174T | In Vitro-Dna Synthesis Actions Using Changed Phi-29 Dna Polymerase And Dna Part Coding For Say Polymerase |
| AT497970T | Inhibitor Of Uracil Dna Glycosylaseenzyme And Applications Thereof |
| AU199056754A | (In Vitro) Dna Synthesis Reactions Using Phi 29 Dna Polymerase And A Dna Fragment Encoding Said Polymerase |
| AU2010267954B2 | Phage Phi 29 Dna Polymerase Chimera |
| AU2010267955A1 | Method For The Replication, Amplification Or Sequencing Of A Dna Template |
| US5001050A | Phφ29 Dna Polymerase |
| EP2682479A4 | Method For Dna Amplification Based On The Origins Of Replication Of The Bacteriophage Phi29 And Associated Nucleotide Sequences |
| EP310436A3 | Streptomyces Expression Vectors |
| EP3697930A1 | Primer-Independent Dna Polymerases And Their Use For Dna Synthesis |
| ES2001992A6 | New Plasmid Vector Prmel And Prmels Prodn. |
| HK1173188B (AU2010267954B2) | Phage Φ 29 Dna Polymerase Chimera |
| HK1173471A | Method For The Replication, Amplification Or Sequencing Of A Dna Template |
| IL217324A (AU2010267954B2) | |
| IL217325A (AU2010267955A1) | |
| IN201200177P1 | Phage Φ 29 Dna Polymerase Chimera |
| MX332181B | Chimeric Dna Polymerase Of The Phage Phi29. |
| SG177410B | Phage 29 Dna Polymerase Chimera |
| WO2014009589A3 | Use Of Nuclear Localization Signals Of Bacteriophage Proteins As Gene Transfer Vehicle |
| WO2017109262A1 | Bacteriophage Phi29 Dna Polymerase Variants Having Improved Thermoactivity |
Legal Status (Alive/Dead) of Margarita Salas Patents
The exhibits below distribute Margarita Salas patents into active and inactive categories which are further divided into total, application, and granted parts.
Worldwide Patents
Patent Families
Country Wise Patent Filing
The patent count in the exhibit below is calculated by including each family member of a patent family. A patent family can have multiple patent documents – filed globally or in a single country – covering a single invention.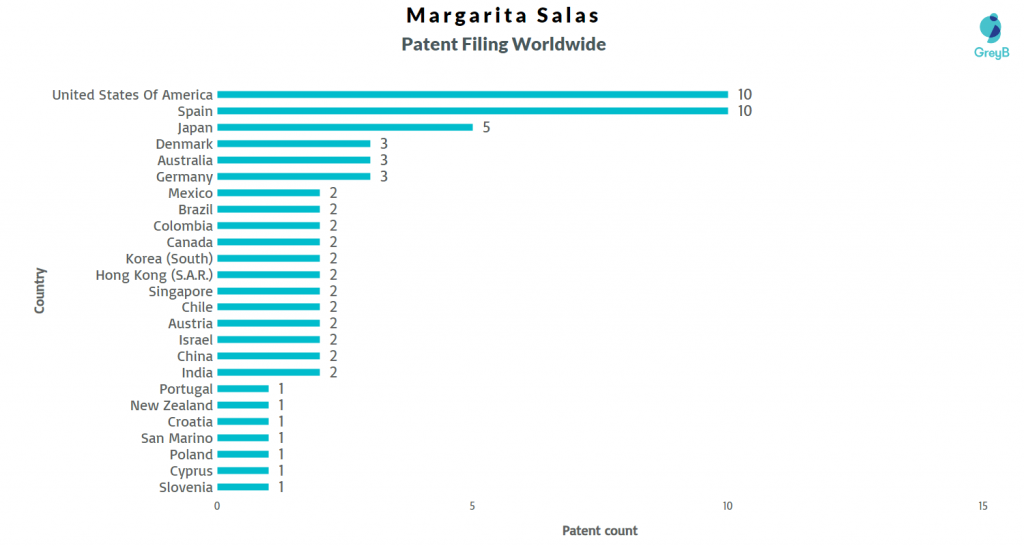 An Interesting Patent
One patent that stands out in Salas's portfolio is US6521747B2. It has been cited 60 times by companies like BioArray Solutions Ltd, Bethesda Pharmaceuticals Inc, and N4 Pharma. The patent has family members in countries like the United States and Australia.
If a patent is cited by a lot of other patents, it implies that the technology is being followed and incrementally innovated. This indicates the importance of a patent. Furthermore, it also indicates that citing companies are working on similar or closely related technologies.