Myra Einstein is Director of Product Management of X1 Entertainment Operating System at Comcast where her focus is on Advertising products and Content Playback Experience features for the X1 Platform.
Before joining Comcast, Myra was part of the NBCUniversal – a subsidiary of Comcast where she played an important role to build Interactive Television infrastructure. She was part of initiatives projects such as Mobile/SMS interactivity, EBIF 1st Screen applications, Canoe Advanced Advertising, Automatic Content Recognition (ACR) trials. 5/8 patents by Myra Einstein are assigned to NBCUniversal.
She has 14 patents in her portfolio which are members of 8 patent families. Her patents are focused on delivering advertising, offers, and promotions based on a viewer interests, and on features that enhance the content playback experience.
Myra participated with many standard-setting bodies like ATSC, DLNA, and W3C in developing standards for synchronized TV ecosystem, and was nominated for the Emmy Awards.
Technology Areas, Patent Family Count, and Legal Status of Myra Einstein Patents
Patents in Myra Einstein's portfolio belong to 8 patent families. Among these, 6 patent families are related to VOD, 1 belongs to Network Architecture for Security, and 1 to Audio Technologies. All of her inventions are active.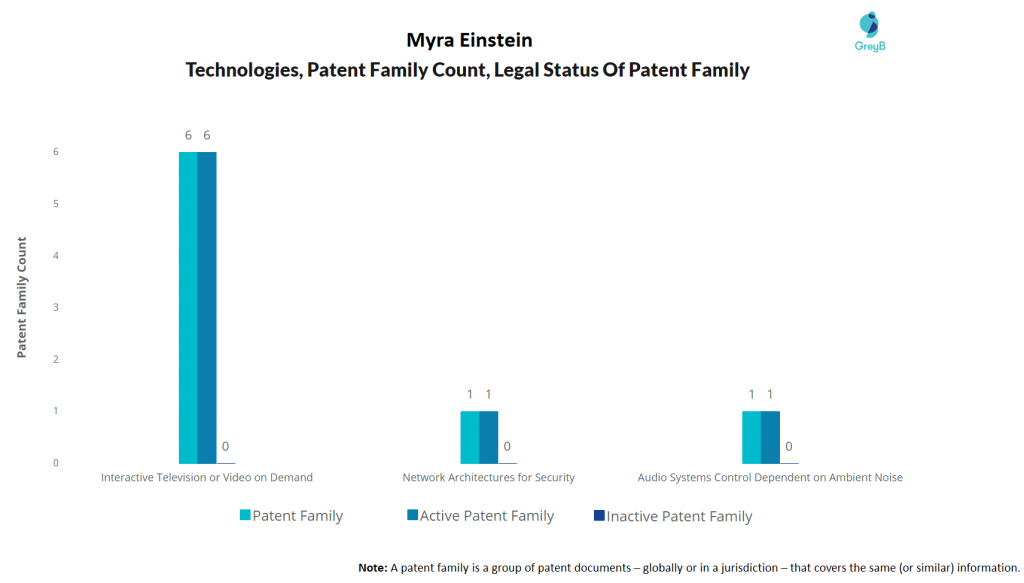 Assignees' of Myra Einstein Patents
5/8 Myra Einstein's inventions are assigned to NBCUniversal Media which is a subsidiary of Comcast Inc – Technically all of her inventions are assigned to Comcast.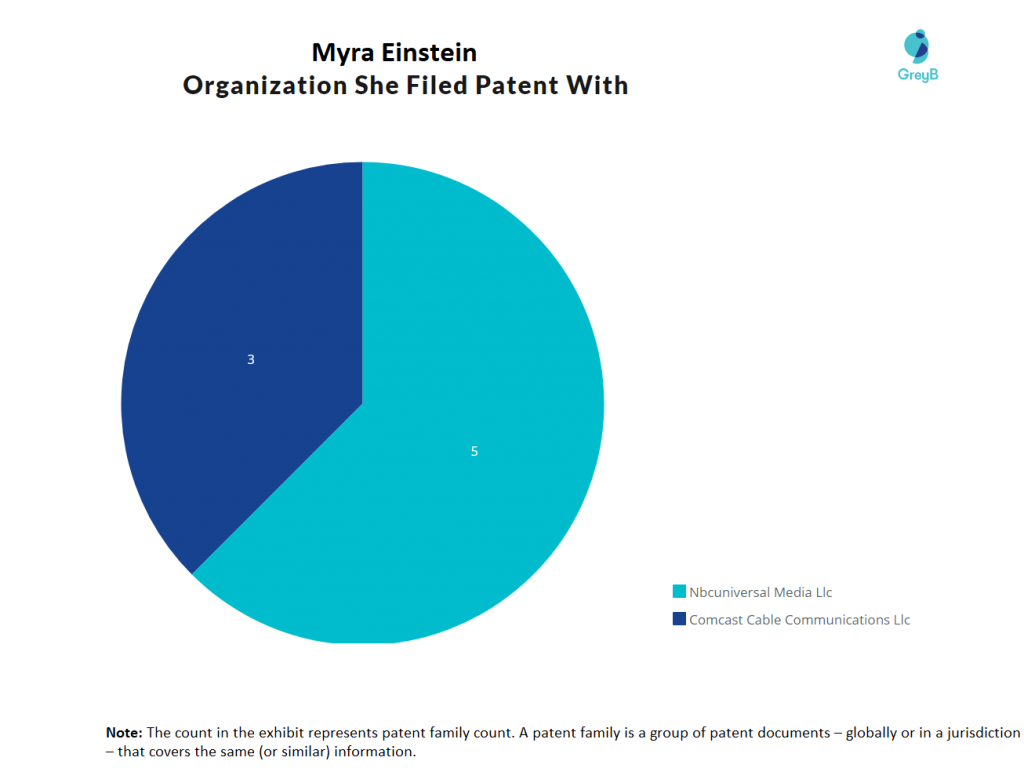 List of Myra Einstein Patents
| | | | |
| --- | --- | --- | --- |
| Patent | Assignee | Priority Date – Earliest | Technology Area |
| US10687118B2 | NBCUniversal Media | 2010-10-29 | Interactive Television or Video on Demand |
| US9819983B2 | Comcast Cable | 2014-10-20 | Interactive Television or Video on Demand |
| US9788084B2 | NBCUniversal Media | 2013-04-05 | Interactive Television or Video on Demand |
| US9374606B2 | NBCUniversal Media | 2013-10-04 | Interactive Television or Video on Demand |
| US9060206B2 | NBCUniversal Media | 2011-09-16 | Interactive Television or Video on Demand |
| US8737813B2 | NBCUniversal Media | 2011-09-16 | Interactive Television or Video on Demand |
| US20200053095A1 | Comcast Cable | 2018-08-07 | Network Architectures for Security |
| US20190372541A1 | Comcast Cable | 2018-05-31 | Audio Systems Control Dependent on Ambient Noise |