Sergey Mikhaylovich Brin is an Internet entrepreneur, computer scientist, and business magnate from the United States. He was a co-founder of Google with Larry Page. Brin was the president of Google's parent company, Alphabet Inc., until December 3, 2019, when he stepped down. He and Page are co-founders, controlling shareholders, board members, and workers of Alphabet. Brin has a net worth of $115.2 billion as of October 2021, making him the world's seventh richest person.
"Obviously, everyone wants to be successful, but I want to be looked back on as being very innovative, very trusted and ethical and ultimately, making a big difference in the world." – Sergey Brin
Brin is working on a number of other, more personal initiatives outside of Google. He and Page are working at Google.org, the company's philanthropy arm, to assist tackle the world's energy and climate concerns by investing in renewable energy sources. The company admits that its founders seek to "use technology to solve truly huge challenges."
Brin was named to the National Academy of Engineering in 2004 for "leading the creation of quick indexing and retrieval of pertinent information from the World Wide Web."
Interested to know about the other co-founder of Google, Larry Page? Click here
Sergey Brin Patents
Sergey Brin's patent portfolio has 79 patents that belong to 19 unique patent families. We have used the below exhibits to highlight the key statistics of Sergey Brin's patent portfolio.
Worldwide Patents Status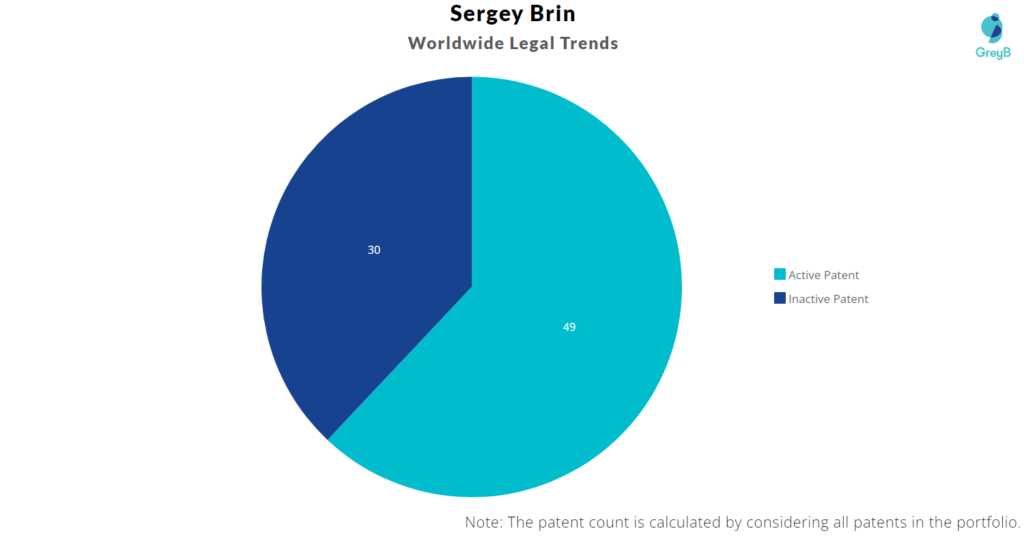 Patent Families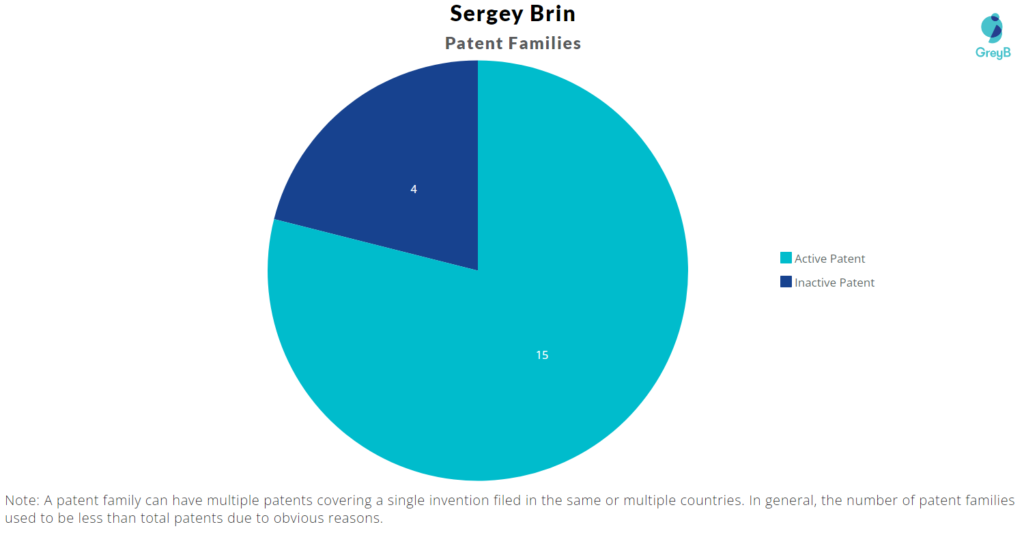 How Many Patents did Sergey Brin File Every Year?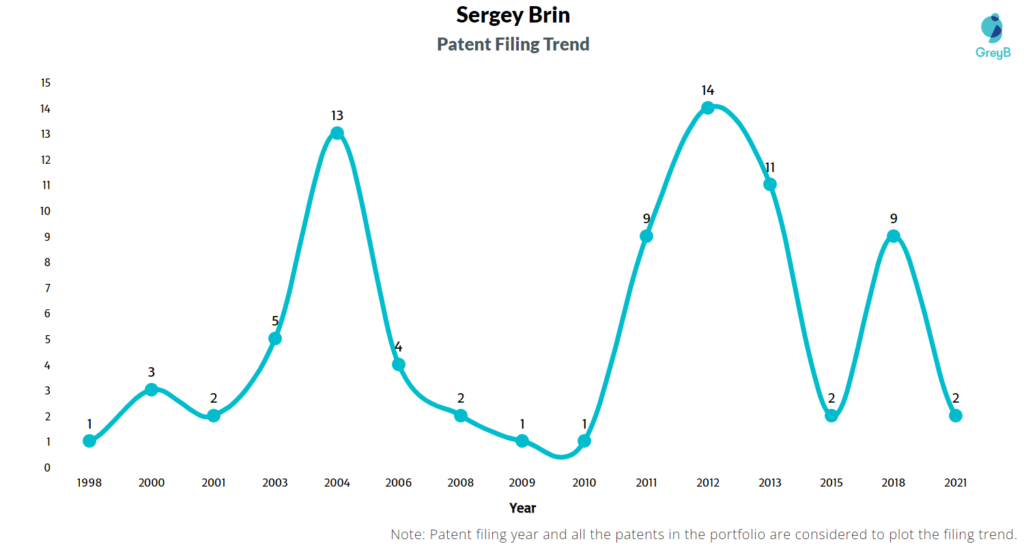 How Many Patents did Sergey Brin File in Different Countries?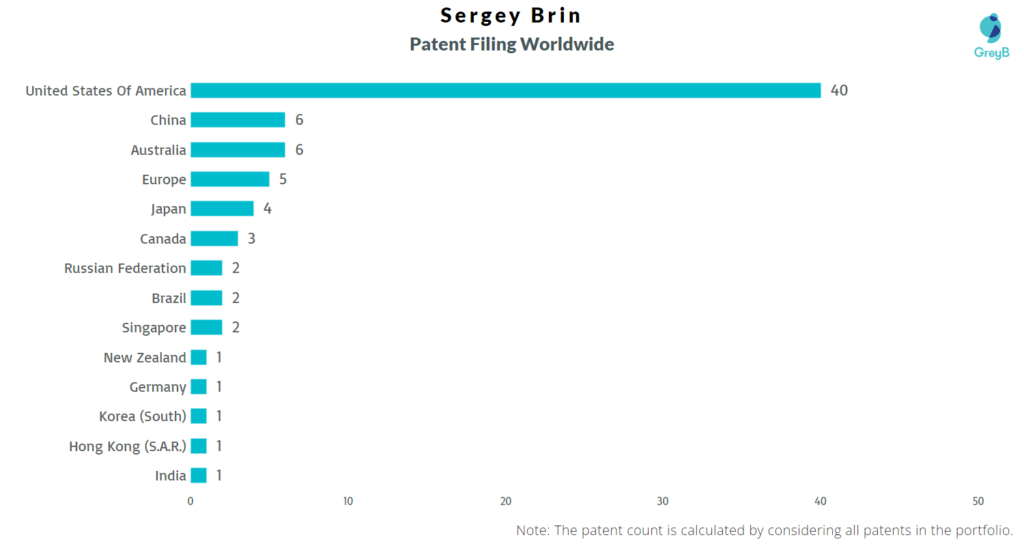 Countries in which Sergey Brin Filed Patents
| | |
| --- | --- |
| Country | Patents |
| United States Of America | 40 |
| Australia | 6 |
| China | 6 |
| Europe | 5 |
| Japan | 4 |
| Canada | 3 |
| Russian Federation | 2 |
| Brazil | 2 |
| Singapore | 2 |
| New Zealand | 1 |
| Germany | 1 |
| Korea (South) | 1 |
| Hong Kong (S.A.R.) | 1 |
| India | 1 |
What Technologies are covered by Sergey Brin's Patents?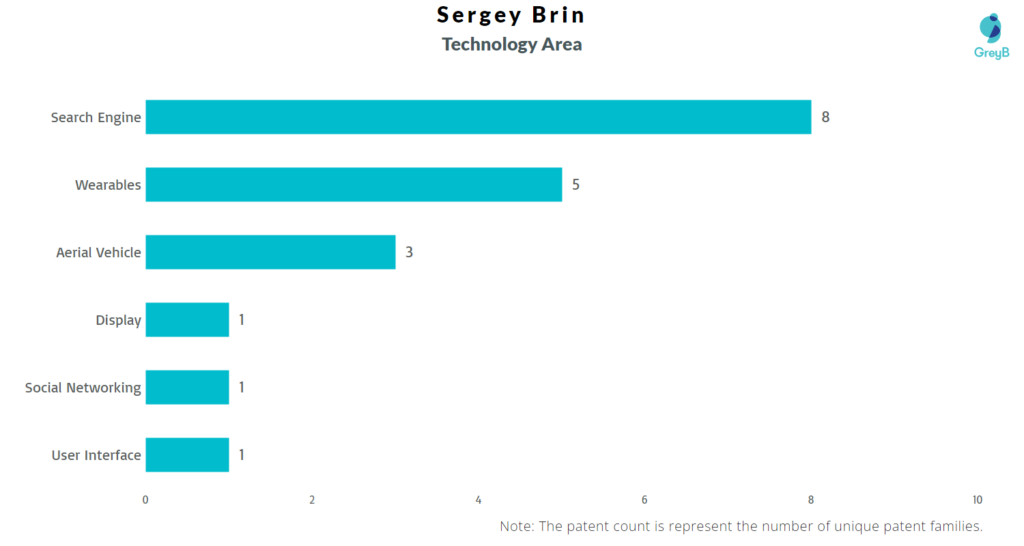 Patents related to search engine are filed by Sergey Brin relates to a unique way of executing search queries, retrieval of search query results, ranking of the search results, voice search, and the user interface of the search engine.
Wearables patents include devices that are head-mounted devices and also some of the devices can be worn in hand also which can be used to control some actions and gestures. The head-mounted devices application can be realised in Google Glasses.
Patents related to Aerial vehicles include methods for creating airships, controlling the altitude of a high-altitude balloon, and a UAV providing medical support.
Display-related patent relates to a multi-panel display.
Patent related to social networking relates to the methods of location sharing on a social networking platform.
Patent related to user interface, as stated earlier refers to the interface of search engine Google search engine.
The most recent patent of Sergey Brin, which has been published in 2021, US10988226B2 – Methods and apparatus for constructing airships relates to aerial vehicles. It was very interesting to note that Brin is exploring this area of technological domain.
Airships are lighter than air aircraft that rely on buoyancy generated by gas that is less dense than the surrounding air to provide lift for flight. An airship is typically made out of a structure attached to an envelope that contains lifting gas such as helium or hydrogen. Certain airships, such as rigid and semi-rigid airships, may incorporate a structural framework to aid in maintaining the envelope's shape. The technology presented herein relates to systems, equipment, and methods for constructing airships in a quick and cost-effective manner and the design and construction of components used in the production of rigid or semi-rigid airships.
10 Best Sergey Brin Patents
US6529903B2 is the most popular patent in the Sergey Brin's portfolio. It has received 453 citations so far from companies like Facebook, Microsoft and IBM.
List of Sergey Brin's Patents
| | |
| --- | --- |
| Publication Number | Title |
| US10988226B2 | Methods And Apparatus For Constructing Airships |
| US9967487B2 | Preparation Of Image Capture Device In Response To Pre-Image-Capture Signal |
| US9254906B1 | Attitude Control For A High-Altitude Balloon |
| US9223136B1 | Preparation Of Image Capture Device In Response To Pre-Image-Capture Signal |
| US9171198B1 | Image Capture Technique |
| US9152713B1 | Finding Web Pages Relevant To Multimedia Streams |
| US9146400B1 | Display Panel Tiling Using Seam-Concealing Optics |
| US8976085B2 | Wearable Device With Input And Output Structures |
| US8948935B1 | Providing A Medical Support Device Via An Unmanned Aerial Vehicle |
| US8893010B1 | Experience Sharing In Location-Based Social Networking |
| US8868543B1 | Finding Web Pages Relevant To Multimedia Streams |
| US8856163B2 | System And Method For Providing A User Interface With Search Query Broadening |
| US8832233B1 | Experience Sharing For Conveying Communication Status |
| US8768700B1 | Voice Search Engine Interface For Scoring Search Hypotheses |
| US8629815B2 | Laser Alignment Of Binocular Head Mounted Display |
| US8589387B1 | Information Extraction From A Database |
| US8515752B1 | Voice Interface For A Search Engine |
| US8452758B2 | Methods And Systems For Improving A Search Ranking Using Related Queries |
| US8380705B2 | Methods And Systems For Improving A Search Ranking Using Related Queries |
| US8380502B1 | Voice Interface For A Search Engine |
| US8332371B1 | Information Extraction From A Database |
| US8248364B1 | Seeing With Your Hand |
| US8037065B1 | Information Extraction From A Database |
| US8024326B2 | Methods And Systems For Improving A Search Ranking Using Related Queries |
| US8009141B1 | Seeing With Your Hand |
| US7912915B1 | Systems And Methods For Enticing Users To Access A Web Site |
| US7650330B1 | Information Extraction From A Database |
| US7505964B2 | Methods And Systems For Improving A Search Ranking Using Related Queries |
| US7366668B1 | Voice Interface For A Search Engine |
| US7136854B2 | Methods And Apparatus For Providing Search Results In Response To An Ambiguous Search Query |
| US7027987B1 | Voice Interface For A Search Engine |
| US6865575B1 | Methods And Apparatus For Using A Modified Index To Provide Search Results In Response To An Ambiguous Search Query |
| US6678681B1 | Information Extraction From A Database |
| US6529903B2 | Methods And Apparatus For Using A Modified Index To Provide Search Results In Response To An Ambiguous Search Query |
| US20210197946A1 | Apparatuses For Constructing Airships |
| US20160057339A1 | Image Capture Technique |
| US20160011724A1 | Hands-Free Selection Using A Ring-Based User-Interface |
| US20130159338A1 | System And Method For Providing A User Interface With Search Query Broadening |
| US20070022101A1 | Methods And Apparatus For Providing Search Results In Response To An Ambiguous Search Query |
| EP2742380B1 | Laser Alignment Of Binocular Head Mounted Display |
| EP2805201B1 | Wearable Device With Input And Output Structures |
| EP3697682A4 | Methods And Apparatus For Constructing Airships |
| EP1668549A1 | Methods And Systems For Improving A Search Ranking Using Related Queries |
| EP1654681A1 | Providing A User Interface With Search Query Broadening |
| CN104169781B | A Wearable Device Input And Output Structure |
| CN104185807B | Laser Alignment Of The Binocular Head Mounted Display |
| CN202758141U | Electronic Device And Head Device |
| CN202758142U | Headset Device |
| CN100501730C | Providing A Search Query Widening Of User Interface |
| CN111601754A | Method And Device For Constructing Airship |
| WO2019079096A1 | Methods And Apparatus For Constructing Airships |
| WO2013109874A8 | Wearable Device With Input And Output Structures |
| WO2013022544A1 | Laser Alignment Of Binocular Head Mounted Display |
| WO2005029366A1 | Methods And Systems For Improving A Search Ranking Using Related Queries |
| WO2005013153A1 | Providing A User Interface With Search Query Broadening |
| CA3079093C | Methods And Apparatus For Constructing Airships |
| AU2018352102B2 | Methods And Apparatus For Constructing Airships |
| KR1977433B1 | The Wearable Device Equipped With The Input And Output Structures. |
| JP06307024B2 | The Wearable Device Which Has An Input And Output Structure |
| BRPI0414332B1 | Methods And Systems For Improvement Of An Ordering Of Search, Using Questions Related |
| JP06035415B2 | The Wearable Device Which Has Input And An Output Structure |
| AU2013209578B2 | Wearable Device With Input And Output Structures |
| CA2533605C | Providing A User Interface With Search Query Broadening |
| AU2011202345B2 | Methods And Systems For Improving A Search Ranking Using Related Queries |
| DE202012003317U1 | A Portable Device With Input And Output Structures |
| RU2460131C2 | Equipping User Interface With Search Query Expansion |
| SG146633B | Methods And Systems For Improving A Search Ranking Using Related Queries |
| JP04731479B2 | A Search System And A Search Method |
| AU2004275274B2 | Methods And Systems For Improving A Search Ranking Using Related Queries |
| IN239044B | Methods And Systems For Imporving A Search Ranking Using Related Queries |
| AU2004262352C1 | Providing A User Interface With Search Query Broadening |
| SG120485B | Methods And Systems For Improving A Search Ranking Using Related Queries |
| RU2324220C2 | Providing Search Request Extension For User Interface |
| NZ763431A | Methods And Apparatus For Constructing Airships |
| AU2021201212A1 | Methods And Apparatus For Constructing Airships |
| BR112020007464A2 | Methods And Apparatus For Constructing Dirigible |
| CA3122768A1 | Methods And Apparatus For Constructing Airships |
| HK1092238A1 | Providing A User Interface With Search Query Broadening |
| JP10312386A | Method For Selectively Retrieving Record Containing Recognizable Item, Method For Searching For Set Of Data Record, And Programmable Computer Device |
Authored By: Navjyot Singh, Insights;Gate Team