Lawrence Edward Page is an Internet entrepreneur, computer scientist, and business leader from the United States. Along with Sergey Brin, he is best recognised as one of the co-founders of Google. Till 2001, Page was the CEO of Google, then from April 2011 to July 2015, he became the CEO of Alphabet Inc., a position he held until December 4, 2019. He is still a member of the Alphabet board of directors, an employee, and a controlling shareholder. Page has a net worth of around $130.7 billion as of October 2021, making him the world's sixth wealthiest person.
Larry Page is a born inventor. He began working with computers as a small child, and he was the first in his school to do his schoolwork on a computer. In the meantime, his older brother taught him how to disassemble items he found about the house. He explained, "I disassembled everything I could get my hands on to see how it worked. I knew I wanted to invent stuff from the beginning."
"Invention is not enough. You have to get it out to people and make sure they can use it. That's the only way of having a meaningful impact" – Larry Page
Larry is the co-inventor and namesake of Google's "PageRank", a search ranking algorithm. In 2004, he and co-writer Brin shared the Marconi Prize. He was selected "Businessperson of the Year" by Fortune magazine in 2014, naming him "the world's most daring CEO." He was rated number one on Forbes' "America's Most Popular Chief Executives" list in October 2015, as voted on by Google employees.
Interested to know about the other co-founder of Google, Sergey Brin? Click here
Larry Page Patents
Larry Page's patent portfolio has 38 patents that belong to 7 unique patent families. We have used the below exhibits to highlight the key statistics of Larry Page's patent portfolio.
Worldwide Patents Status
Patent Families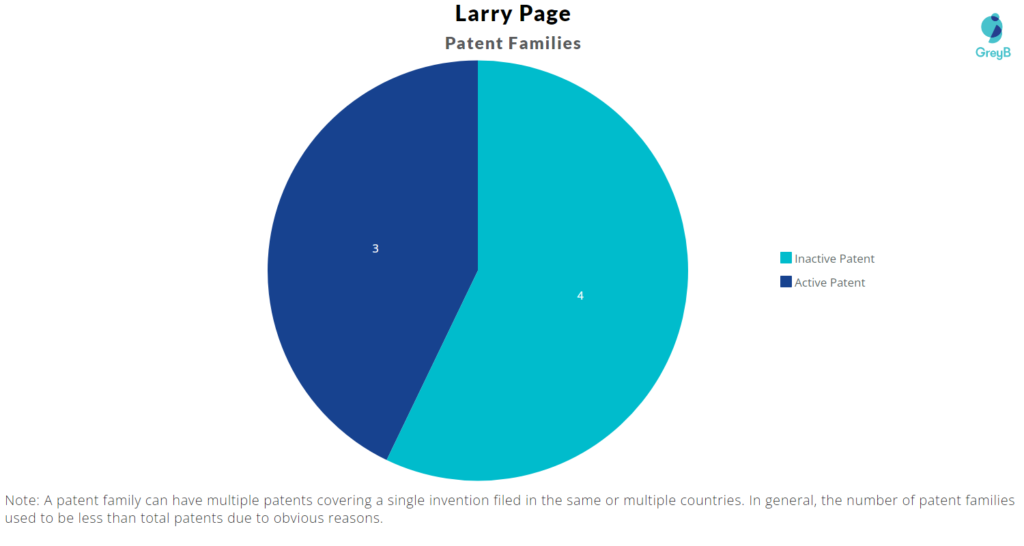 How Many Patents did Larry Page File Every Year?
How Many Patents did Larry Page File in Different Countries?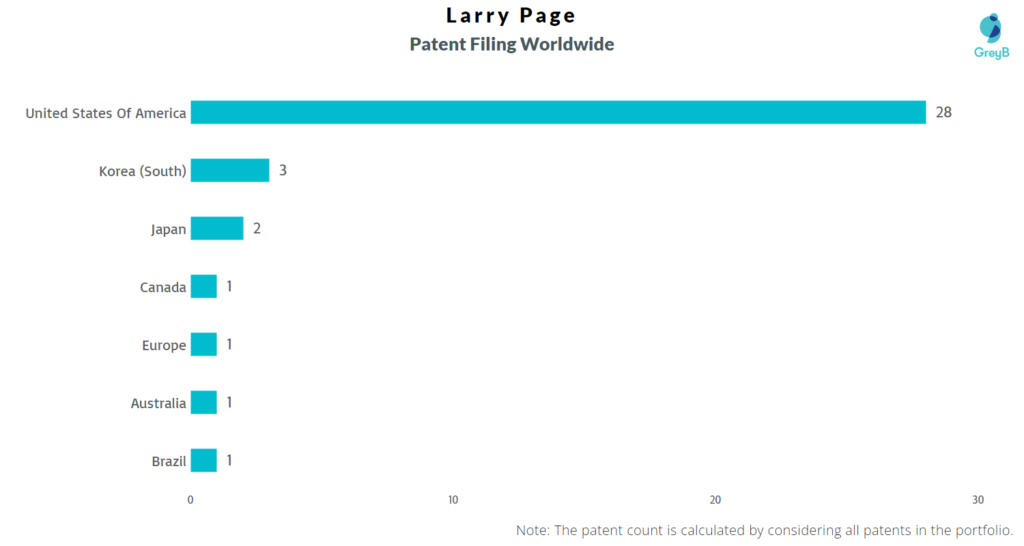 Countries in which Larry Page Filed Patents
| | |
| --- | --- |
| Country | Patents |
| United States Of America | 28 |
| Korea (South) | 3 |
| Japan | 2 |
| Canada | 1 |
| Europe | 1 |
| Australia | 1 |
| Brazil | 1 |
What Technologies are covered by Larry Page's Patents?
Patents related to search engine are filed by Larry Page relates to an unique way of searching query, retrieval of search query results, ranking of the search results and the user interface of the search engine.
Advertisements related patents direct towards the perception of the quality of advertisements to a consumer and also relative ranking on advertisements with respect to a scoring system such that the targeted advertisement seems to be appropriate for the user.
Patent related to scanning of documents refers to an unique method of capturing minute details of the document presented with the use of cameras.
Patent related to user interface, as stated earlier refers to the interface of search engine Google search engine.
The latest patent introduced by Larry Page was filed in the year 2017, US20170249664A – Methods and Apparatus for Ordering Advertisements Based on Performance Information, relates to the advertising.
Advertisers have recently devised a number of tactics in order to maximise the value of such advertising. Advertisers employ popular presences or means of offering interactive media or services, such as "Web sites," to reach a big audience in one strategy. Advertisers are frequently disappointed with the return on their advertising spend, despite the fact that they can reach a vast audience. Some companies have tried to increase ad performance by tracking customers' online activities, but this has raised privacy issues. As a result, more effective advertising using interactive media and services is still needed, as is the ability to order ads in a way that maximises both relevance and economic value.
This is where the patent US20170249664A jumps in and delivers a more effective advertising system that optimises both the relevancy and the economic worth of advertisements. This sorting could be based on a score obtained from the advertising's agreed performance requirements. Parameters such as the advertisement's click-through rate, user ratings, focus group ratings, measure of user interest for the advertisement weighted for the size of the advertisement relative to other advertisements, measure of user interest for the advertisement weighted for past positions of the advertisement relative to those past positions of other advertisements, expected user interest in the advertisement and also the conversion rate associated with the advertisement are taken into consideration. Thus, ensuring better accuracy and results for the same.
10 Best Larry Page Patents
US6285999B1 is the most popular patent in Larry Page's portfolio. It has received 1559 citations so far from companies like Microsoft Corporation, Verizon Communications and IBM.
List of Larry Page's Patents
| | |
| --- | --- |
| Publication Number | Title |
| US9684676B1 | Method For Searching Media |
| USRE45952E1 | Method For Searching Media |
| US9015159B1 | Method For Searching Media |
| US8725726B1 | Scoring Documents In A Linked Database |
| US8688687B1 | Hypertext Browser Assistant |
| US8560564B1 | Hypertext Browser Assistant |
| US8521730B1 | Scoring Documents In A Linked Database |
| US8522128B1 | Systems And Methods For Modifying The Order Of Links Presented In A Document |
| US8316016B1 | Hypertext Browser Assistant |
| US8195651B1 | Scoring Documents In A Linked Database |
| US8156444B1 | Systems And Methods For Determining A User Interface Attribute |
| US8131715B1 | Scoring Documents In A Database |
| US8131717B1 | Scoring Documents In A Database |
| US8126884B1 | Scoring Documents In A Linked Database |
| US8127220B1 | Scoring Links In A Document |
| US7908277B1 | Annotating Links In A Document Based On The Ranks Of Documents Pointed To By The Links |
| US7605844B1 | Imaging Opposing Bound Pages At High Speed Using Multiple Cameras |
| US7437351B2 | Method For Searching Media |
| US7421432B1 | Hypertext Browser Assistant |
| US7363291B1 | Methods And Apparatus For Increasing Efficiency Of Electronic Document Delivery To Users |
| US7269587B1 | Scoring Documents In A Linked Database |
| US7058628B1 | Method For Node Ranking In A Linked Database |
| US6799176B1 | Method For Scoring Documents In A Linked Database |
| US6285999B1 | Method For Node Ranking In A Linked Database |
| US20170249664A1 | Methods And Apparatus For Ordering Advertisements Based On Performance Information |
| US20160162931A1 | Methods And Apparatus For Ordering Advertisements Based On Performance Information |
| US20110264508A1 | Scoring, Modifying Scores Of, And/Or Filtering Advertisements Using Advertiser Information |
| US20060020506A1 | Adjusting Or Determining Ad Count And/Or Ad Branding Using Factors That Affect End User Ad Quality Perception, Such As Document Performance |
| EP1782372A4 | Adjusting Or Determining Ad Count And/Or Ad Branding Using Factors That Affect End User Ad Quality Perception, Such As Document Performance |
| WO2006019532A3 | Adjusting Or Determining Ad Count And/Or Ad Branding Using Factors That Affect End User Ad Quality Perception, Such As Document Performance |
| CA2574265C | Adjusting Or Determining Ad Count And/Or Ad Branding Using Factors That Affect End User Ad Quality Perception, Such As Document Performance |
| JP05535797B2 | Adjustment Or Determination Of An Advertisement Count Number And/Or Advertisement Branding Using A Document Performance |
| KR1240515B1 | A Method And Apparatus For Controlling The Advertisement Blending Using Factors Which Have An Effect On The Final Targeted In-Pictured User Advertising Quality Recognition Like The Document Performance Or Determining. |
| KR1060150B1 | Using Factors Having An Effect On The Final Targeted In-Pictured User Advertising Quality Recognition Like The Document Performance, The Advertisement Count And Method And Apparatus For Controlling The Advertisement Blending Or Determining. |
| AU2005275448B2 | Adjusting Or Determining Ad Count And/Or Ad Branding Using Factors That Affect End User Ad Quality Perception, Such As Document Performance |
| BR200513688A | Adjustment Or Determination Of The Account And/Or Announcement Of The Announcement Mark Utilizing Factors Which Affect The Perceptual Quality Of The Announcement By The Final User, The Performance As The Document |
| JP2008512735A | Adjust Or Determine Ad Counts And / Or Ad Branding Using Factors That Affect End User Perception Of Ad Quality, Such As Document Performance |
| KR2007035098A | A Method And Apparatus For Controlling The Advertisement Count And/Or The Advertisement Blending Using Factors Which Affect The Final Targeted In-Pictured User Advertising Quality Recognition Like The Document Performance Or Determining. |
Authored By: Navjyot Singh, Insights;Gate Team