Walmart has filed more than fourteen thousand patent applications at an average grant rate of 72.41% at the USPTO. At present, Walmart has 953 pending US patent applications. We analyzed the pending applications by using GreyB's FIT (File Impediment Tracker) Tool.
The FIT tool helps in-house counsels save the IP budget. It finds patent applications increasing prosecution costs due to prolonged prosecution cycle, more OAs, appeals, amendments, and RCEs, and suggests remedial actions and strategies.
Want to know, how many patents does Walmart have?
Impediment Status/Prosecution Health of Walmart's Pending Applications
To determine the impediment status, we have segregated the pending applications of Walmart into the below three categories
SOS – Facing High difficulty at USPTO
At-Risk – Applications that were running smoothly but of late have started displaying high probabilities of turning into an SOS application
On-Track – Running smooth as butter
The below exhibit displays the impediment status of applications:
Office Actions Statistics of Walmart's Pending Applications
32.52% of Walmart's applications haven't received a single office action, and their examination has yet to begin. Also, Walmart's average office action rate is 1.43 office actions per patent application. Considering this, 57.6 % of pending applications of Walmart have an OA rate greater than its average OA rate.
Cool Fact: For Walmart, Venable Llp has a minimum average number of office actions ~0.53 OA per patent application.
Interview Statistics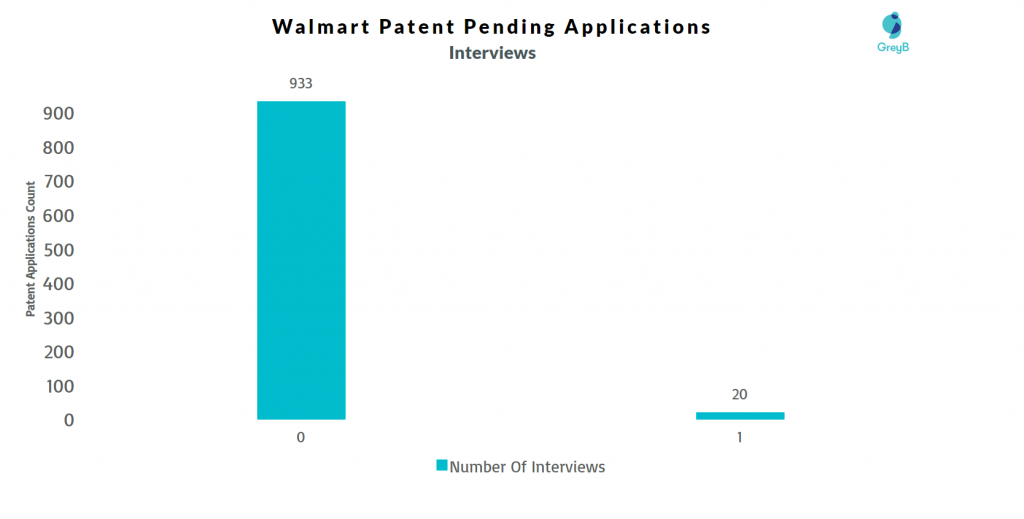 Year-wise distribution of Walmart's Pending Patent Applications
The per-year count of pending applications has increased steadily over the last decade for Walmart. The dip in 2020 is because not all the applications filed in 2020 have been published yet. Walmart's average grant time is 2.6 years. ~50 % of pending applications of Walmart have been in prosecution for 3 or more than 3 years. You can find more about these ~50 %. You can find more about these 50% lot here: Walmart patent applications that have been in prosecution for 3 or more years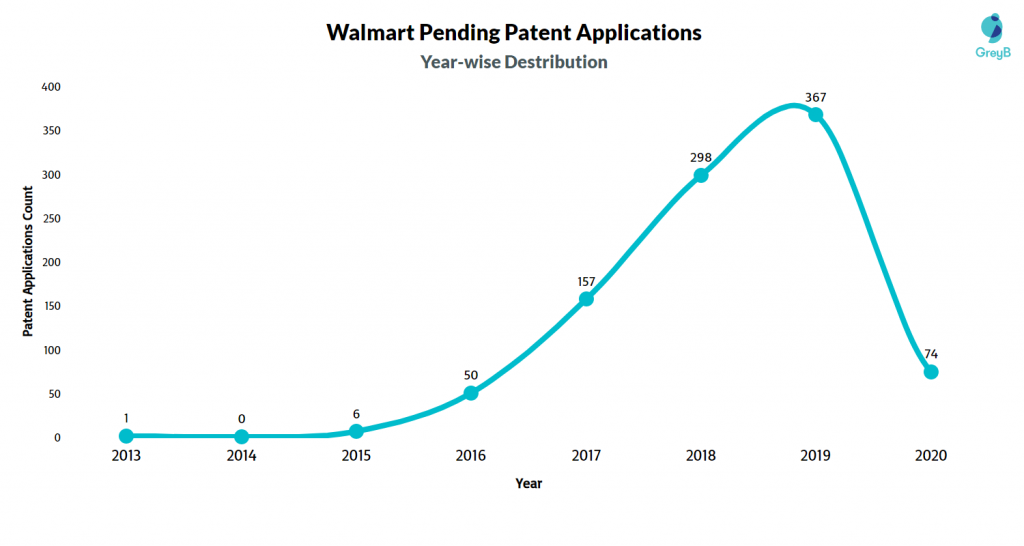 RCE Statistics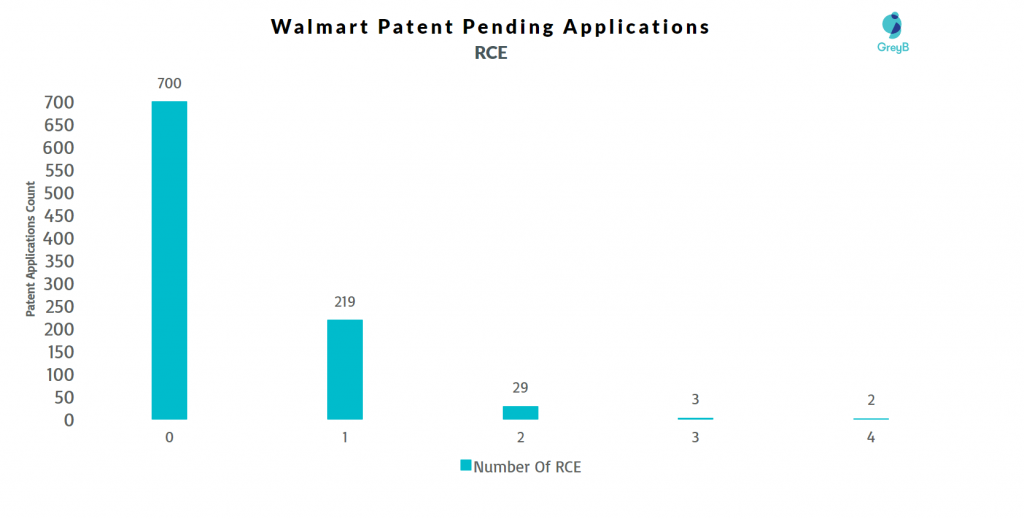 Law Firms Prosecuting Pending Applications of Walmart at the USPTO
The table below has details of law firms prosecuting the pending applications. You can check the top law firms that prosecuted most patents for Walmart here: Law firms that prosecuted most patents for Walmart at the USPTO
| | |
| --- | --- |
| Mccarter & English, Llp | 35 |
| Patterson Thuente Pedersen, P.A. | 46 |
| Schmeiser, Olsen & Watts Llp | 69 |
| Duane Morris Llp | 74 |
| Bryan Cave Leighton Paisner Llp | 78 |
| Barta, Jones & Foley, P.C. | 91 |
| Venable Llp | 97 |
| Fitch, Even, Tabin & Flannery, Llp | 463 |
| | |
| --- | --- |
| Patterson Thuente Pedersen, P.A. | 89 |
| Bryan Cave Leighton Paisner Llp | 110 |
| Barta, Jones & Foley, P.C. | 120 |
| Venable Llp | 156 |
| Schmeiser, Olsen & Watts Llp | 214 |
| Mccarter & English, Llp | 277 |
| Fitch, Even, Tabin & Flannery, Llp | 949 |
| Grand Total | 2001 |