Jack Dorsey has a total of 123 patents globally, out of which 45 have been granted. Of these 123 patents, 65% patents are active. United States of America is where Mr Dorsey has filed the most patents, followed by Canada and countries of Europe.
Blockchain technology is future of Twitter: Jack Dorsey
Jack Patrick Dorsey is an Internet entrepreneur, programmer, and philanthropist from the United States. He is the co-founder and former CEO of Twitter, as well as the founder and "Blockhead" of Block, a financial payments company. Dorsey was also a trained masseur and dabbled in fashion design before turning to technology!
How Many Patents did Jack Dorsey File Every Year?
Jack Dorsey Patents
Jack Dorsey has a total of 123 patents. These patents belong to 13 unique patent families. Out of 123 patents, 81 patents are active.
Worldwide Patents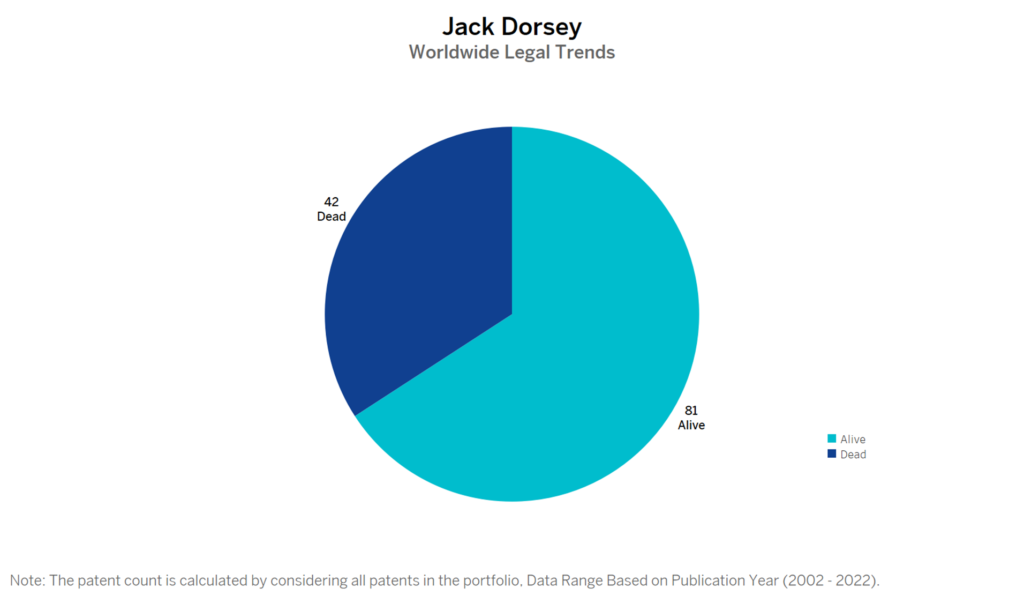 How Many Patents did Jack Dorsey File in Different Countries?
What Technologies are covered by Jack Dorsey's Patents?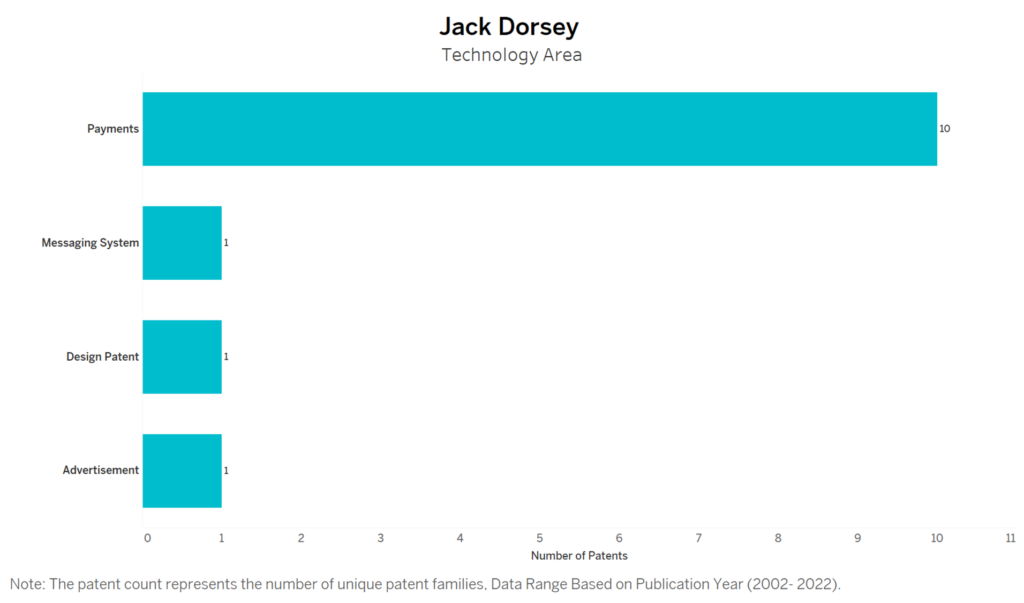 Design Patent filed by Dorsey is related to a Display screen with a GUI (Graphical User Interface).
Patents related to Messaging System talks about distributing messages independently of the sending or receiving devices.
Electronic communication is usually limited to devices or message types that are similar. When a user sends an SMS message from their mobile phone, the sender specifies the recipient's phone number, and the recipient receives the message on their phones. While some communication across devices or message types is possible, there are still substantial limits.
Sending SMS messages through a web-based interface, for example, is possible, as is sending SMS messages from a cell phone to an e-mail account. However, these functionalities are frequently provider-specific (for example, to send SMS messages to that specific provider's mobile phone service, i.e., Verizon), and do not provide more generally usable cross-device communication capabilities. This invention provides for device-independent point-to-multipoint communication, which is advantageous.
Patents related to Advertisement cover systems and methods for determining the occurrence of a location-based event by obtaining information from one or more sellers.
Farmers markets, food truck gatherings, fairs, and other location-based events have proven to be a cost-effective means of bringing shoppers and sellers together all over the world. However, because such events are not always permanent, potential buyers may not be aware of them and hence this may result in lost opportunities for both sellers and buyers. Therefore the information about the event may be accessed by a mobile device of a potential buyer or via a web directory with the help of this innovation.
Of all the patents filed by Dorsey, majority of them talk about Payments. Jack is a big believer in the future of money, and he frequently speaks on fintech at industry events. As the co-founder of Block (earlier Square), he has revolutionised mobile payments through its innovative card reader device. The corporation intends to branch out beyond payments and into new technologies such as blockchain.
It is working on cryptocurrency hardware wallets. The company would provide users with a mobile app, which when paired with the wallet, would allow users to manage their bitcoin transactions. The wallet will enable fingerprint sensors for transactions. The hardware component of the wallet will use a rechargeable lithium polymer battery and USB-C port to power the device.
10 Best Jack Dorsey Patents
US20110087596A1 is the most popular patent in the Jack Dorsey portfolio. It has received 206 citations so far from companies like Nokia, Visa, and Mastercard.
Below is the list of 10 most cited patents of Jack Dorsey:
List of Jack Dorsey's Patents
| | |
| --- | --- |
| Jack Dorsey Patents | Title |
| US20120138683A1 | Method of transmitting information from a card reader with an asymmetric spring to a mobile device |
| US20120168505A1 | Card reader with asymmetric spring |
| US20120118960A1 | Method of transmitting information from a small card reader to a mobile device |
| US20120118959A1 | Small card reader configured to be coupled to a mobile device |
| US20120132712A1 | Card reader with power efficient architecture that includes a wake-up circuit |
| US20160188915A1 | Methods of transmitting information to mobile devices using cost effective card readers |
| US20120126014A1 | Card reader with offset read head |
| US9305314B2 | Methods of transmitting information to mobile devices using cost effective card readers |
| US20120126010A1 | Cost effective card reader configured to be coupled to a mobile device |
| US20160078448A1 | Transferring money using email |
| US20120095871A1 | Method for conducting on-line purchases using a mobile device and a payment service |
| US20130200153A1 | Decoding systems with a decoding engine running on a mobile device and coupled to a payment system that includes identifying information of second parties qualified to conduct business with the payment system |
| US20160203667A1 | Card reader with power efficient architecture that includes a wake-up circuit |
| US8870070B2 | Card reader device |
| US9449321B2 | Transferring money using email |
| US20120091201A1 | Systems and methods for financial transaction through miniaturized card with ASIC |
| US9202207B2 | Transferring money using email |
| US8640953B2 | Decoding system running on a mobile device and coupled to a payment system that includes at least one of, a user database, a product database and a transaction database |
| US9262757B2 | Method of transmitting information from a card reader with a power supply and wake-up circuit to a mobile device |
| US20150154581A1 | Systems and methods for dynamic receipt generation with environmental information |
| US20120130903A1 | Back end of payment system associated with financial transactions using card readers coupled to mobile devices |
| US20130031004A1 | Payment methods with a payment service and tabs selected by a first party and opened by a second party at any geographic location of the first partys mobile device |
| US20130204792A1 | Decoding systems with a decoding engine running on a mobile device and coupled to a social network |
| US20140001257A1 | Decoding systems with a decoding engine running on a mobile device and coupled to a payment system that includes identifying information of second parties qualified to conduct business with the payment system |
| US20130132274A1 | Cardless payment transactions |
| US9824504B2 | Mobile card processing using multiple wireless devices |
| US20110087596A1 | Systems and methods for dynamic receipt generation with environmental information |
| US20130204791A1 | Decoding systems with a decoding engine running on a mobile device and coupled to a payment system that includes identifying information of second parties qualified to conduct business with the payment system |
| US20120095914A1 | Systems and methods for financial transaction through miniaturized card reader with decoding on a seller's mobile device |
| US8602305B2 | Decoding systems with a decoding engine running on a mobile device configured to be coupled and decoupled to a card reader with wake-up electronics |
| US20120005039A1 | Method of conducting financial transactions |
| US20130185208A1 | Handling transaction and trip data |
| US9454866B2 | Method of conducting financial transactions where a payer's financial account information is entered only once with a payment system |
| US20130185124A1 | Mobile Card Processing Using Multiple Wireless Devices |
| US9536232B2 | Transferring money using email |
| US9135618B1 | Decoding systems with a decoding engine running on a mobile device and using financial transaction card information to create a send funds application on the mobile device |
| US20130200149A1 | Decoding systems with a decoding engine running on a mobile device and using financial transaction card information to create a send funds application on the mobile device |
| US9047598B1 | Systems and methods for financial transaction through card reader in communication with third party financial institution with encrypted information |
| US9436955B2 | Methods for transferring funds using a payment service where financial account information is only entered once with a payment service and need not be re-entered for future transfers |
| US9286635B2 | Method of transmitting information from efficient communication protocol card readers to mobile devices |
| US9373112B1 | Ranking of merchants for cardless payment transactions |
| US9824350B2 | Decoding systems with a decoding engine running on a mobile device and coupled to a payment system |
| US9582795B2 | Methods of transmitting information from efficient encryption card readers to mobile devices |
| US20140012689A1 | Authorization of cardless payment transactions |
| US20130204788A1 | Cost effective card reader and methods to be configured to be coupled to a mobile device |
| US20160371513A1 | Card reader with power efficient architecture that includes a power supply and a wake-up circuit |
| US20120126006A1 | Card reader with efficient encryption |
| US8662389B2 | Payment methods with a payment service and tabs selected by a first party and opened by a second party at any geographic location of the first party's mobile device |
| US9495676B2 | Method of transmitting information from a power efficient card to a mobile device |
| US20120126007A1 | Card reader with communication protocol |
| US9741045B1 | Ranking of merchants for cardless payment transactions |
| US20120095916A1 | Payment methods with a payment service and tabs selected by a first party and opened by a second party at any geographic location of the first party's mobile device |
| US8678277B2 | Decoding system coupled to a payment system that includes a cryptographic key |
| US9224142B2 | Card reader with power efficient architecture that includes a power supply and a wake up circuit |
| US20150178704A1 | Systems and methods for financial transaction through card reader in communication with third party financial institution with encrypted information |
| US20120011024A1 | Method for conducting financial transactions |
| US20120005096A1 | Method of conducting financial transactions |
| USD769274S1 | Display screen with a graphical user interface |
| US9589269B2 | Cardless payment transactions |
| US20170124567A1 | Authorization of cardless payment transactions |
| US8606703B1 | Method for transferring money using email |
| US9088532B1 | Device independent message distribution platform |
| US8401009B1 | Device independent message distribution platform |
| US9449203B2 | Card reader with power efficient architecture that includes a power supply and a wake-up circuit |
| US20150310404A1 | Transferring money using email |
| US20170255927A1 | Point of sale system |
| US8573489B2 | Decoding systems with a decoding engine running on a mobile device with a touch screen |
| US9633352B2 | Authorization of cardless payment transactions |
| US9577966B1 | Device independent message distribution platform |
| US8573486B2 | Systems and methods for financial transaction through miniaturized card reader with confirmation of payment sent to buyer |
| US20160210606A1 | Cardless Payment Transactions Based on Geographic Locations of User Devices |
| US20120126013A1 | Method for transmitting information from a card reader to a mobile device with the card reader having read head offset from a center of an associated housing |
| US20160203466A1 | Method of transmitting information from efficient communication protocol card readers to mobile devices |
| US9904924B1 | Transferring money using electronic messages |
| US10110550B1 | Device independent message distribution platform |
| US20190026746A1 | Transferring money using electronic messages |
| US10217130B1 | Event information determination |
| US10614445B1 | Proximity-based payments |
| US10686748B1 | Device independent message distribution platform |
| US20210166211A1 | Automatic storage of electronic receipts across merchants and transaction cards |
| US20210217027A1 | Transferring money using interactive interface elements |
| US11120414B1 | Systems and methods for facilitating transactions between payers and merchants |
| US20210295289A1 | Systems and methods for facilitating transactions between payers and merchants |
| US11238451B1 | Authorization of cardless payment transactions |
| US20220036326A1 | Payment processing systems and methods with automatic generation and application of transaction incentives |
| EP2628140A1 | Payment methods with a payment service and TABS selected by a first party and opened by a second party at any geographic location of the first party's mobile device |
| EP2732413A1 | Method of conducting financial transactions |
| EP2628127A4 | Read head device with slot configured to reduce torque |
| EP2638512A1 | Method of conducting financial transactions where a payer's financial account information is entered only once with a payment system |
| EP2779081A1 | Method for transferring money using email |
| EP2628139A4 | Methods for transferring funds using a payment service where financial account information is only entered once with a payment service and need not be re-entered for future transfers |
| EP2628128A2 | Systems and methods for financial transaction through miniaturized card reader with decoding on a seller's mobile device |
| WO2013074508A1 | Cost effective card reader configured to be coupled to a mobile device |
| WO2013074487A1 | Small card reader configured to be coupled to a mobile device |
| WO2011047042A3 | Systems and methods for dynamic receipt generation with environmental information |
| WO2014150282A1 | Method for transferring money using email |
| WO2012051071A1 | Payment methods with a payment service and TABS selected by a first party and opened by a second party at any geographic location of the first party's mobile device |
| WO2012051070A3 | Systems and methods for financial transaction through miniaturized card reader with decoding on a seller's mobile device |
| WO2013074499A1 | Small card reader with power efficient architecture that includes a wake-up circuit |
| WO2013109372A1 | Mobile card processing using multiple wireless devices |
| WO2012051069A1 | Methods for transferring funds using a payment service where financial account information is only entered once with a payment service and need not be re-entered for future transfers |
| WO2013009891A1 | Method of conducting financial transactions |
| WO2012051067A1 | Read head device with slot configured to reduce torque |
| WO2013074482A1 | Methods of transmitting information from efficient encryption card readers to mobile devices |
| WO2012051073A3 | Method for conducting on-line purchases using a mobile device and a payment service |
| WO2012051072A1 | Method of conducting financial transactions where a payer's financial account information is entered only once with a payment system |
| JP2017033603A | Payment method for using settlement service and tab selected by first party and opened by second party in geological position of one of mobile devices of first party |
| JP2017062844A | Method of conducting financial transaction where payer's financial account information is entered only once with payment system |
| CA2811979A1 | Methods for transferring funds using a payment service where financial account information is only entered once with a payment service and need not be re-entered for future transfers |
| CA2812594A1 | Systems and methods for financial transaction through miniaturized card reader with decoding on a seller's mobile device |
| CA2777765A1 | Systems and methods for dynamic receipt generation with environmental information |
| CA2812611C | Payment methods with a payment service and tabs selected by a first party and opened by a second party at any geographic location of the first party's mobile device |
| CA2812251C | Read head device with slot configured to reduce torque |
| CA2845817C | Method for transferring money using email |
| CA2841267A1 | Method of conducting financial transactions |
| CA2813236A1 | Method of conducting financial transactions where a payer's financial account information is entered only once with a payment system |
| CA2777885A1 | Cardless payment transactions |
| CA2813237A1 | Method for conducting on-line purchases using a mobile device and a payment service |
| AU2014201444B1 | Method for transferring money using email |
| AU2012281153A1 | Method of conducting financial transactions |
| BR112012008829A2 | Systems And Methods For Dynamic Receipt Generation With Environment Information. |
| DE602011063552T2 | Read Head Assembly Having A Slot Configured For Torque Suppression |
| DE602011063998T2 | System And Method For Financial Transactions Using Miniaturized Card Readers With Decode On A Seller'S Mobile Device |