Amha Atakilit is a specialist at the University of California and has 46 patents filed globally that belong to 8 patent families. Dean Sheppard, Professor, UCSF School of Medicine, is co-inventor in all of his patent applications which are assigned to the University of California, Pfizer, and Biogen.
Amha Atakilit inventions are focused on the roles of αvβ5 and αvβ8 integrin in models of common lung disease, and different methods and composition for treating and preventing disease associated with αvβ5 integrin. The table at the bottom provides further information on Amha Atakilit's patents.
Assignees' of Amha Atakilit Patents
All of Amha Atakilit's patents are assigned to the University of California among which two patents are jointly owned by Pfizer, and one by Biogen.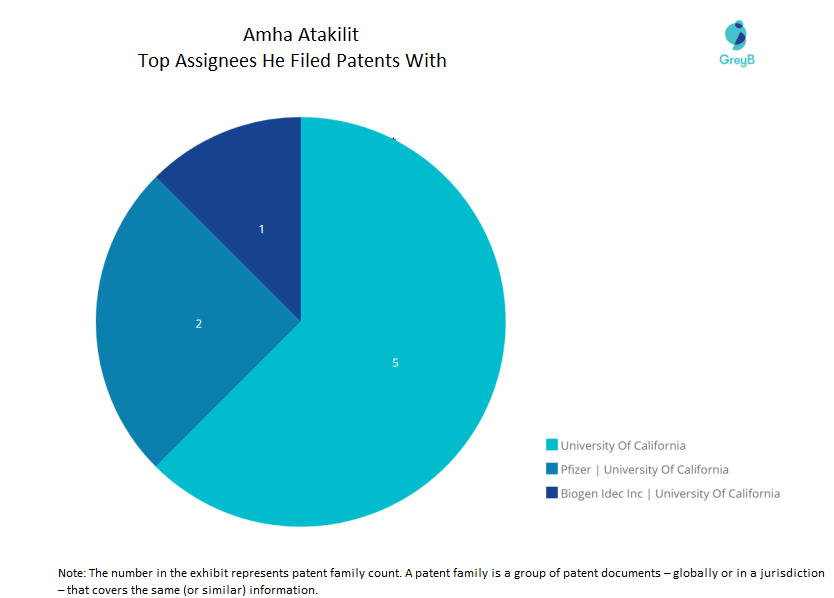 Worldwide Coverage of Amha Atakilit Patents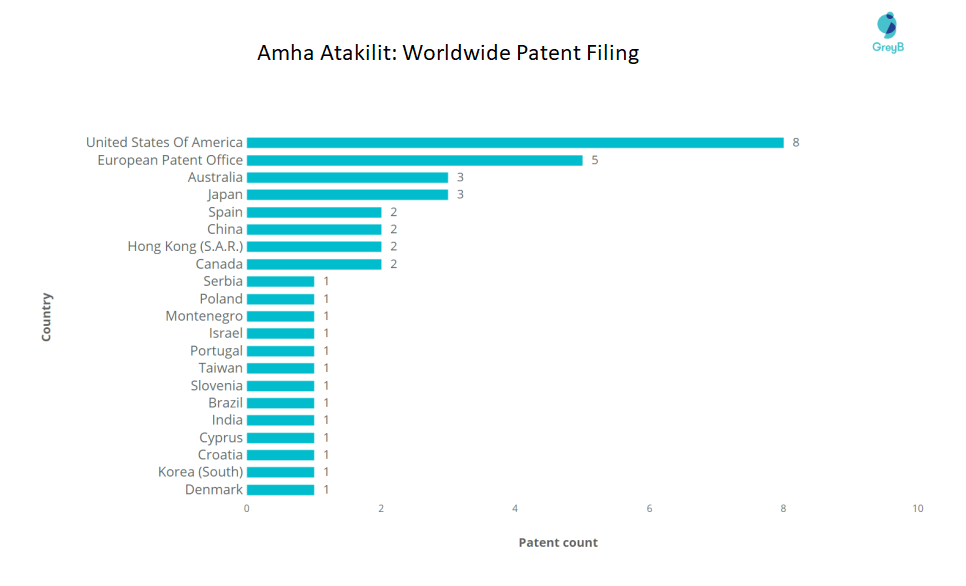 Application Area of Amha Atakilit Patents
| | | | | |
| --- | --- | --- | --- | --- |
| Pub Number | Filing Year | Assignee | Title | Application Area |
| US10597455B2 | 2018 | University Of California | Methods and compositions for treating and preventing disease associated with αvβ5 integrin | In the treatment of tissue fibrosis, acute lung injury and pulmonary emphysema |
| CA2767409C | 2010 | University of California | Methods and compositions for treating and preventing disease associated with αvβ5 integrin | Treatment of Sepsis |
| US10005838B2 | 2016 | University of California | Milk fat globule epidermal growth factor 8 regulates fatty acid uptake | Treatment of Diabetes by increasing insulin sensitivity |
| ES2671522T3 | 2005 | University of California | Methods and compositions for treating and preventing a disease associated with integrin αvβ5 | Treatment or prevention of pulmonary edema and acute lung injury |
| AU2012216372B2 | 2012 | University of California | Methods and compositions for treating and preventing disease associated with αvβ5 integrin | Treatment of acute lung injury |
| TW202024131A | 2019 | Pfizer, and University of California | Anti-αvβ8 antibodies and compositions and uses thereof | |
| WO2020051333A8 | 2019 | Pfizer, and University Of California | Anti-αvβ8 antibodies and compositions and uses thereof | |
| WO2014144616A3 | 2014 | Biogen Inc., and University Of California | Anti-αvβ5 antibodies and uses thereof | Treatment of acute lung injury, (ARDS), PE, lung fibrosis, sepsis, stroke, , cancer, and ocular neovascularization disease |