Jeffrey Preston Bezos, the world's richest man alive with a net worth of almost $200.1 Billion as of September 2021, is an American business leader, media owner, investor, computer engineer as well as an "inventor". He is the founder and executive chairman of Amazon, where he previously served as the president and CEO. In D. E. Shaw, he became the youngest senior vice president, soon after which he left the job and founded Amazon in his garage on July 5, 1994. Amazon went public in May 1997 and turned out to be one of the few start-ups that survived the dot-com bust.
In his early life, Bezos fantasized turning into an inventor like Thomas Edison, and this passion is well alive within him till date. Organizations talk about how they should be innovative, but this focus is backward. Everyone looks at Amazon as an innovative company, but Bezos thinks that "invention is the root of its success." According to him, Amazon has the best invention track record and its goal is to "invent on behalf of their customer." Most organizations are centered on innovation and not inventions.
"Invention is the root of our success. We've done crazy things together, and then made them normal. Keep inventing, and don't despair when at first the idea looks crazy. Remember to wander. Let curiosity be your compass. It remains Day"
Bezos also founded the aerospace manufacturer and sub-orbital spaceflight services company Blue Origin in the year 2000 and aims to make access to space cheaper and more reliable through reusable launch vehicles.
He received Germany's 2018 Axel Springer Award for Business Innovation and Social Responsibility. Time magazine named him one of the 100 most influential people in the world on five separate occasions between 2008 and 2018.
You can also read our analysis, Amazon Patents – Key Insights and Statistics, to get a complete overview of Amazon's Patent portfolio.
Jeff Bezos Patents
Jeff Bezos's patent portfolio has 336 patents that belong to 71 unique patent families. We have used the below exhibits to highlight the key statistics of Jeff Bezos's patent portfolio.
Worldwide Patents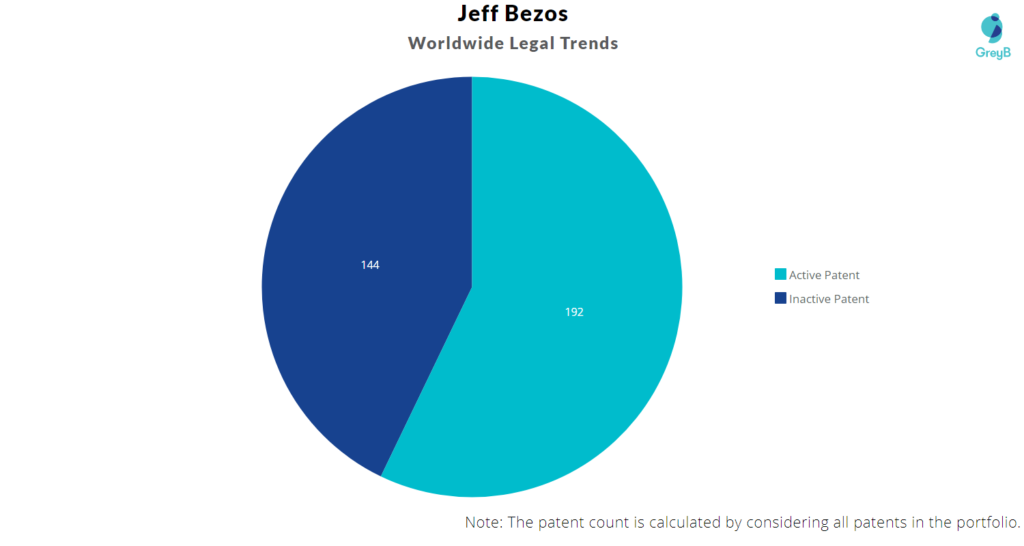 Patent Families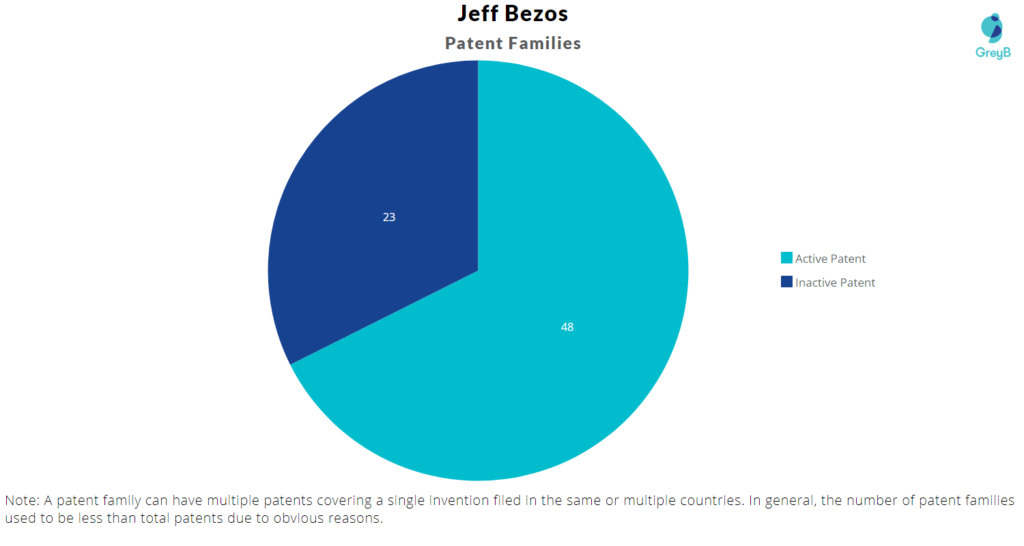 How Many Patents did Jeff Bezos File Every Year?
How Many Patents does Jeff Bezos have in Different Countries?
Countries in which Jeff Bezos Filed Patents
| | |
| --- | --- |
| Country | Patents |
| United States Of America | 148 |
| Japan | 34 |
| Europe | 22 |
| China | 21 |
| India | 19 |
| Canada | 16 |
| Australia | 12 |
| Korea (South) | 7 |
| Russian Federation | 5 |
| Singapore | 1 |
| Brazil | 1 |
What Technologies are covered by Jeff Bezos's Patents?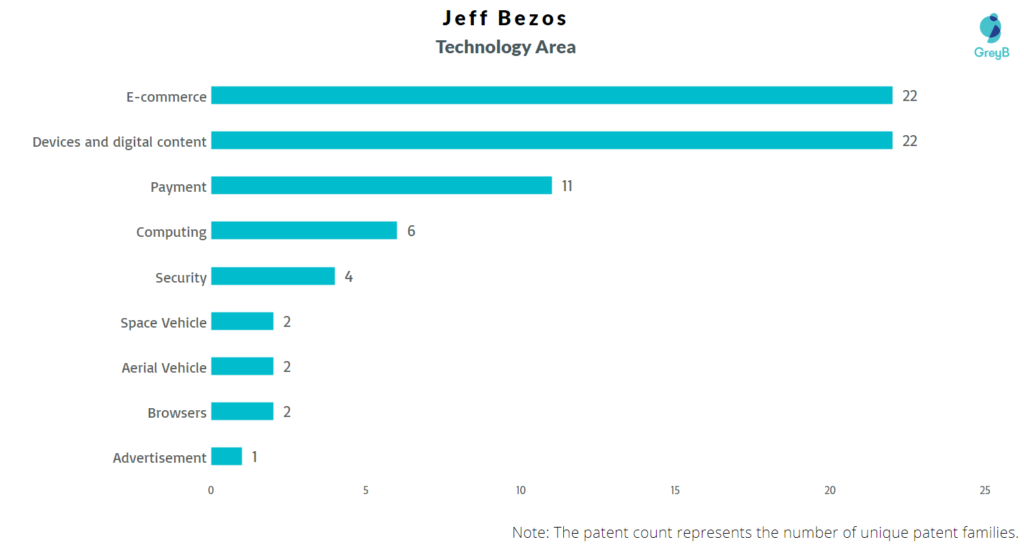 The key areas of technologies in which patents are filed i.e. E-commerce, Devices and digital content, payment, security, and advertisement indicate their working on Amazon. Although, patents on aerial vehicles may indicate that Jeff Bezos looks into integrating these new technological advances in the near future into Amazon's business.
As the goal of the company is to "invent on behalf of their customer", we found these patents to be more customer-focused or customer-oriented.
Space vehicle patents correspond to Blue Origins, one of the two patents describes methods of sea landing of space launch vehicles, and the other one describes improved booster/thrusters retrieval techniques.
10 Best Jeff Bezos Patents
US7433832B1 is the most popular patent in Jeff Bezos's portfolio. It has received 420 citations so far from companies like Microsoft and IBM.
| | |
| --- | --- |
| Publication Number | Citation Count |
| US7433832B1 | 420 |
| US8736228B1 | 252 |
| US20030055729A1 | 249 |
| US7743001B1 | 214 |
| US8423431B1 | 206 |
| US7478054B1 | 155 |
| US7552365B1 | 125 |
| US8700392B1 | 122 |
| US7356507B2 | 112 |
| US7778890B1 | 109 |
List of Jeff Bezos Patents
| | |
| --- | --- |
| Jeff Bezos Patents | Title |
| BR112014003666B1 | Computing Device Configured To Manage Information Associated With Network Pages, Method Implemented By Computer |
| CA2957917C | Propeller Safety For Automated Aerial Vehicles |
| CN107074359B | Propeller Safety For Automatic Aircraft |
| US10832653B1 | Providing Content On Multiple Devices |
| US10780988B2 | Propeller Safety For Automated Aerial Vehicles |
| JP06752503B2 | Propeller Safety|Security Of An Automatic Aircraft |
| US10664140B2 | Object Tracking In Zoomed Video |
| US10652286B1 | Constraint-Based Communication Sessions |
| US10607223B2 | Utilizing Phrase Tokens In Transactions |
| CA2942377C | Object Tracking In Zoomed Video |
| IN332373B | Movement Recognition As Input Mechanism |
| IN330296B | Selective Communication Of Messages |
| CN105574751B | For Based On Subscription Shipping Of Method And Device |
| IN325713B | A Method Of Automatically Establishing Communication With A Computing Device And A Client Device Thereof |
| US10482471B2 | Unauthorized Product Detection Techniques |
| US10467614B1 | Method And Apparatus To Facilitate Online Purchase Of Works Using Paid Electronic Previews |
| EP2732436B1 | Simulating Three-Dimensional Features |
| CA2830268C | Advertisement Service |
| IN313051B | Content Sharing |
| RU2683211C2 | Systems For Accessing Outer Space (Variants) |
| JP06484322B2 | Method And Apparatus For Shipment Of A Subscription Base |
| US10207794B1 | Aerial Vehicle Center Of Gravity Adjustment |
| JP06468616B2 | Propeller Safety|Security Of An Automatic Aircraft |
| CA2898102C | Unauthorized Product Detection Techniques |
| US10134087B1 | Payment Cards |
| CA2845121C | Managing Information Associated With Network Resources |
| US10121465B1 | Providing Content On Multiple Devices |
| CN103534721B | A Method Of Using Advertisement Service And A Device For Performing The Method Of Computing Device |
| US10108274B2 | Presenting Supplemental Content |
| US10089623B2 | Utilizing Phrase Tokens In Transactions |
| US10050429B2 | Remote Display |
| US10019708B2 | Utilizing Phrase Tokens In Transactions |
| CN103797443B | Simulating Three Dimensional Feature |
| CA2710883C | Enhancing And Storing Data For Recall And Use |
| JP06316236B2 | Utilization Of The Phrase Token In A Transaction |
| US9870426B2 | Managing Information Associated With Network Resources |
| EP2745219B1 | Managing Information Associated With Network Resources |
| EP2364470B1 | Movement Recognition As Input Mechanism |
| US9852394B1 | Light Emission Guidance |
| US9842584B1 | Providing Content On Multiple Devices |
| US9826022B2 | Sound Wave-Based Content Sharing |
| CN105398583B | Space Launch Vehicle Sea Landing And Related System And Method |
| KR1795196B1 | Unauthorized Product Detection Techniques |
| US9807044B2 | Selective Communication Of Messages |
| US9786294B1 | Visual Indication Of An Operational State |
| JP06189454B2 | Unapproved Product Detection Technique |
| US9747629B2 | Services For Enabling Users To Share Information Regarding E-Commerce Transactions Via User Created Communities |
| AU2015231761B2 | Object Tracking In Zoomed Video |
| US9710830B1 | Method And System For Dynamic Web Services Utilization |
| US9706028B1 | Protecting Devices From Impact Damage |
| US9697497B2 | Synchronization Of Digital Content |
| EP1825357B1 | Providing An Electronic Marketplace To Facilitate Human Performance Of Programmatically Submitted Tasks |
| CN103907112B | Managing Information Associated With Network Resources |
| CA2743914C | Movement Recognition As Input Mechanism |
| US9626084B2 | Object Tracking In Zoomed Video |
| AU2012296646B2 | Managing Information Associated With Network Resources |
| CN102884537B | Device For Positioning And Communication Method |
| AU2014207456B2 | Unauthorized Product Detection Techniques |
| US9575615B1 | Presenting Supplemental Content |
| US9576109B1 | Content Revenue Allocation |
| US9570071B1 | Audio Signal Transmission Techniques |
| CA2796595C | Approaches For Device Location And Communication |
| US9550561B1 | Determining Center Of Gravity Of An Automated Aerial Vehicle And A Payload |
| CN102246153B | Content Sharing |
| CN102939571B | Protection Device From Being Damaged By Impact Of The System And Method |
| CN101918939B | Enhancement And For Storing Calling Data |
| US9472939B1 | Remote Display |
| US9466286B1 | Transitioning An Electronic Device Between Device States |
| EP2534551B1 | Protecting Devices From Impact Damage |
| RU2595761C2 | Control Information Associated With Network Resources |
| SG201401267B | Managing Information Associated With Network Resources |
| US9405918B2 | Viewer-Based Device Control |
| US9390416B2 | Utilizing Phrase Tokens In Transactions |
| US9386427B1 | Communication Management Based On Communication Events |
| CN101080737B | Automatic Authorization Of Programmatic Transaction |
| CA2574215C | Performing Automatically Authorized Programmatic Transactions |
| US9304583B2 | Movement Recognition As Input Mechanism |
| JP05872043B2 | Management Of The Information Linked|Related With A Network Resource |
| US9274744B2 | Relative Position-Inclusive Device Interfaces |
| CN101258518B | Method And Apparatus For Subscription-Based Shipping Of |
| JP05838171B2 | Device Protection From Impact Damage |
| US9232353B2 | Approaches For Device Location And Communication |
| KR1574459B1 | Method And Apparatus For Subscription-Based Shipping |
| CN102762456B | Space Launch Vehicle Sea Landing And Related System And Method |
| CA2746262C | Content Sharing |
| KR1557885B1 | Method And Apparatus For Subscription-Based Shipping |
| US9123272B1 | Realistic Image Lighting And Shading |
| US9111542B1 | Audio Signal Transmission Techniques |
| RU2558166C2 | Carrier Rocket Sea Surfacing And Appropriate Systems And Methods |
| US9055017B2 | Selective Communication Of Messages |
| US9041734B2 | Simulating Three-Dimensional Features |
| US9037696B2 | Managing Information Associated With Network Resources |
| JP05706005B2 | Advertisement Service |
| JP05687758B2 | Apparatus Arrangement|Positioning, And The Method For Communication |
| US8972496B2 | Content Sharing |
| CA2451176C | Contextual Presentation Of Information About Related Orders During Browsing Of An Electronic Catalog |
| US8947349B1 | Projecting Content Onto A Display Medium |
| US8922480B1 | Viewer-Based Device Control |
| US8913004B1 | Action Based Device Control |
| US8892506B2 | Service For Accepting And Selectively Exposing User-Generated Lists |
| KR1440673B1 | Content Sharing |
| US8832319B2 | Synchronization Of Digital Content |
| US8788977B2 | Movement Recognition As Input Mechanism |
| JP05551335B2 | Method And Apparatus For Shipment Of A Subscription Base |
| US8744929B2 | Services For Enabling Users To Share Information Regarding E-Commerce Transactions |
| US8736228B1 | Charging An Electronic Device Including Traversing At Least A Portion Of A Path With An Apparatus |
| US8732011B2 | System For Implementing A Performance-Based Customer Referral Program |
| US8725838B2 | Content Sharing |
| US8725573B1 | Method And System For Creating And Maintaining A Virtual Library |
| CA2538854C | Method And System For Suppression Of Features In Pages Of Content |
| US8700392B1 | Speech-Inclusive Device Interfaces |
| US8678321B2 | Sea Landing Of Space Launch Vehicles And Associated Systems And Methods |
| KR1364394B1 | Method And Apparatus For Subscription-Based Shipping |
| US8612343B2 | Network-Based Payment Service Capable Of Generating Coding For Adding Payment Objects To Pages Of External Sites |
| US8589549B1 | Method And System For Customer Incentive-Based Management Of Computing Resource Utilization |
| JP05323880B2 | The Library Which Has The Emphasis Capability And Access With Respect To The Electronic Image Of A Text Based On The User Ownership Of A Corresponding Physical Text And Which Can Be Personalization Searched |
| US8554694B1 | Computer System And Method For Community-Based Shipping |
| KR1312227B1 | Movement Recognition As Input Mechanism |
| US8494923B2 | Internet-Based Customer Referral System |
| JP05222924B2 | Automatic Approval Of A Program Transaction |
| US8452727B2 | Service For Accepting And Selectively Exposing User-Generated Lists |
| US8447070B1 | Approaches For Device Location And Communication |
| US8423431B1 | Light Emission Guidance |
| US8392242B1 | Computer-Implemented Methods For Compensating Entities That Cooperatively Provide Access To Content On Web Sites |
| US8341036B2 | Combining Disparate Purchases Into A Single Purchase Order For Billing And Shipment |
| US8330305B2 | Protecting Devices From Impact Damage |
| US8306840B2 | Providing An Electronic Marketplace To Facilitate Human Performance Of Programmatically Submitted Tasks |
| US8280824B1 | Method And System For Dynamic Pricing Of Web Services Utilization |
| US8266074B1 | Method And System For Dynamic Pricing Of Web Services Utilization |
| US8225195B1 | Displaying Links At Varying Levels Of Prominence To Reveal Emergent Paths Based On User Interaction |
| JP04959817B2 | The Method In The Client System For Ordering An Item, And The Method In A Server System Of Accepting Order Of An Item |
| US8200580B1 | Automated Processes For Seeking Authorization To Make Printed Publications Searchable On A Network |
| US8180689B2 | Services For Enabling Users To Share Information Regarding E-Commerce Transactions |
| US8165923B2 | Contextual Presentation On Electronic Catalog Pages Of Information Reflective Of Prior Orders |
| US8150769B2 | Performing Automatically Authorized Programmatic Transactions |
| US8150768B2 | Performing Automatically Authorized Programmatic Transactions |
| US8140436B2 | Processes For Verifying Creators Of Works Represented In An Electronic Catalog |
| JP04782120B2 | Recognition Is Performed Automatically . |
| JP04782683B2 | The Library Which Has The Emphasis Capability And Access With Respect To The Electronic Image Of A Text Based On The User Ownership Of A Corresponding Physical Text And Which Can Be Personalization Searched |
| US8027884B2 | Contextual Presentation On Electronic Catalog Pages Of Information Reflective Of Prior Orders |
| US7970660B2 | Identifying Associations Between Items And Email-Address-Based User Communities |
| US7966334B1 | Information Retrieval Systems And Methods That Use User-Defined Lists To Identify Related Offerings |
| US7962415B2 | Performing Automatically Authorized Programmatic Transactions |
| US7962419B2 | Performing Automatically Authorized Programmatic Transactions |
| JP04692903B2 | Method And System Which Suppresses The Characteristic In The Page Of A Content |
| US7945469B2 | Providing An Electronic Marketplace To Facilitate Human Performance Of Programmatically Submitted Tasks |
| US7890850B1 | Method And System For Displaying A Hyperlink At Multiple Levels Of Prominence Based On User Interaction |
| US7831548B1 | Systems And Methods That Use Search Queries To Identify Related Lists |
| US7831439B1 | System And Method For Converting Gifts |
| US7801824B1 | Method And Apparatus To Facilitate Online Purchase Of Works Using Paid Electronic Previews |
| US7802200B1 | Detecting Inconsistencies And Incompatibilities Of Selected Items |
| US7792705B2 | Method And System For Placing A Purchase Order Via A Communications Network |
| US7778926B1 | Processes For Verifying, And Accepting Content Postings From, Creators Of Works Represented In An Electronic Catalog |
| US7778890B1 | Methods And Systems For Distributing Information Within A Dynamically Defined Community |
| US7743001B1 | Method And System For Dynamic Pricing Of Web Services Utilization |
| US7729994B2 | Performing Automatically Authorized Programmatic Transactions |
| US7711653B1 | System And Method For Facilitating Customer Service Utilizing Embedded Client Feedback Links |
| US7672874B2 | Contextual Presentation Of Information About Related Orders During Browsing Of An Electronic Catalog |
| US7660738B1 | Collecting Competitive Pricing Information Via A Merchant Web Site For Use In Setting Prices On The Merchant Web Site |
| CN100565448C | Electronic Middle Platform For Providing A Computer Implemented Method |
| US7617130B2 | Method And System For Information Exchange Between Users Of Different Web Pages |
| US7614552B2 | Marketplace System That Supports User-To-User Sales Via A Definitive Product Catalog |
| US7614547B2 | Marketplace System Capable Of Using Purchase History Data To Generate Listing Request Messages |
| US7600682B2 | Marketplace System In Which Users Generate Preorder Listings Via A Definitive Product Catalog |
| US7590563B1 | Method And Apparatus For Subscription-Based Shipping User Interface |
| US7590564B1 | Method And Apparatus For Shared Subscription-Based Shipping |
| US7590565B2 | Method And Apparatus For Subscription-Based Shipping |
| US7584152B2 | Automatic Authorization Of Programmatic Transactions |
| US7571121B2 | Computer Services For Identifying And Exposing Associations Between User Communities And Items In A Catalog |
| JP04300301B2 | Online Sales System |
| US7552365B1 | Web Site System With Automated Processes For Detecting Failure Events And For Selecting Failure Events For Which To Request User Feedback |
| US7548914B2 | System And Method For Providing Active Tags |
| US7542943B2 | Computer Services And Methods For Collecting Payments From And Providing Content To Web Users |
| US7536351B2 | User-To-User Payment Service With Payee-Specific Pay Pages |
| US7497369B2 | Metadata Service That Supports User-To-User Sales Via Third Party Web Pages |
| US7493274B2 | Marketplace System In Which Users Generate And Browse User-To-User Preorder Listings Via A Definitive Products Catalog |
| US7478054B1 | Sharing Information About Purchases |
| US7472077B2 | User Interfaces And Methods For Facilitating User-To-User Sales |
| US7467349B1 | Method And System For Displaying A Hyperlink At Multiple Levels Of Prominence Based On User Interaction |
| US7433832B1 | Methods And Systems For Distributing Information Within A Dynamically Defined Community |
| US7389294B2 | Services For Generation Of Electronic Marketplace Listings Using Personal Purchase Histories Or Other Indicia Of Product Ownership |
| US7383231B2 | Performing Automatically Authorized Programmatic Transactions |
| US7356507B2 | Network-Based User-To-User Payment Service |
| US7324976B2 | Automatic Authorization Of Programmatic Transactions |
| US7308425B2 | Method, System, And Medium For Assisting A User In Evaluating A Merchant In An Electronic Marketplace |
| US7254552B2 | Notification Service For Assisting Users In Selecting Items From An Electronic Catalog |
| US7149353B2 | Method And System For Suppression Of Features In Digital Images Of Content |
| US7006989B2 | Coordinating Delivery Of A Gift |
| US6917922B1 | Contextual Presentation Of Information About Related Orders During Browsing Of An Electronic Catalog |
| US6889250B2 | Method And System For Information Exchange Between Users Of Different Web Pages |
| US20200385134A1 | Propeller Safety For Automated Aerial Vehicles |
| US20200302394A1 | Synchronization Of Digital Content |
| RU2019107618A | Space Rocket-Carrier Control Method (Versions) |
| RU2018146302A | Reactive Control Engines Ensuring Maneuverability Under Adverse Weather Conditions, And Related Systems And Methods |
| US20200111107A1 | Unauthorized Product Detection Techniques |
| EP3464069A4 | Severe Weather Agility Thrusters, And Associated Systems And Methods |
| JP2019520255A | Bad Weather Agility Thrusters And Related Systems And Methods |
| CN109641671A | Bad Weather At A Smart-Type Propeller, And Associated System And Method |
| IN201817045323A | Severe Weather Agility Thrusters And Associated Systems And Methods |
| WO2018057068A3 | Severe Weather Agility Thrusters, And Associated Systems And Methods |
| US20180176164A1 | Selective Communication Of Messages |
| EP3120228A4 | Object Tracking In Zoomed Video |
| US20170364863A1 | Synchronization Of Digital Content |
| US20170349301A1 | Severe Weather Agility Thrusters, And Associated Systems And Methods |
| US20170316473A1 | Method And System For Dynamic Pricing Of Web Services Utilization |
| EP2443038A4 | Sea Landing Of Space Launch Vehicles And Associated Systems And Methods |
| CN107093075A | Utilizing Phrase Tokens In Transactions |
| EP2561466A4 | Approaches For Device Location And Communication |
| EP3180245A1 | Propeller Safety For Automated Aerial Vehicles |
| IN201717004490A | Propeller Safety For Automated Aerial Vehicles |
| EP2377034A4 | Content Sharing |
| IN201617031232A | Object Tracking In Zoomed Video |
| CN106022737A | Automatic Authorization Of Programmatic Transaction |
| US20160247151A1 | Performing Automatically Authorized Programmatic Transactions |
| EP2946357A4 | Unauthorized Product Detection Techniques |
| IN201506738P1 | Unauthorized Product Detection Techniques |
| IN201307105P1 | Advertisement Service |
| IN201401779P1 | Managing Information Associated With Network Resources |
| JP2016042395A | Method And Apparatus For Subscription-Based Shipping | Method, And Apparatus For Shipment Of A Subscription Base |
| WO2016025341A1 | Propeller Safety For Automated Aerial Vehicles |
| JP2016026125A | Sea Landing Of Space Launching Machine And Associated System And Method | Marine Landing, The Related System, And Method Of A Space Launch Machine |
| CN104995656A | Not By Authorization Production Detection Technology |
| WO2015142621A1 | Object Tracking In Zoomed Video |
| US20150169053A1 | Controlling Power Consumption Based On User Gaze |
| JP2014238890A | Enhancing And Storing Data For Recall And Use | The Enhance And Memory|Storage Of Data For A Recall And Use |
| EP2689385A4 | Advertisement Service |
| JP2014525089A | Three-Dimensional Feature Simulation |
| WO2014113590A1 | Unauthorized Product Detection Techniques |
| US20140172527A1 | System For Implementing A Network-Based User Referral Program |
| JP2014102857A | Method And Apparatus For Subscription-Based Shipping | Method And Apparatus For Shipment Of A Subscription Base |
| IN201400297P2 | Automatic Authorization Of Programmatic Transactions |
| IN201303858P2 | Method Of Performing Automatically Authorized Programmatic Transactions |
| US20130346186A1 | Method And System For Allocating Display Space |
| US20130238504A1 | Performing Automatically Authorized Programmatic Transactions |
| JP2013152728A | Utilization Of Phrase Token In Transaction | Utilization Of The Phrase Token In A Transaction |
| WO2013025717A3 | Managing Information Associated With Network Resources |
| US20130085896A1 | Placing A Purchase Order Via A Communications Network |
| US20130081036A1 | Providing An Electronic Marketplace To Facilitate Human Performance Of Programmatically Submitted Tasks |
| US20130030853A1 | Enhancing And Storing Data For Recall And Use |
| WO2013010011A1 | Simulating Three-Dimensional Features |
| JP2012530020A | Marine Landing And Related Systems And Methods Of Space Launch Vehicles |
| US20120296827A1 | Performing Automatically Authorized Programmatic Transactions |
| IN201110362P1 | Sea Landing Of Space Launch Vehicles And Associated Systems And Methods |
| US20120246003A1 | Advertisement Service |
| WO2012129224A1 | Advertisement Service |
| EP2250575A4 | Enhancing And Storing Data For Recall And Use |
| JP2012511787A | Sharing Of Content |
| JP2012509544A | Motion Recognition As An Input Mechanism |
| CN102239460A | Movement Recognition As Input Mechanism |
| WO2011133590A1 | Approaches For Device Location And Communication |
| EP2060040A4 | Utilizing Phrase Tokens In Transactions |
| WO2011100464A1 | Protecting Devices From Impact Damage |
| JP2011514573A | Enhancement And Storage Of Data For Recall And Use |
| IN201004303P4 | Enhancing And Storing Data For Recall And Use |
| WO2011005422A3 | Sea Landing Of Space Launch Vehicles And Associated Systems And Methods |
| WO2010068741A8 | Content Sharing |
| AU2011200505A1 | Method And System For Placing A Purchase Order Via A Communications Network |
| KR2010105773A | Enhancing And Storing Data For Recall And Use |
| WO2010059956A1 | Movement Recognition As Input Mechanism |
| US20100070501A1 | Enhancing And Storing Data For Recall And Use Using User Feedback |
| JP2010501961A | Use Of Phrase Token In Transaction |
| CN101529770A | Utilizing Phrase Tokens In Transactions |
| EP1846877A4 | Method And Apparatus For Subscription-Based Shipping |
| WO2009091700A1 | Enhancing And Storing Data For Recall And Use |
| US20090182622A1 | Enhancing And Storing Data For Recall And Use |
| IN200901326P4 | Utilizing Phrase Tokens In Transactions |
| WO2008021983A3 | System And Method For Providing Active Tags |
| WO2006083812A8 | Method And Apparatus For Subscription-Based Shipping |
| WO2008025037A3 | Utilizing Phrase Tokens In Transactions |
| US20080077508A1 | Marketplace System In Which Users Generate User-To-User Preorder Listings Via A Definitive Product Catalog |
| JP2008507065A | Automatic Approval Of Programmatic Transactions |
| CA2661758A1 | Utilizing Phrase Tokens In Transactions |
| EP1330759A4 | Network-Based User-To-User Payment Service |
| US20070294140A1 | Method And System For Publicizing Commercial Transactions On A Computer Network |
| CN101076828A | Programmatic Transaction To Execute Auto-Authorization |
| IN200703360P4 | Method And Apparatus For Subscription-Based Shipping |
| EP1678658A4 | Method And System For Suppression Of Features In Pages Of Content |
| IN200702180P2 | Providing An Electronic Marketplace To Facilitate Human Performance Of Programatically Submitted Tasks |
| IN200700218P2 | Automatic Authorization Of Programmatic Transactions |
| IN200700217P2 | Performing Automatically Authorized Programmatic Transactions |
| JP2007503651A | Manufacture Of Units Of Items According To The Demand Of Items Expected From Page View Data |
| EP1658585A4 | Manufacturing Units Of An Item In Response To Demand For The Item Projected From Page-View Date |
| WO2006055636A3 | Providing An Electronic Marketplace To Facilitate Human Performance Of Programmatically Submitted Tasks |
| WO2006014668A3 | Performing Automatically Authorized Programmatic Transactions |
| CA2596353A1 | Method And Apparatus For Subscription-Based Shipping |
| WO2006014721A3 | Automatic Authorization Of Programmatic Transactions |
| CA2574198A1 | Automatic Authorization Of Programmatic Transactions |
| EP1440401A4 | Services For Generation Of Electronic Marketplace Listings Using Personal Purchase Histories Or Other Indicia Of Product Ownership |
| WO2005022309A3 | Manufacturing Units Of An Item In Response To Demand For The Item Projected From Page-View Date |
| AU2002342226A8 | Services For Generation Of Electronic Marketplace Listings Using Personal Purchase Histories Or Other Indicia Of Product Ownership |
| AU2002316461A8 | Contextual Presentation Of Information About Related Orders During Browsing Of An Electronic Catalog |
| AU2002234078A8 | Network-Based User-To-User Payment Service |
| US20050154651A1 | Contextual Presentation Of Information About Prior Transactions During Browsing Of An Electronic Catalog |
| WO2005032031A3 | Method And System For Suppression Of Features In Pages Of Content |
| CA2537046A1 | Manufacturing Units Of An Item In Response To Demand For The Item Projected From Page-View Data |
| US20050049909A1 | Manufacturing Units Of An Item In Response To Demand For The Item Projected From Page-View Data |
| JP2004535015A | Context Display Of Information For The Relevant Order In While Browsing The Electronic Catalog |
| EP1407408A4 | Contextual Presentation Of Information About Related Orders During Browsing Of An Electronic Catalog |
| JP2004514991A | How To Share The Information About The Purchase |
| JP2004513422A | Network-Based User-To-User Payment Service |
| WO2003038560A3 | Services For Generation Of Electronic Marketplace Listings Using Personal Purchase Histories Or Other Indicia Of Product Ownership |
| EP1337956A2 | Sharing Information About Purchases |
| WO2003005151A3 | Contextual Presentation Of Information About Related Orders During Browsing Of An Electronic Catalog |
| US20030055729A1 | Method And System For Allocating Display Space |
| WO2002037233A3 | Network-Based User-To-User Payment Service |
| WO2002042977A8 | Sharing Information About Purchases |
| WO2001035291A8 | Method And System For Allocating Display Space |
| AU200216674A | Sharing Information About Purchases |
| AU200234078A | Network-Based User-To-User Payment Service |
| WO2000058894A8 | Method And System For Publicizing Commercial Transactions On A Computer Network |
| AU200113549A | Method And System For Allocating Display Space |
| AU200047150A | Systems And Methods For Assisting Users In Selecting And Evaluating Items From An Electronic Catalog |
| WO2000062223A1 | Systems And Methods For Assisting Users In Selecting And Evaluating Items From An Electronic Catalog |
| AU200039299A | Method And System For Publicizing Commercial Transactions On A Computer Network |