Mark Elliot Zuckerberg is a media mogul, internet entrepreneur, and philanthropist from the United States. He is best recognized for co-founding Facebook and serving as the company's chairman, CEO, and controlling shareholder. He is also a board member of Breakthrough Starshot, a solar sail spacecraft development project. As of October 2021, Zuckerberg has a net worth of $122 billion, making him the world's fifth-richest person.
"By giving people the power to share, we're making the world more transparent."
Since 2008, Time magazine has recognized Zuckerberg as one of the world's 100 most influential people as part of its Person of the Year award, which he won in 2010. Zuckerberg was placed 10th on Forbes' list of the World's Most Powerful People in December 2016.
You can also read our analysis on, Facebook's Patent Portfolio.
Mark Zuckerberg Patents
Mark Zuckerberg's patent portfolio has 177 patents that belong to 31 unique patent families. We have used the below exhibits to highlight the key statistics of Mark Zuckerberg's patent portfolio.
Worldwide Patents Status
Patent Families
How Many Patents did Mark Zuckerberg File Every Year?
How Many Patents did Mark Zuckerberg File in Different Countries?
Countries in which Mark Zuckerberg Filed Patents
| | |
| --- | --- |
| Country | Patents |
| United States Of America | 115 |
| Australia | 9 |
| Canada | 9 |
| Japan | 9 |
| Brazil | 5 |
| Europe | 5 |
| China | 5 |
| India | 3 |
| South Africa | 2 |
| Korea (South) | 2 |
| Mexico | 1 |
What Technologies are covered by Mark Zuckerberg's Patents?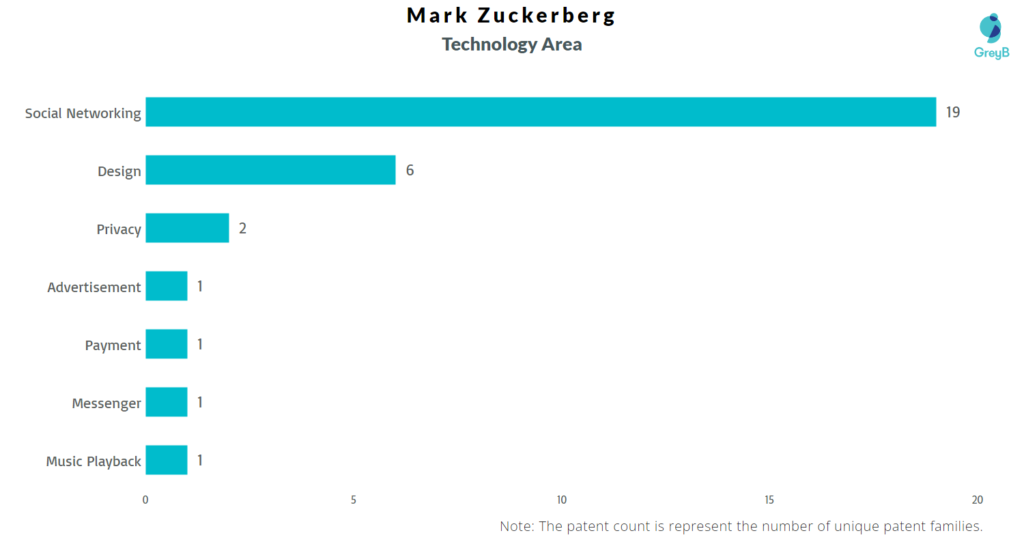 We can sum up that patents related to Social Networking majorly refers to the display of content i.e. in Facebook's timeline and thereof covering a major portion of what we see in Facebook today, from our personalized timeline to dynamically updating news feed to the comment/compliment feature of Facebook and the other features which we get to use in the website.
Design patents are basically related to the User Interface of the website Facebook.com
Patents related to privacy includes the process of masking the identity of a targeted user from an advertiser and also the privacy settings which are available for the user on the website.
Advertisement-related patent is basically to the sponsored posts and a feed containing the sponsored articles and news stories about one or more than one user of the social media platform with whom the viewing user is linked and may be generated by the platform itself. This stream could be made available for the viewing person to see.
Messenger patent refers to messaging systems, and more specifically to a messaging system that allows users to converse across many channels. Its application can be realized in the popular Facebook Messenger App.
Patent related to Music Playback relates to identifying patterns in people's particular listening habits and constructing playback streams based on those patterns. The innovation can be utilized with many other devices which can learn the patterns of the person who is using them.
Subscription patent refers to a subscription/paid plan which unlocks certain customization for any user and they can pay to have their profiles personalized on social networking platforms accordingly. The user can choose one or more social media items to replace commercials or other components that would otherwise be controlled by the platform and presented to visitors of the user's profile page.
Among these patents, Mark's latest invention was filed in the year 2020 is the patent US10984174B1 – Dynamically providing a feed of stories about a user of a social networking system.
Missing a piece of information, article, or data on social media platforms is a very common phenomenon and even wastes a lot of time while researching the same. No issues, Mark Zuckerberg's patent will come to your rescue.
Traditionally, a user of a social networking site connects with other users by supplying personal information to a social networking website that other users can access. There are procedures in place that allow a user to display data about other users. Some techniques may allow the user to pick and choose which articles they want to see right away. The majority of the time, though, these articles are disjointed and fragmented. To put it another way, the user must devote time to investigate a news issue and many of the articles are irrelevant to the user. Similarly, the user may be uninformed of the presence of some news articles that were missed throughout their search.
The patent US10984174B1 states a technique that a list of the subject user's activity on the social network can be compiled from the social network's numerous databases. This data stream is generated automatically depending on the activities list of the user following which the list can then be filtered and may be presented as a collection of data items in a predetermined sequence. Which can solve the problem efficiently. Viola!!
10 Best Mark Zuckerberg Patents
USD653258S1 is the most popular patent in the Mark Zuckerberg's portfolio. It has received 77 citations so far from companies like Microsoft Corporation, Apple Inc. and Adobe Inc.
| | |
| --- | --- |
| Publication Number | Citation Count |
| USD653258S1 | 77 |
| US20110087526A1 | 49 |
| USD710876S1 | 27 |
| US20130030987A1 | 25 |
| USD747329S1 | 21 |
| US20040230672A1 | 13 |
| US9798440B2 | 5 |
| US9767205B2 | 4 |
| US8943136B2 | 4 |
| US9773284B2 | 3 |
List of Mark Zuckerberg's Patents
| | |
| --- | --- |
| Publication Number | Title |
| US10984174B1 | Dynamically providing a feed of stories about a user of a social networking system |
| USD916104S1 | Display panel of a programmed computer system with a graphical user interface |
| IN362159B | Personalizing a web page outside of a social networking system with content from the social networking system |
| US10908765B1 | Displaying dynamic user interface elements in a social networking system |
| USD886118S1 | Display panel of a programmed computer system with a graphical user interface |
| US10614425B2 | Communicating plans for users of a social networking system |
| EP2638647B1 | Messaging system with multiple messaging channels |
| US10579711B1 | Dynamically providing a feed of stories about a user of a social networking system |
| US10582006B2 | Profile page with biographical summary for social networking system user |
| US10574781B2 | Profile page with biographical summary for social networking system user |
| US10379703B2 | Filtering content in a social networking service |
| US10348792B2 | Dynamically updating media content for display to a user of a social network environment based on user interactions |
| US10341404B2 | Dynamically updating media content for display to a user of a social network environment based on user interactions |
| US10339562B2 | Protecting identities of users to whom advertising is targeted |
| US10296536B2 | Tagging digital media |
| US10296159B2 | Displaying dynamic user interface elements in a social networking system |
| US10261970B2 | Mapping relationships between members in a social network |
| US10242067B2 | Selecting social networking system user information for display via a timeline interface |
| USD834036S1 | Display panel of a programmed computer system with a graphical user interface |
| US10068258B2 | Sponsored stories and news stories within a newsfeed of a social networking system |
| KR1883309B1 | The display of the social networking system user information through the timeline interface. |
| KR1879702B1 | The messaging system having the multiple messaging channel. |
| CN101849229B | Activity in a social network website with other domains from related information |
| US9984391B2 | Social advertisements and other informational messages on a social networking website, and advertising model for same |
| US9984392B2 | Social advertisements and other informational messages on a social networking website, and advertising model for same |
| US9965544B2 | Managing information about relationships in a social network via a social timeline |
| US9946430B2 | Displaying social networking system user information via a timeline interface |
| US9940308B2 | Dynamically providing a feed of stories about a user of a social networking system |
| US9930137B2 | Personalizing a web page outside of a social networking system with content from the social networking system |
| US9929994B2 | Organizing messages into conversation threads |
| US9923981B2 | Capturing structured data about previous events from users of a social networking system |
| CA2703851C | Communicating information in a social networking website about activities from another domain |
| US9800529B2 | Organizing conversation threads based on social information |
| US9798440B2 | Aggregating social networking system user information for diversified timeline view |
| US9798438B2 | Aggregating social networking system user information for timeline view |
| US9798439B2 | Timeline view filtered by permissions and affinity to viewer |
| CA2847496C | Displaying social networking system user information via a timeline interface |
| US9773284B2 | Displaying social networking system user information via a map interface |
| US9767205B2 | Displaying social networking system user information via a historical newsfeed |
| JP06196973B2 | The user information of a social networking system displays via a time-line interface. |
| AU2012312857B2 | Displaying social networking system user information via a timeline interface |
| USD787528S1 | Display panel of a programmed computer system with a graphical user interface |
| USD787538S1 | Display panel of a programmed computer system with a graphical user interface |
| IN283146B | A method of providing information about users of a social network and system thereof |
| US9646027B2 | Tagging digital media |
| US9639243B2 | Communicating plans for users of a social networking system |
| US9621500B2 | Messaging system with multiple messaging channels |
| JP06109743B2 | The messaging system which has several messaging channel |
| USD775647S1 | Display panel of a programmed computer system with a graphical user interface |
| CA2704680C | Social advertisements and other informational messages on a social networking website |
| USD769294S1 | Display panel of a programmed computer system with a graphical user interface |
| US9438548B2 | Adding contextual information to messages |
| US9413812B2 | Managing information about relationships in a social network via a social timeline |
| USD763295S1 | Display panel of a programmed computer system with a graphical user interface |
| USD760760S1 | Display panel of a programmed computer system with a graphical user interface |
| CA2796944C | Personalizing a web page outside of a social networking system with content from the social networking system |
| AU2011326513B2 | Messaging system with multiple messaging channels |
| USD749113S1 | Display panel of a programmed computer system with a graphical user interface |
| US9241036B2 | Dynamically providing a feed of stories about a user of a social networking system |
| USD747329S1 | Display panel of a programmed computer system with a graphical user interface |
| US9223479B2 | Communicating plans for users of a social networking system |
| US9219704B2 | Organizing messages into conversation threads |
| CN102812432B | Using the web page content from the social networking system personalized social network system |
| US9203796B2 | Messaging system with multiple messaging channels |
| US9183599B2 | Mapping relationships between members in a social network |
| USD742415S1 | Display panel of a programmed computer system with a graphical user interface |
| USD737839S1 | Display panel of a programmed computer system with a graphical user interface |
| USD737307S1 | Display panel of a programmed computer system with a graphical user interface |
| USD737308S1 | Display panel of a programmed computer system with a graphical user interface |
| USD736814S1 | Display panel of a programmed computer system with a graphical user interface |
| US9110953B2 | Filtering content in a social networking service |
| USD736243S1 | Display panel of a programmed computer system with a graphical user interface |
| USD735745S1 | Display panel of a programmed computer system with a graphical user interface |
| USD735746S1 | Display panel of a programmed computer system with a graphical user interface |
| BR302012000278S1 | Graphic pattern applied on computer system interface |
| BR302012000279S1 | Ornamental pattern applied to graphic interface |
| US9092826B2 | Profile page with biographical summary for social networking system user |
| US9065798B2 | Personalizing a web page outside of a social networking system with content from the social networking system |
| US9049203B2 | Systems and methods for dynamically generating a privacy summary |
| US8978893B2 | Adding a compliment to a user's experience on a user's social networking profile |
| MX328383B | System of sending of messages with multiple channels of delivery of messages. |
| USD723583S1 | Display panel of a programmed computer system with a graphical user interface |
| US8943098B2 | Managing information about relationships in a social network via a social timeline |
| US8943136B2 | Creating and sharing interest lists in a social networking system |
| USD717813S1 | Display panel of a programmed computer system with a graphical user interface |
| USD717814S1 | Display panel of a programmed computer system with a graphical user interface |
| USD717815S1 | Display panel of a programmed computer system with a graphical user interface |
| USD717816S1 | Display panel of a programmed computer system with a graphical user interface |
| US8887066B1 | Communicating plans for users of a social networking system |
| US8887035B2 | Capturing structured data about previous events from users of a social networking system |
| US8869017B2 | Aggregating social networking system user information for display via stories |
| CA2660459C | Communicating a newsfeed of media content based on a member's interactions in a social environment |
| US8832560B2 | Displaying social networking system user information via a historical newsfeed |
| US8812360B2 | Social advertisements based on actions on an external system |
| USD710876S1 | Display panel of a programmed computer system with a graphical user interface |
| US8799068B2 | Social advertisements and other informational messages on a social networking website, and advertising model for same |
| US8775247B2 | Presenting personalized social content on a web page of an external system |
| US8775325B2 | Presenting personalized social content on a web page of an external system |
| US8726142B2 | Selecting social networking system user information for display via a timeline interface |
| US8667064B2 | Personalizing a web page outside of a social networking system with content from the social networking system |
| ZA201206042B | Personalizing a web page outside of a social networking system with content from the social networking system |
| JP05383950B2 | Individualizing of the web page of the social networking system exterior using the content from a social networking system |
| USD695304S1 | Display panel of a programmed computer system with a graphical user interface |
| US8583690B2 | Managing information about relationships in a social network via a social timeline |
| US8583738B2 | Personalizing a web page outside of a social networking system with content from the social networking system that includes user actions |
| US8572174B2 | Personalizing a web page outside of a social networking system with content from the social networking system selected based on global information |
| US8510380B2 | Creating and sharing interest lists in a social networking system |
| USD685818S1 | Display panel of a programmed computer system with a graphical user interface |
| US8478658B2 | Auction-based selection and presentation of polls to users |
| JP05204774B2 | The system and method of providing the user of an electronic device with the media content dynamically selected in the social network environment |
| JP05186569B2 | The social advertisement on a social networking website, another information message, and its advertising model |
| JP05186570B2 | In a social networking website, the information about action in another domain is communicated. |
| US8412821B2 | Dynamically updating media content for display to a user of a social networking environment based on user interaction |
| US8225376C1 | Dynamically generating a privacy summary |
| US8352859B2 | Dynamically providing a feed of stories about a user of a social networking system |
| AU2011243009B2 | Personalizing a web page outside of a social networking system with content from the social networking system |
| US8312140B2 | Dynamically updating media content for display to a user of a social network environment based on user interactions |
| AU2008324952B2 | Communicating information in a social networking website about activities from another domain |
| CA2660539C | System and method for dynamically providing a news feed about a user of a social network |
| US8280959B1 | Personalizing a web page outside of a social networking system with recommendations for content from the social networking system |
| US7669123C1 | Dynamically providing a news feed about a user of a social network |
| AU2008324951B2 | Social advertisements and other informational messages on a social networking website, and advertising model for same |
| US8250145B2 | Personalizing a web page outside of a social networking system with content from the social networking system |
| US8249943B2 | Auction based polling |
| AU2007284813B2 | Systems and methods for providing dynamically selected media content to a user of an electronic device in a social network environment |
| US8171128B2 | Communicating a newsfeed of media content based on a member's interactions in a social network environment |
| AU2007284810B2 | System and method for dynamically providing a news feed about a user of a social network |
| USD653671S1 | Display panel of a programmed computer system with a graphical user interface |
| JP04866463B2 | The system and method of providing the reporting service about the user of a social network dynamically |
| USD653258S1 | Display panel of a programmed computer system with a graphical user interface |
| US8099433B2 | Managing information about relationships in a social network via a social timeline |
| USD652424S1 | Display panel of a programmed computer system with a graphical user interface |
| US7945653B2 | Tagging digital media |
| ZA201002652B | Communication information in a social networking website about activities from another domain |
| US7797256B2 | Generating segmented community flyers in a social networking system |
| US7725492B2 | Managing information about relationships in a social network via a social timeline |
| BRPI0819254A2 | System and methods of communication and for facilitating the communication of information in place of in social network web on the activities from the other domain and carried out of social network |
| BR112013011691A2 | The message system with multiple channels of message |
| US20170351773A1 | Displaying social networking system user information via a historical newsfeed |
| BR112012020416A2 | Method for obtain and provide information social |
| US20150100899A1 | Complimenting a user's experience in a social networking |
| EP2561436A4 | Personalizing a web page outside of a social networking system with content from the social networking system |
| IN201303740P4 | Messaging system with multiple messaging channels |
| WO2012064876A3 | Messaging system |
| CN103392306A | Messaging system with multiple messaging channels |
| US20130204954A1 | Communicating information in a social networking website about activities from another domain |
| WO2013043345A1 | Displaying social networking system user information via a timeline interface |
| US20130030987A1 | Paid profile personalization |
| EP2210185A4 | Communicating information in a social networking website about activities from another domain |
| CA2817565A1 | Messaging system with multiple messaging channels |
| WO2012064875A1 | Messaging system with multiple messaging channels |
| US20120124483A1 | Multi-mode message reply interface |
| US20120109757A1 | Sponsored stories and news stories within a newsfeed of a social networking system |
| WO2011133403A1 | Personalizing a web page outside of a social networking system with content from the social networking system |
| US20110225481A1 | Tagging digital media |
| US20110202822A1 | System and Method for Tagging Digital Media |
| US20110087526A1 | Social network economy using gift credits |
| WO2010101851A1 | Filtering content in a social networking service |
| CN101495991A | Systems and methods for social mapping |
| US20090182589A1 | Communicating Information in a Social Networking Website About Activities from Another Domain |
| JP2009521752A | System and method for generating a social timeline |
| JP2009520276A | System and method for social mapping |
| WO2009061616A1 | Social advertisements and other informational messages on a social networking website, and advertising model for same |
| WO2009061617A1 | Communicating information in a social networking website about activities from another domain |
| WO2007070676A3 | Systems and methods for social mapping |
| WO2008147572A8 | Systems and methods for auction based polling |
| CN101366029A | Systems and methods for generating a social timeline |
| WO2008021097A3 | System and method for dynamically providing a news feed about a user of a social network |
| WO2008021100A3 | Systems and methods for providing dynamically selected media content to a user of an electronic device in a social network environment |
| EP1971911A2 | Systems and methods for generating a social timeline |
| EP1964003A2 | Systems and methods for social mapping |
| AU2006330852A1 | Systems and methods for generating a social timeline |
| AU2006326015A1 | Systems and methods for social mapping |
| WO2007076150A8 | Systems and methods for generating a social timeline |
| CA2634928A1 | Systems and methods for generating a social timeline |
| CA2633512A1 | Systems and methods for social mapping |
| US20040230672A1 | Methods and apparatus for recognizing a pattern of using information units and generating a stream of information units in accordance with a recognized pattern |
Authored By: Navjyot Singh, Insights;Gate Team