Satyanarayana Nadella, the man who rebuilt Microsoft is an Indian-born American business leader. He is the executive chairman and CEO of Microsoft, succeeding Steve Ballmer in 2014 as CEO and John W. Thompson in 2021 as chairman. Prior to becoming CEO, he was the executive VP of Microsoft's cloud and enterprise group, in charge of building and running the organization's computing platform. Nadella was successful in leading the firm out of its tough times. What Nadella did was not just move away from the Windows past but also build and fund future businesses such as cloud computing. Under his supervision, Microsoft has more cloud computing revenue than Google, more subscribers than Netflix, and nearly a trillion-dollar market capital.
"As chairman and CEO of Microsoft, I define my mission and that of my company as empowering every person and every organization on the planet to achieve more."
He is a board member of Fred Hutchinson Cancer Research Centre and a member of the board of trustees at the University of Chicago. Nadella's autobiography 'Hit Refresh' explores his life and career in Microsoft. It elaborates on how technology will shape the future.
In 2018, he was a Time 100 honouree. In 2019, Nadella was named Financial Times Person of the Year and Fortune magazine Businessperson of the Year. In 2020, Nadella was recognized as Global Indian Business Icon at CNBC-TV18's India Business Leader Awards in Mumbai.
You can also read our analysis, Microsoft Patents – Key Insights and Statistics, to get a complete overview of Microsoft's Patent portfolio.
How many patents does Satya Nadella have?
Satya Nadella's patent portfolio has 34 patents that belong to 2 unique patent families. We have used the below exhibits to highlight the key statistics of Satya Nadella's patent portfolio.
Worldwide Patents Status
Satya Nadella Innovation focus
In the table below, we have picked one unique patent from each family.
| | | |
| --- | --- | --- |
| Publication Number | Title | Technology |
| US10606989B2 | Computational systems and methods for verifying personal information during transactions | Payment/Security |
| US10169339B2 | Context-sensitive query enrichment | AI (Artificial Intelligence) |
How Many Patents did Satya Nadella File every Year?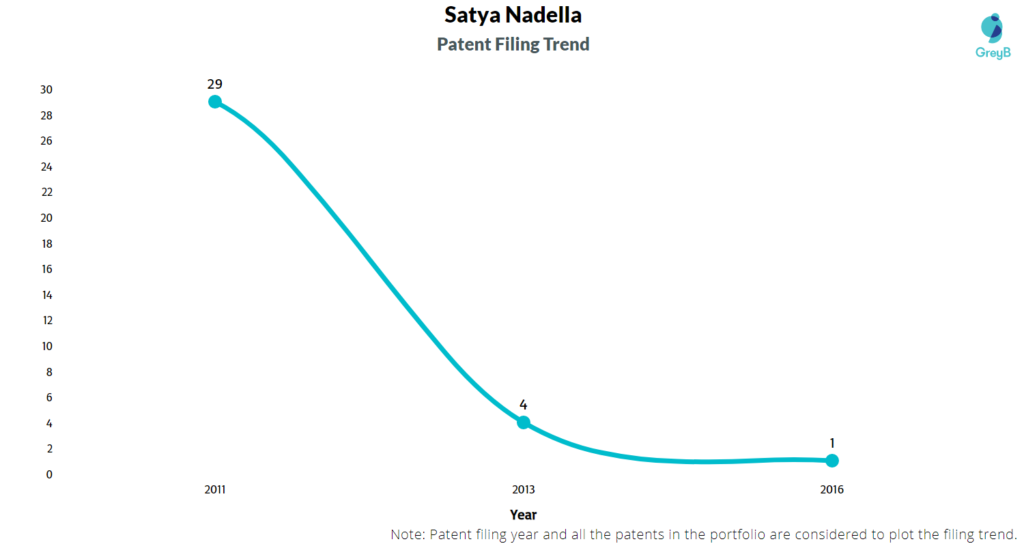 An Interesting Patent of Satya Nadella
US20130106893A1 is the most popular patent in the Satya Nadella portfolio. It has received 62 citations so far from companies like FedEx Corporate Services Inc and LexSet.ai Llc.
Below is the list of 10 most cited patents of Satya Nadella:
| | |
| --- | --- |
| Publication Number | Citation Patents |
| US20130106893A1 | 62 |
| US20130110804A1 | 53 |
| US20130060868A1 | 40 |
| US20130106682A1 | 34 |
| US20130106894A1 | 18 |
| US20130106892A1 | 17 |
| US9141977B2 | 16 |
| US9183520B2 | 12 |
| US9159055B2 | 11 |
| US8959082B2 | 11 |
List of Satya Nadella Patents
| | |
| --- | --- |
| Patent Number | Title |
| US10606989B2 | Computational systems and methods for verifying personal information during transactions |
| US10546295B2 | Computational systems and methods for regulating information flow during interactions |
| US10546306B2 | Computational systems and methods for regulating information flow during interactions |
| US10523618B2 | Computational systems and methods for identifying a communications partner |
| US10263936B2 | Computational systems and methods for identifying a communications partner |
| US10198729B2 | Computational systems and methods for regulating information flow during interactions |
| US10185814B2 | Computational systems and methods for verifying personal information during transactions |
| US10169339B2 | Context-sensitive query enrichment |
| US10079811B2 | Computational systems and methods for encrypting data for anonymous storage |
| US10074113B2 | Computational systems and methods for disambiguating search terms corresponding to network members |
| US9928485B2 | Computational systems and methods for regulating information flow during interactions |
| US9747561B2 | Computational systems and methods for linking users of devices |
| US9690853B2 | Computational systems and methods for regulating information flow during interactions |
| US9569439B2 | Context-sensitive query enrichment |
| US9491146B2 | Computational systems and methods for encrypting data for anonymous storage |
| US9473647B2 | Computational systems and methods for identifying a communications partner |
| US9432190B2 | Computational systems and methods for double-encrypting data for subsequent anonymous storage |
| US9195848B2 | Computational systems and methods for anonymized storage of double-encrypted data |
| US9183520B2 | Computational systems and methods for linking users of devices |
| US9167099B2 | Computational systems and methods for identifying a communications partner |
| US9159055B2 | Computational systems and methods for identifying a communications partner |
| US9141977B2 | Computational systems and methods for disambiguating search terms corresponding to network members |
| US8959082B2 | Context-sensitive query enrichment |
| US20130268773A1 | COMPUTATIONAL SYSTEMS AND METHODS FOR PREPARING DATA FOR DOUBLE-ENCRYPTION AND ANONYMOUS STORAGE |
| US20130106682A1 | Context-sensitive query enrichment |
| US20130106683A1 | Context-sensitive query enrichment |
| US20130106892A1 | Context-sensitive query enrichment |
| US20130106893A1 | Context-sensitive query enrichment |
| US20130106894A1 | Context-sensitive query enrichment |
| US20130110804A1 | Context-sensitive query enrichment |
| US20130060624A1 | Computational systems and methods for regulating information flow during interactions |
| US20130060695A1 | Computational systems and methods for regulating information flow during interactions |
| US20130060852A1 | Computational systems and methods for regulating information flow during interactions |
| US20130060868A1 | Computational systems and methods for identifying a communications partner |
Authored By: Navjyot Singh & Prinkal, Insights;Gate Team