Nuro is an autonomous driving company that was founded in 2016 by two former Google employees – Jiajun Zhu and Dave Ferguson. The focus of the company majorly has been towards transporting goods via completely unmanned vehicles. Till now, they have been able to raise about $ 1.5 Billion with giants like Softbank backing them.
They launched their first product in 2018 – R1. It was an electric self-driving vehicle that had the capacity of carrying 12 grocery bags and could be easily identified due to its unique design.
After the success of R1, they launched R2 which can now carry a wider range of products in different weather conditions. R2 is the first completely autonomous vehicle to gain approval from the U.S. Department of Transportation. Recently, Dominos has started an experiment in Houston where they will be using R2 vehicles for food deliveries to a select set of customers.
Since the company is based on autonomous deliveries, therefore most of their patents are based on autonomous technologies like fleet management, LiDAR, etc.
The startup has 111 patents in its portfolio that belong to 21 patent families. Below are the key highlights of Nuro's patents.
What technologies are protected by Nuro's Patents?
The chart below divides 21 patent families of Nuro into different technology clusters. More details on these clusters are here: Technological Profile of Nuro's Patents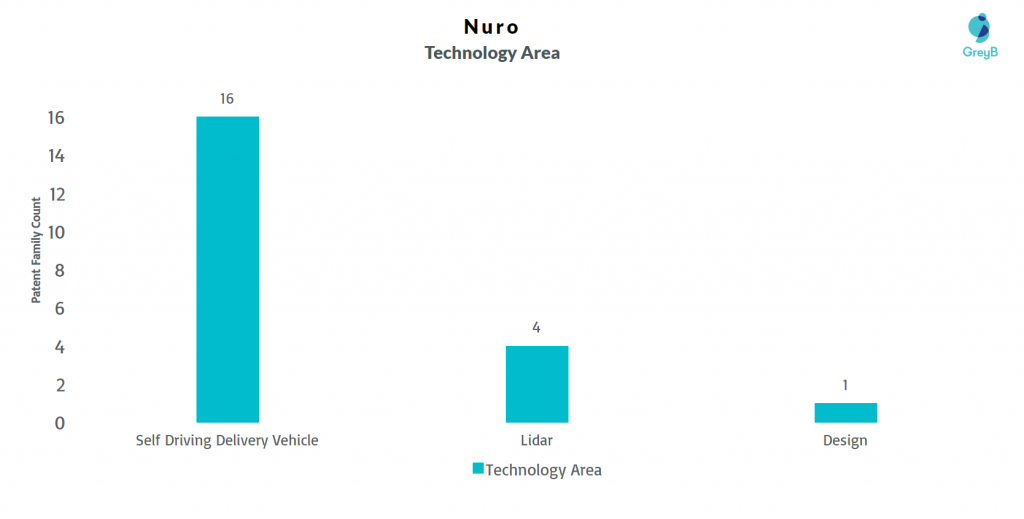 How Many of Nuro's Patents are Alive/Dead?
Worldwide Patents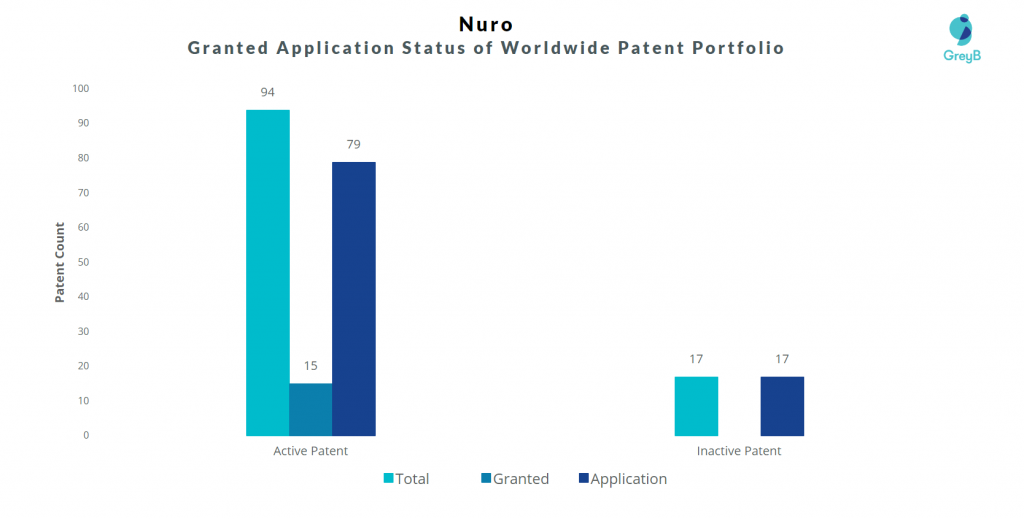 Patent Families
How Many Patent Applications did Nuro File Every Year?
We included all patents to plot the Filing trend of Nuro patents. A patent family can have multiple patent documents – filed globally or in a single country – covering a single invention.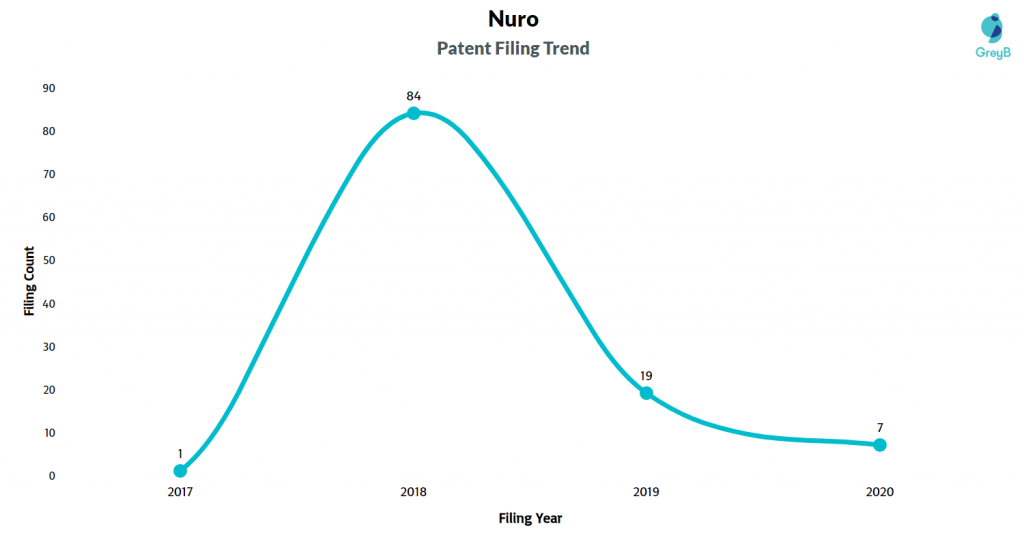 The drop during recent years doesn't suggest a decrease in patent filing. It is there because patent applications filed during the last two years are still in the process of being published.
How Many Patents did Nuro File in Different Countries?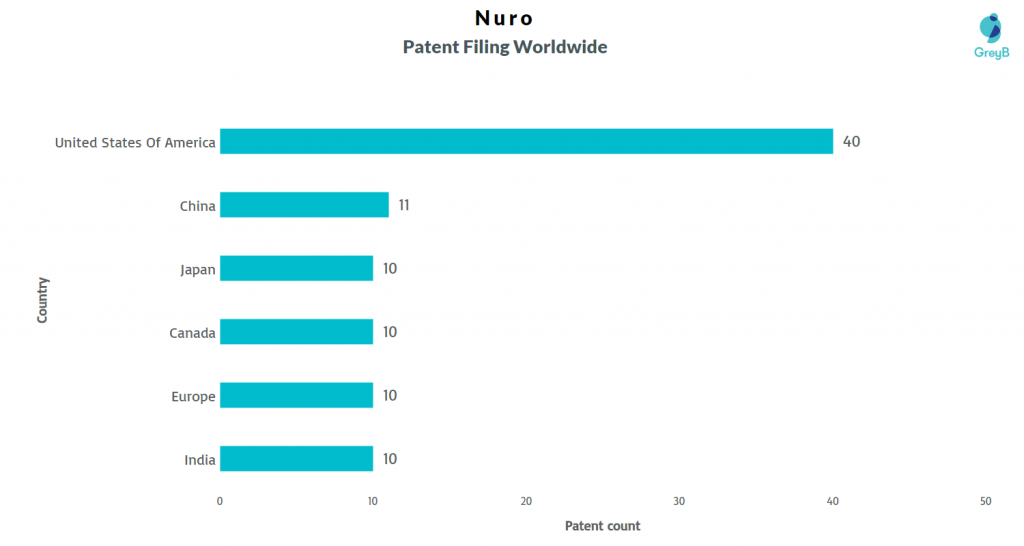 Where Research Centers of Nuro are Located?
The chart below is plotted by considering the country where an invention in a patent family was introduced for the first time. In turn, this helps find the R&D centers across the globe and lets us peek into the kind of research going on in a particular country.
The chart below distributes patents filed by Nuro in different countries on the basis of the technology covered in patents. It also represents the markets where Nuro thinks it's important to protect particular technology inventions.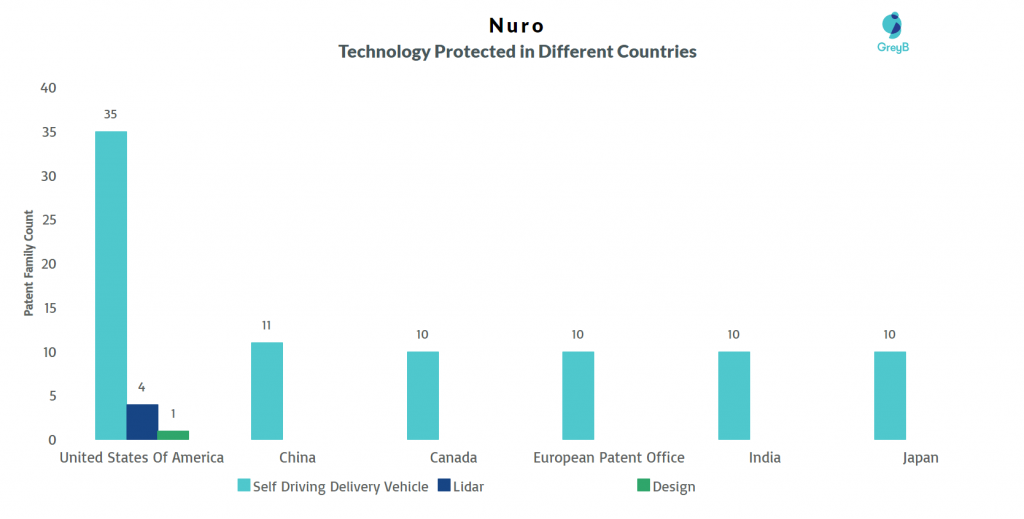 How R&D Direction of Nuro Changed Over the Years?
This exhibit below shares how the research focus of Nuro changed over the years. Throughout the timelines, their patents have mostly focused on Self Driving Delivery vehicles.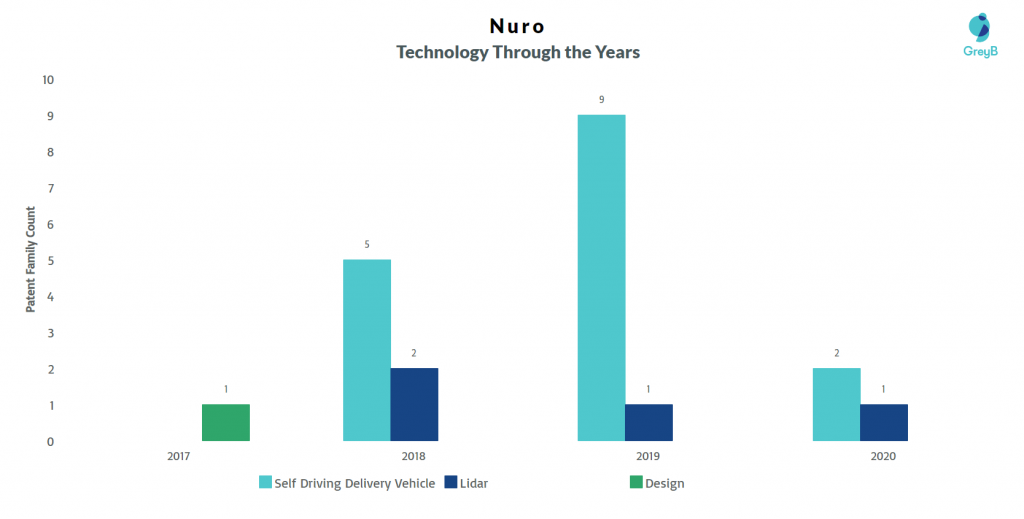 What is the Success Rate of Nuro at the USPTO?
Nuro has filed 42 patent applications at USPTO so far (Excluding Design and PCT applications). Below are the key stats of Nuro patent prosecution at the USPTO

Top Law firms that prosecuted most patents for Nuro in the USA
| | | |
| --- | --- | --- |
| Law Firm | Total Apps | Allowance Rate |
| Edell Shapiro & Finnan Llc | 27 | 100.0% |
| Nuro Inc | 13 | 100.0% |
| Nuro Inc In House Matters | 2 | 0% |
Following are some interesting highlights
Nuro's minimum average number of office actions is 1.4.
Nuro's average minimum time for issuance is 1.42 Years.
Edell Shapiro & Finnan at 1.6 has the maximum average number of office actions for Nuro.
Edell Shapiro & Finnan 1.48 Years is the average maximum time for issuance.