Patrick Paul Gelsinger is an American business leader and engineer, currently serving as CEO of Intel. Previously, he was CEO of VMware and president and chief operating officer (COO) at EMC, he served as Intel's first CTO, then as senior vice president and general manager of the Digital Enterprise group. Patrick architected the Intel 80486 processor.
Gelsinger has contributed to VMware's success over the past 8.5 years, under his supervision, VMware doubled the company's size and increased its annual revenue from $4.5 billion to now nearly $12 billion.
"We're committed to leadership products, but also innovation that fundamentally has us leading the industry in a consistent basis, and sometimes that may happen outside of the company, sometimes it will be inside of the company, but we're committed to leading innovation and delivering the best products for our customers in every category that we participate in."
He is an IEEE Fellow, and serves as a member of the National Security Telecommunications Advisory Committee. In 2019, he was voted the best CEO in America among all U.S. large companies by Glassdoor after receiving an astounding 99 percent approval rating from users. Pat Gelsinger was named one of the Top Enterprise CEOs of the 2010s by ZDNet.
You can also read our analysis, Intel Patents – Key Insights and Stats, to get a complete overview of Intel's Patent portfolio.
Patrick Paul Gelsinger Patents
Patrick Paul Gelsinger's patent portfolio has 11 patents that belong to 2 unique patent families. We have used the below exhibits to highlight the key statistics of Patrick Paul Gelsinger's patent portfolio.
Worldwide Patents Status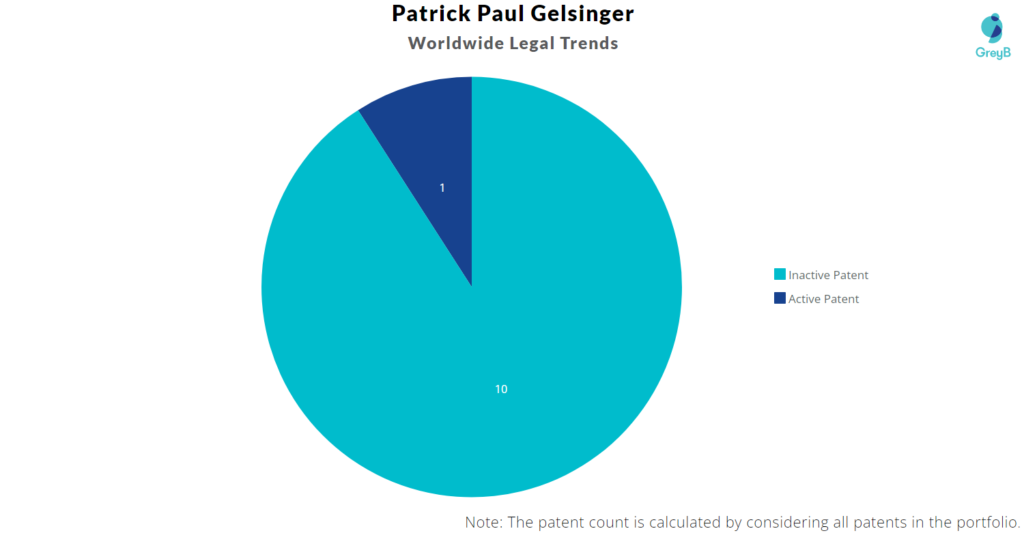 Patrick Paul Gelsinger Innovation focus
In the table below, we have picked one unique patent from each family.
| | | |
| --- | --- | --- |
| Publication Number | Title | Technology |
| US20060142048A1 | Apparatus and methods for improved management of server devices | Server Management |
| EP847556B1 | System for accessing and delivering on-line/information services | On-line /information services |
How Many Patents did Patrick Paul Gelsinger File Every Year?
How Many Patents did Patrick Paul Gelsinger File in Different Countries?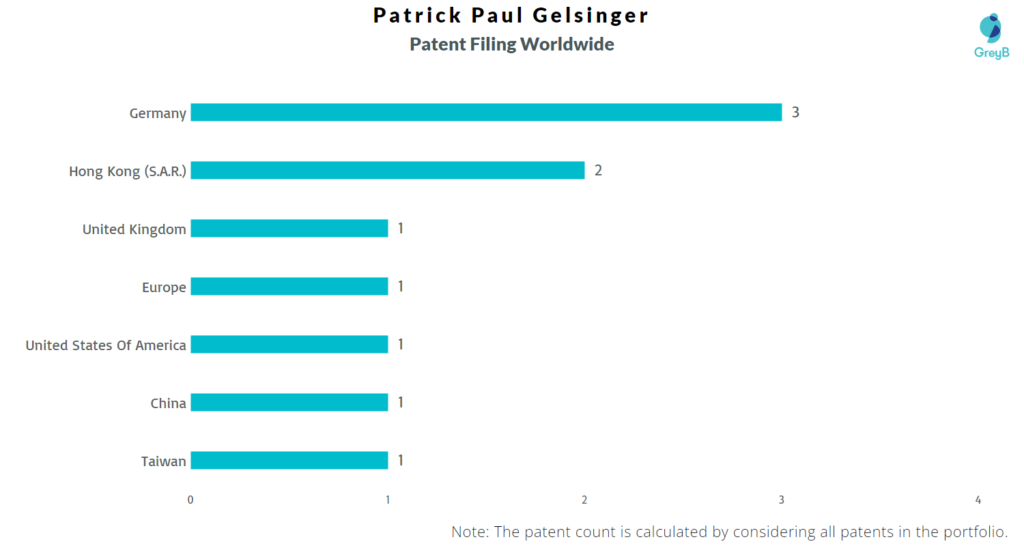 Countries in which Patrick Paul Gelsinger Filed Patents
| | |
| --- | --- |
| Country | Patents |
| Germany | 3 |
| Hong Kong | 2 |
| United Kingdom | 1 |
| Europe | 1 |
| United States Of America | 1 |
| China | 1 |
| Taiwan | 1 |
10 Best Patrick Paul Gelsinger Patents
US20060142048A1 is the most popular patent in Patrick Paul Gelsinger's portfolio. It has received 4 citations so far from companies like International Business Machines Corporation and Hewlett-Packard Development Company.
| | |
| --- | --- |
| Publication Number | Citation Count |
| US20060142048A1 | 4 |
| EP847556B1 | 0 |
| CN101091375B | 0 |
| WO2006072104A3 | 0 |
| DE112005003182B4 | 0 |
| TWI323581B | 0 |
| GB2437198B | 0 |
| HK1116947A1 | 0 |
| HK1104712A1 | 0 |
| DE69636854T2 | 0 |
List of Patrick Paul Gelsinger Patents
| | |
| --- | --- |
| Publication Number | Title |
| US20060142048A1 | Apparatus and methods for improved management of server devices |
| EP847556B1 | System for accessing and delivering on-line/information services |
| CN101091375B | Device and method for improving management server device of |
| WO2006072104A3 | Apparatus and methods for improved management of server devices |
| DE112005003182B4 | Apparatus and method for improved management of servers |
| TWI323581B | Apparatus and methods for improved management of server devices |
| GB2437198B | Apparatus and methods for improved management of server devices |
| HK1116947A1 | Apparatus and methods for improved management of server devices |
| HK1104712A1 | Apparatus and methods for improved management of server devices |
| DE69636854T2 | Access and delivery system for online / information services |
| DE69636854D1 | Access and delivery system for on-line / information services |
Authored By: Navjyot Singh, Insights;Gate Team