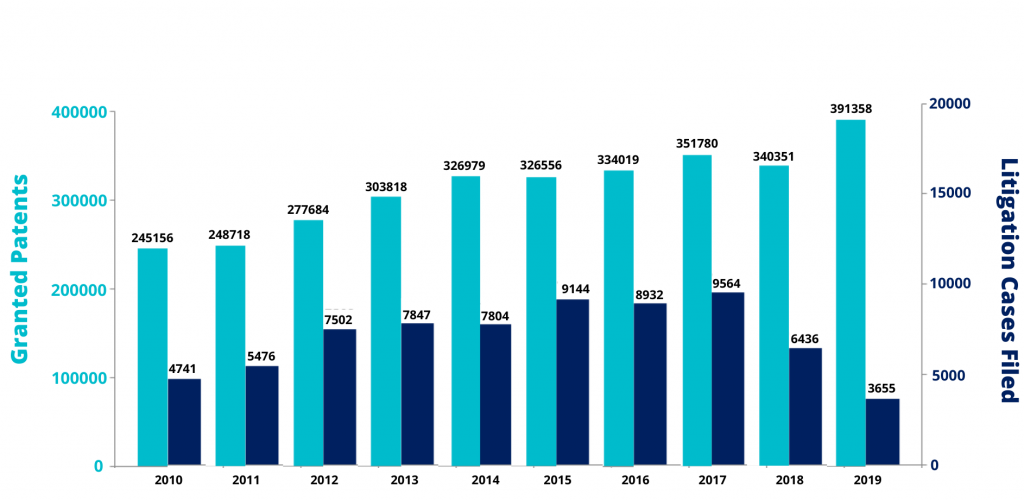 Litigation data is demonstrating a declining pattern particularly after 2017 while the number of granted patents at USPTO has been increasing for a long time. The decline after 2017 could be a direct result of LOT Network, an initiative of Canon, Google, and Red Hat-led in 2014.
For enrollment in LOT Network, a member needs to pay $1,500 to $20,000 annually. But in 2016 LOT declared that it would forgo yearly enrollment charges until March 1, 2017, for companies with less than $5 million in annual revenues. This helped the LOT network acquiring small member which faces 50% of the litigation.
In June 2019, the LOT network had 400 members including Google, Red Hat, Uber, Ford, Dropbox, Mazda, General Motors, Honda, CBS, Netflix, JPMorgan Chase, SAP, Microsoft, Tesla, Alibaba, and 1.8 million patent assets.
So members from industries such as Networking, Medical, Semiconductor, Finance joined the network to protect themselves from the growing threat of PAEs.
The chart below shows how the litigation trends in 5 market sector have evolved in the most recent 5 years: