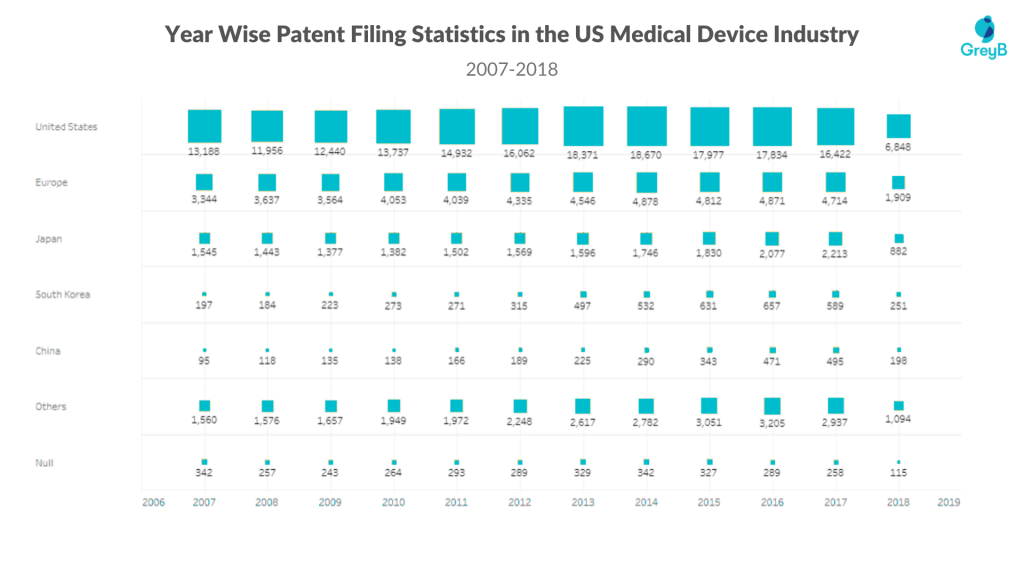 The exhibit showcases a huge gap in the patent-holding by the US vs Foreign Players. The domestic players filed 12000+ more patents than their European counterparts. The reason for such a huge bay could be a fact that most of the foreign players have their R&D centers in the US. So, their patents are counted as the US patents due to their priority country.
European companies have been filing a good number of patents in the US and the number has been increasing every year since 2007. The top players like Philips, Roche, Sanofi, and Covidien could be the reason for Europe's increasing activity in the US market.
Patent filings by Japanese players in the US Medical Device market have also been increasing since 2007 with Olympus Corporation and Fujifilm like organization finding places in the top 10 for sub technological clusters. Besides, Terumo, Panasonic, Hitachi, Toshiba, and Sony are also actively filing patents.
Chinese and South Korean player's activities have increased steadily over the year rather at a slow pace. It seems in the near future this configuration is going to stay intact due to the huge gap that exists between patents filed by the domestic vs foreign player.
Analysis By: Vipin Singh, Marketing