Corsight has a total of 12 patents globally. Of these 12 patents, more than 83% patents are active. The United States of America is where Corsight has filed all their patents. Parallelly, United States of America seems to be the main focused R&D centre and also is the origin country of Corsight.
Corsight was founded in 2019. Corsight significantly advances facial recognition technology while following to the highest moral standards for protecting individual privacy. The company works with enterprise clients and a range of industries, including law enforcement and aviation, to deliver facial recognition solutions for the most difficult situations so that companies can be as secure as possible while maintaining the privacy of others.
Do read about some of the most popular patents of Corsight which have been covered by us in this article and also you can find Corsight patents information, the worldwide patent filing activity and its patent filing trend over the years, and many other stats over Corsight patent portfolio.
How many patents does Corsight have?
Corsight has a total of 12 patents globally. These patents belong to 12 unique patent family. Out of 12 patents, 10 patents are active.
How Many Patents did Corsight File Every Year?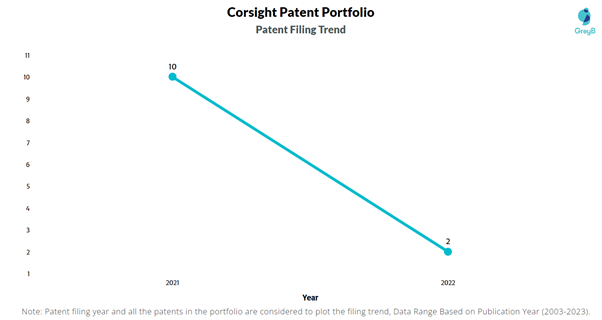 Are you wondering why there is a drop in patent filing for the last two years? It is because a patent application can take up to 18 months to get published. Certainly, it doesn't suggest a decrease in the patent filing.
| | | |
| --- | --- | --- |
| Year of Patents Filing or Grant | Corsight Applications Filed | Corsight Patents Granted |
| 2022 | 2 | – |
| 2021 | 10 | – |
How many Corsight patents are Alive/Dead?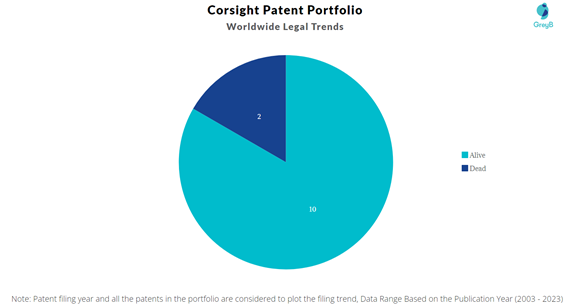 How Many Patents did Corsight File in Different Countries?
Corsight filled all their patents in United States of America.
Where are Research Centers of Corsight Patents Located?
The Research Center of Corsight Patents is the United States of America.
List of Corsight Patents
| | |
| --- | --- |
| Corsight Patent | Title |
| US20220270401A1 | Similarity-Embedding Binarization |
| US20220270400A1 | Soft Function Based Similarity-Embedding Binarization |
| US20220157080A1 | History Based Face Searching |
| US20220157084A1 | Unsupervised Signature-Based Person Of Interest Database Population |
| US20220075997A1 | Face Features Matching Based Tracker |
| US20220067192A1 | Face Recognition Using The Block Chain |
| US20220019774A1 | High Resolution Face Matching |
| US20220019770A1 | High Resolution Face Matching |
| US20220019766A1 | Automomous Validation Of Proper Mask Wearing |
| US20210350929A1 | Visual Identification Based Access Control Of A Person With Suspected Symptoms |
| US20210398689A1 | Autonomous Mapping And Monitoring Potential Infection Events |
| US20210358152A1 | Monitoring Distances Between People |
What are Corsight key innovation segments?
What Technologies are Covered by Corsight?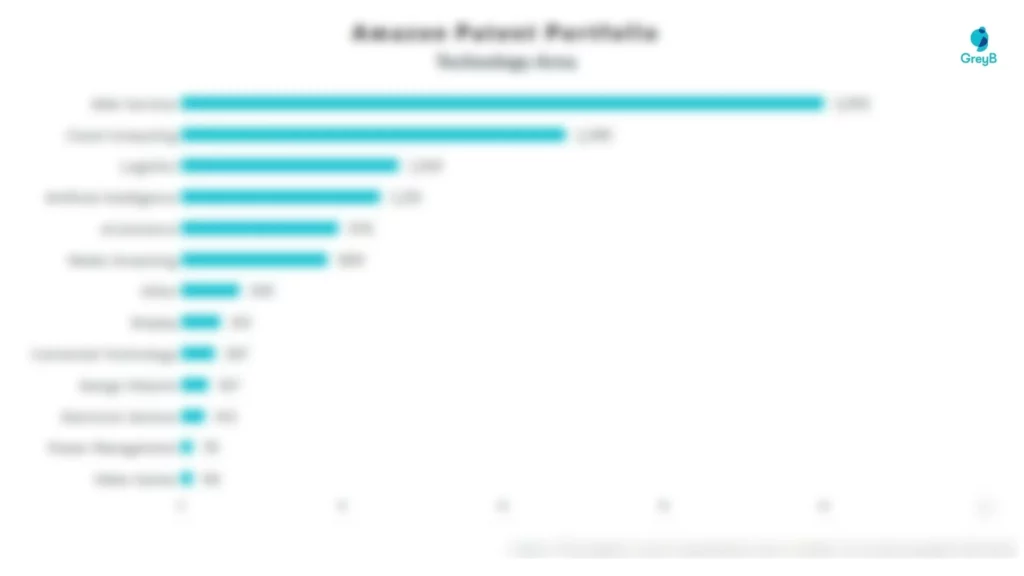 The chart below distributes patents filed by Corsight