Andre Sloth Eriksen has 125 patents that belong to 19 unique patent families. His patents cover topics related to Liquid Cooling System, Hybrid liquid-air cooling system, conventional cooling system etc.
Andre Sloth Eriksen founded Asetek in 2000 with the discovery that CPUs perform better at sub-zero temperature. Asetek develops energy-efficient liquid cooling solutions for computers, servers, and data centres.
Its all-in-one liquid coolers can be found in high-end gaming PC's and official eSports tournament machines solving thermal challenges for gamers, data centre operators and enthusiasts.
Their product is used to reduce electricity and greenhouse emissions, cut acoustic noise, and achieve optimum performance.
Also, in 2021, Asetek expanded into the rapidly growing Sim (Simulated) Sports Gaming market, unveiling its initial Sim racing products designed to give Sim racers full immersion and the feel of a real racecar. Do read about our analysis on Asetek.
How many Andre Sloth Eriksen patents are Alive/Dead?
Worldwide Patents
Patent Families
How Many Patents did Andre Sloth Eriksen File Every Year?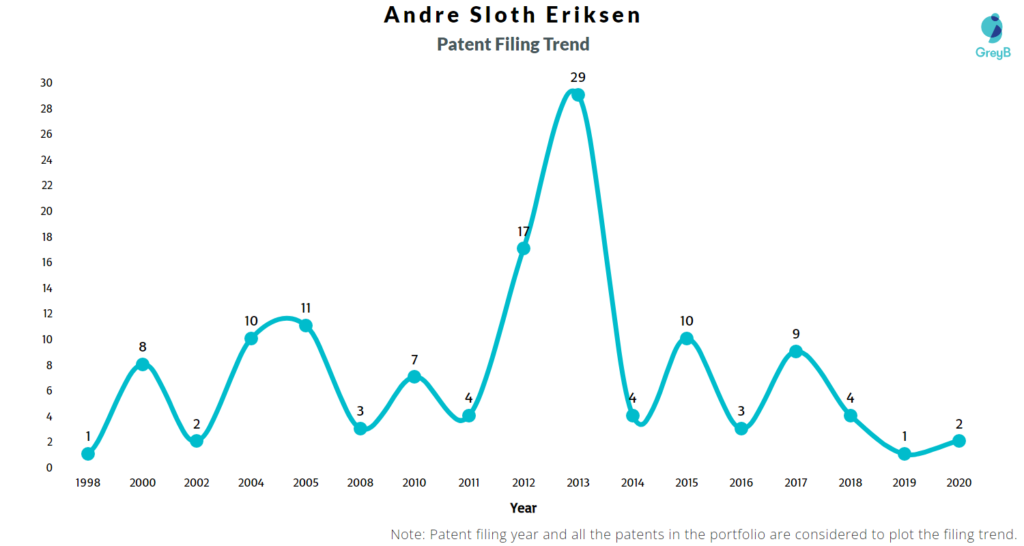 How Many Patents did Andre Sloth Eriksen File in Different Countries?
Countries in which Andre Sloth Eriksen Filed Patents
| | |
| --- | --- |
| Country | Patents |
| United States Of America | 46 |
| Europe | 20 |
| Hong Kong (S.A.R.) | 11 |
| Denmark | 7 |
| Germany | 7 |
| China | 6 |
| Spain | 5 |
| Poland | 4 |
| Australia | 1 |
| Austria | 1 |
What Technologies are covered by Andre Sloth Eriksen Patents?
Patents talking about Liquid Cooling System include a liquid cooling system for cooling electronic components within a computer system.
The heat generation of IC devices has increased dramatically with the advent of VLSI (very large scale integration) technology. As a result, the semiconductor industry is grappling with the issue of rapidly removing heat from integrated circuits (ICs) and the electronic systems that rely on them.
Heat sinks with associated fans have traditionally been used to dissipate heat from computer IC devices. However, as IC device heat generation and computer cooling requirements grow, liquid cooling methods are being used to keep device temperatures and fan noise under control.
Patents related to Liquid Cooling System also include Leak Detection for Cooling System. One of the major concerns of applying liquid cooling systems to a computer is the possibility of coolant leaks occurring within the computer. The leak detection system includes a leak detection circuit positioned to receive leaked coolant thereon by a force of gravity.
Patents related to Server Cooling System talks about a system for cooling a computer server with a plurality of server modules
Conventional Cooling System patent include air cooling systems wherein the heat is dissipated directly to the air after being conducted through the walls.
Hybrid Liquid-air Cooling system invention covers a hybrid liquid-air cooling system tailored for use with a heat source component in a personal computer system to provide a combination of a liquid cooling mechanism and an air cooling mechanism.
But why do we even need liquid cooling systems?
During normal operation, the transistors inside a CPU convert electrical energy into thermal energy (heat). This heat increases the temperature of the CPU. If an efficient path for that heat doesn't exist, then the CPU will exceed its safe operating temperature.
Now the Cooling System comes in picture which is of two types: air and liquid cooling systems. Both air and liquid CPU coolers operate on a similar principle, and both do essentially the same thing: absorb heat from the CPU and redistribute it away from the hardware.
But it's a scientific fact that water is more efficient and better suited for absorbing and transferring heat than air.
Liquid cooling systems circulate a liquid coolant in a closed loop to transfer heat from heat generating electronic devices to the ambient air.
10 Best Andre Sloth Eriksen Patents
US8245764B2 is the most popular patent in Andre Sloth Eriksen's portfolio. It has received 84 citations so far from companies like Hitachi, Intel Corporation, and General Electric Company.
List of Andre Sloth Eriksen Patents
| | |
| --- | --- |
| Publication Number | Title |
| US8358505B2 | Integrated liquid cooling system |
| US20120103576A1 | Integrated liquid cooling system |
| USD711382S1 | Server cooling distribution unit |
| US20140049908A1 | Thermal management system |
| US20100128431A1 | Hybrid liquid-air cooled graphics display adapter |
| US20120061058A1 | Cooling system for a computer system |
| US8245764B2 | Cooling system for a computer system |
| US20130220582A1 | Cooling system for a computer system |
| US9733681B2 | Cooling system for a computer system |
| US20170329376A1 | Cooling system for a computer system |
| US20090218072A1 | Cooling system for a computer system |
| US10078355B2 | Cooling system for a computer system |
| US20180275730A1 | Cooling system for a computer system |
| US10599196B2 | Cooling system for a computer system |
| US20200192446A1 | Cooling system for a computer system |
| US20130312846A1 | Fluid connector for a cooling system |
| US9016314B2 | Fluid connector for a cooling system |
| USD733265S1 | Fluid connector for a cooling system |
| US20130312854A1 | Fluid connector for a cooling system |
| US20150382514A1 | Cooling system for a server |
| US20120147553A1 | Cooling system for a server |
| US9155230B2 | Cooling system for a server |
| US9717166B2 | Cooling system for a server |
| US20170332520A1 | Cooling system for a server |
| US10212857B2 | Cooling system for a server |
| US20190150322A1 | Cooling system for a server |
| US20070039719A1 | Cooling system for a computer system |
| US20170329375A1 | Cooling system for a computer system |
| US9715260B2 | Cooling system for a computer system |
| US8240362B2 | Cooling system for a computer system |
| US20160026223A1 | Server memory cooling apparatus |
| US20140002980A1 | Server memory cooling apparatus |
| US20170075398A1 | Cooling system for a computer system |
| US20120273159A1 | Cooling system for a computer system |
| US20130299158A1 | Cooling system for a computer system |
| US20100326636A1 | Cooling system for a computer system |
| US20100326634A1 | Cooling system for a computer system |
| US7971632B2 | Cooling system for a computer system |
| US20140251583A1 | Leak detection system for a liquid cooling system |
| US9158348B2 | Server memory cooling apparatus |
| US9867315B2 | Server memory cooling apparatus |
| US20180084672A1 | Server memory cooling apparatus |
| US10078354B2 | Cooling system for a computer system |
| US20180275729A1 | Cooling system for a computer system |
| US10613601B2 | Cooling system for a computer system |
| US20200192445A1 | Cooling system for a computer system |
| EP2633377A1 | Integrated liquid cooling system |
| EP1886208A1 | Cooling system for a computer system |
| EP3056968A1 | A cooling system for a computer system |
| EP2239646A3 | A method of cooling a computer system |
| EP1228408B1 | Computer system comprising a cooling system and a cooling system for a computer system |
| EP2239646A2 | A method of cooling a computer system |
| EP1228408A2 | Computer system comprising a cooling system and a cooling system for a computer system |
| EP3056968B1 | A cooling system for a computer system |
| EP2855994A1 | Fluid connector for a cooling system |
| EP2855993A1 | Fluid connector for a cooling system |
| EP2855993B1 | Fluid connector for a cooling system |
| EP2786647A2 | Cooling system for a server |
| EP2786647B1 | Cooling system for a server |
| EP3531812A1 | Cooling system for a server |
| EP2867743A2 | Server memory cooling apparatus |
| EP1923771B1 | Cooling system for a computer system |
| EP2965057A2 | Leak detection system for a liquid cooling system |
| EP1923771A1 | Cooling system for a computer system |
| EP1682995A2 | Cooling system for a computer system |
| EP2867743B1 | Server memory cooling apparatus |
| CN104641162A | Fluid connector for a cooling system |
| CN104641161A | Fluid connector for a cooling system |
| CN104054407A | Cooling system for a server |
| CN107102711A | Cooling system for a server |
| CN105190274A | Leak detection system for a liquid cooling system |
| CN104541226A | Server memory cooling apparatus |
| WO2014030063A1 | A thermal management system |
| WO2008109805A2 | Hybrid liquid-air cooled graphics display adapter |
| WO2008109805A3 | Hybrid liquid-air cooled graphics display adapter |
| WO2012057763A1 | Integrated liquid cooling system |
| WO2006119761A1 | Cooling system for a computer system |
| WO2001025881A2 | Computer system comprising a cooling system |
| WO2013175304A1 | Fluid connector for a cooling system |
| WO2013175305A1 | Fluid connector for a cooling system |
| WO2013080037A2 | Cooling system for a server |
| WO2013080037A3 | Cooling system for a server |
| WO2014013346A2 | Server memory cooling apparatus |
| WO2014135978A2 | Leak detection system for a liquid cooling system |
| WO2014013346A3 | Server memory cooling apparatus |
| WO2014135978A3 | Leak detection system for a liquid cooling system |
| WO2005045654A2 | Cooling system for a computer system |
| WO2001025881A3 | Computer system comprising a cooling system |
| WO2005045654A3 | Cooling system for a computer system |
| DK199800334U3 | Computerkøler |
| DK200200227U3 | Computersystem, der omfatter et kølesystem |
| AU2000076450A1 | Computer system comprising a cooling system and a cooling system for a computer system |
| HK1181862A1 | Cooling system for computer system |
| DK200200227Y6 | Computersystem, der omfatter et kølesystem |
| DK3056968T3 | Kølesystem til et computersystem |
| ES2689357T3 | A cooling system for a computer system |
| HK1207412A1 | Fluid connector for a cooling system |
| DK2855993T3 | Fluidumforbindelsesindretning til et kølesystem |
| ES2772450T3 | Conector de fluido para un sistema de refrigeración |
| HK1202212A1 | Cooling system for a server |
| DK2786647T3 | Kølesystem til en server |
| ES2731728T3 | Sistema de refrigeración para un servidor |
| HK1219531A | Leak detection system for a liquid cooling system |
| HK1209502A | Server memory cooling apparatus |
| DK1923771T3 | Cooling system for a computer system |
| ES2537764T3 | Cooling system for a computer system |
| ES2728173T3 | Aparato de refrigeración de memoria de servidor |
| DE60044093D1 | RECHNERSYSTEM, DAS EIN KÜHLSYSTEM BEINHALTET UND KÜHLSYSTEM FÜR EIN RECHNERSYSTEM |
| HK1181862A | Cooling system for computer system |
| AT462999T | RECHNERSYSTEM, DAS EIN KÜHLSYSTEM BEINHALTET UND KÜHLSYSTEM FÜR EIN RECHNERSYSTEM |
| HK1227512A | A cooling system for a computer system |
| PL3056968T3 | A cooling system for a computer system |
| HK1227512A1 | A cooling system for a computer system |
| DE60044093T2 | RECHNERSYSTEM, DAS EIN KÜHLSYSTEM BEINHALTET UND KÜHLSYSTEM FÜR EIN RECHNERSYSTEM |
| DE602005054202T2 | KÜHLSYSTEM FÜR EIN COMPUTERSYSTEM |
| HK1207412A | Fluid connector for a cooling system |
| PL2855993T3 | Fluid connector for a cooling system |
| DE602013063350T2 | FLÜSSIGKEITSKUPPLUNG FÜR EIN KÜHLSYSTEM |
| HK1202212A | Cooling system for a server |
| PL2786647T3 | Cooling system for a server |
| DE602012059156T2 | KÜHLSYSTEM FÜR EINEN SERVER |
| PL2867743T3 | Server memory cooling apparatus |
| HK1209502A1 | Server memory cooling apparatus |
| DE602013051932T2 | KÜHLVORRICHTUNG FÜR SERVERSPEICHER |
| DE602004047234T2 | Kühlsystem für ein Computersystem |